Iceland – Summer
I expected to be exhausted from my overnight flight when we landed in Iceland. Instead, I was excited and ready to explore. On the Flybus from the airport to Reykjavik, I was antsy, staring out at the lava-scarred landscape and empty roads, itching to pick up our rental car already and just go.
But soon enough, we were in Reykjavik, sun shining on our walk to our apartment in the city center, and I was content to explore the city by foot. A delicious vegan lunch at Kaffi Vinyl, a pleasant walk along the bay and through downtown, and I was ready for our helicopter tour we had planned that evening. Alas, the clouds rolled in, and our tour was cancelled, but at least it gave us some more time to experience Reykjavik.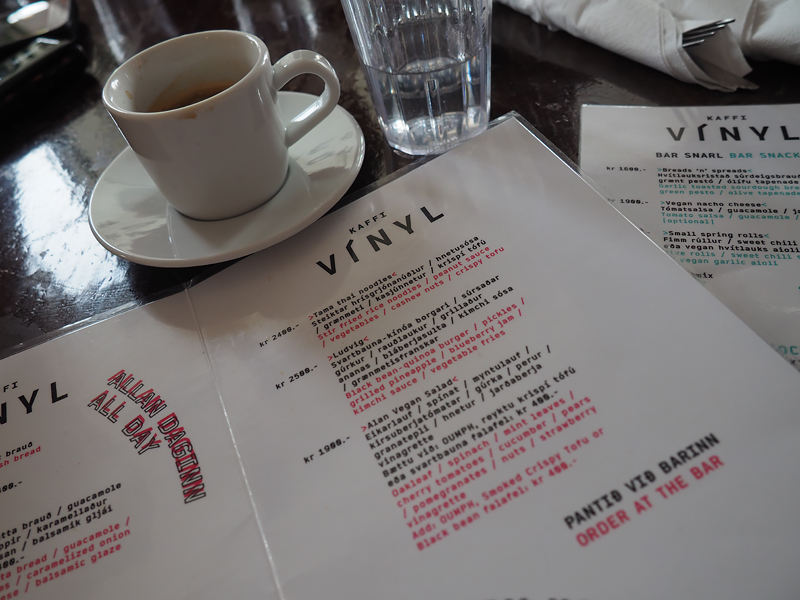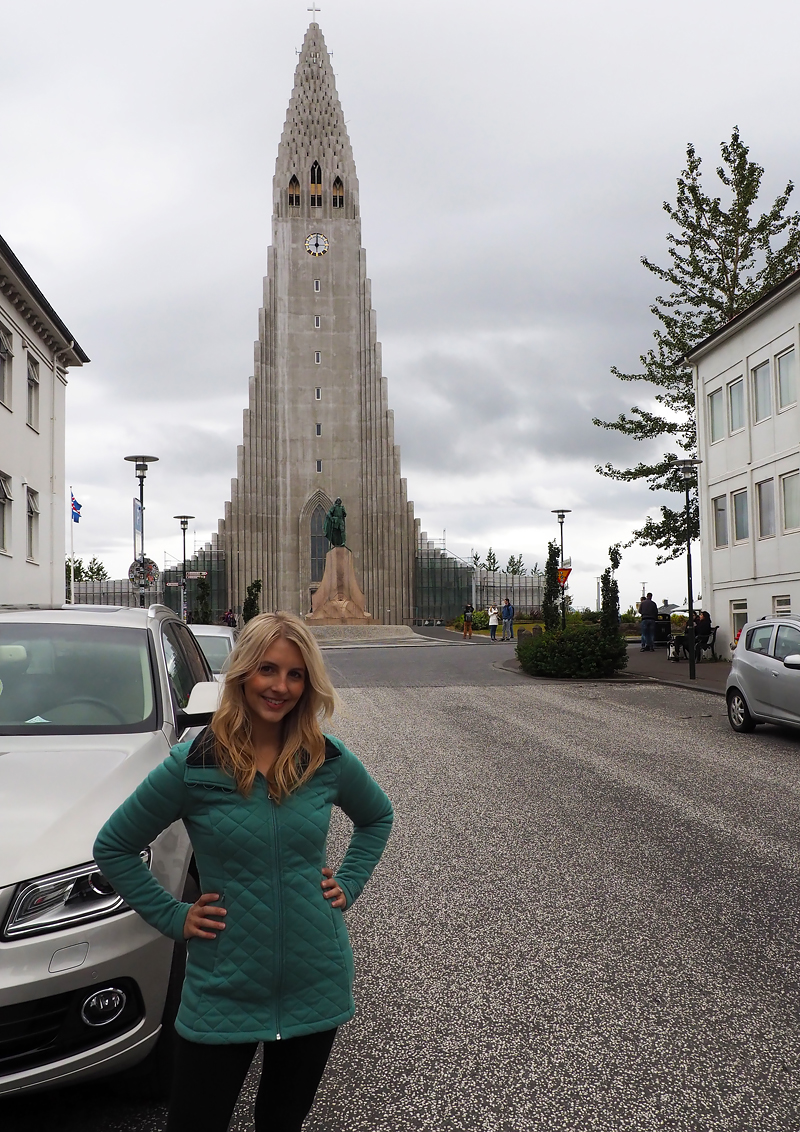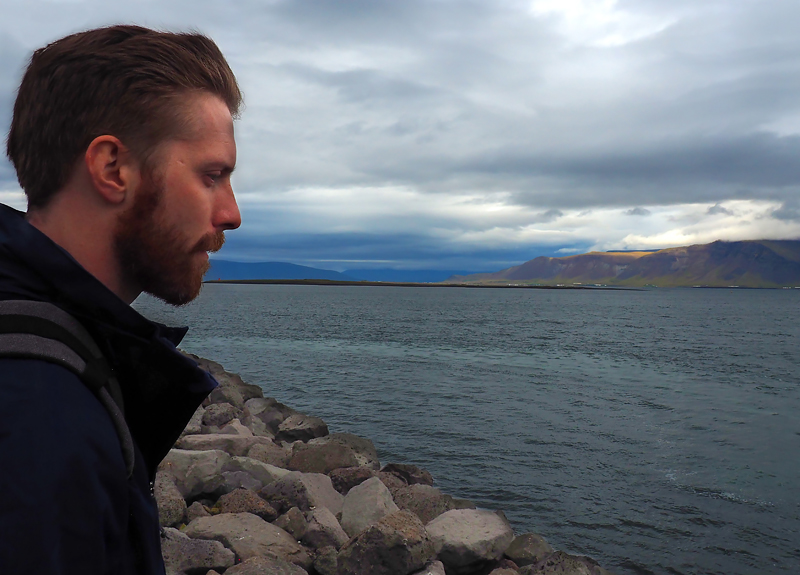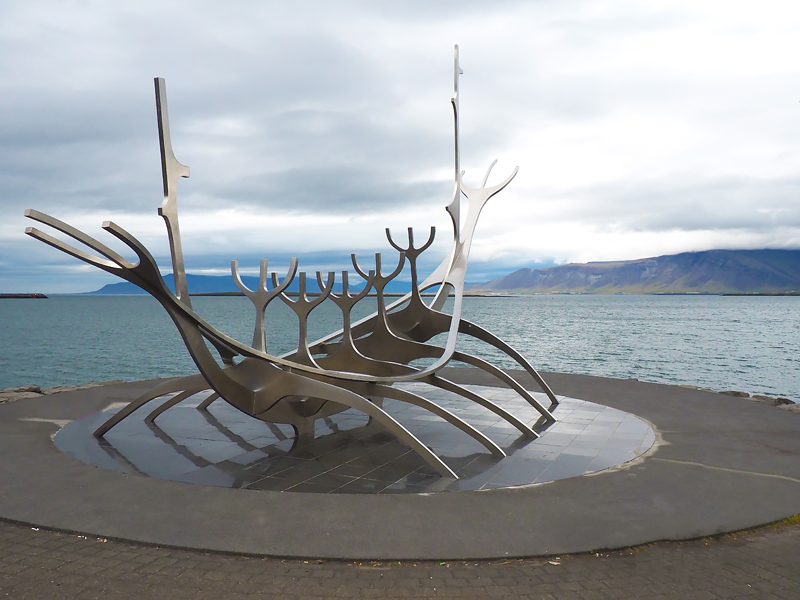 The following morning started off just right with the most delicious baked goods from Brauð & Co.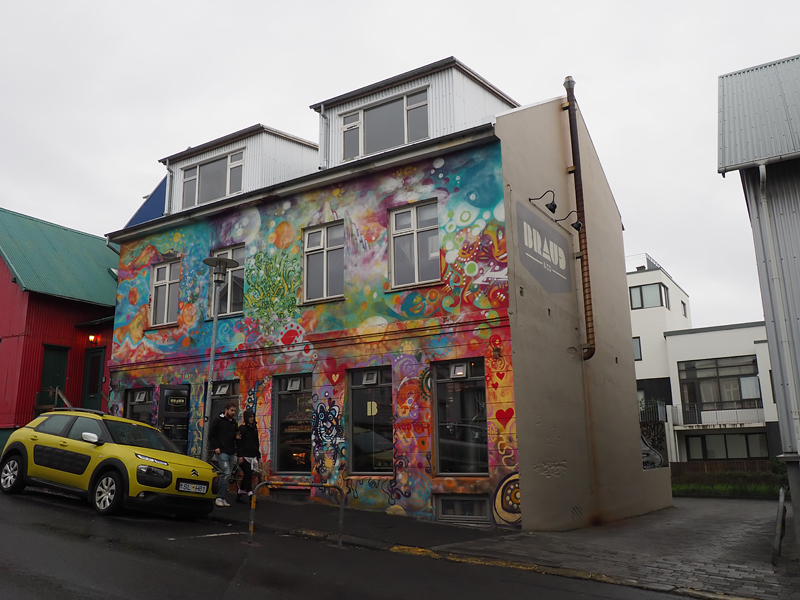 We picked up our rental car, a little Suzuki Jimny with a rooftop tent and camping gear from Camping Iceland. I knew it was going to be small, but it was even smaller than expected, and we were a little uneasy with how we were going to live out of it for 10 days with all our luggage and rental equipment. It wasn't without its difficulties, but it worked out just fine, and we grew to be very fond of the Jimny throughout the vacation.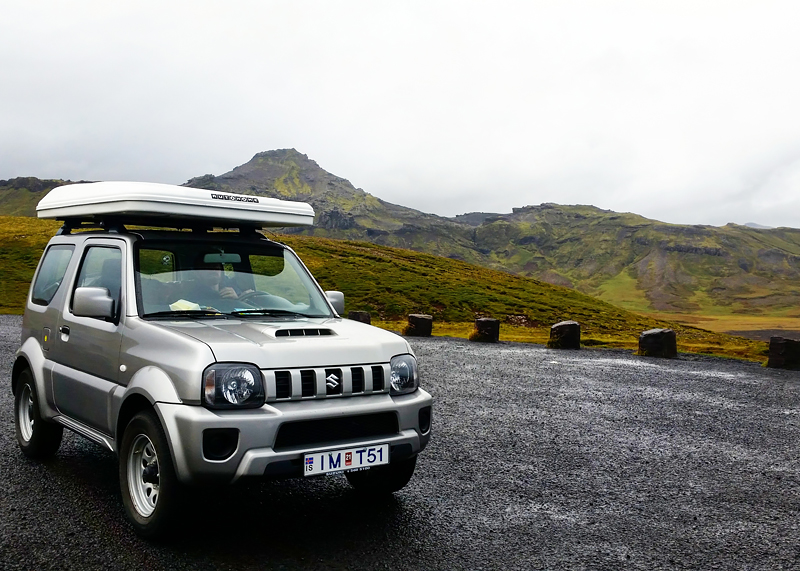 We headed straight to Snæfellsnes. We had pretty dreary weather to start, with lots of rain and very little visibility to see the beautiful landscapes surrounding us. We cut across the peninsula to get to Kirkjufell first, the most photographed mountain in Iceland. Even with grey surrounding us, Kirkjufell was a lovely backdrop to pretty Kirkjufellsfoss.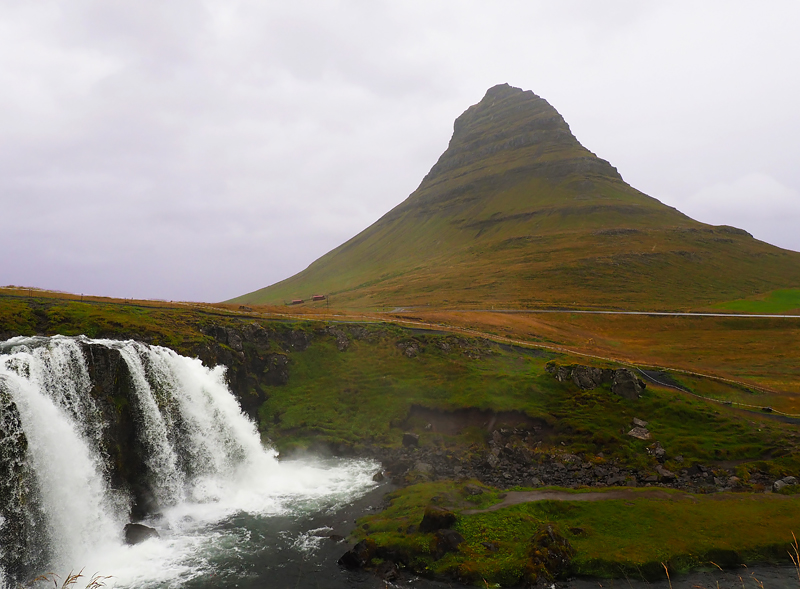 And then the weather got worse. We crossed into Snæfellsjökull National Park, and the wind picked up and visibility worsened. Anthony was very focused on not getting blown off the road. We had a planned stop at Djúpalónssandur, so we pulled into the parking lot there and waited for the wind to die down. And waited. And waited. It was obviously not calming down any time soon, so we climbed out and made our way down through the lava fields to the beach to see the unique rock formations. The wind and rain whipped our faces, our only exposed skin, and we didn't last long before turning back up.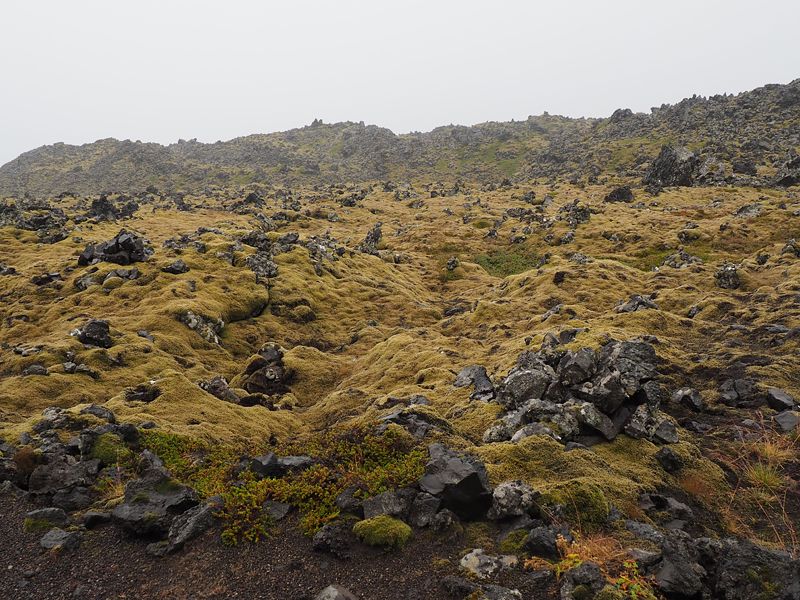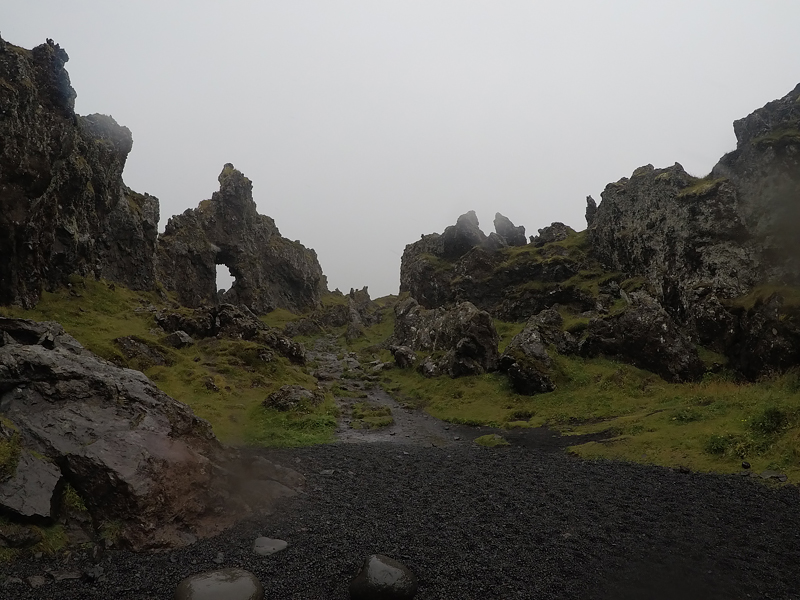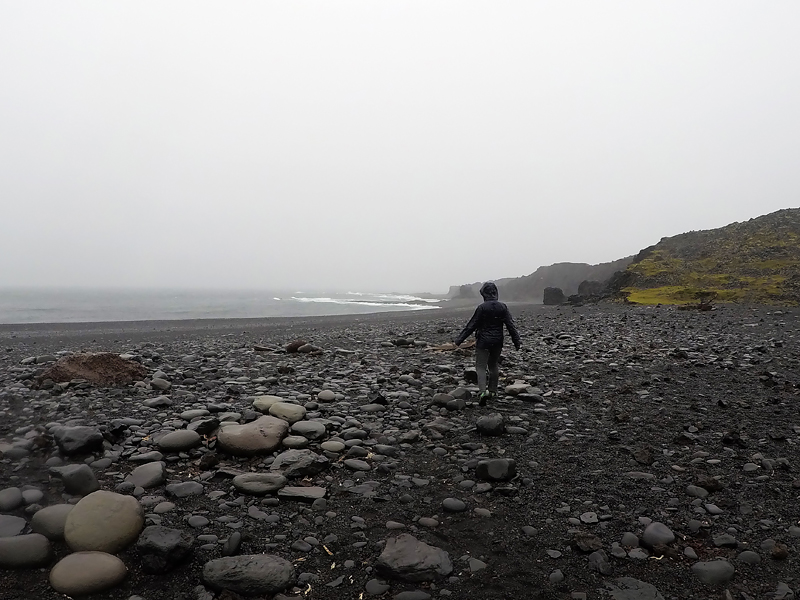 We waited in the car a little longer before working up the courage to continue on. We made it to Hellnar where we had planned on doing the two hour hike along the coast from there to Arnastapi and back. Clearly the weather was not ideal for that, so instead, we relaxed in a café with some hot soup.
When we came back out, the wind had calmed a bit, so we drove onward, and by the time we reached Bjarnarfoss, we were away from the worst of it. Elated, I changed out of my sopping wet pants (related – Water resistant is no match for Icelandic weather. Get waterproof.) and skipped off to the path up to the waterfall, enjoying the rushing river it was flowing into.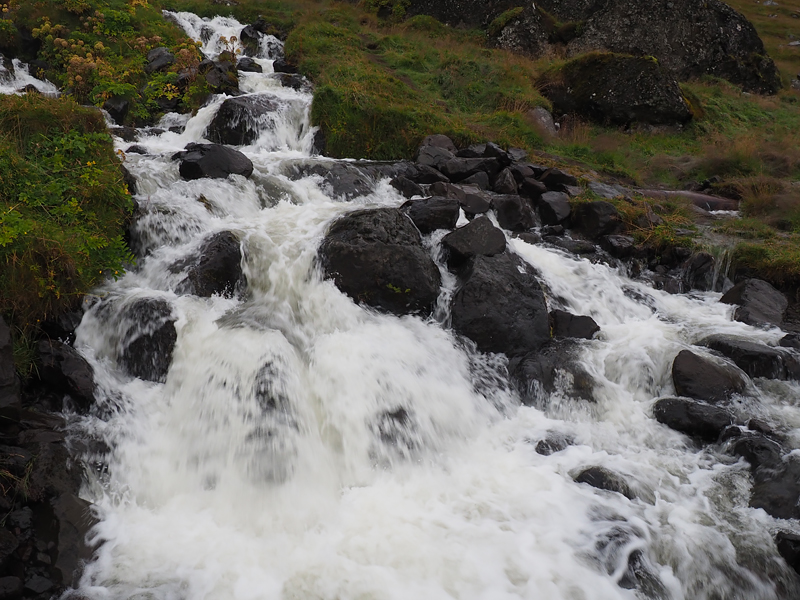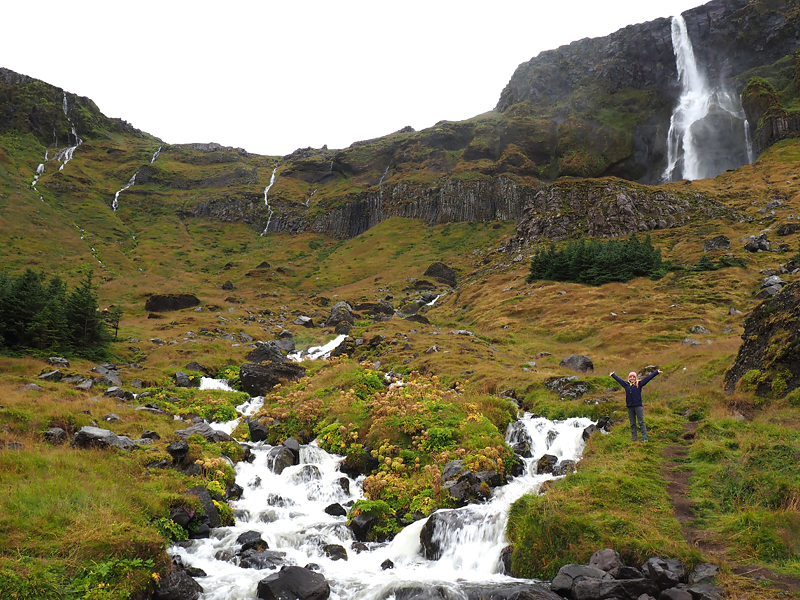 Next stop was the beautiful black church, Budarkirkja. It fit in so perfectly with the moody clouds and sea.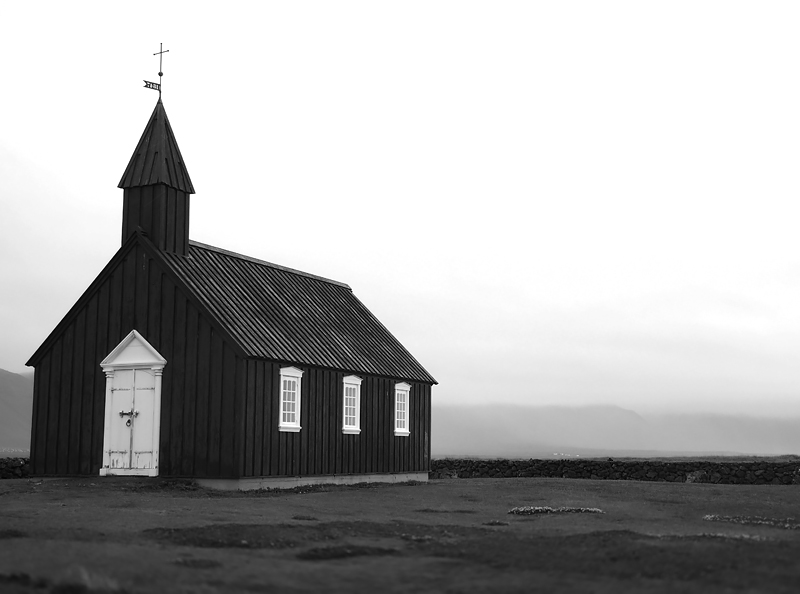 Hoping to see seals, we drove to Ytri-Tunga beach. We did indeed see seals, but only their heads bobbing up out of the water. They were shy, and we left them be, deciding to find our campsite for the night, and what an adventure that was.
We ended up at the wrong campsite to begin with, and it had no protection from the wind. Anthony managed to get our money back, and we went to find the correct campsite… but apparently they don't have camping there (anymore? Ever?). We couldn't bring ourselves to go back to the first one, so we found yet another, and the one we found also had no protection from the wind, and it also did not have warm enclosed showers, toilets, or sinks. So we froze in the wind and rain while getting ready for bed, popped up our top tent, and cringed every time the top-tent shook through the wind gusts (well, I did; Anthony was fine.)
After a night with little sleep, we were up and on the road at 5:30 am. Wind had mostly subsided, but rain had not. We made a short stop at the tiny 2-person hot spring, Landbrotalaug, and then back across the peninsula we went to eventually join back up with the Ring Road.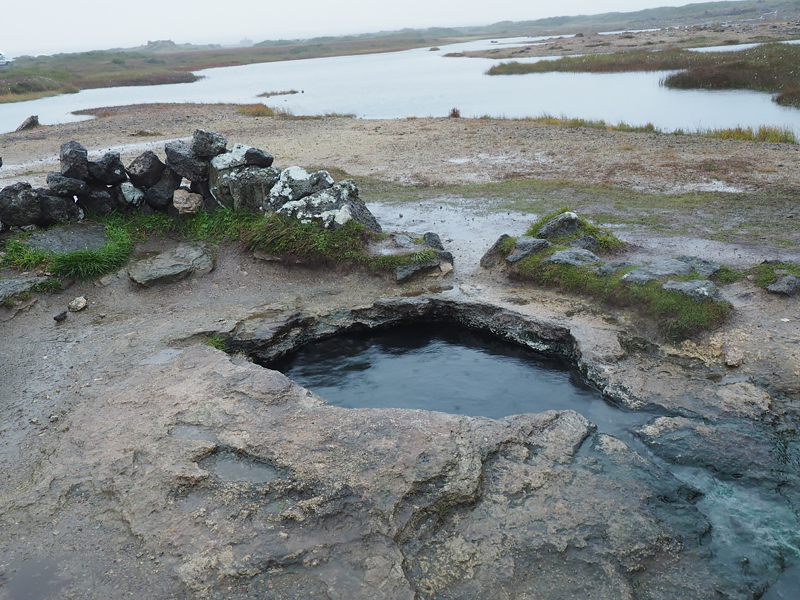 It was a long day of driving, up and down mountains. We made a short detour to Kolugljúfur to break up the drive and were pleasantly surprised by what a beautiful stop it was. A lovely waterfall falling down into a jagged canyon, providing lots of cliffs to check out for various viewpoints.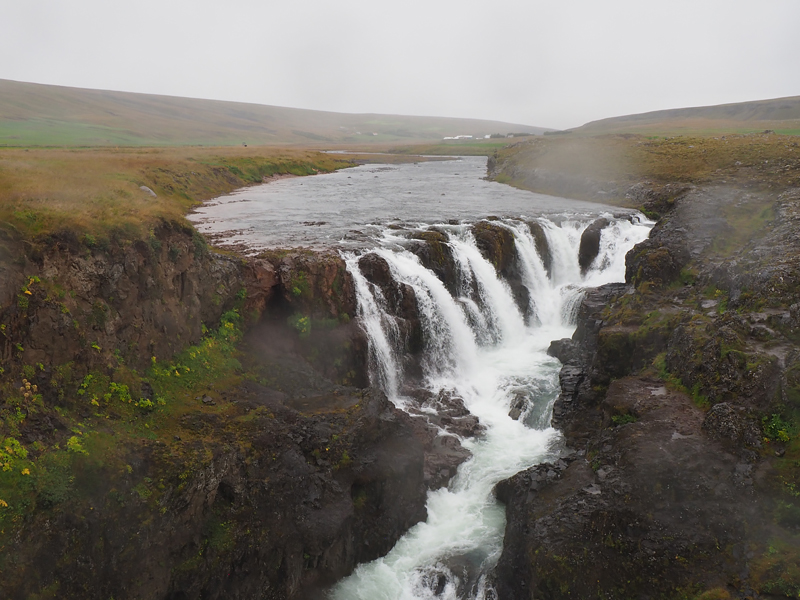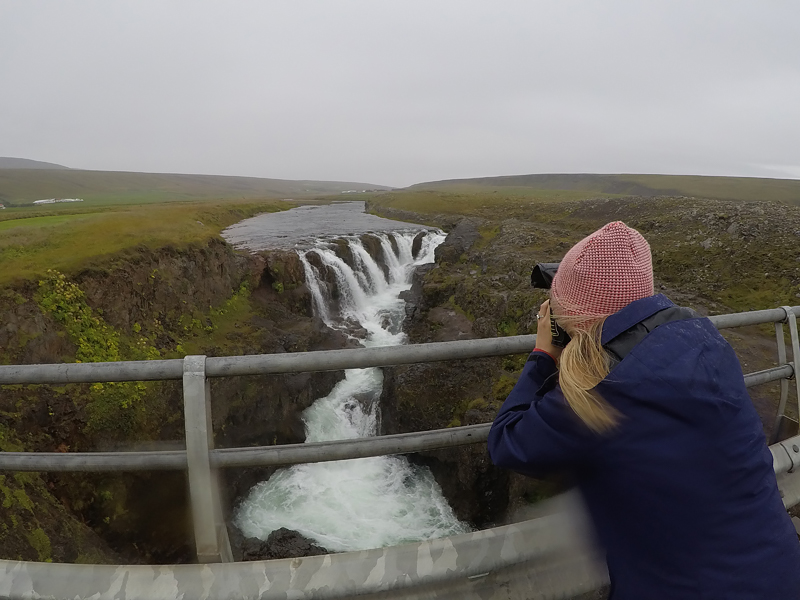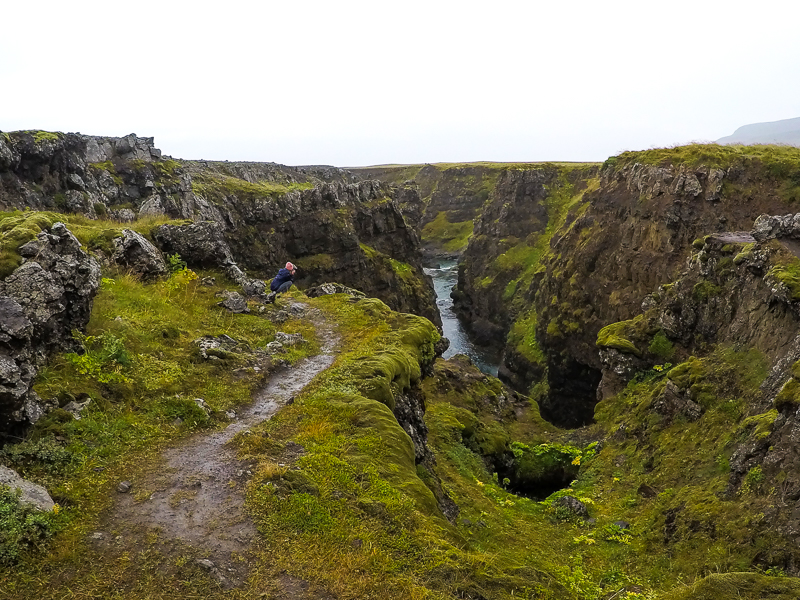 We eventually made it to Akureyri, a cute town and the most populous up north. Lunch and a walk around refueled us to keep on going.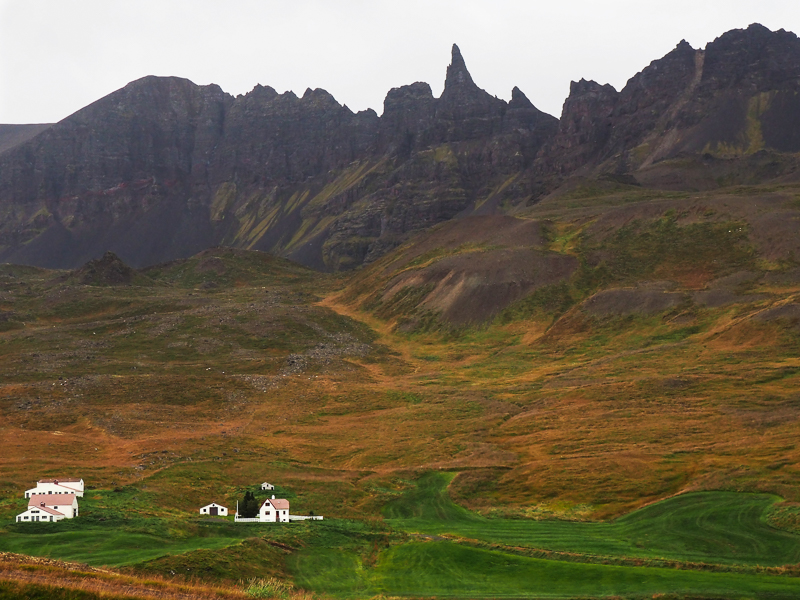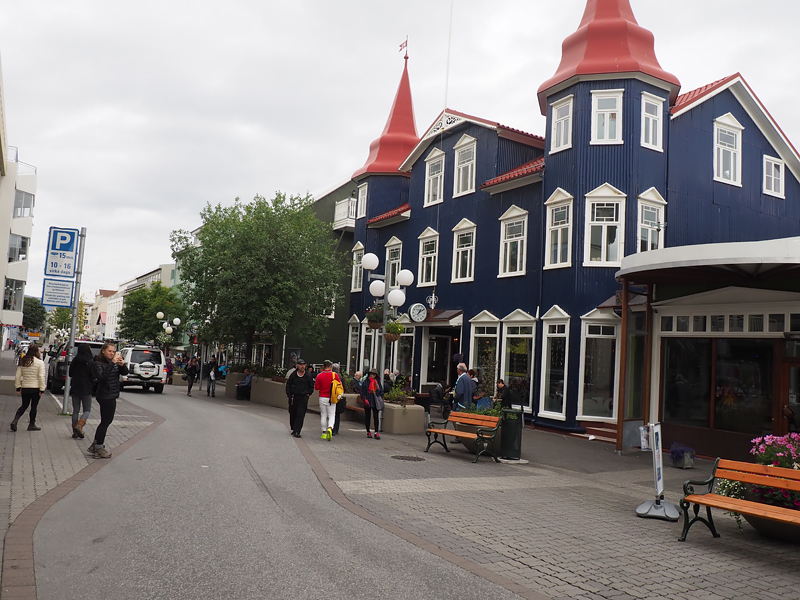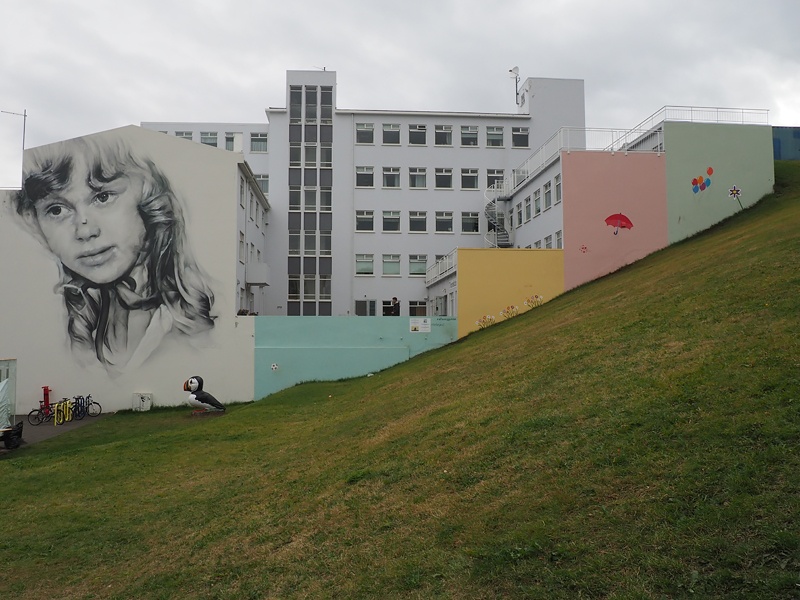 The sun was finally out, making everything 10x prettier and dazzling Goðafoss, which we accidentally stumbled upon on our way somewhere else. Goðafoss was the first spot on this trip that we came across dozens of tourists, but it was easy to see why.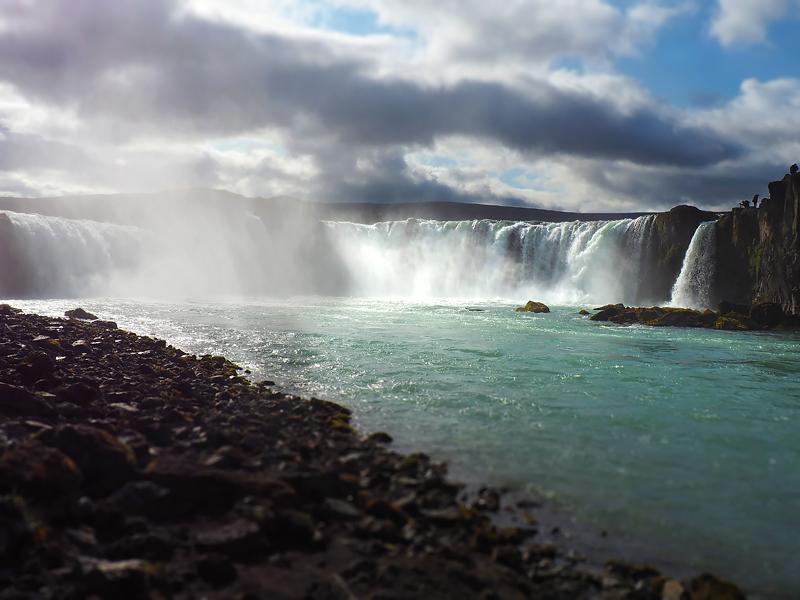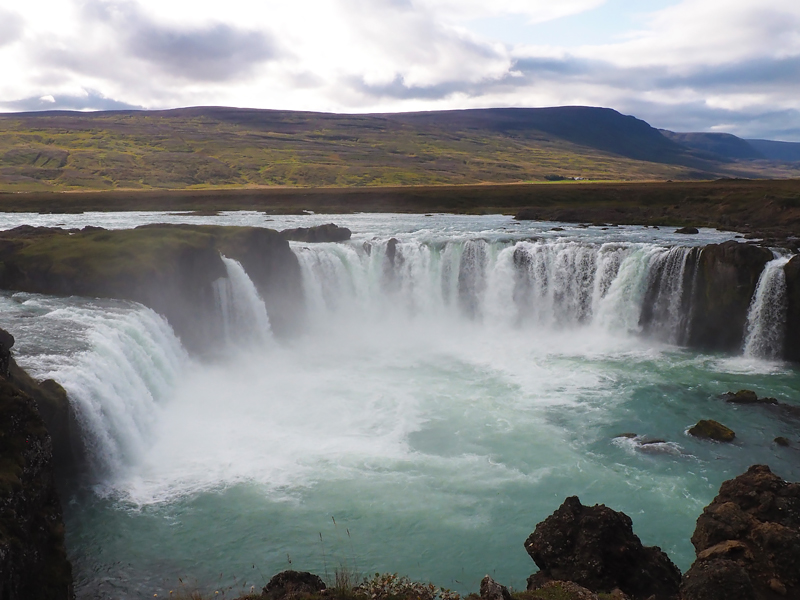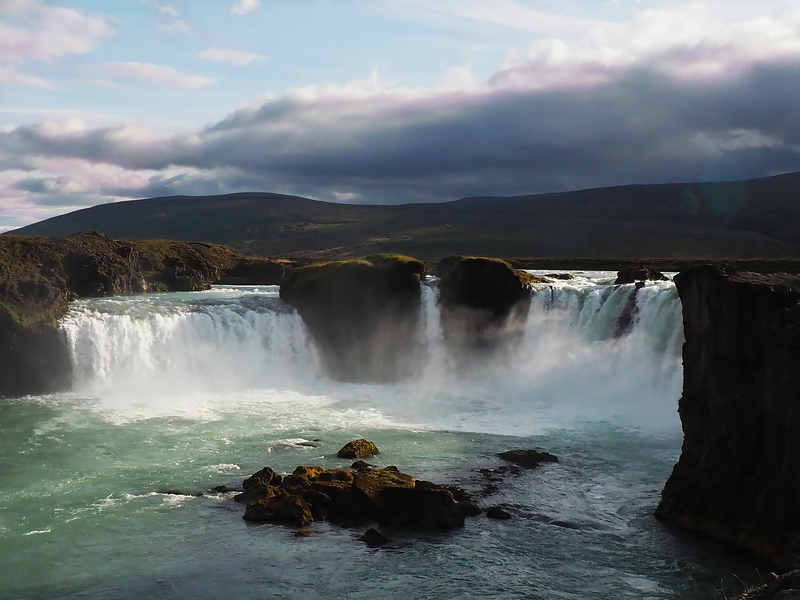 We took the long detour down gravel roads to Aldeyjarfoss, and I am so glad we did. One of my favorite waterfalls in all of Iceland (or anywhere, really). We had it to ourselves, so we plopped down directly across from it, taking in the powerful gush of water and its crazy surroundings, uniquely formed basalt columns. The water was bright blue and oh so complimentary to the tan around it.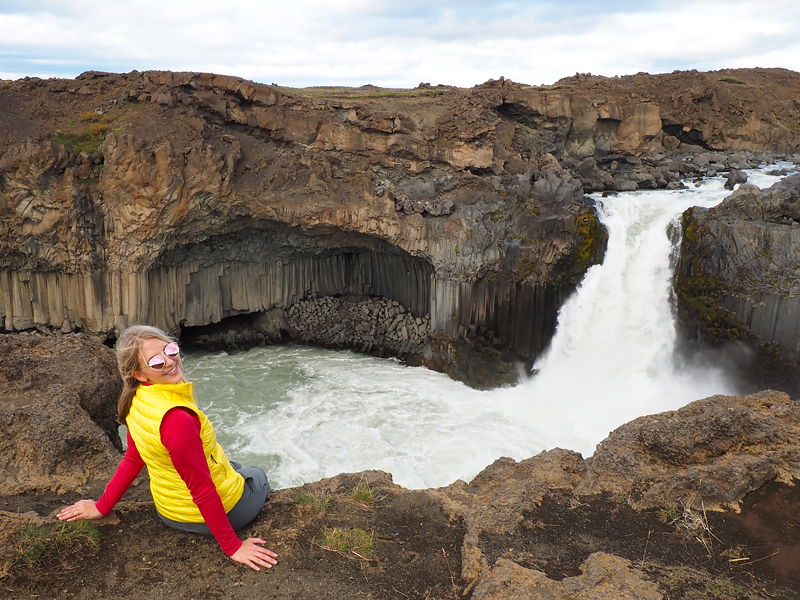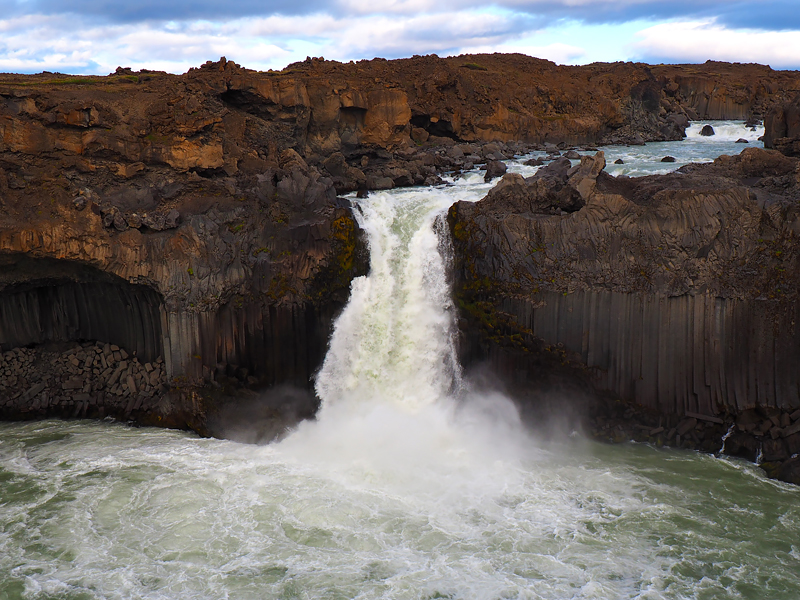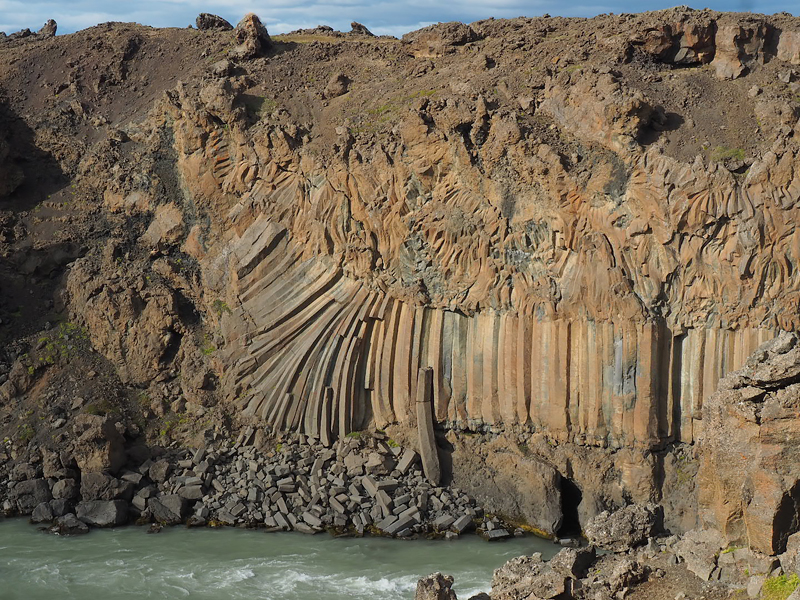 Exhausted, we drove straight to our campground on Lake Myvatn afterward.
Everything about the next day felt like we were on another planet. A very smelly other planet. The ground was smoking around us as we made our way to Grjótagjá, a cave with a beautiful clear hot spring within it. While it seemed like a cozy place to relax for awhile, supposedly the water is too warm for bathing. It felt nice to the touch, but we moved on.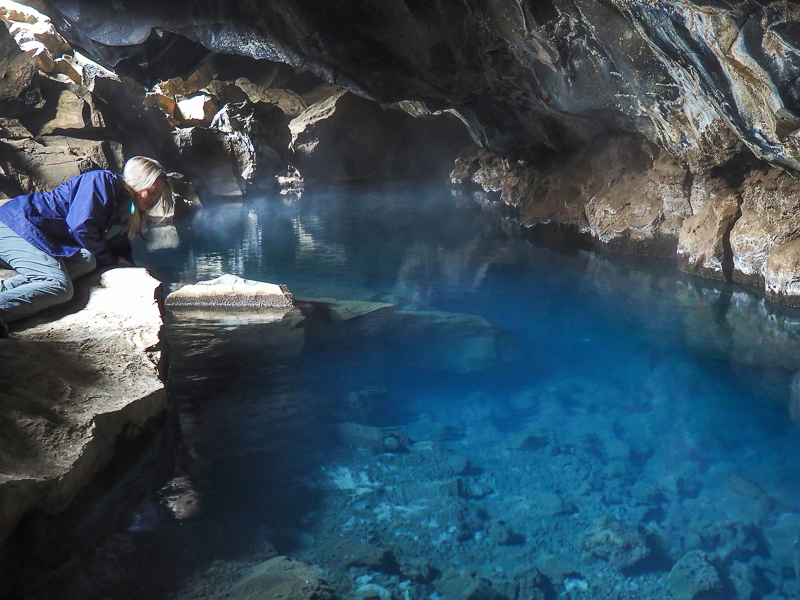 Nearby the cave is a milky blue body of water, colorful mountains behind it, steam everywhere. There were so many colors there, colors I'm not accustomed to seeing out in nature.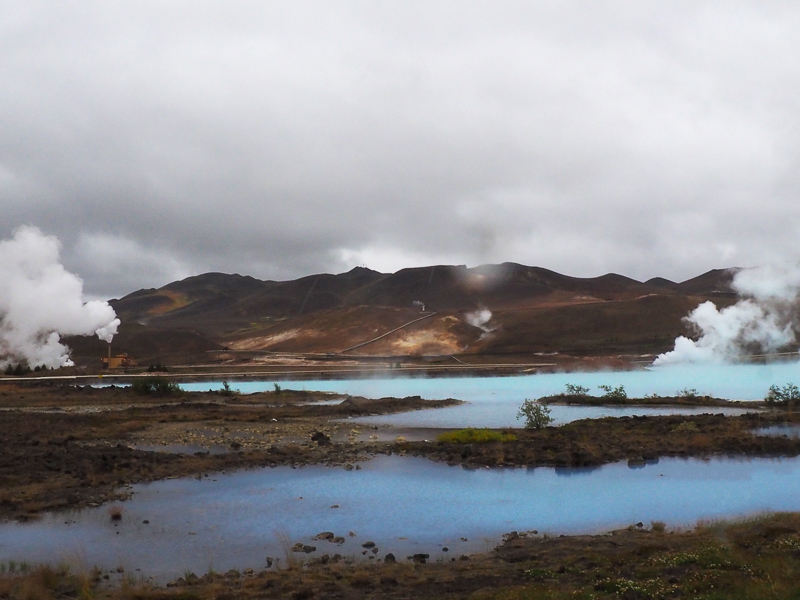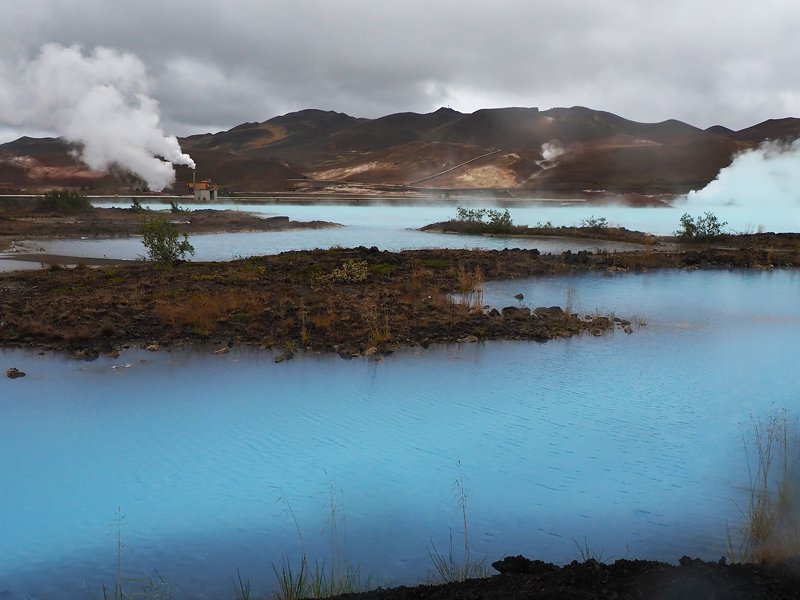 The bizarre Hverir geothermal area was next. The smell was awful, and I ceased breathing through my nose the entire time we were there, but wow, what an amazing place it was. We stood inches from pools of mud bubbling up, and steam blowing fiercely from vents.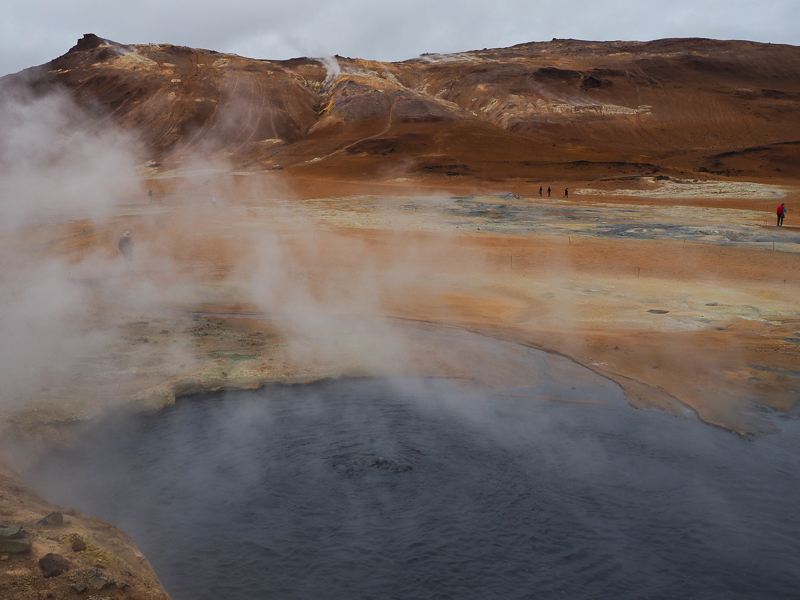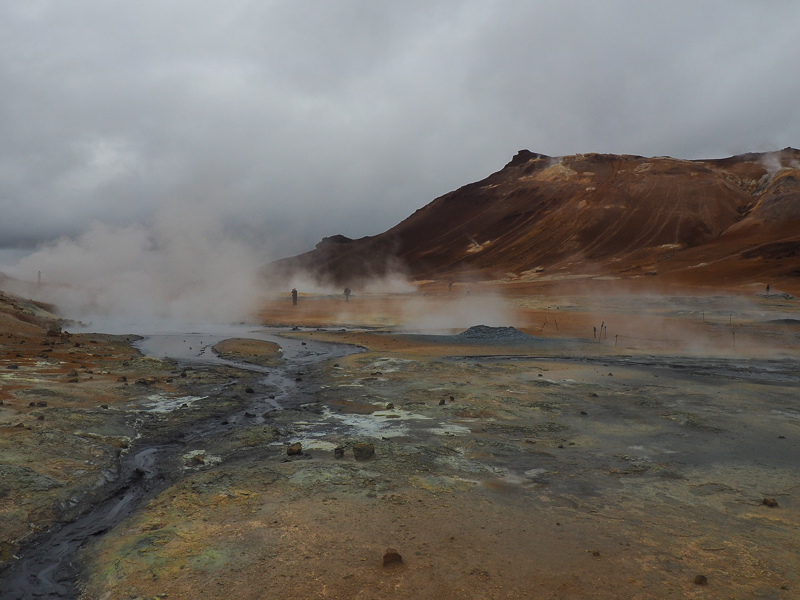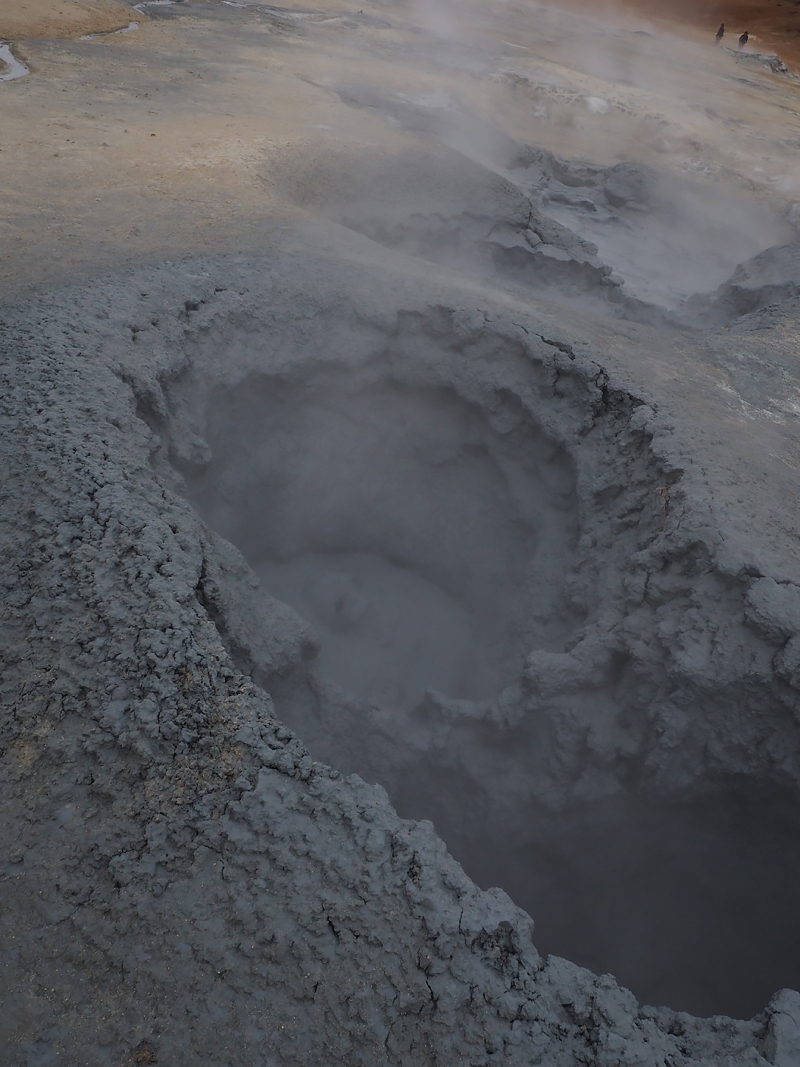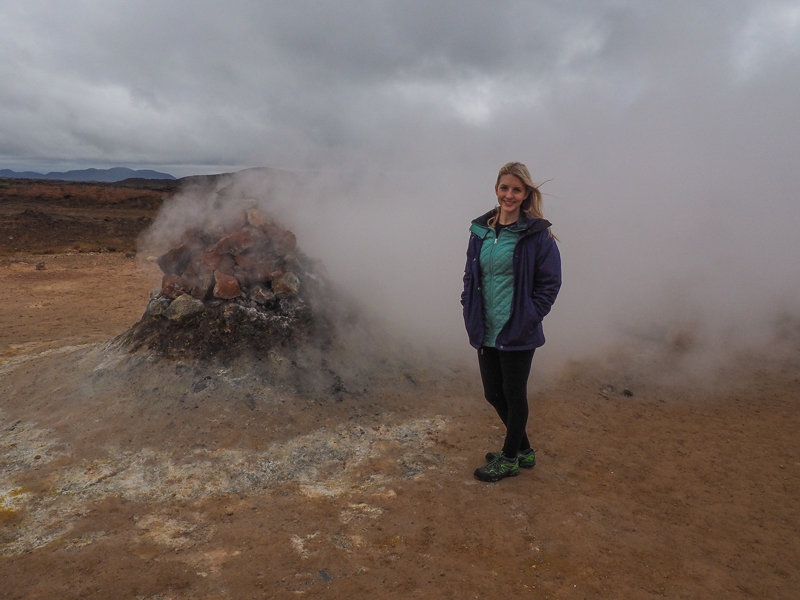 We decided to relax and warm up at the Myvatn Nature Baths after that. The baths are a less touristy version of the Blue Lagoon, lovely warm blue water with a beautiful backdrop. It was a great way to kill some time.
After a delicious lunch, we made a brief stop at Dettifoss, Europe's most powerful waterfall. Definitely the ugliest waterfall we saw in Iceland, the barren black lava field around it leading to the large grey curtain of water, grey mist rising to join the grey clouds. But certainly, it was impressive.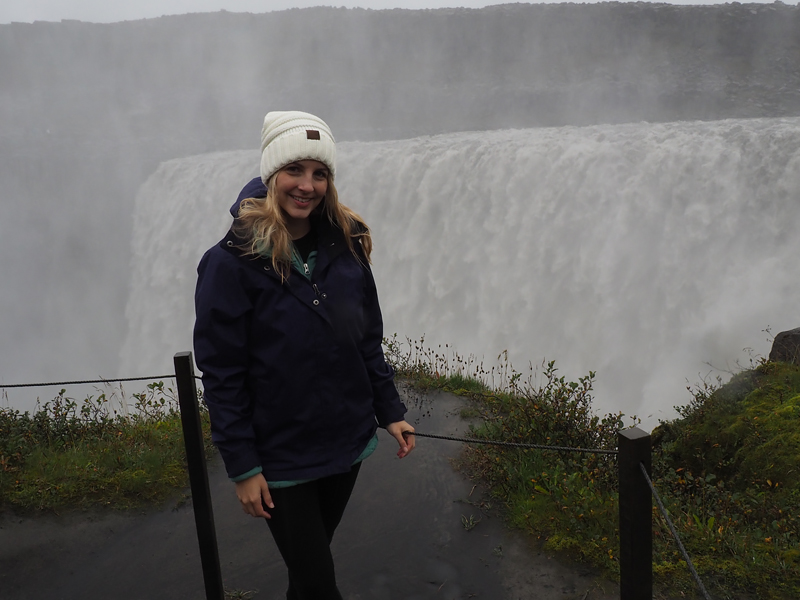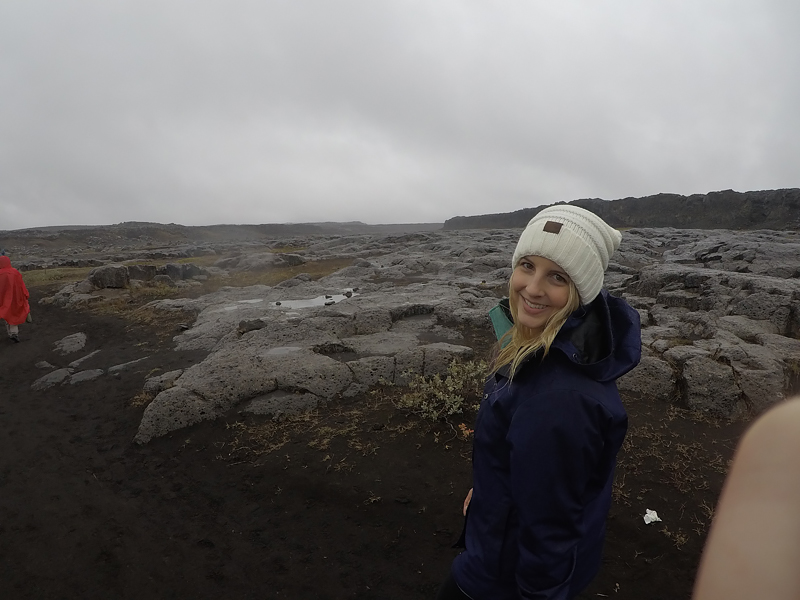 We had a brutal drive along a potholed gravel road after that, lasting around an hour, while the barren rocks suddenly turned into lush vegetation.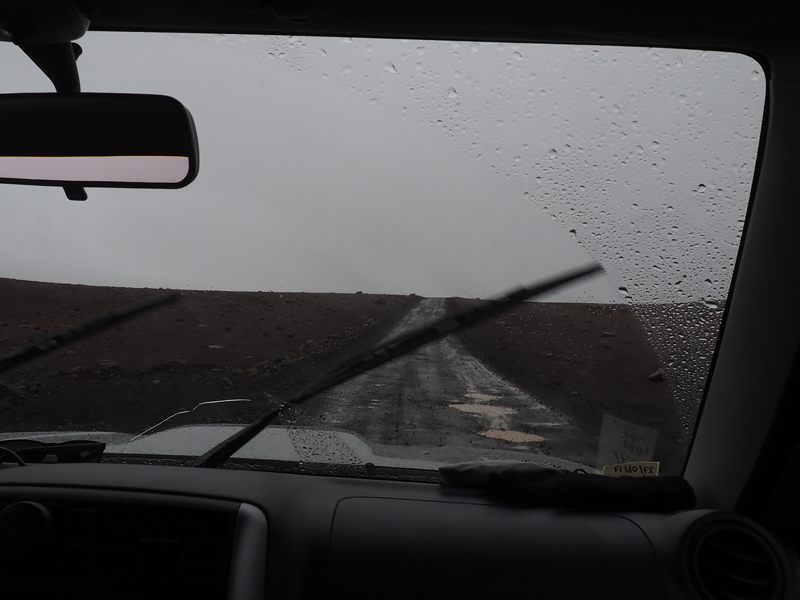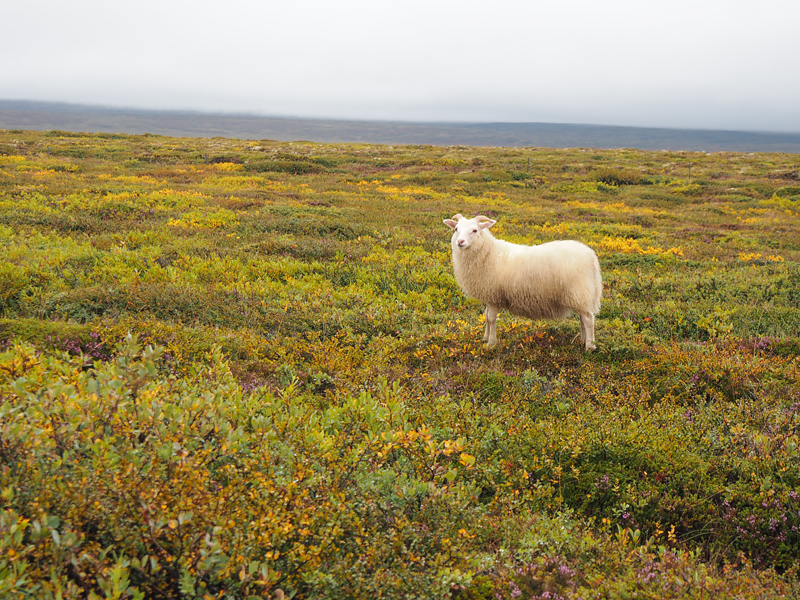 During the drive, we made a brief detour to Vesturdalur, taking time to stretch our legs.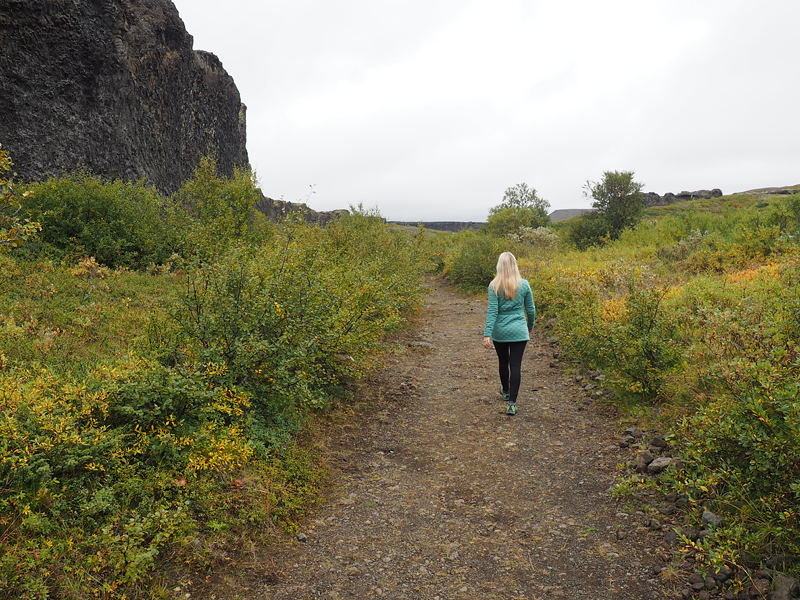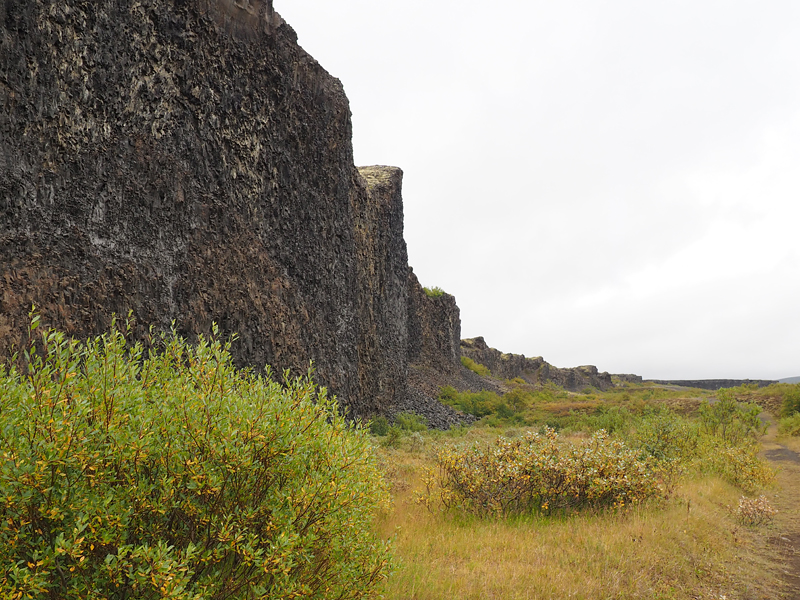 And then, at last, we made it to Ásbyrgi canyon. We did a brief hike at the base of the canyon, and up a small climb to look down at the clear little pond.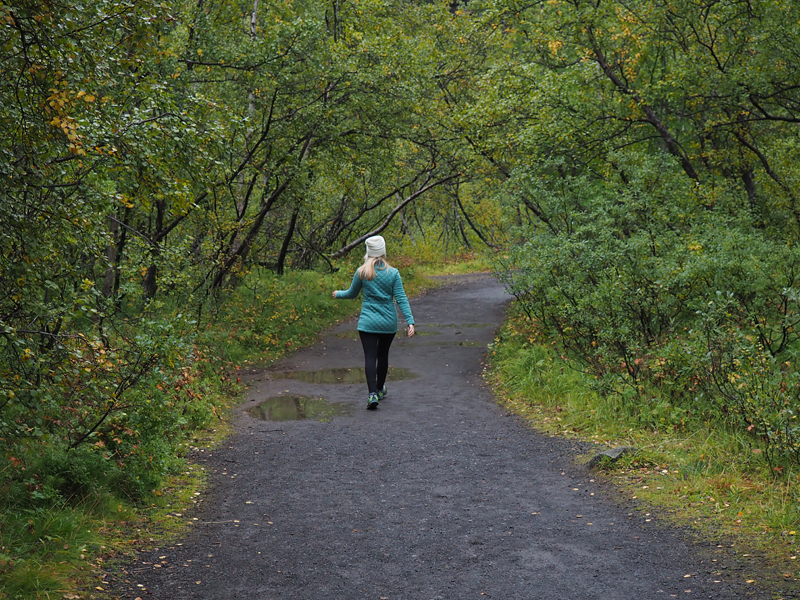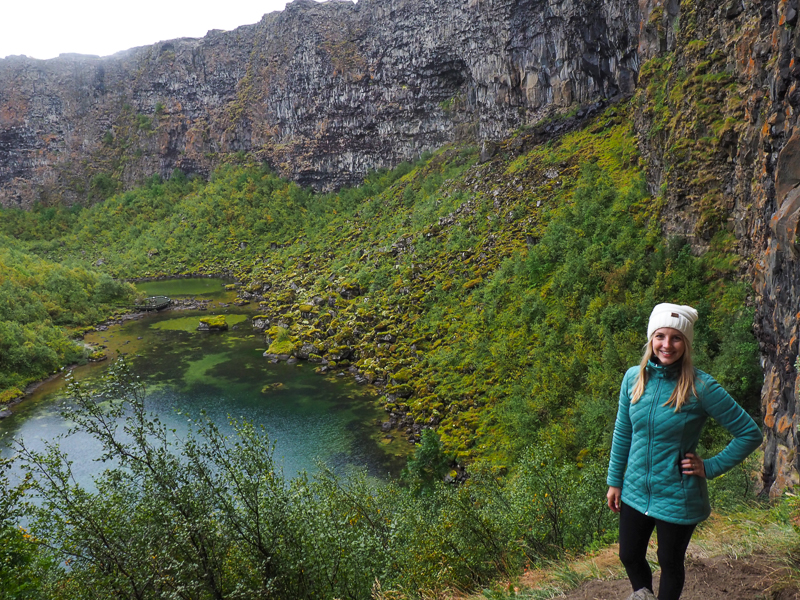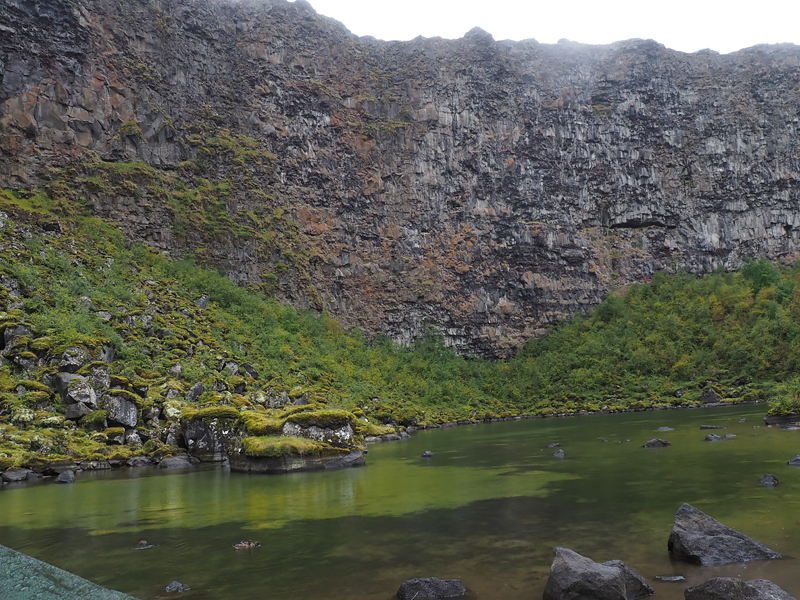 Clouds quickly sank lower and lower, making a hike along the top of the canyon rather pointless, but we didn't mind too much, as we really loved the campground there and enjoyed the peace and solitude hanging out there.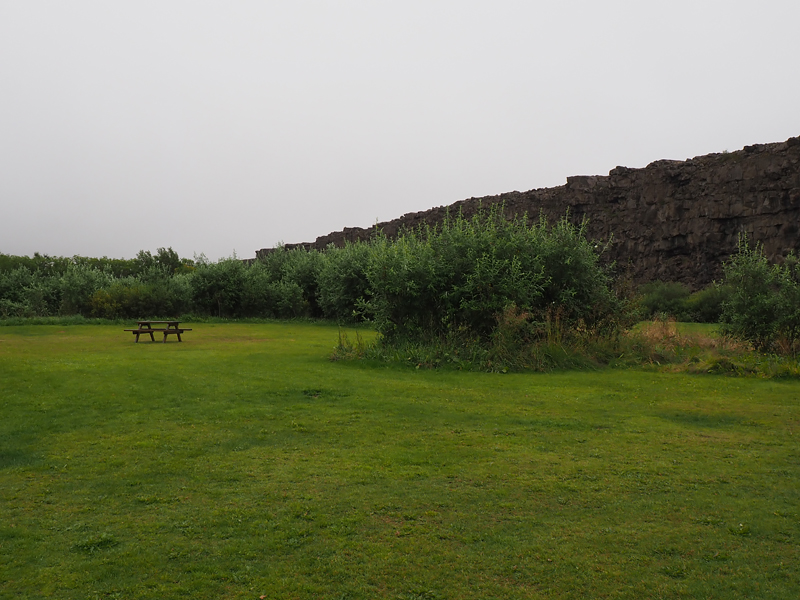 We had a possibly even worse journey back to the Ring Road the following morning, making another stop at Dettifoss, this time on the east side. We were able to get closer to it from this side, the mist and rain soaking through to skin.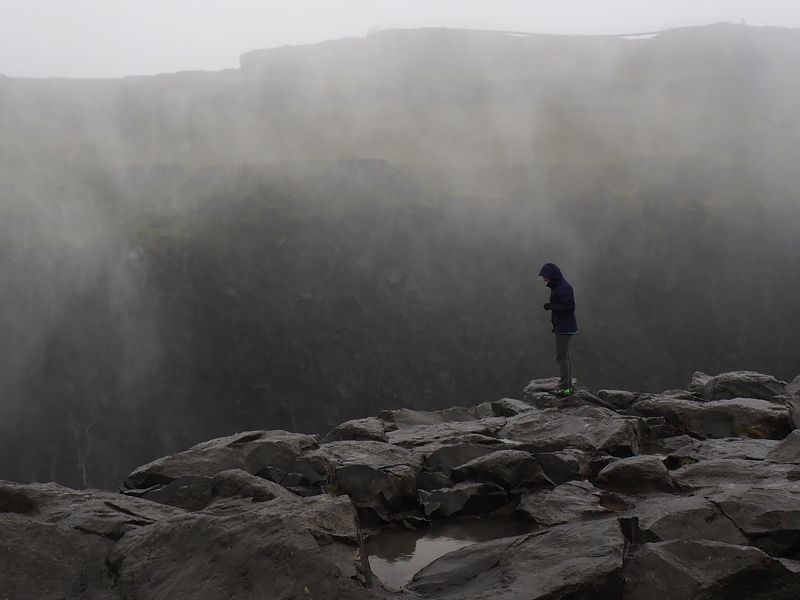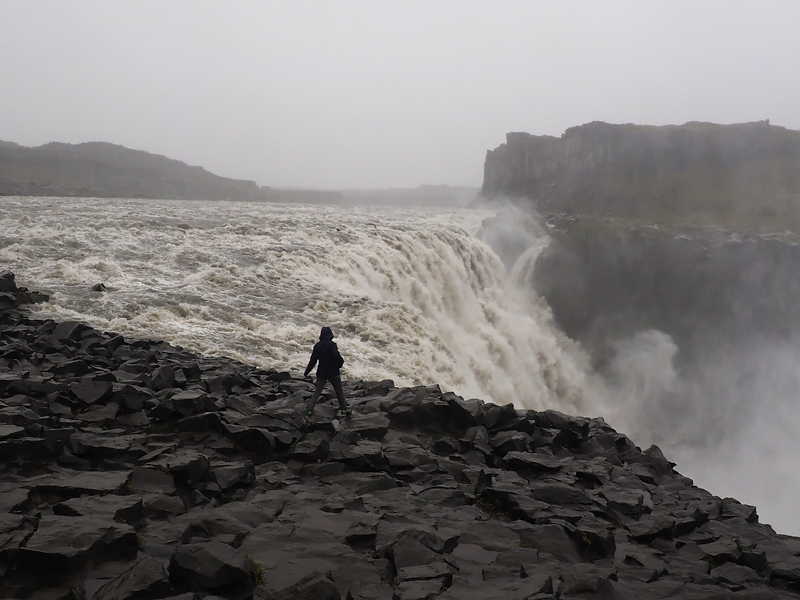 Back on the Ring Road, our drive was beautiful after that, going past rolling hills and mountains, beautiful rivers, and lovely nameless waterfalls.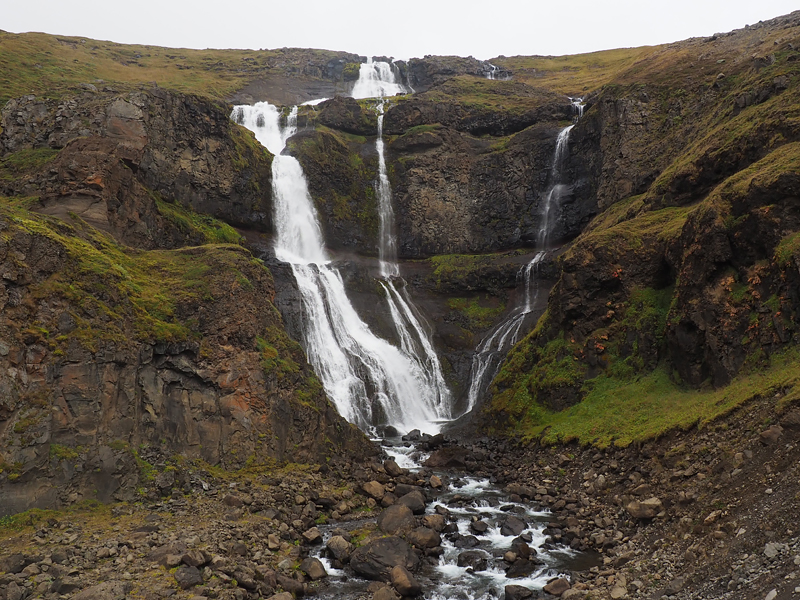 We passed through Egilsstaðir, turning toward Seyðisfjörður. Our little Jimny struggled climbing up that mountain and winding back down, but we could see for forever at the top, and then there was Seyðisfjörður becoming more and more visible.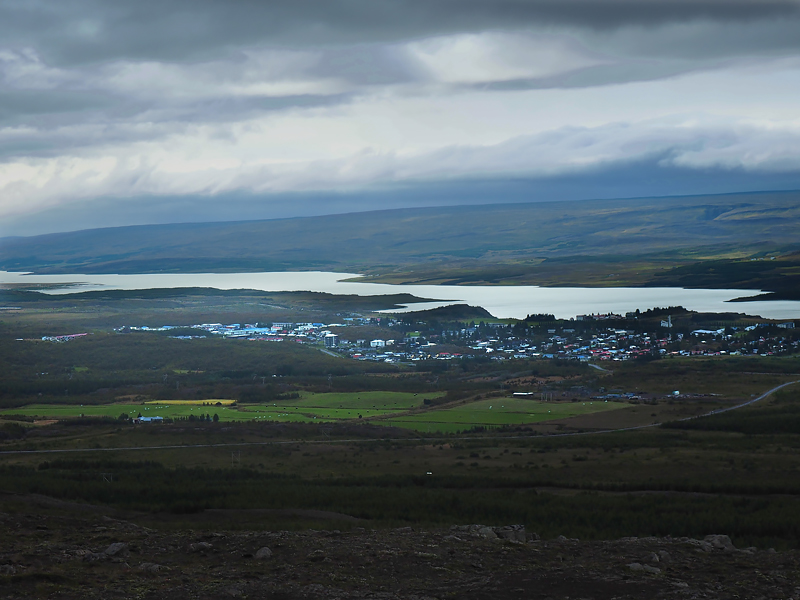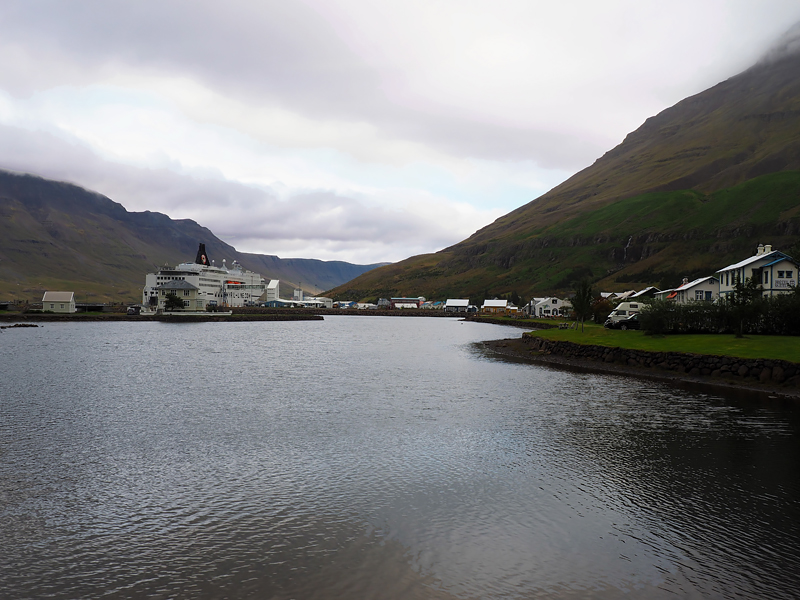 It was such a picturesque town, and I wished we had more time there. We walked around, ate another delicious lunch, took pictures of the adorable blue church, and loved life.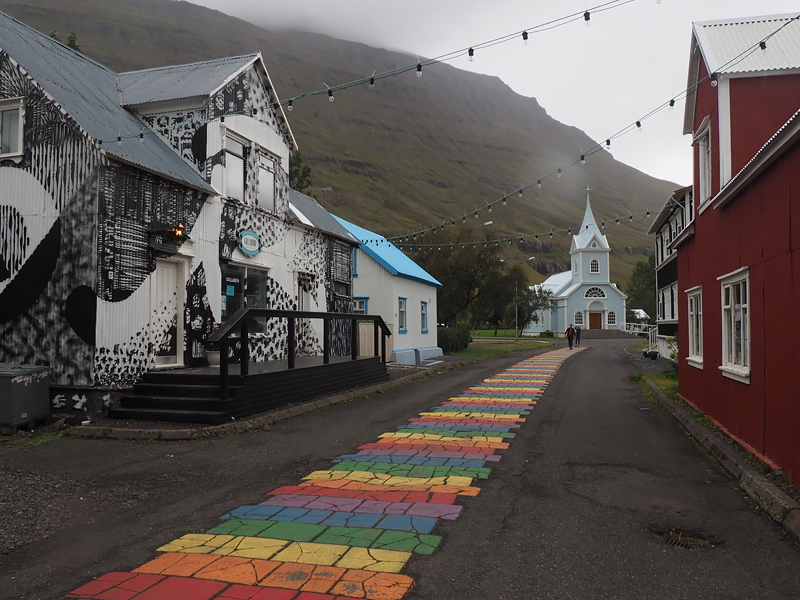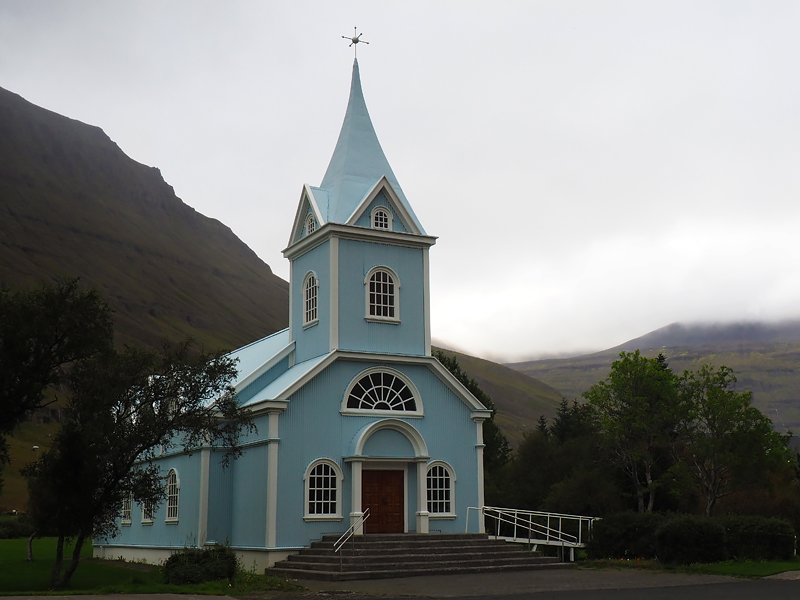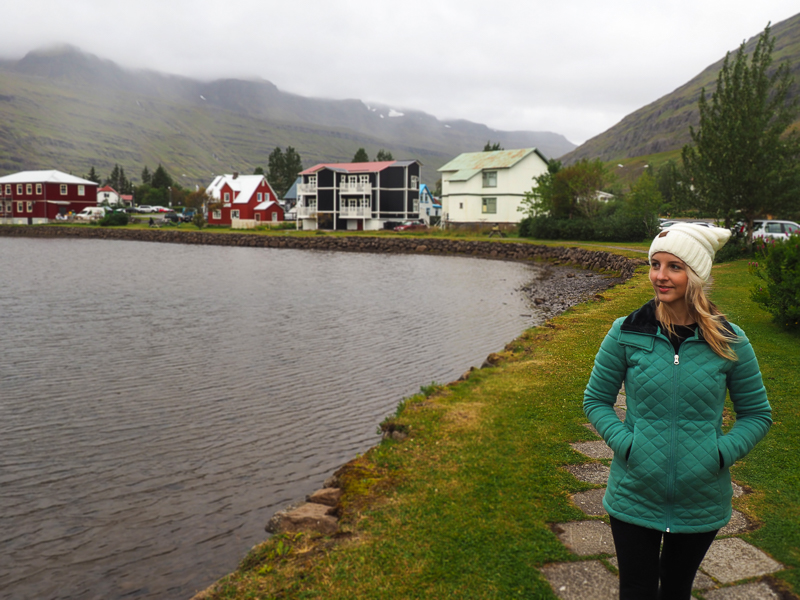 We were sad to leave, but we shouldn't have been because next was Mjóifjörður, and I fell even harder in love. The views the whole way down were breathtaking, and the protected little fjord had incredible weather. We had hoped to end our day here, camping out at the only campsite Solbrekka, but alas, they closed on August 15th due to school starting back up.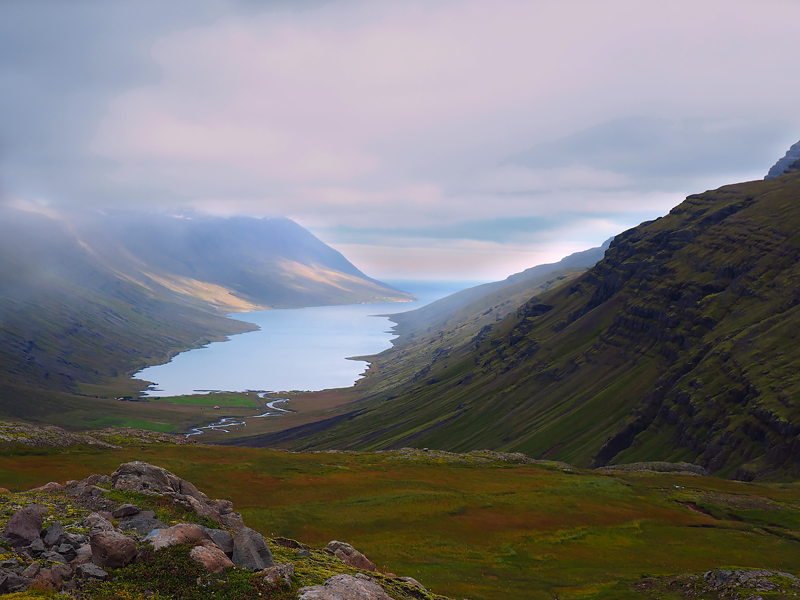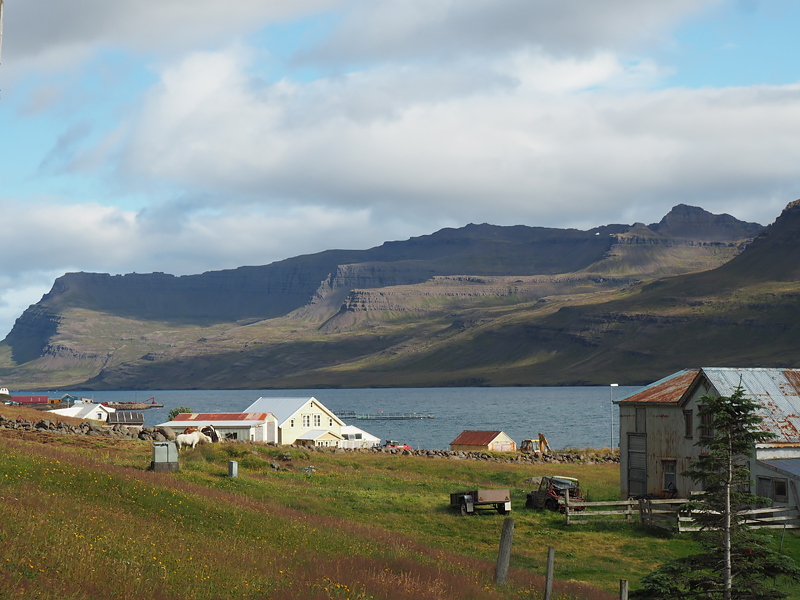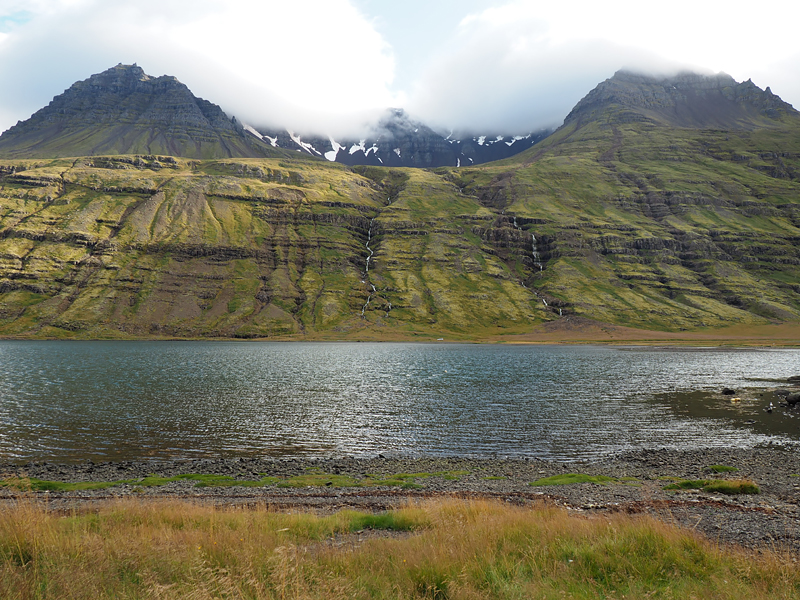 But we took our time, driving back along the fjord, back up the mountain, past waterfalls and mountain peaks and beautiful rivers.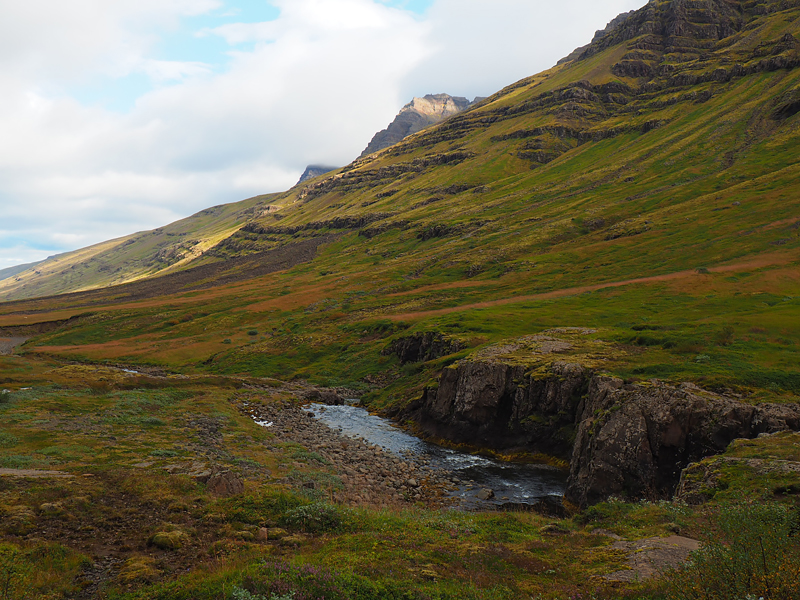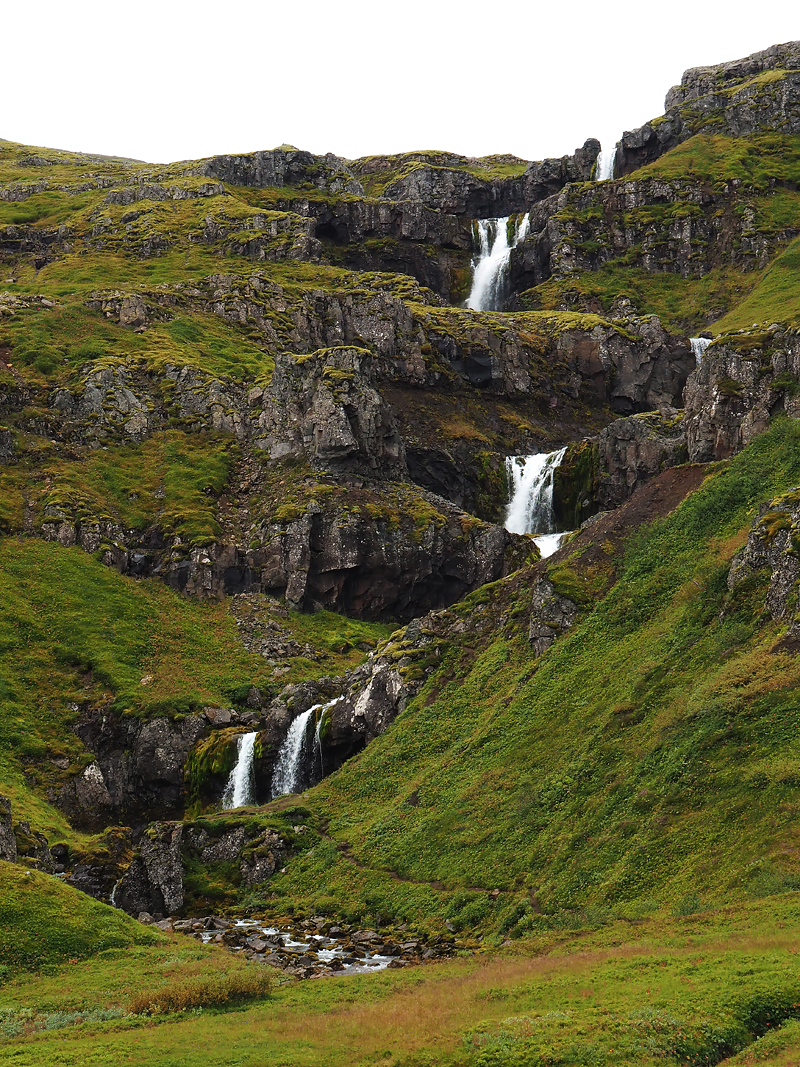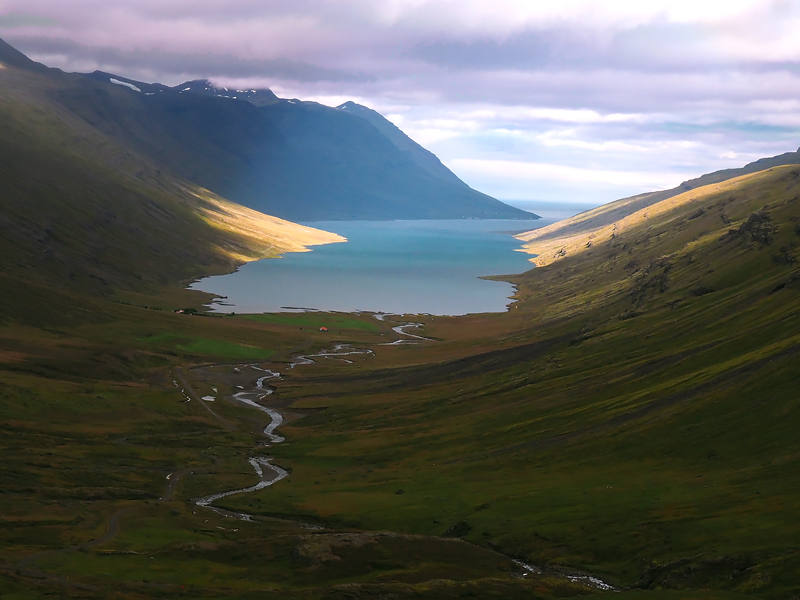 We continued through more stunning scenery to get to the campground in Reyðarfjörður, a wonderful little campground next to a duck pond.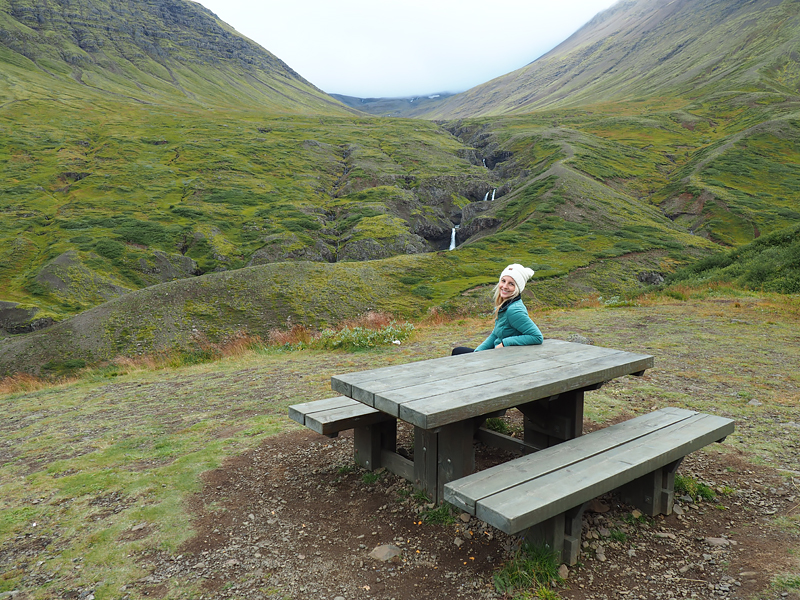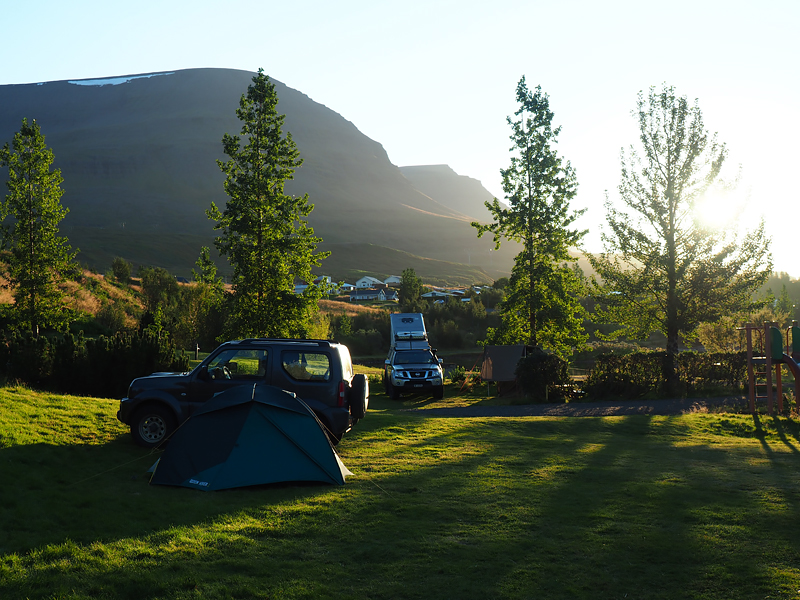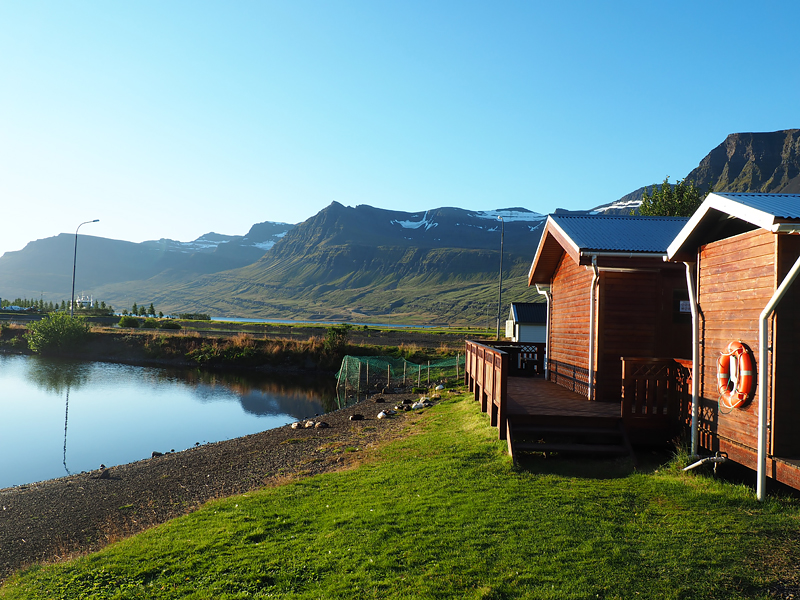 We woke up to our first day of perfectly clear blue skies and warm weather. We finished the drive along the East Fjords, and then started along the south coast, dramatic mountains and coastline and glaciers everywhere we looked.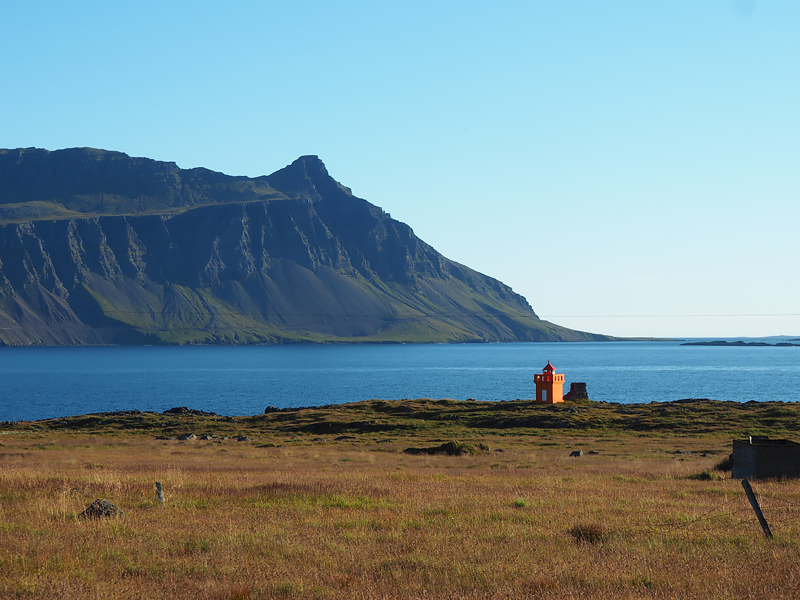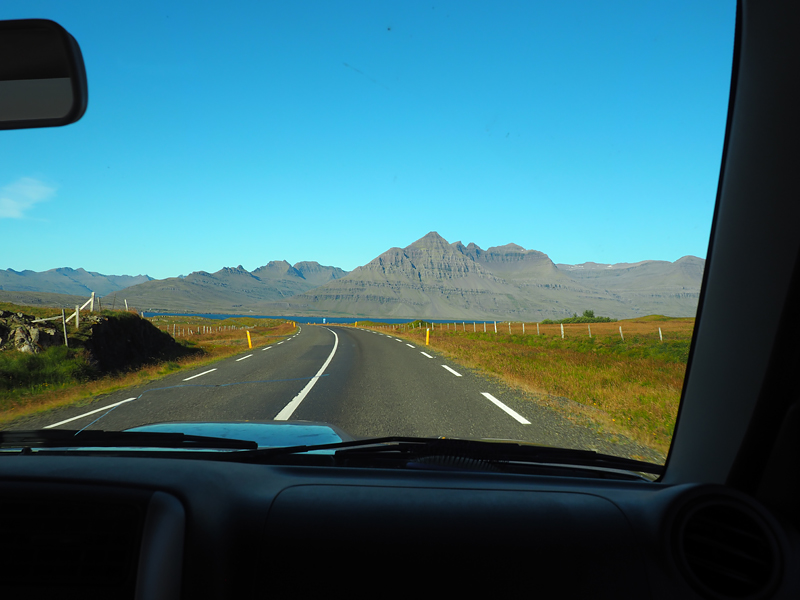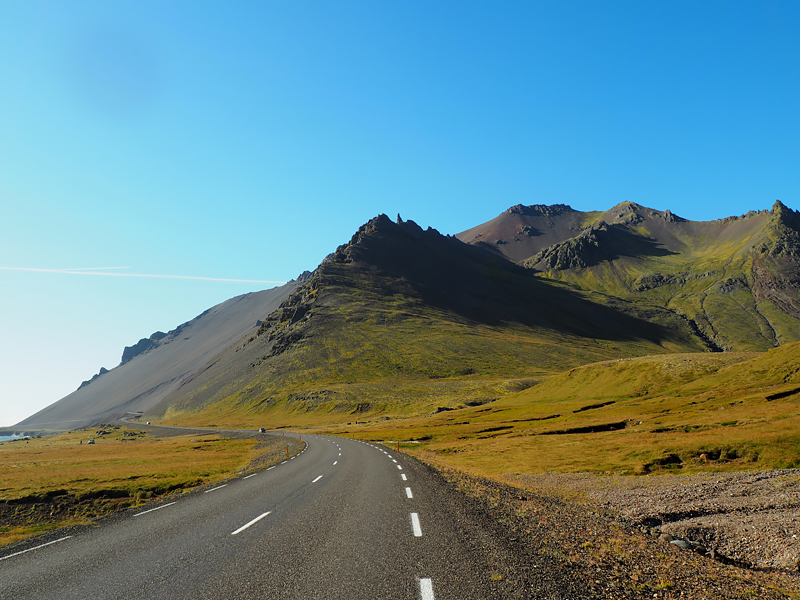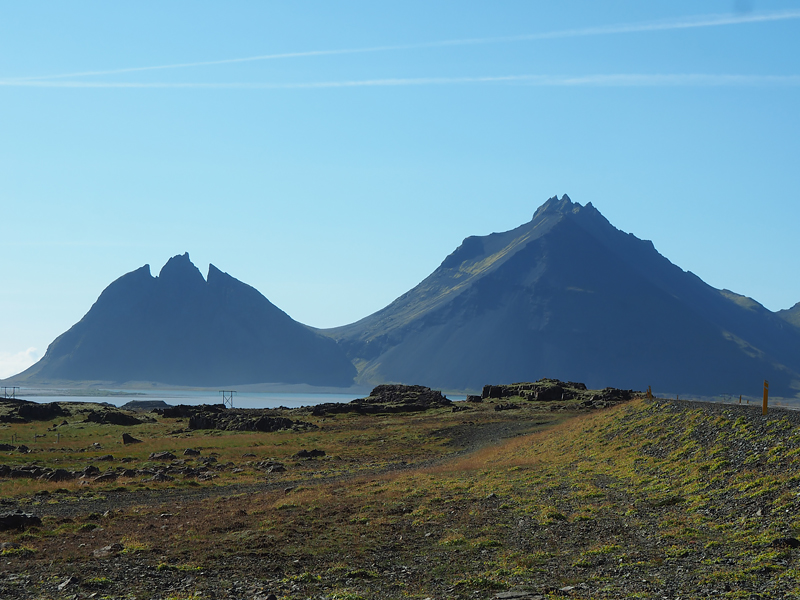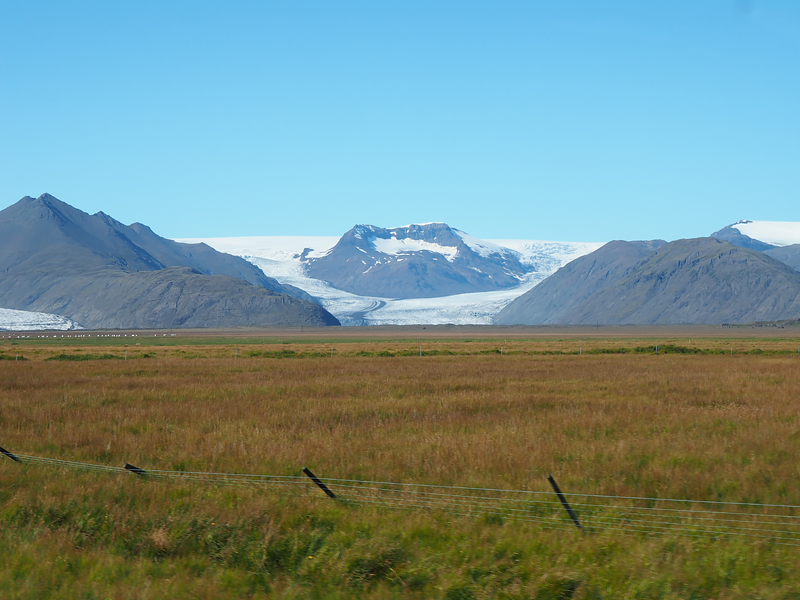 We pulled off the road to see some Icelandic horses, which are always ridiculously cute.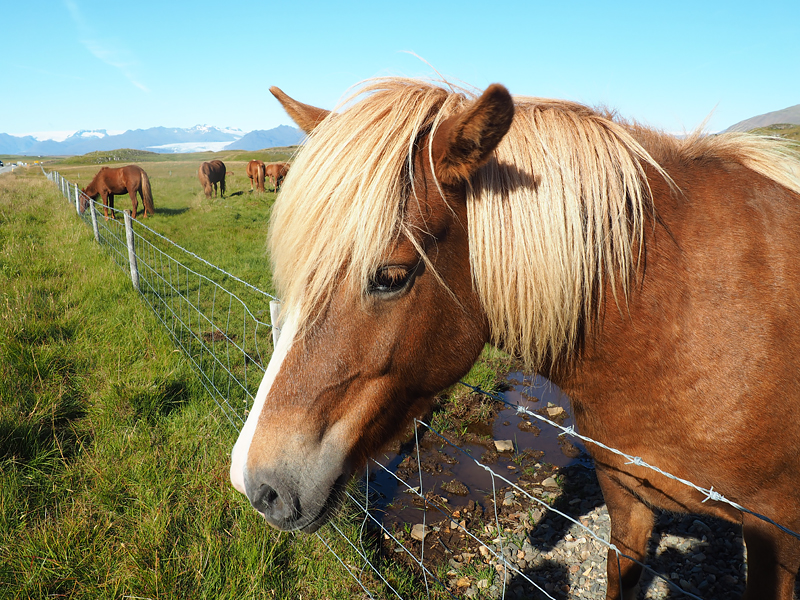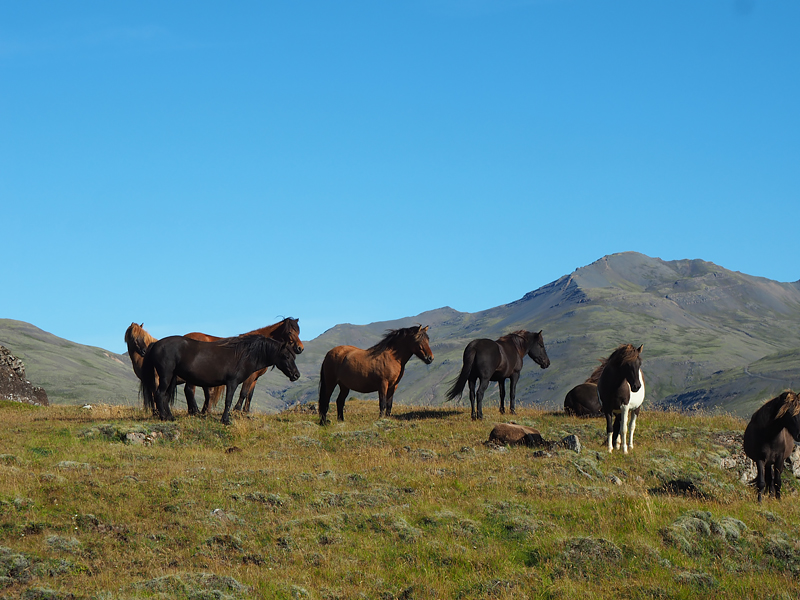 And then we saw a huge black sand beach on our left, so we pulled over there too, and ran (slowly) across the beach, laughing and playing and listening to the waves.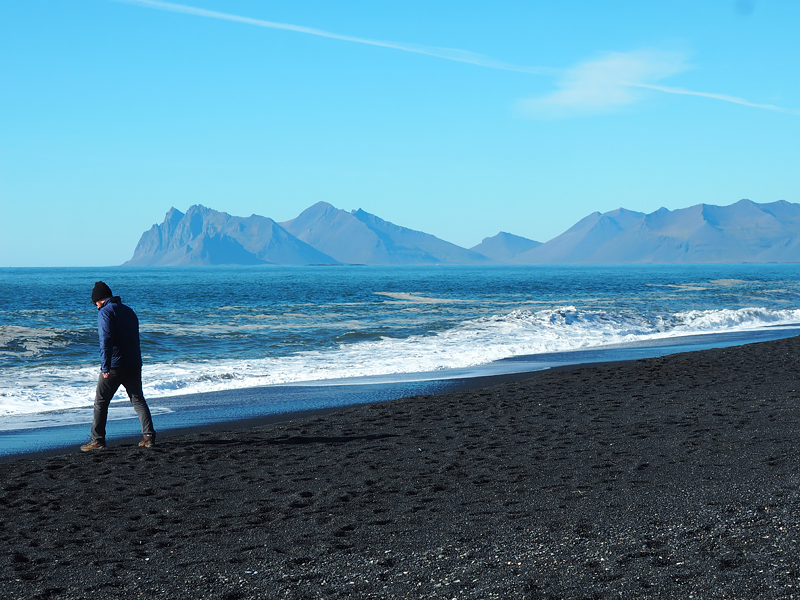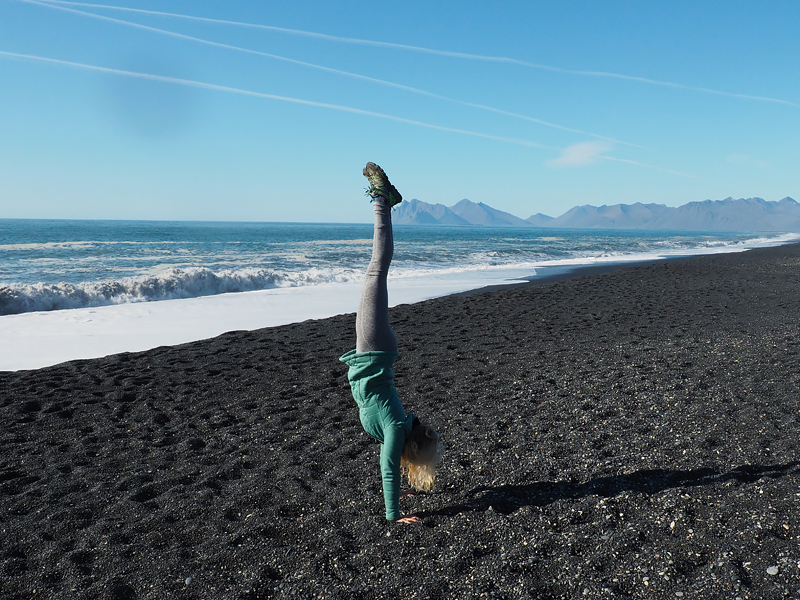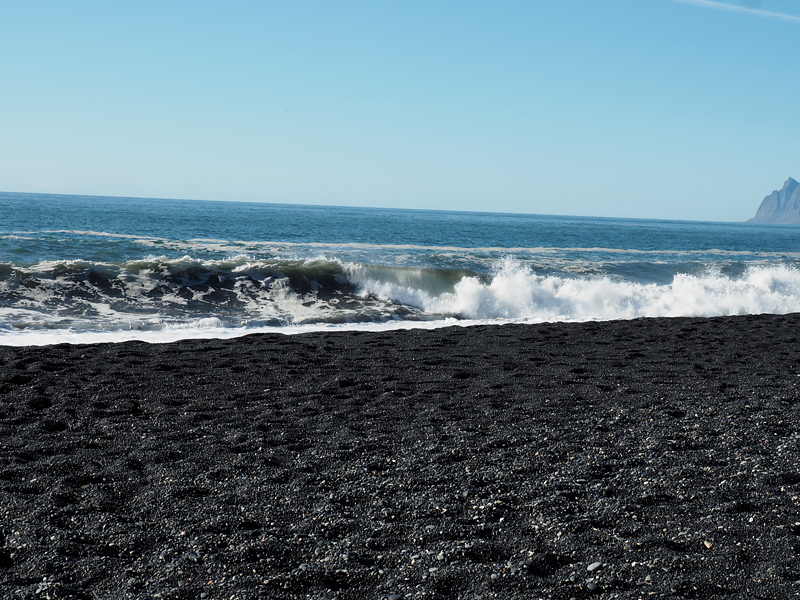 Our first real stop of the day was Jökulsárlón, somewhere we expected to take a minute to snap a couple pictures and move on. It was our second time there, but it was by far the superior experience. The ice glistened under the sun, and the entirety of the glacier lagoon was just magical. Every chunk of ice was like a beautiful sculpture, and seals swam through to the delight of everyone around.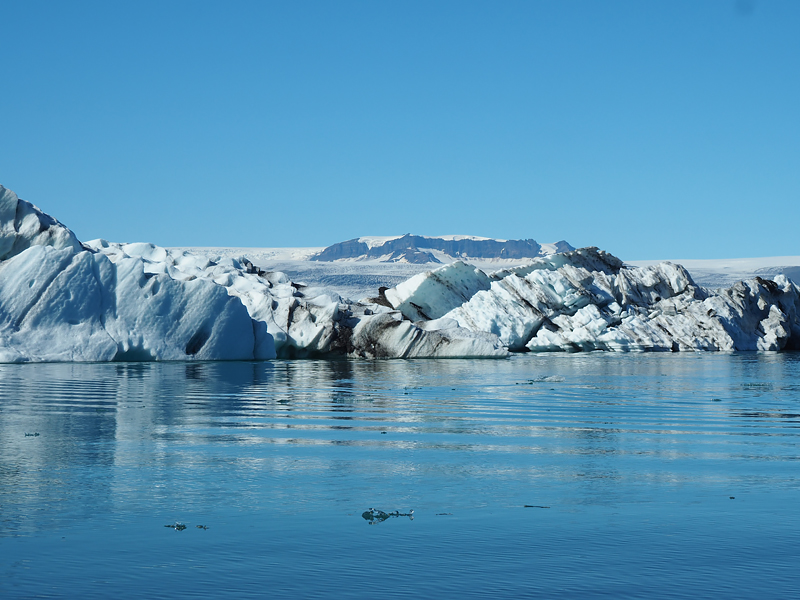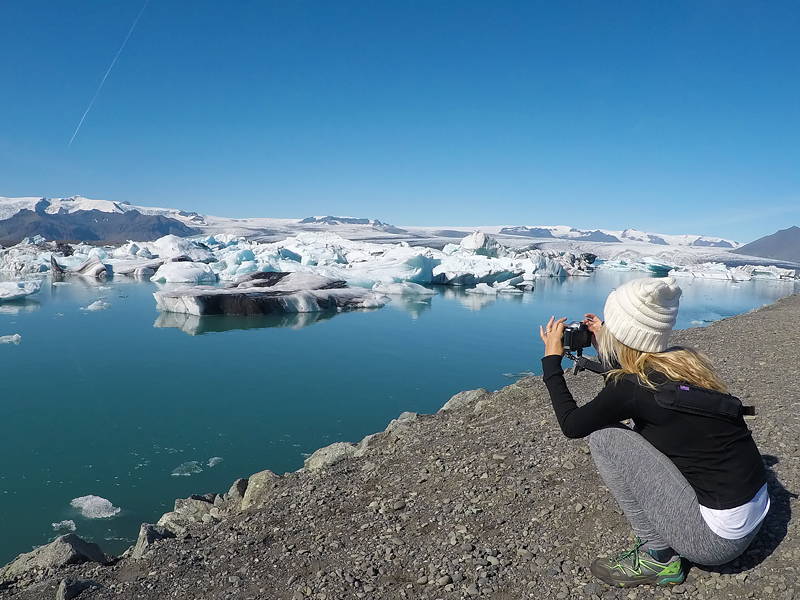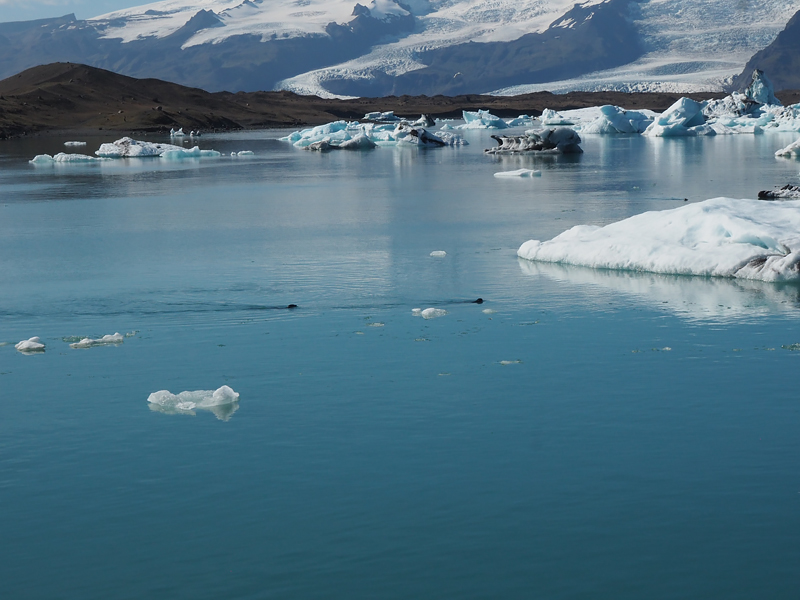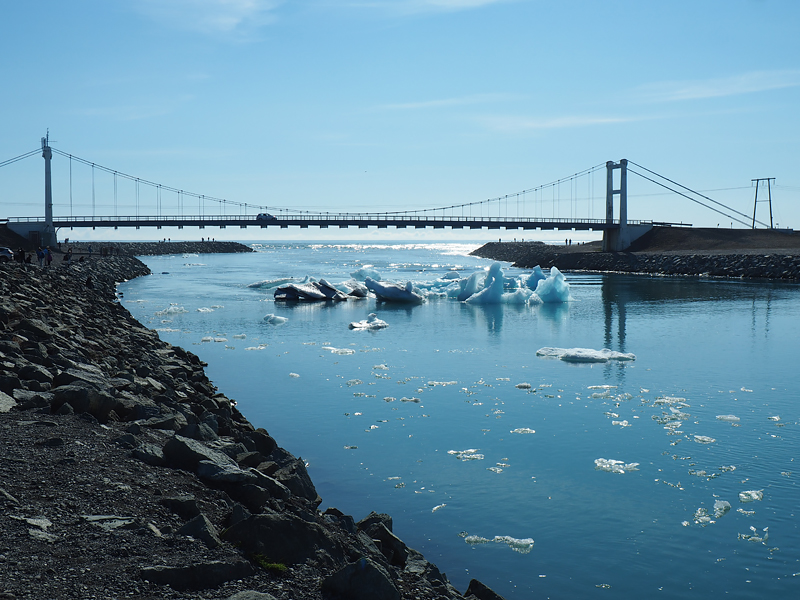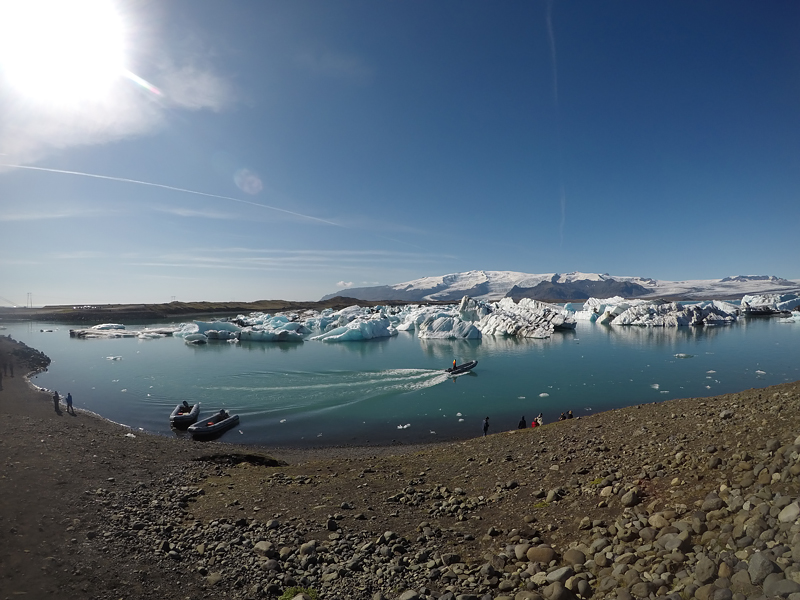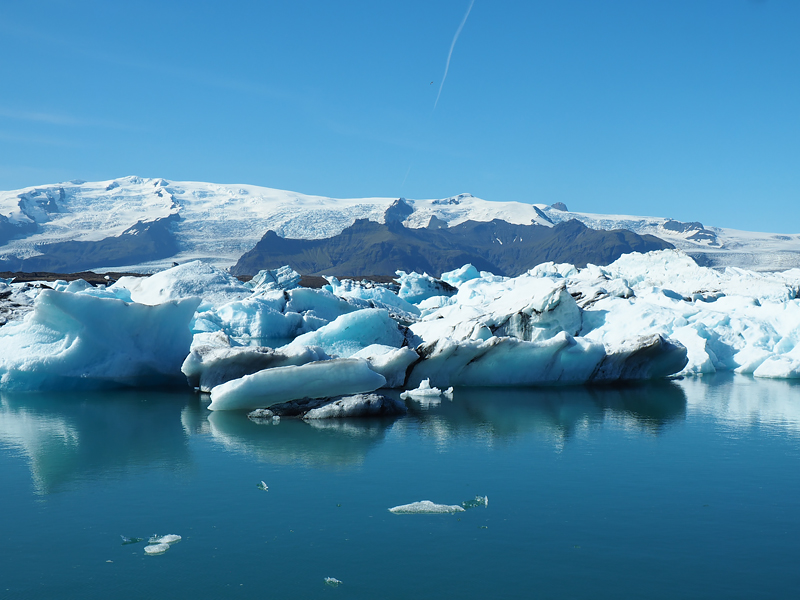 Across the street was Diamond Beach, the black sand beach where ice washes ashore.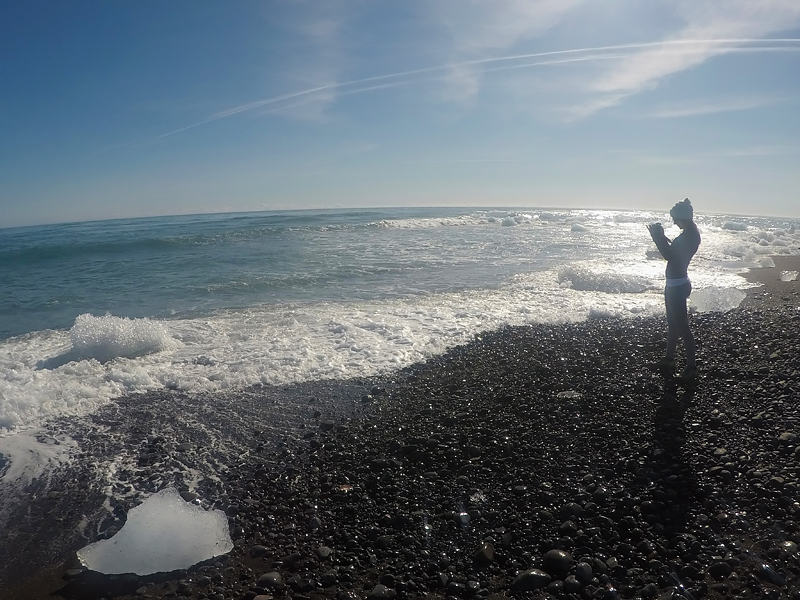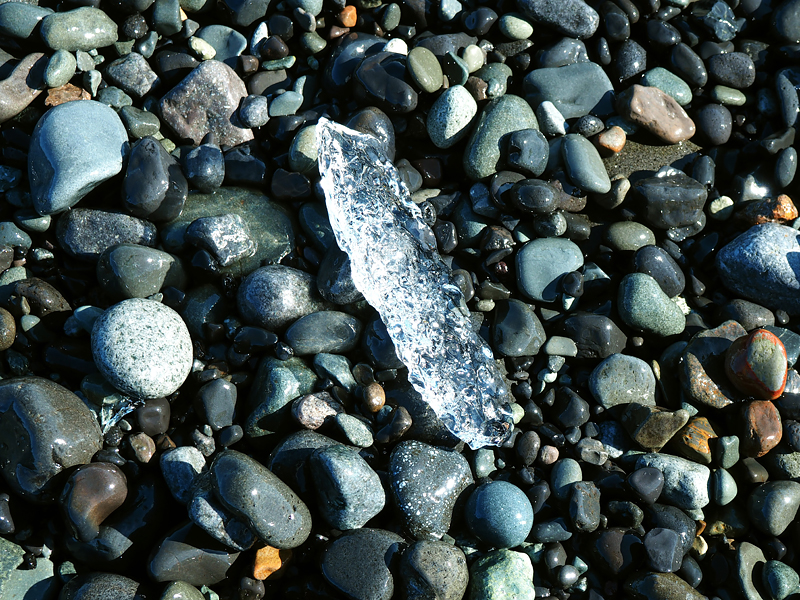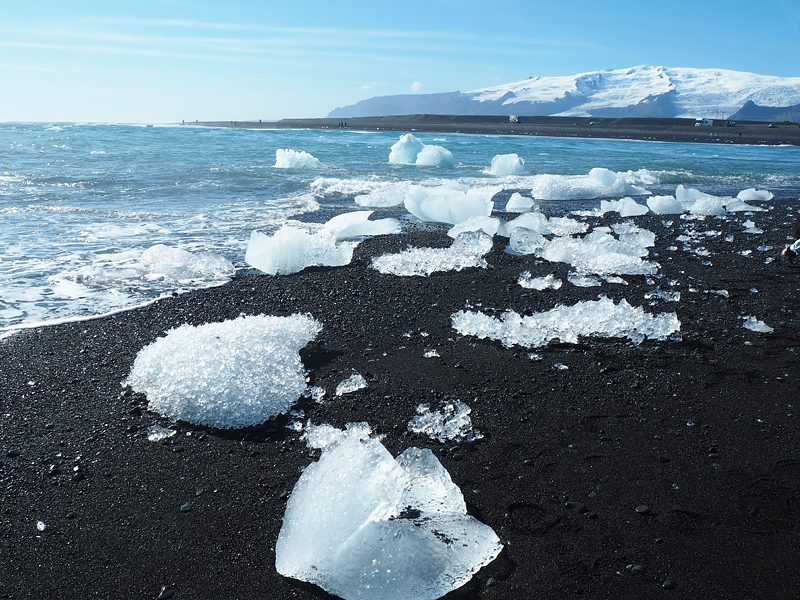 We drove a little further, turning off on a gravel road toward Svínafellsjökull, the glacier we had hiked last time we were in Iceland. It was much smaller than we had remembered but still wonderful to look at.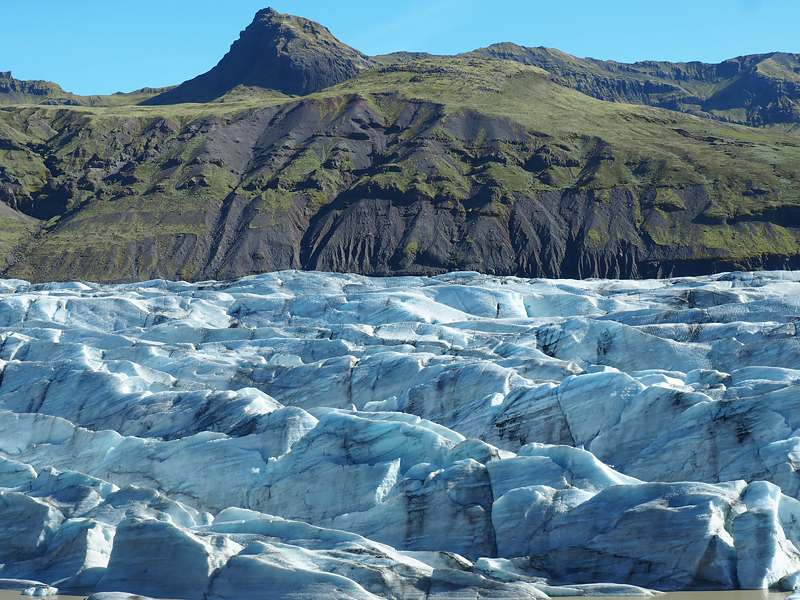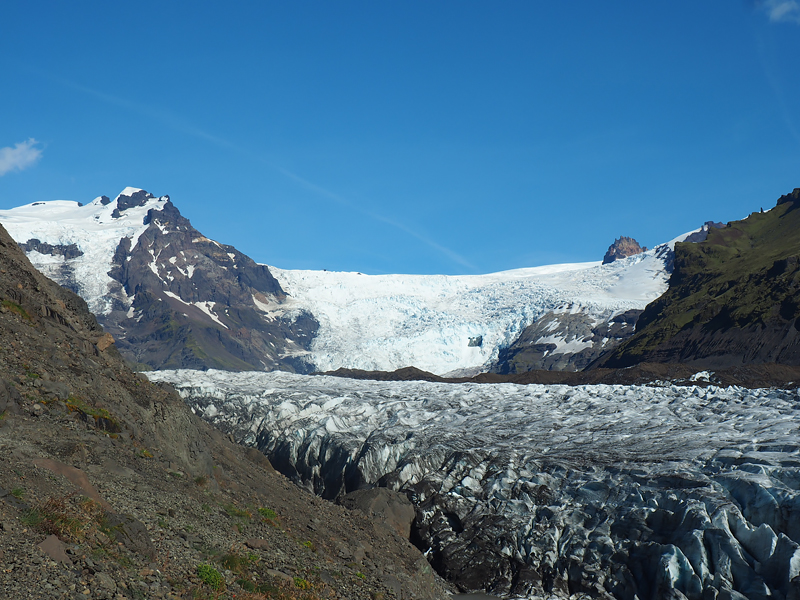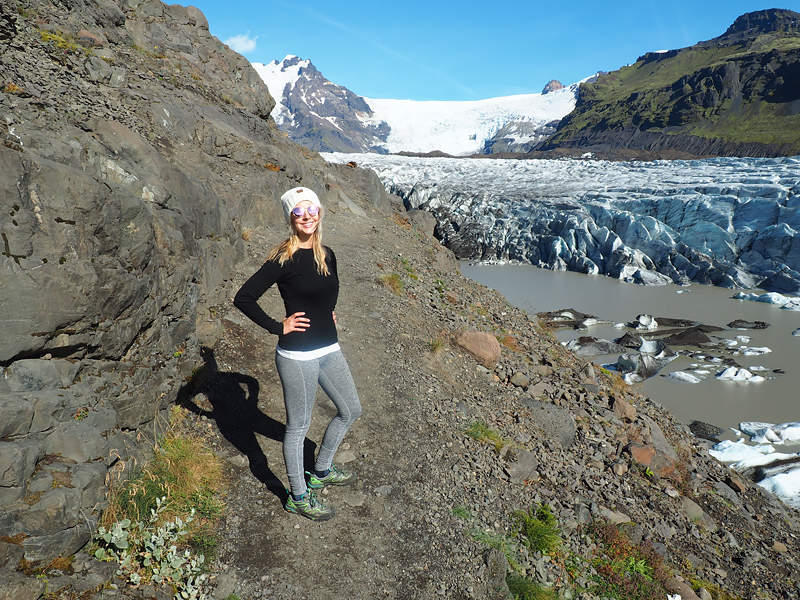 We ended up at Skaftafell National Park campground, set up tent, and started our trek up to Svartifoss.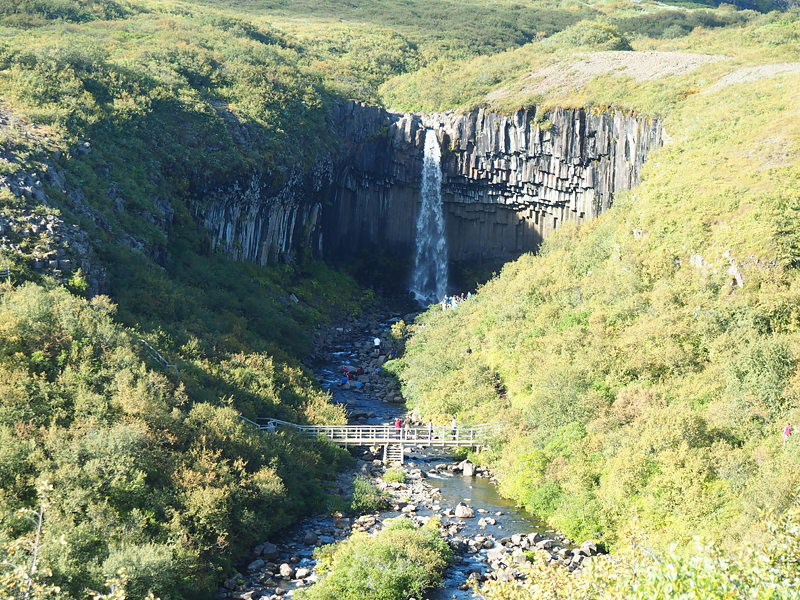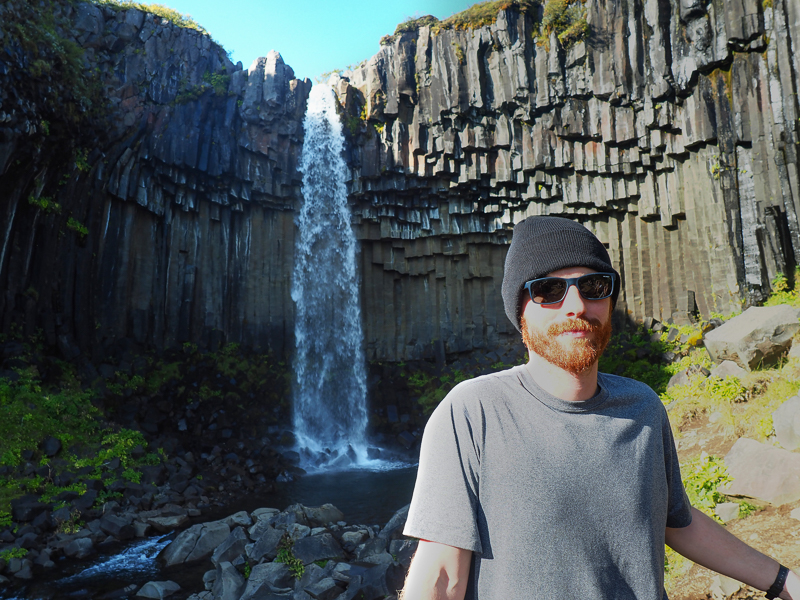 After going the wrong way and getting turned around, we marched for quite awhile longer until we arrived at the glacier overlook.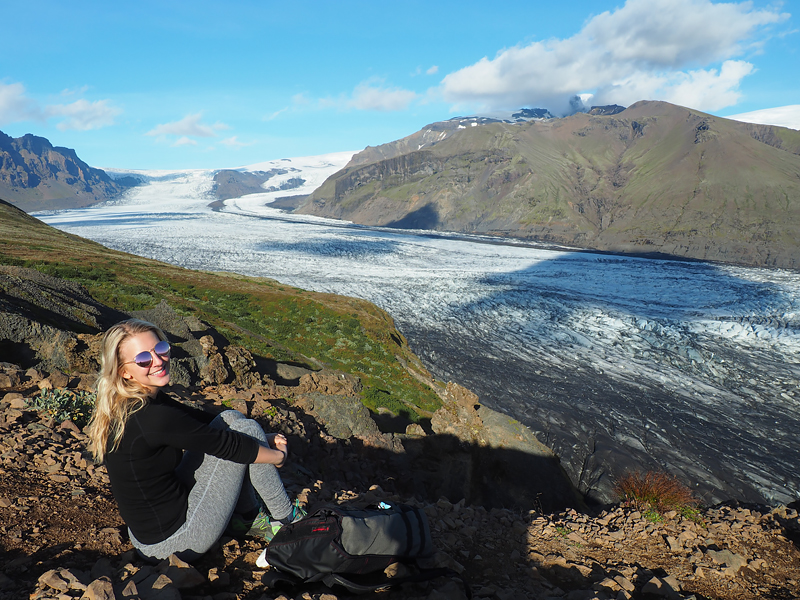 The gentle sloping walk back down turned into a steep almost sprint the rest of the way back to the campground, and we slept soundly that night.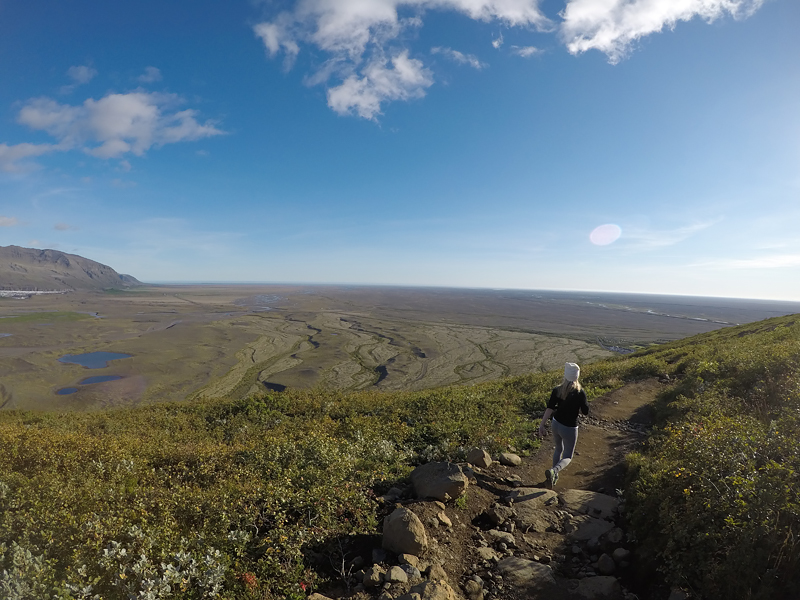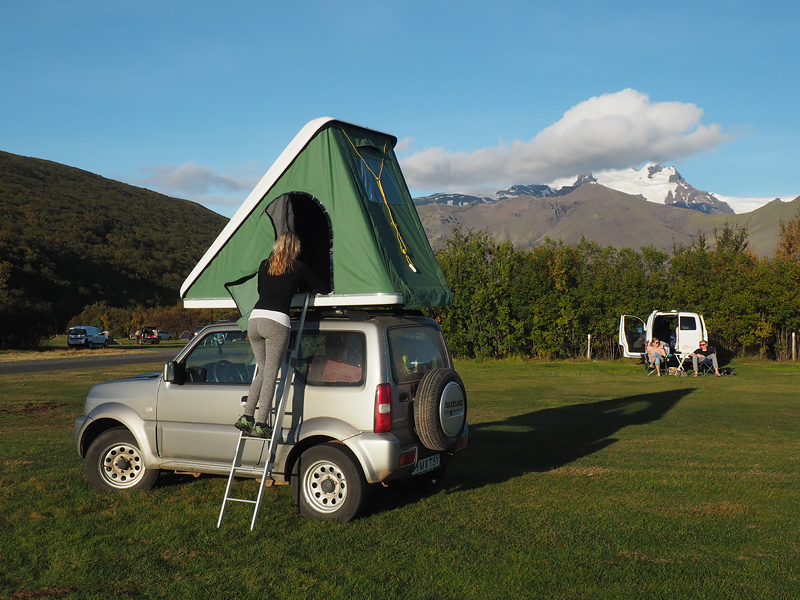 We ate breakfast at Fjaðrárgljúfur before the other tourists arrived. It's a fabulous canyon just a short detour off the Ring Road.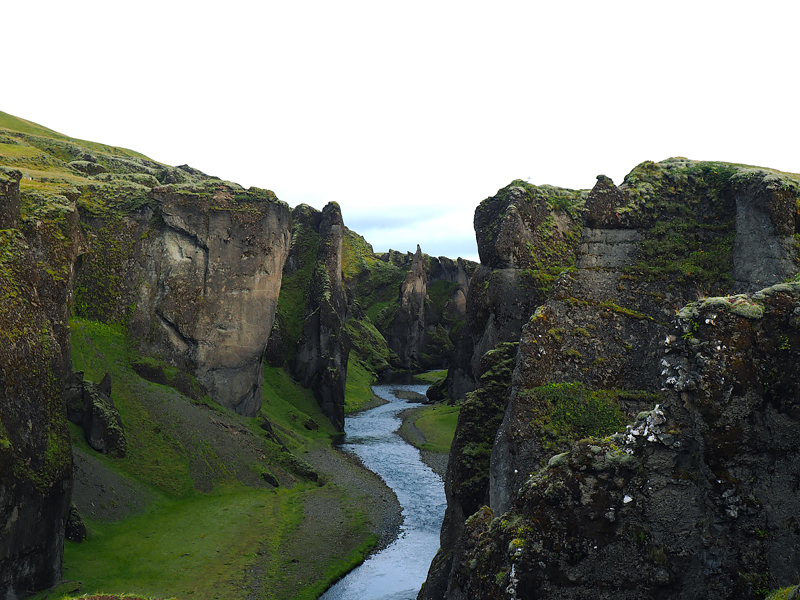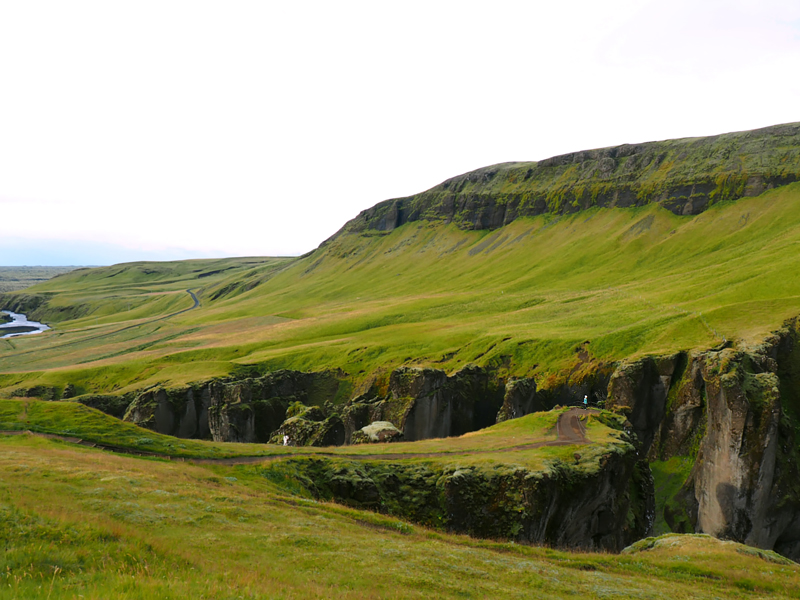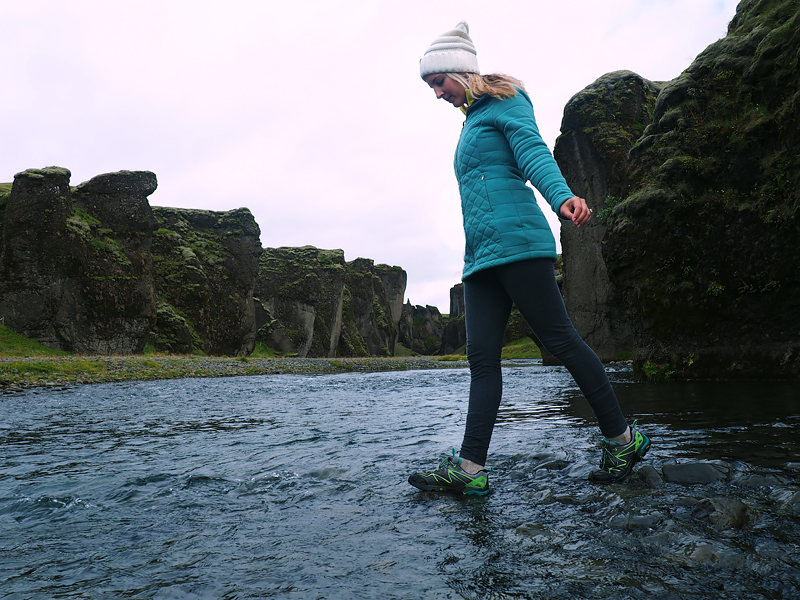 Driving through the crazy mossy lava field of Eldhraun (of all the types of landscapes you drive through in Iceland, this might be my favorite?), we saw a tiny arctic fox! In the second it took me to realize what I was seeing, it was turning around and fleeing, but that second had me falling in love with the adorable animal.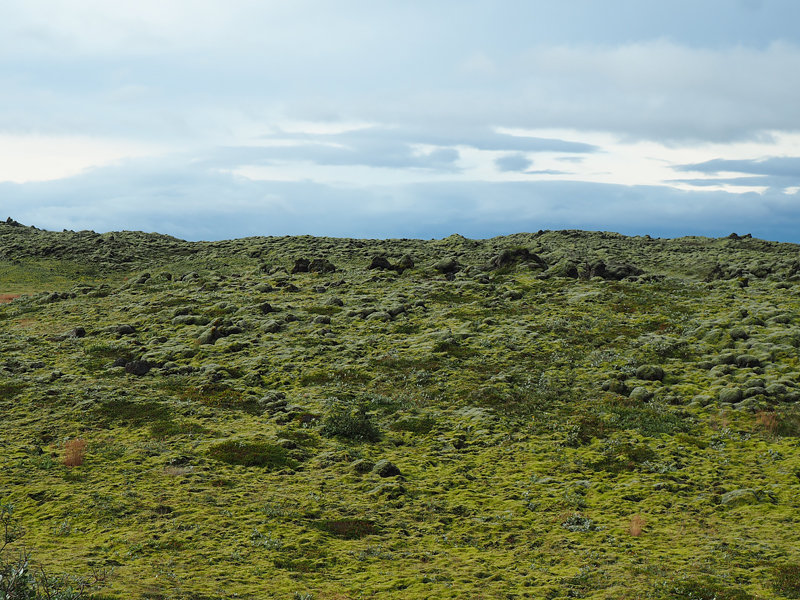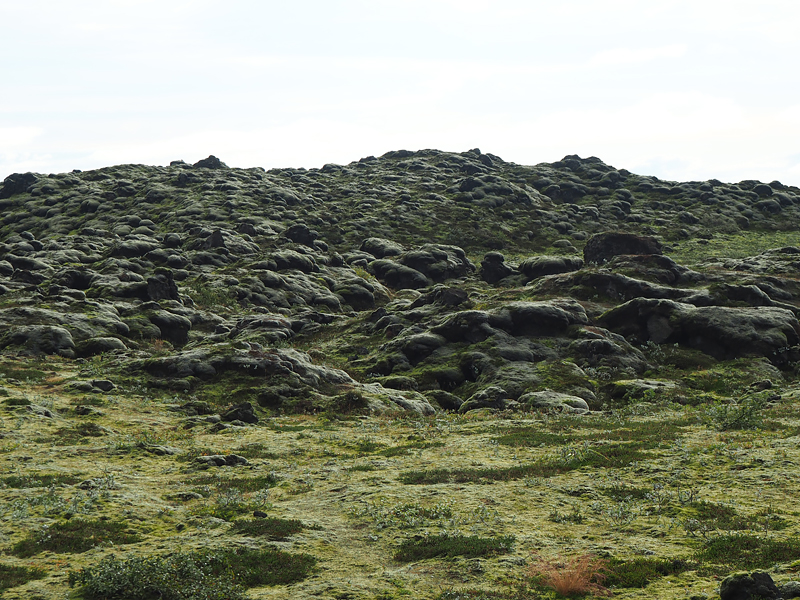 Due to wind, we had to skip our hike of Hjörleifshöfði, but we did drive along to the south side to see the cave.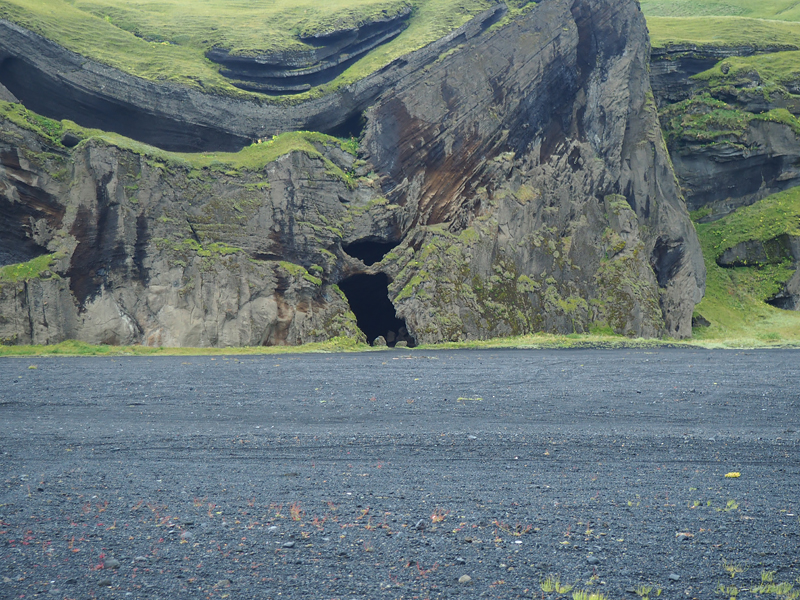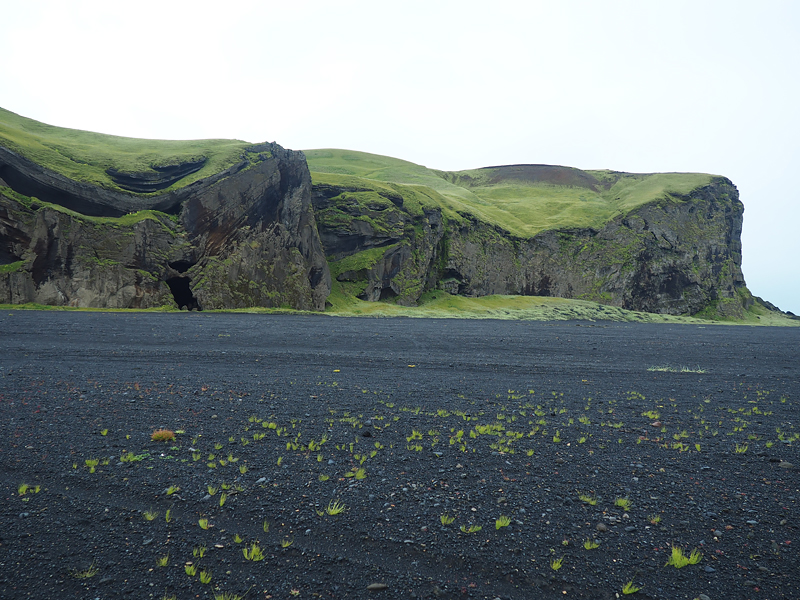 In Vik, we ate some lunch before checking out Reynisfjara black sand beach. What was an empty beach the last time we had been there had turned into the largest gathering of tourists we saw in Iceland, so many cars that they were having to park along the road due to the parking lot being full. This was made up for by the puffins zooming around above us on the cliffs, though. One of my favorite little creatures after seeing them on Skellig Michael, Ireland.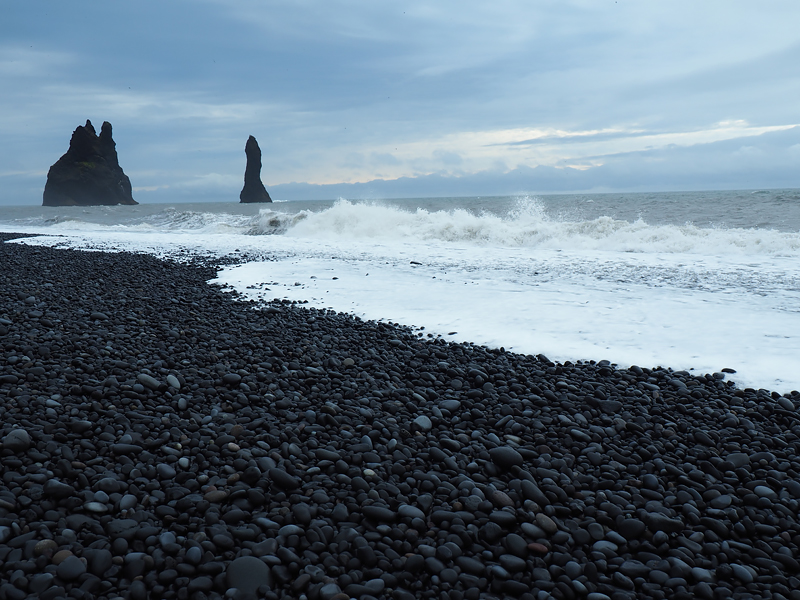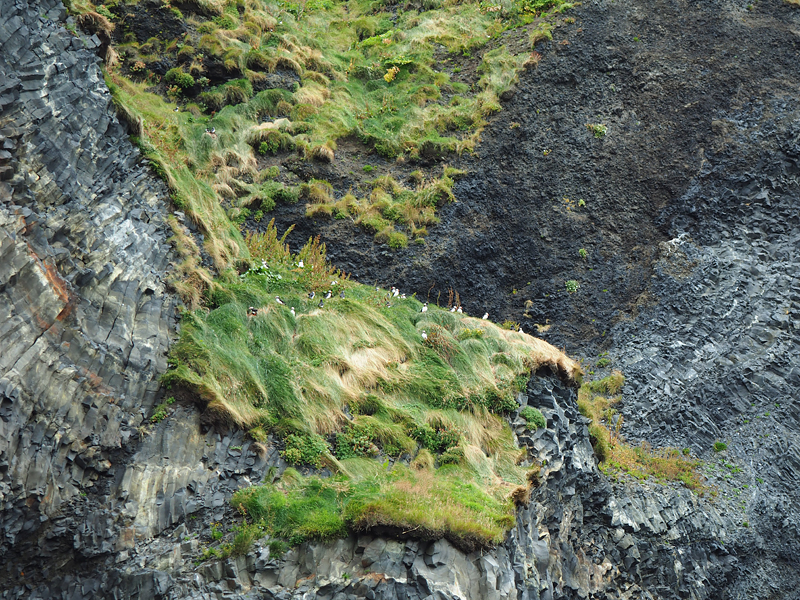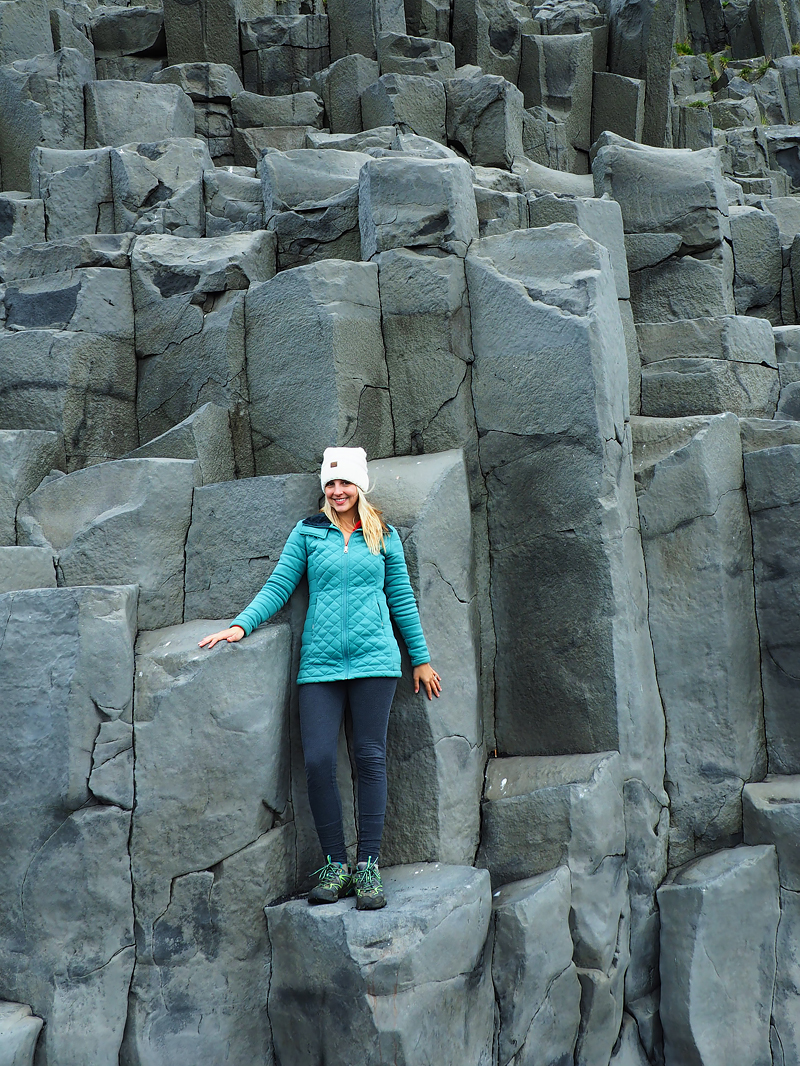 We didn't last long before we made our way to Dyrhólaey, also much different than we had remembered it. The waves that had caused the cliffs to shake under our feet last time had calmed considerably, and the areas we had wandered were roped off for safety.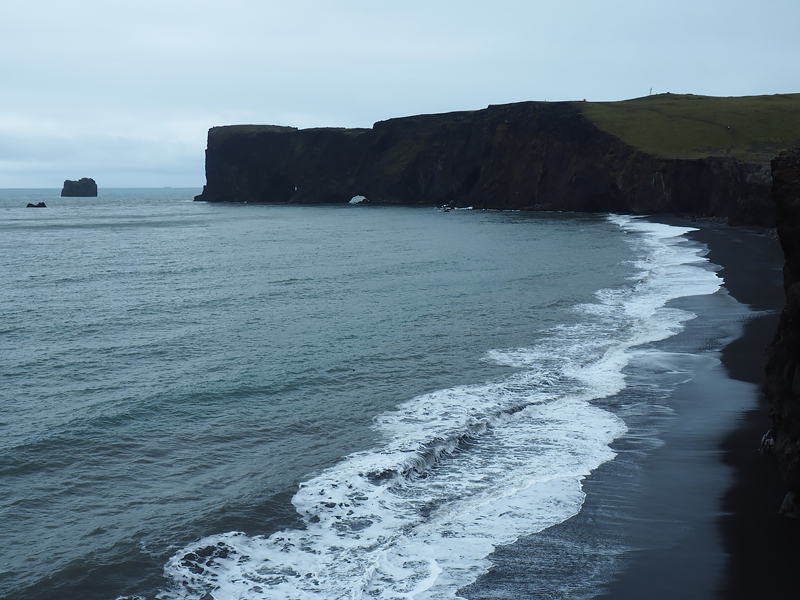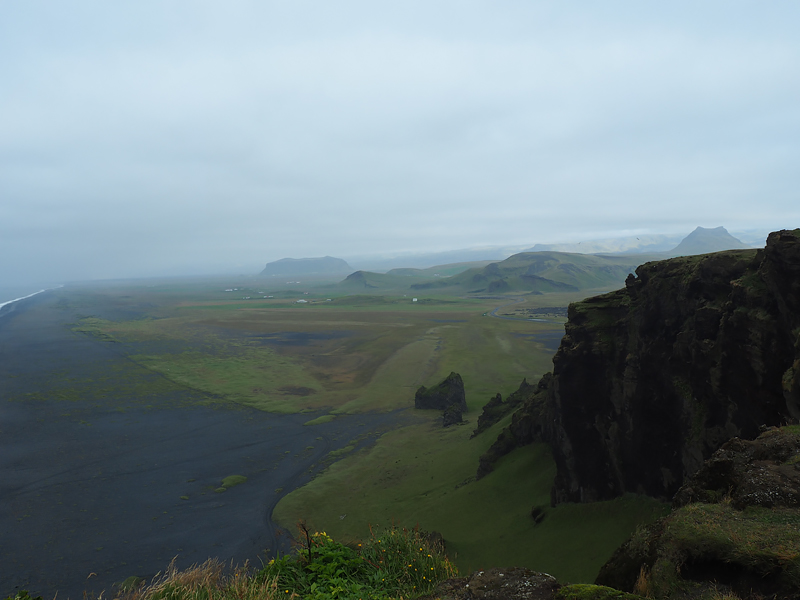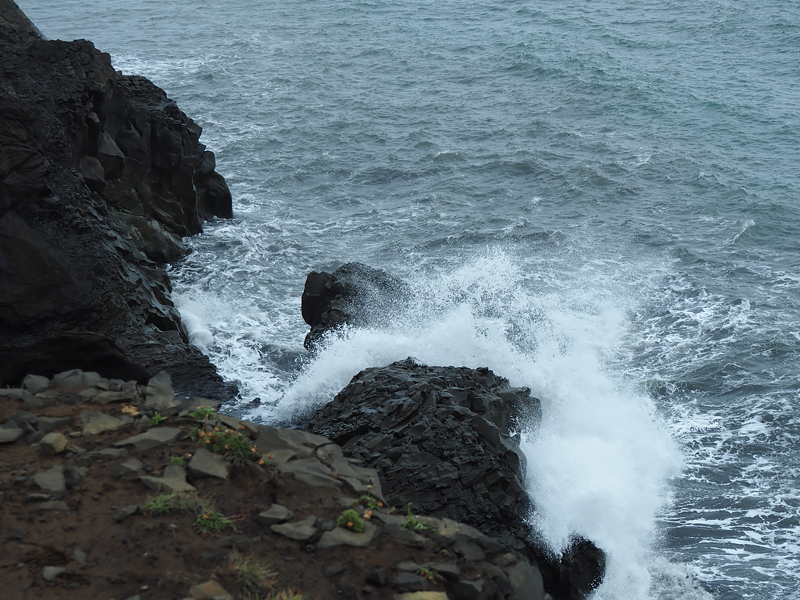 The highlight of the day was the drive to our campground. Þakgil can be reached by driving on a rough mountain road, just about an hour off the Ring Road. At the top of the mountain, the wind howled, but ohmygosh, the views. Vibrant green stood in stark contrast to the black sand plains below, water crisscrossing through.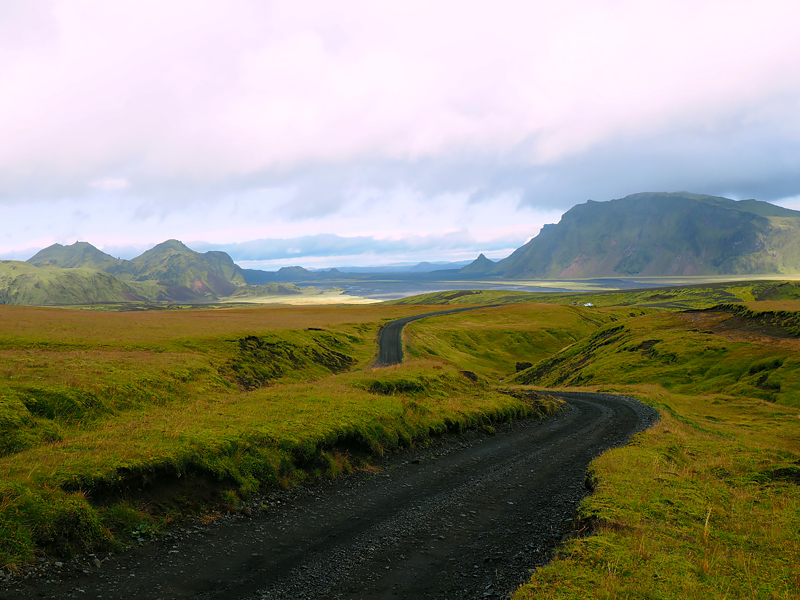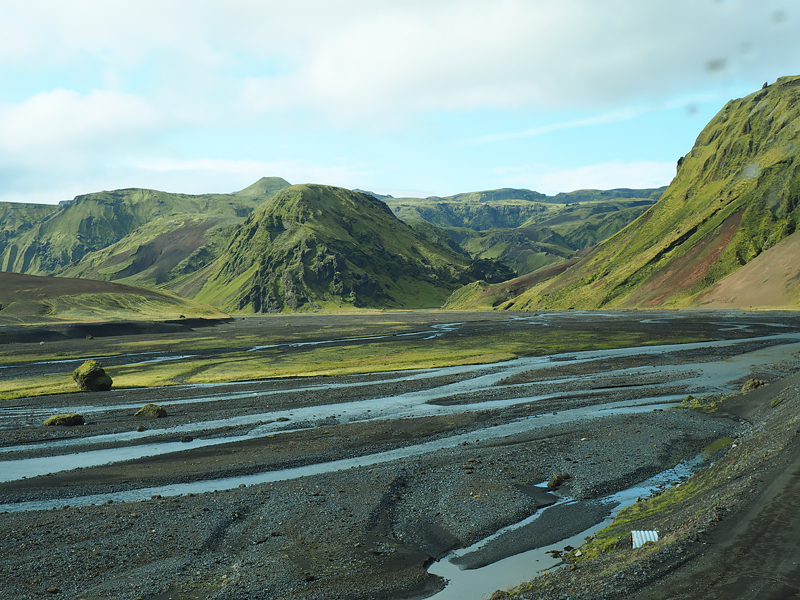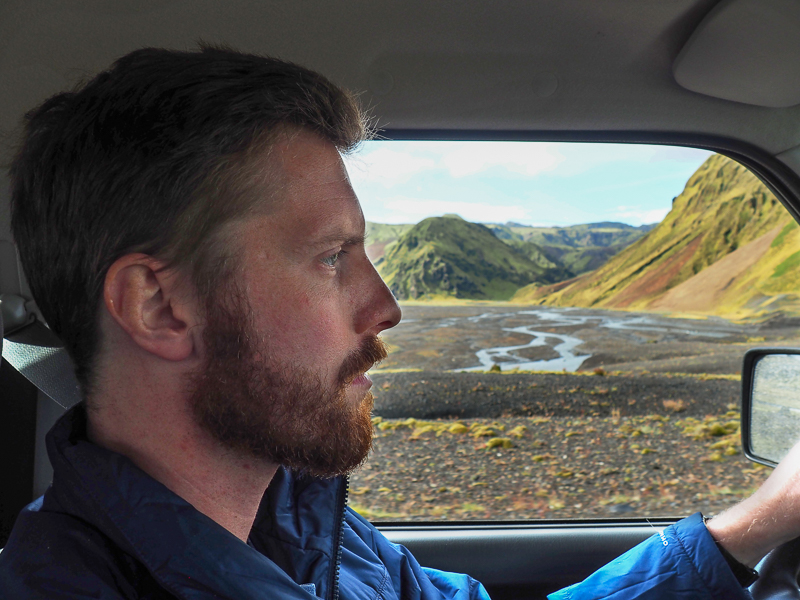 The campground itself is tucked back in the valley, sheltered from the elements. We had left the clouds and rain behind to get there. We hiked around a bit, hopping across rivers, footsteps falling softly on the spongy moss and berries covering the ground. We climbed a steep incline for a view of the area.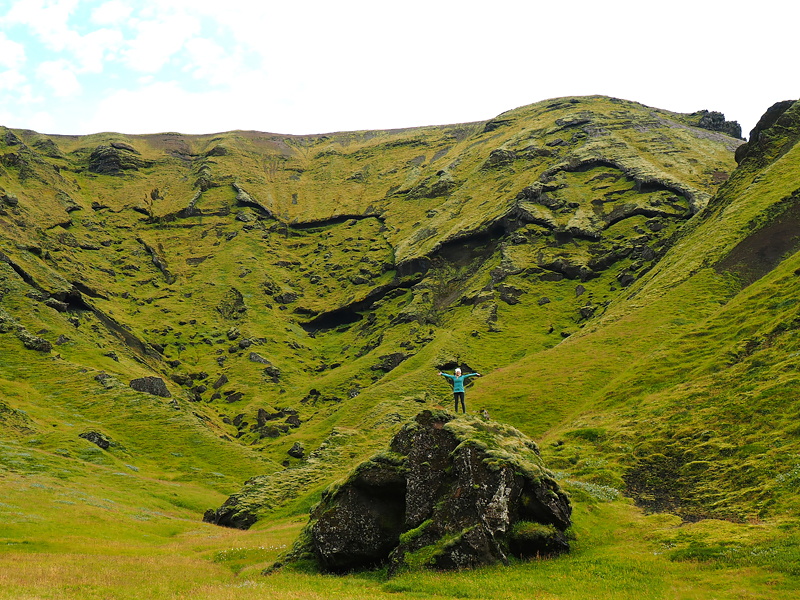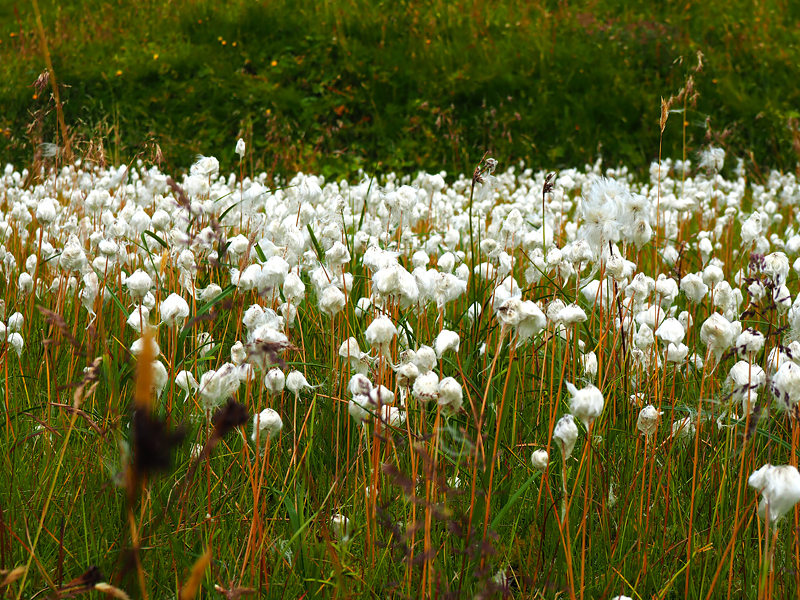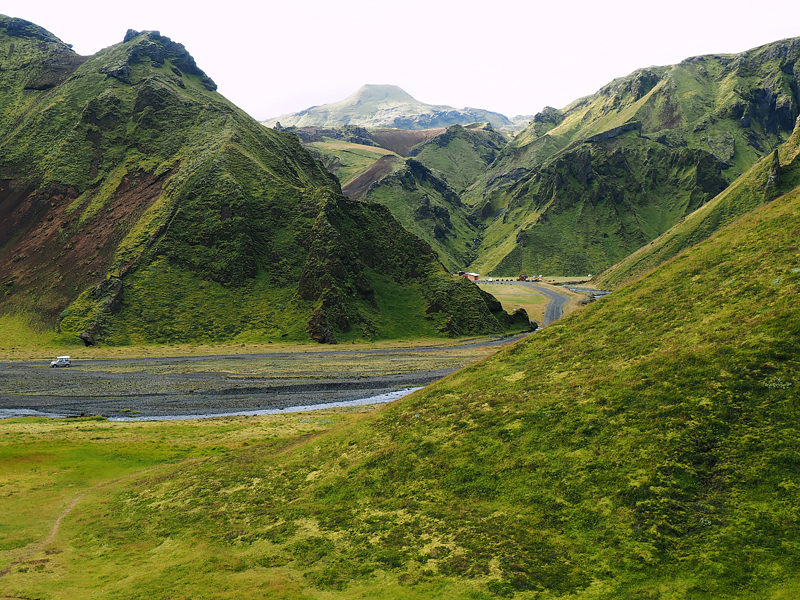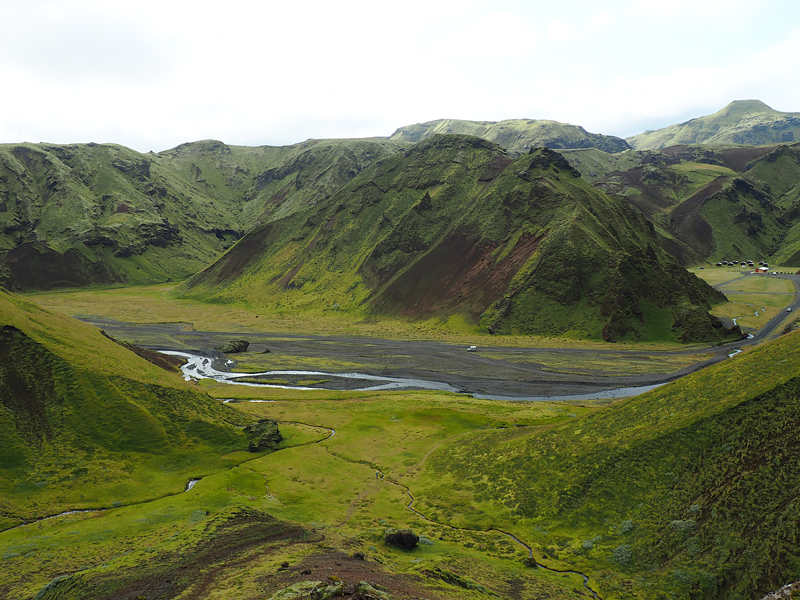 The place was mesmerizing to me. No other people, just us and flowing water and soft green ground.
We ate our dinner in the cave, eager to explore some more the next day.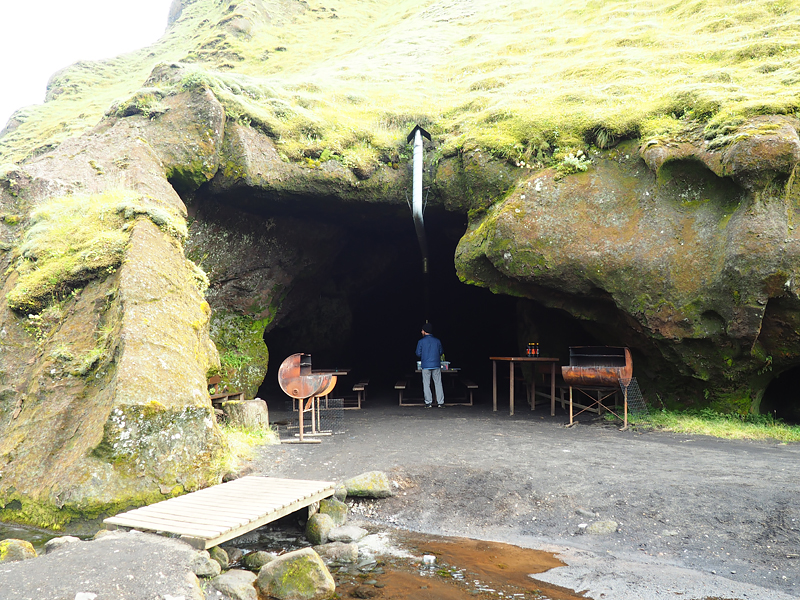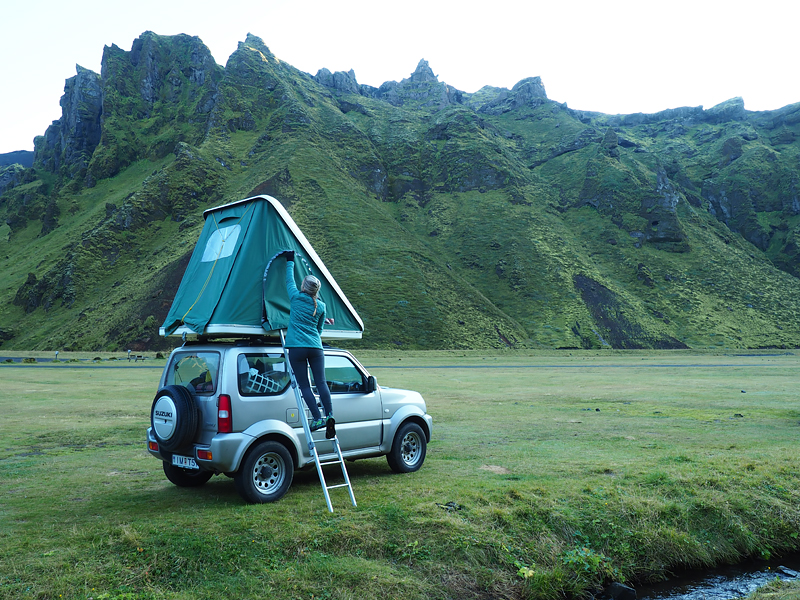 We took our time there and on our way back to Vik in the morning, in and out of our Jimny.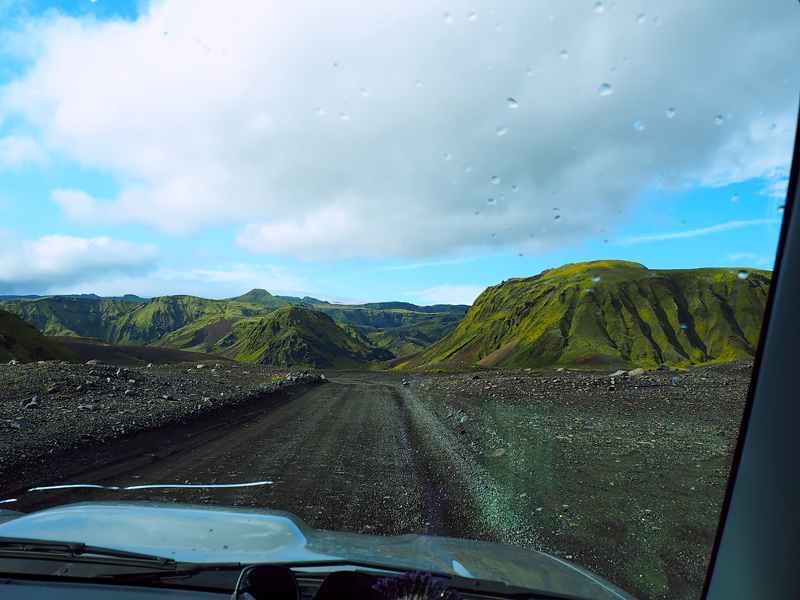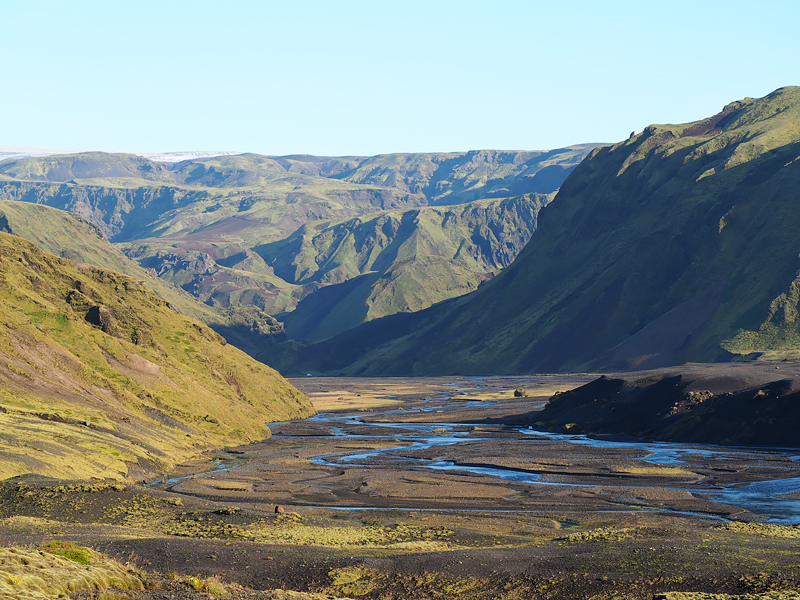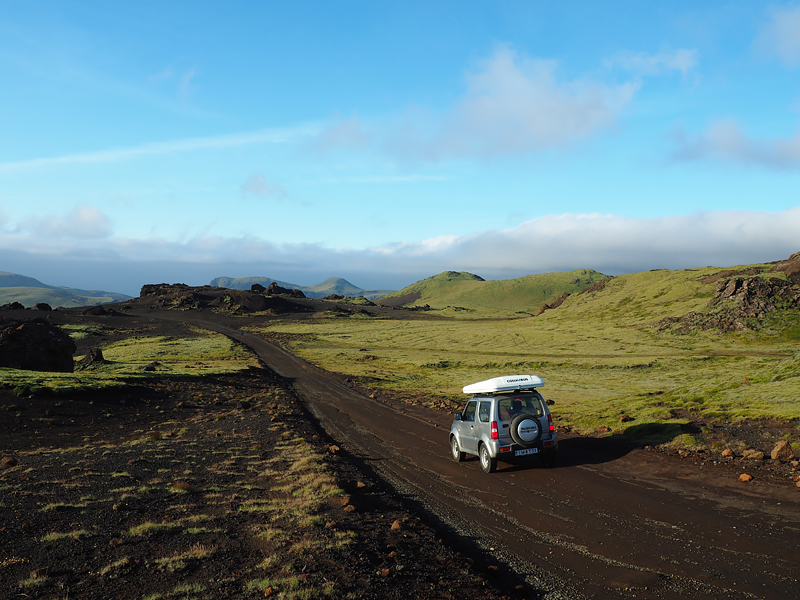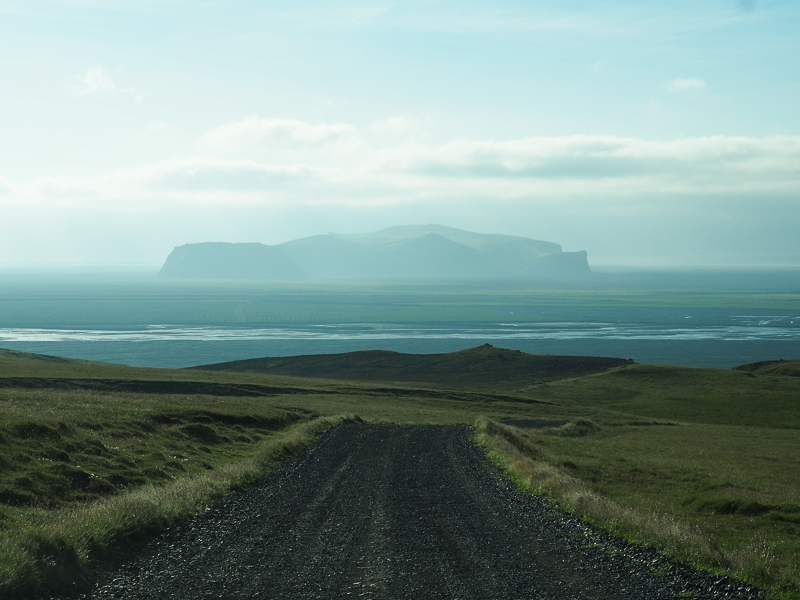 We took one last look around Vik, but then we had waterfalls to explore.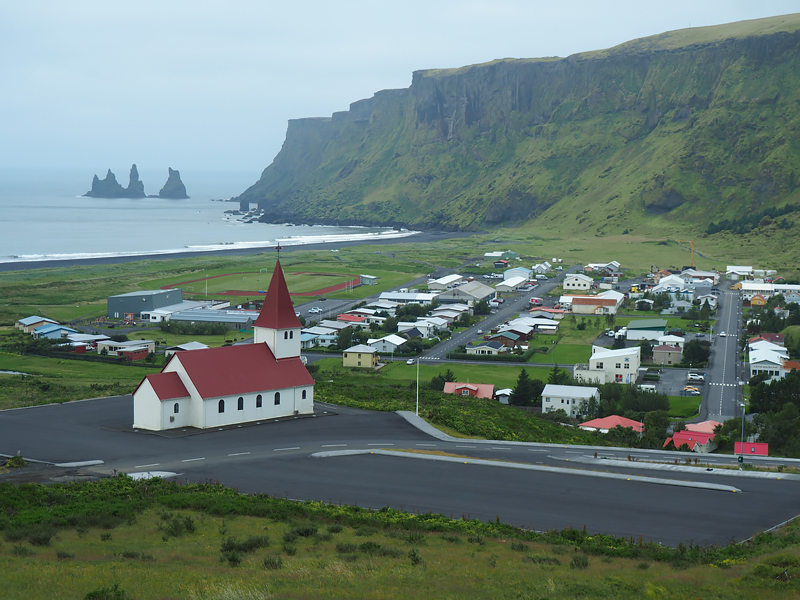 First was Skogafoss, always an impressive site as well as an impressive walk up to the top of it and along its river.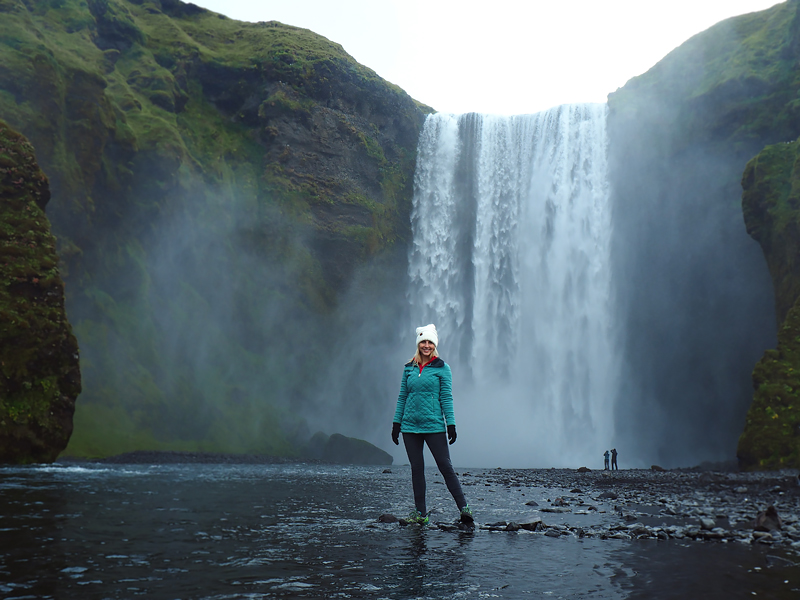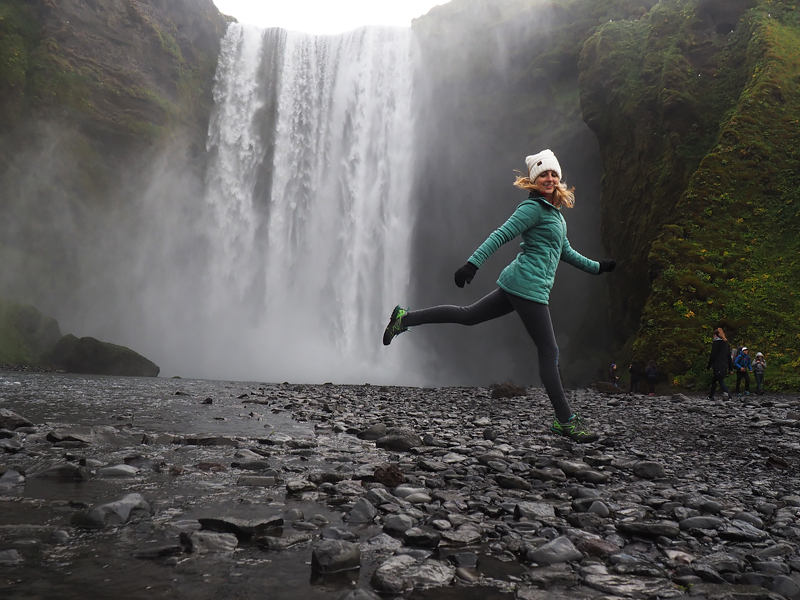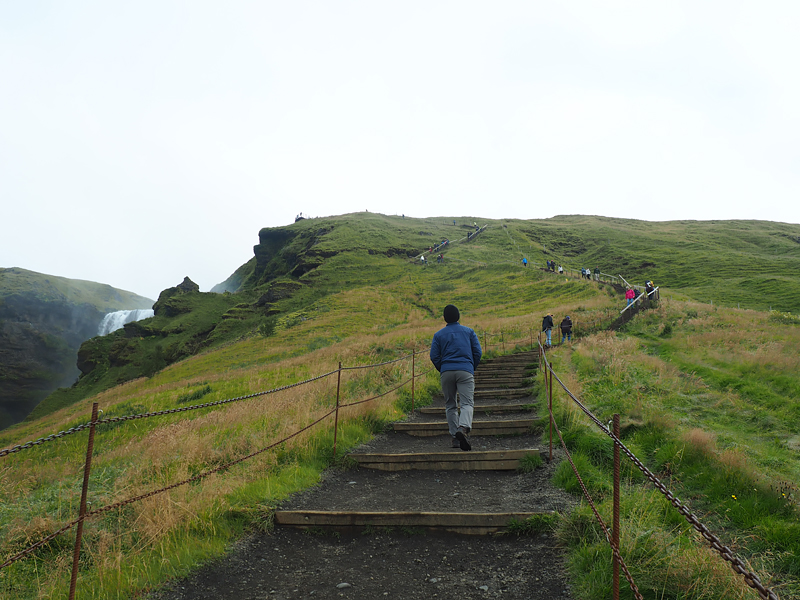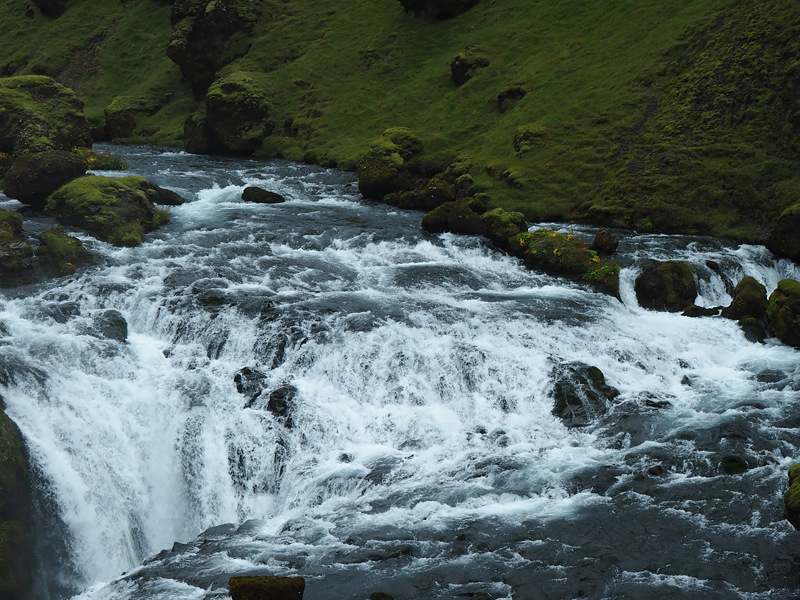 We spent a good amount of time walking along the path there and back.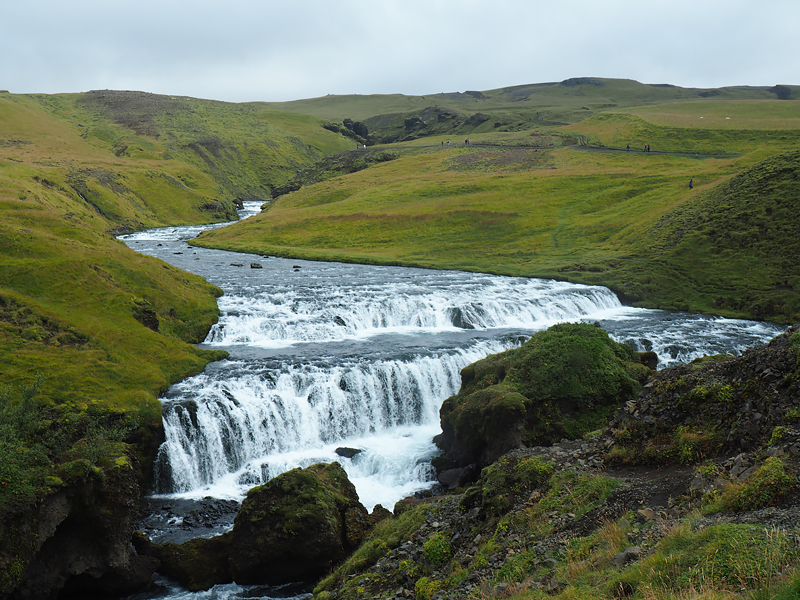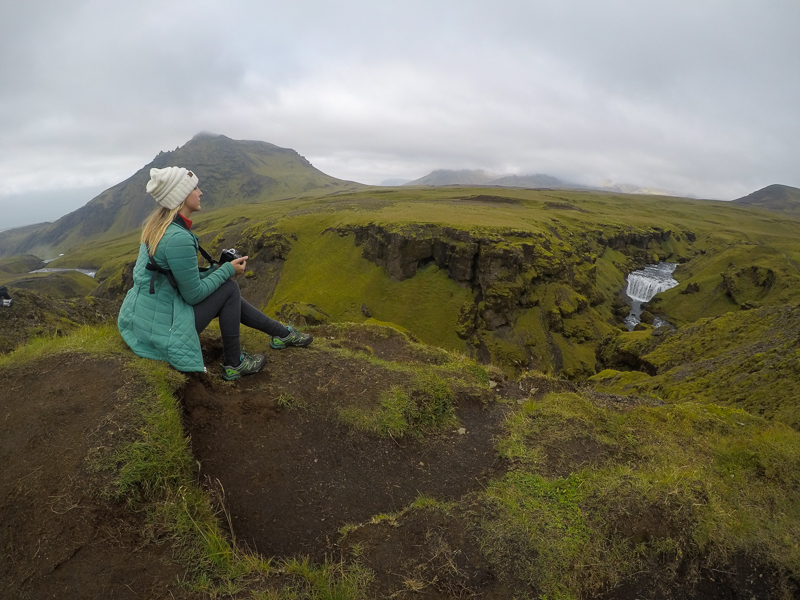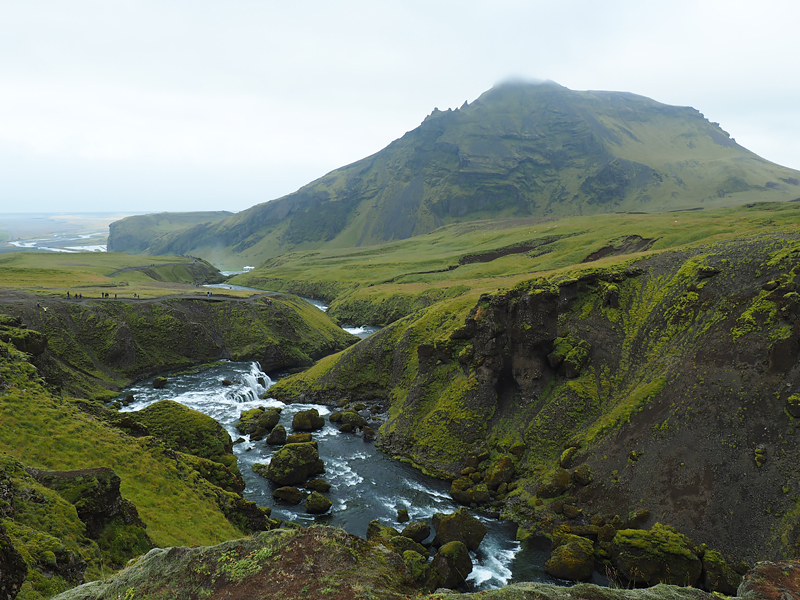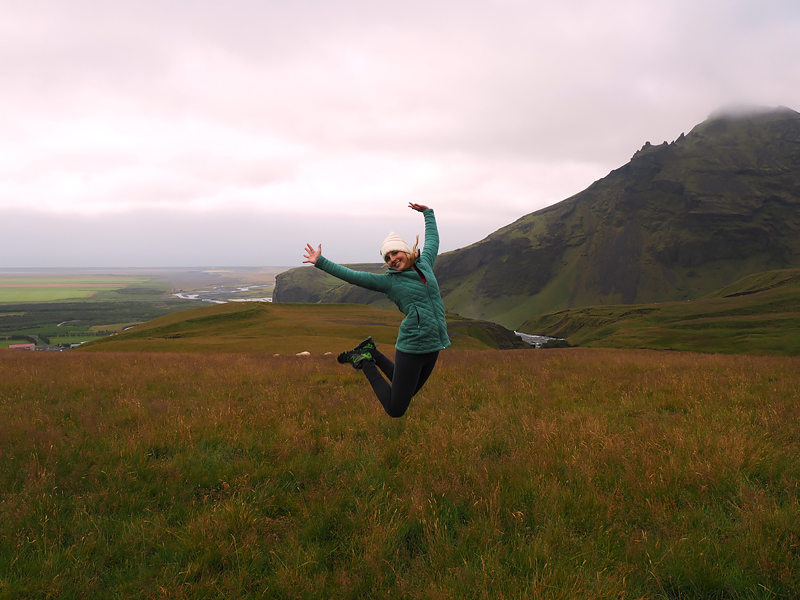 And then we went to find Kvernufoss, which was much trickier than I had anticipated. We searched and searched, and then we saw a ladder over a fence to a field. Surely, there had to be some reason for that ladder. We decided to go as far as the corner of the mountain up ahead. Once there, we found the river and followed along it, until BAM, our favorite waterfall emerged. It had everything I love in a waterfall – solitude, power, beauty, and a freaking path to go behind it. I cannot tell you why, but I have always been fascinated about being behind waterfalls. Actually, I think it had to do with a scene from a Nintendo 64 game I played as a kid. Maybe. Either way, I love it. And Kvernufoss blasted the rocks underneath it, causing water to spray us from a surprising distance away.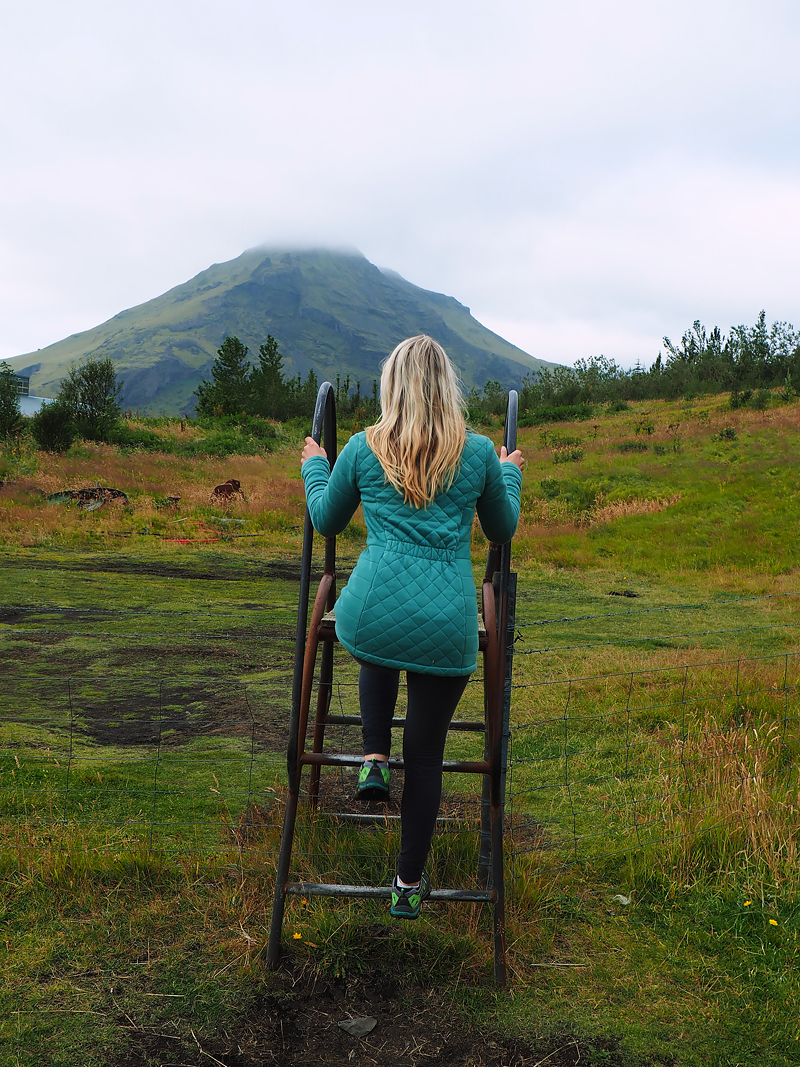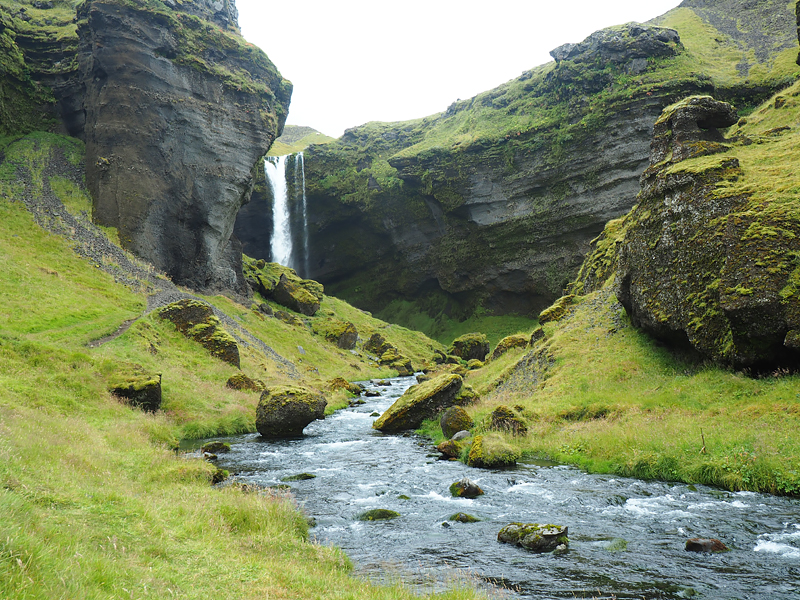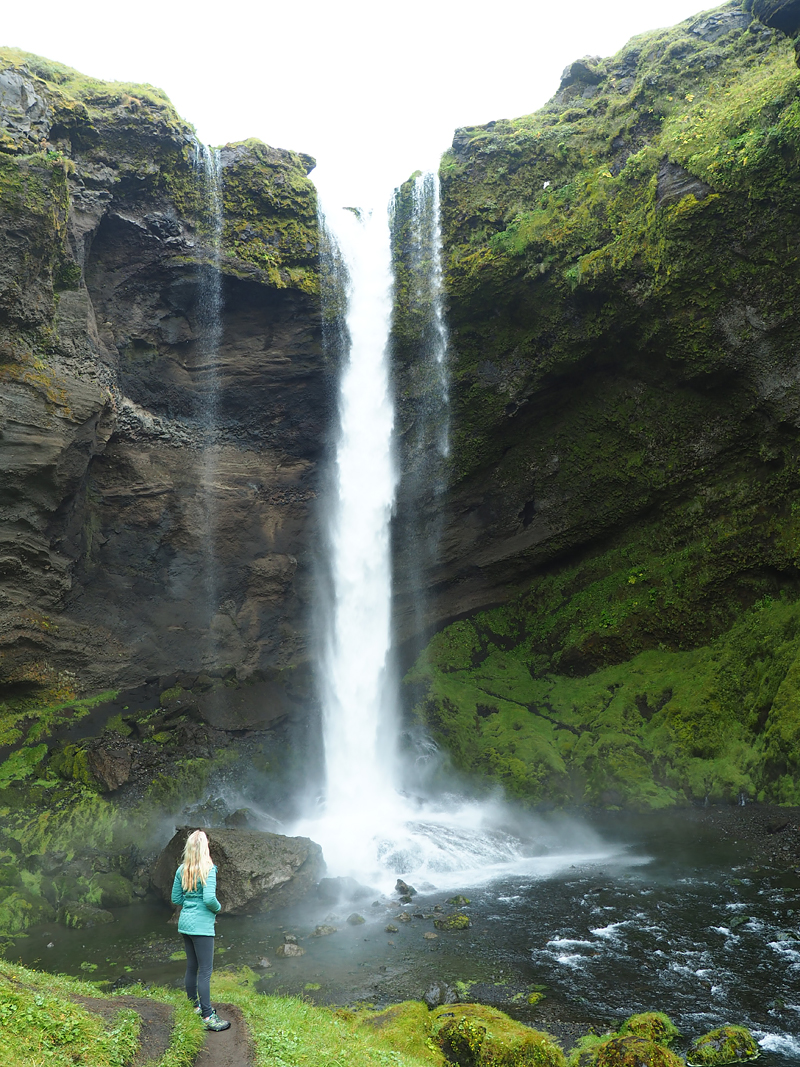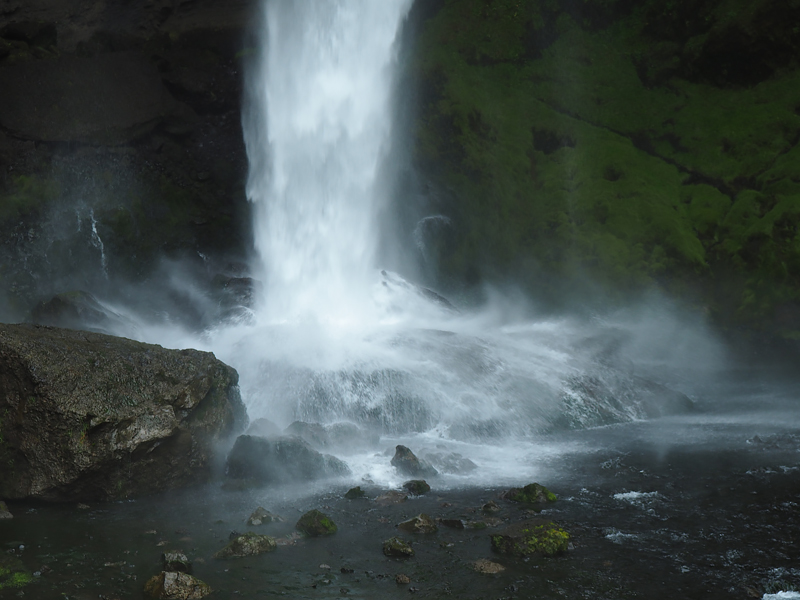 It was a beautiful day for a swim, so we decided to do the short hike to Seljavalaug after having enjoyed it last time. Unfortunately, our timing was awful as they had just emptied it. Oh well, the valley was still beautiful.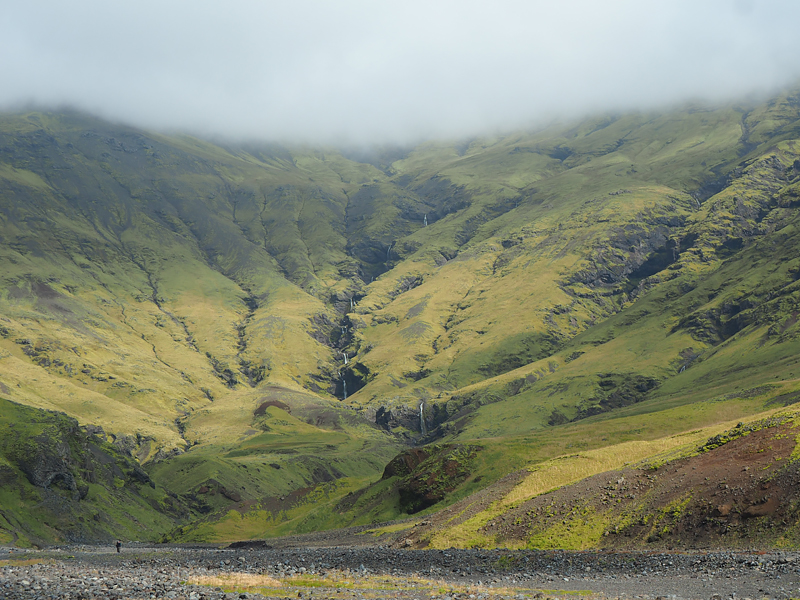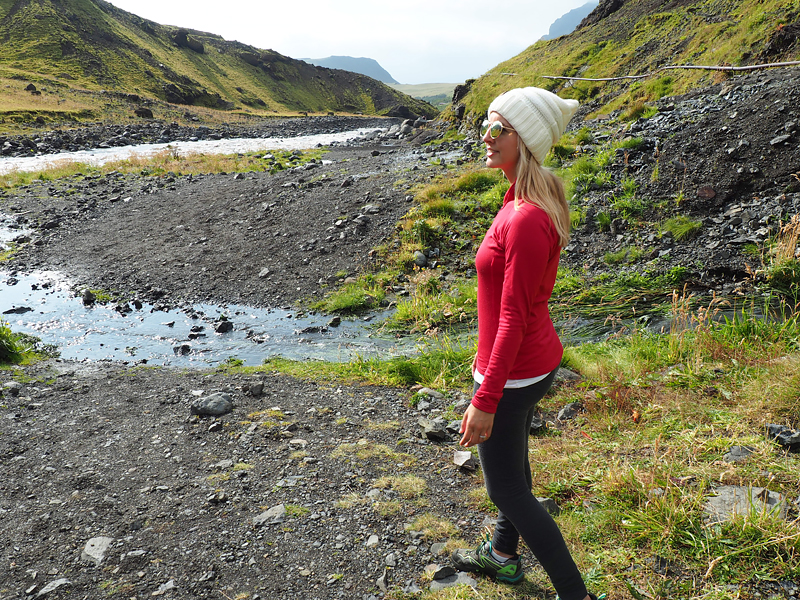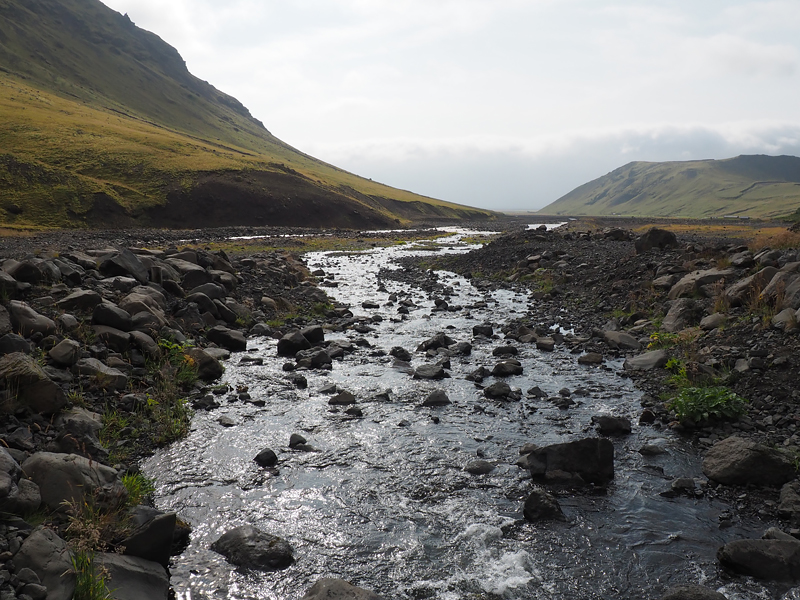 We landed at the campground by Seljalandsfoss for the evening, eventually meeting up with my brother and his fiancé. We waited for the crowds to disperse a little before walking through the hidden entrance to Gljúfrabúi, yet another incredible waterfall. You walk across a stream back behind a stone wall and all of a sudden you're in a semi-enclosed area, getting soaked by this big, beautiful waterfall.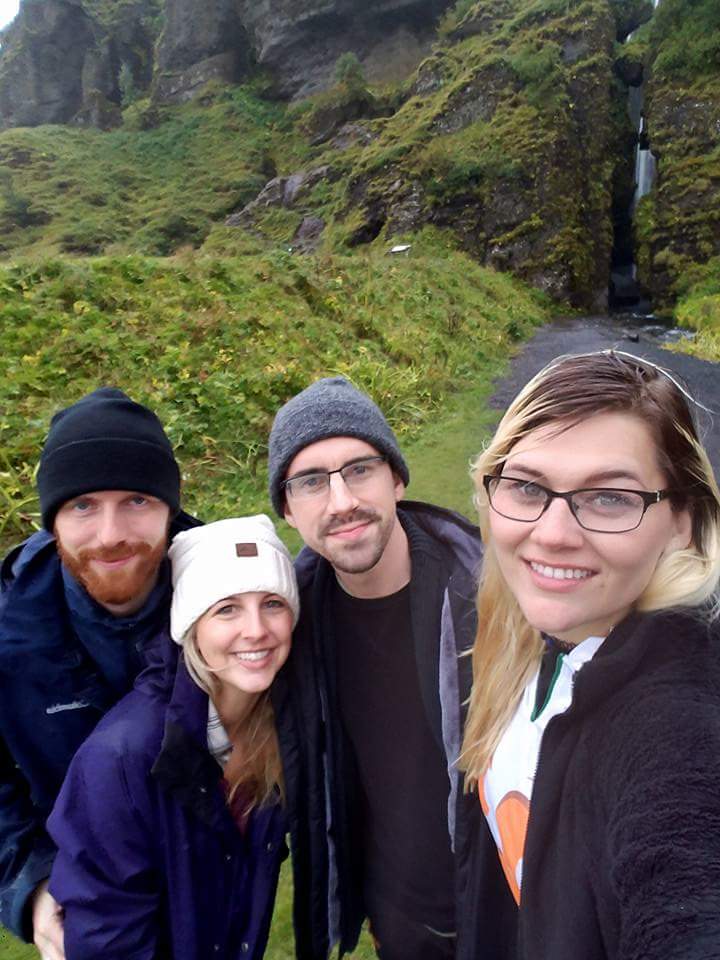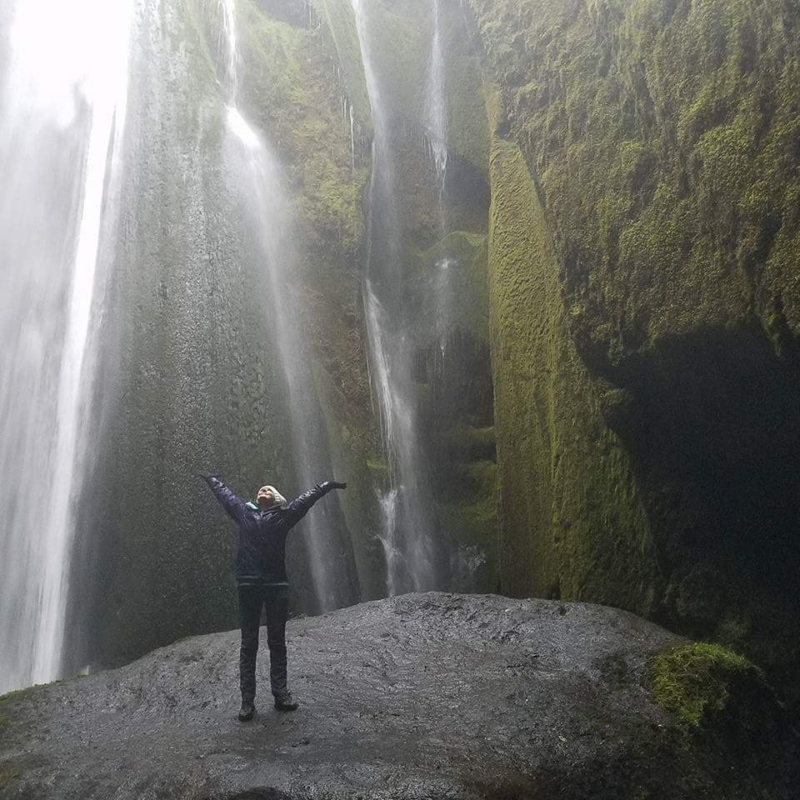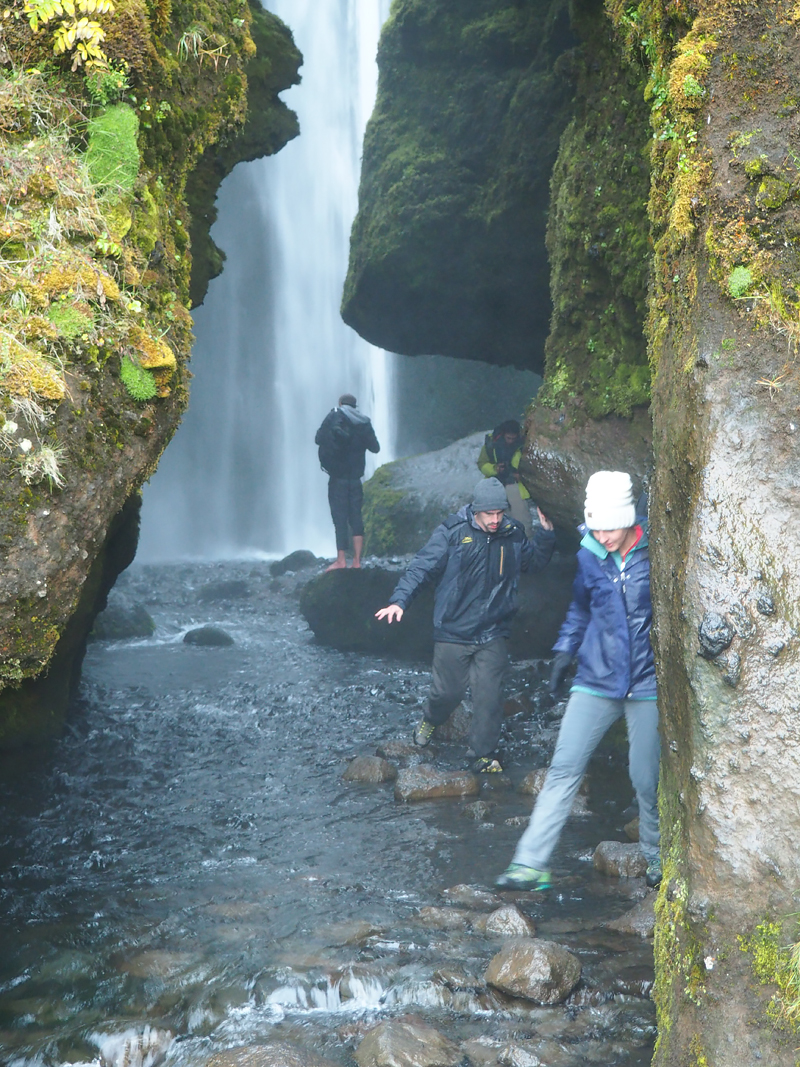 We climbed up to the top for a view down into it as well and then walked along the path to Seljalandsfoss, where I had first had my dreams of hanging out behind a waterfall met years ago. I could stand back there, feeling so small and in awe, for forever.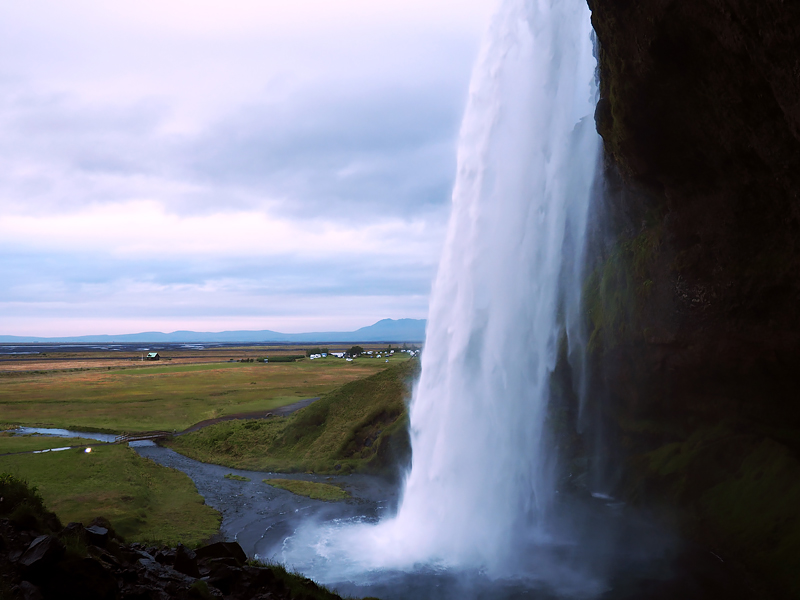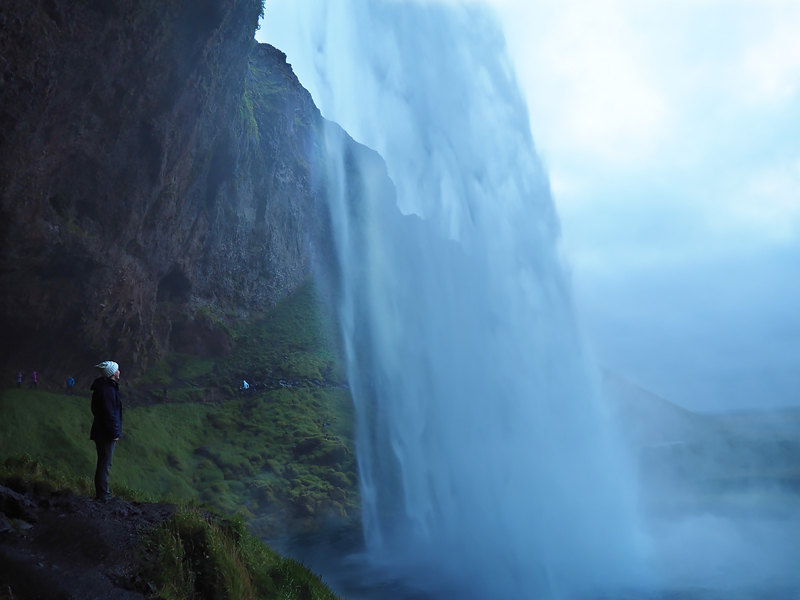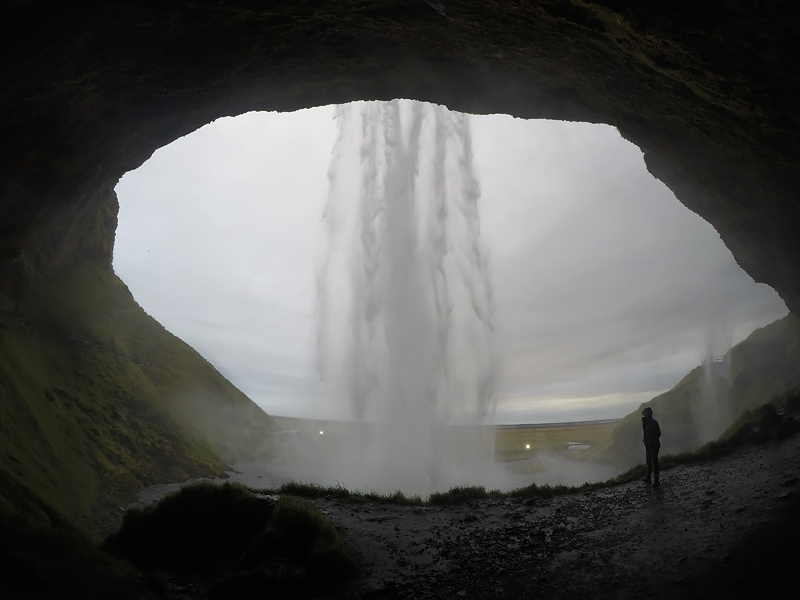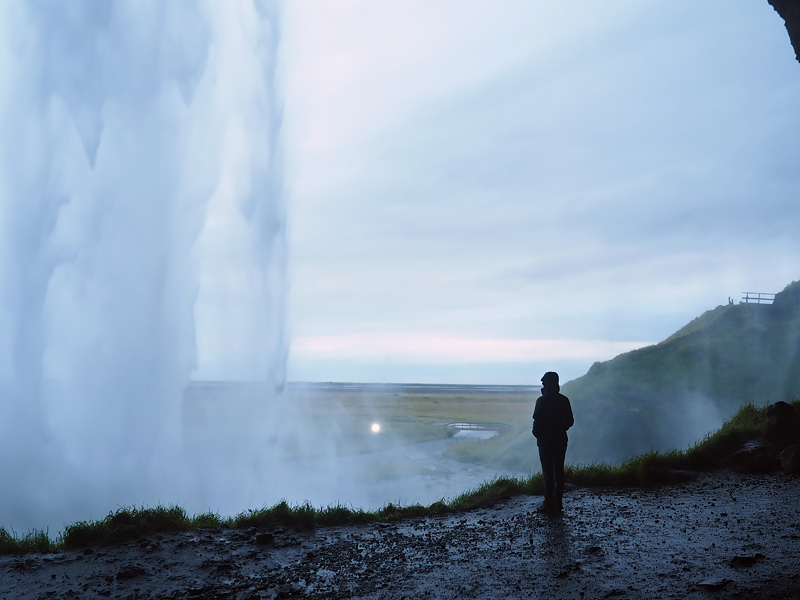 The next day, we made the daunting journey to Landmannalaugar. The drive was rough, but the mountains stood before us looking like we were driving straight into a painting.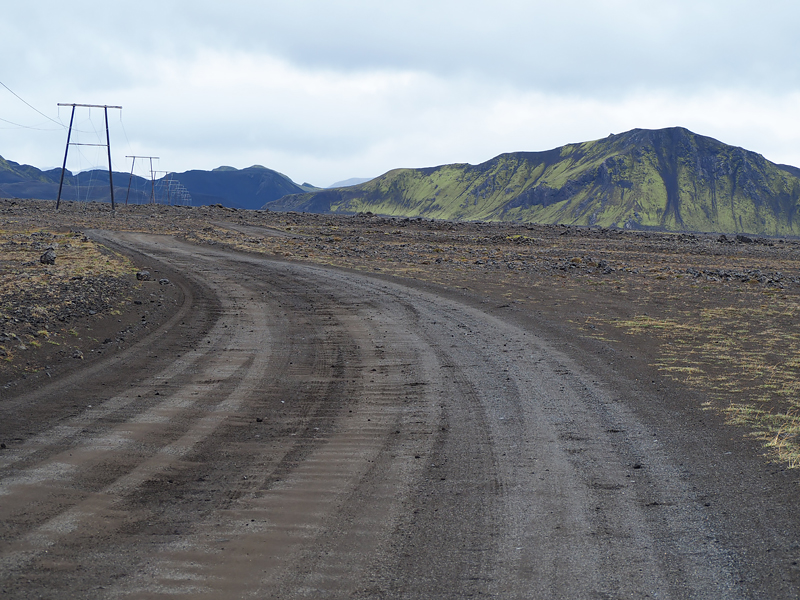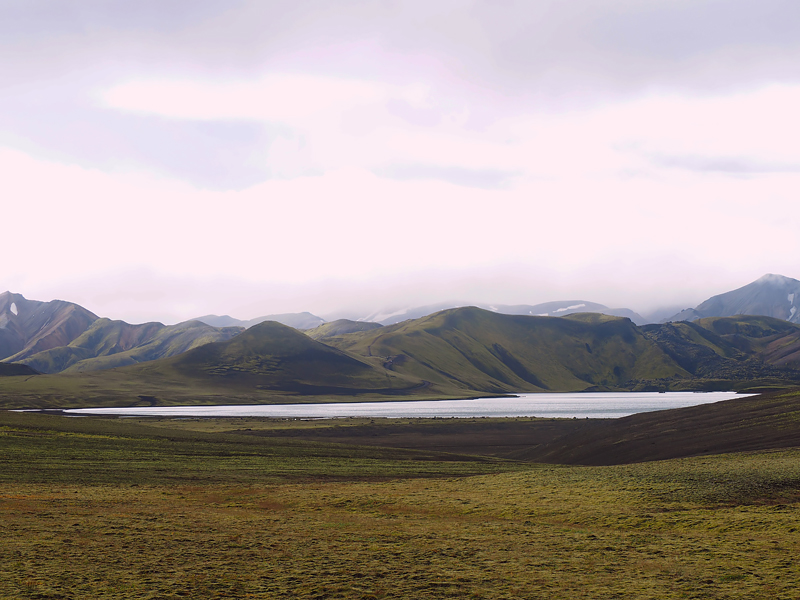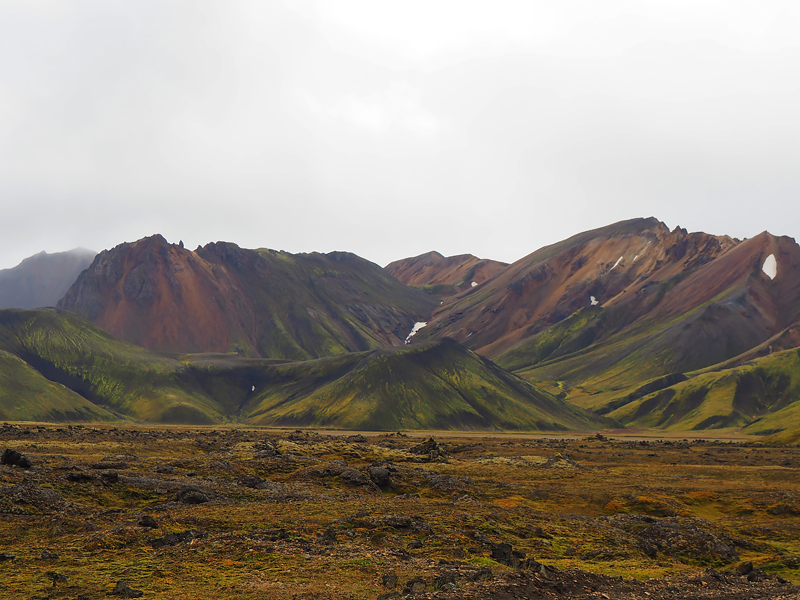 We took in the beauty of the area, and we de-stressed in the hot springs before starting the drive back.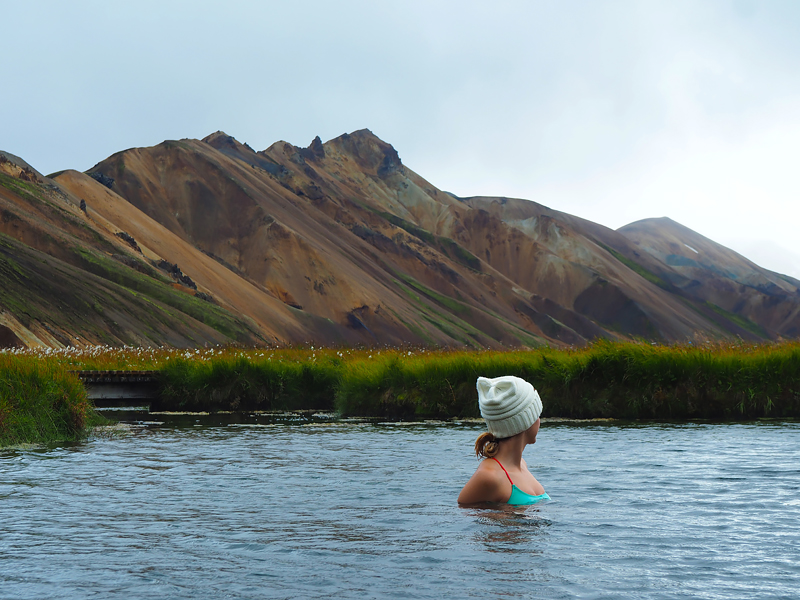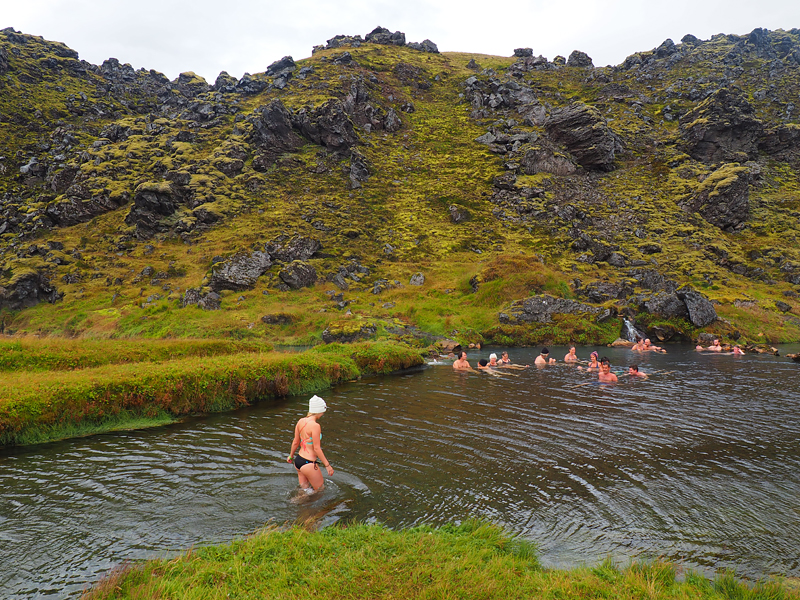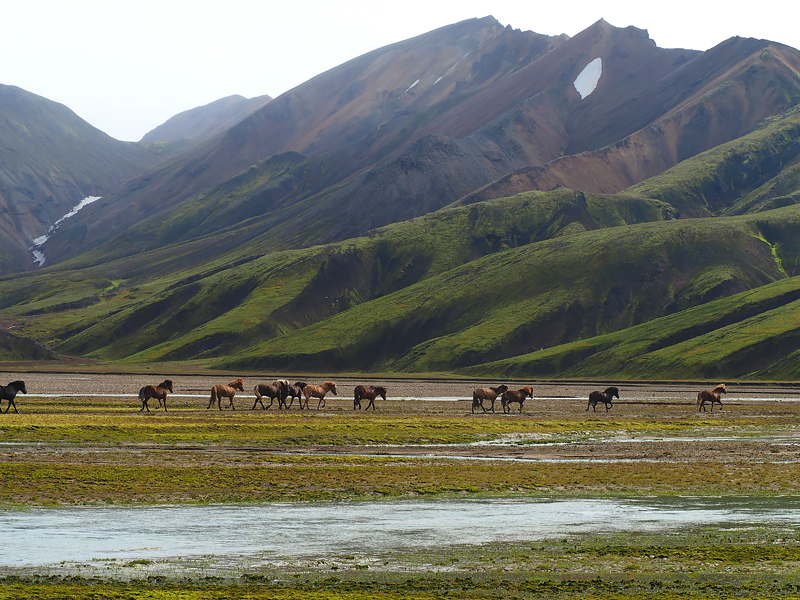 We stopped to make ourselves a very late lunch next to a pretty lake on our way back.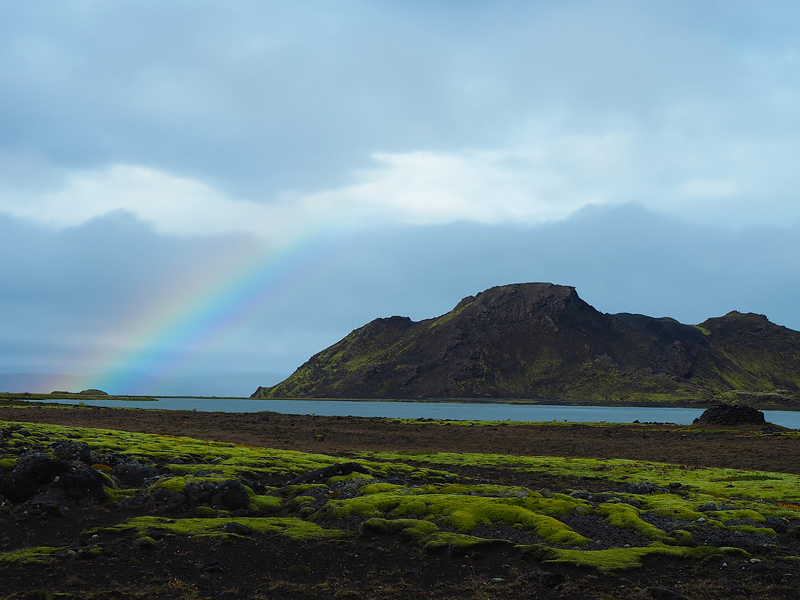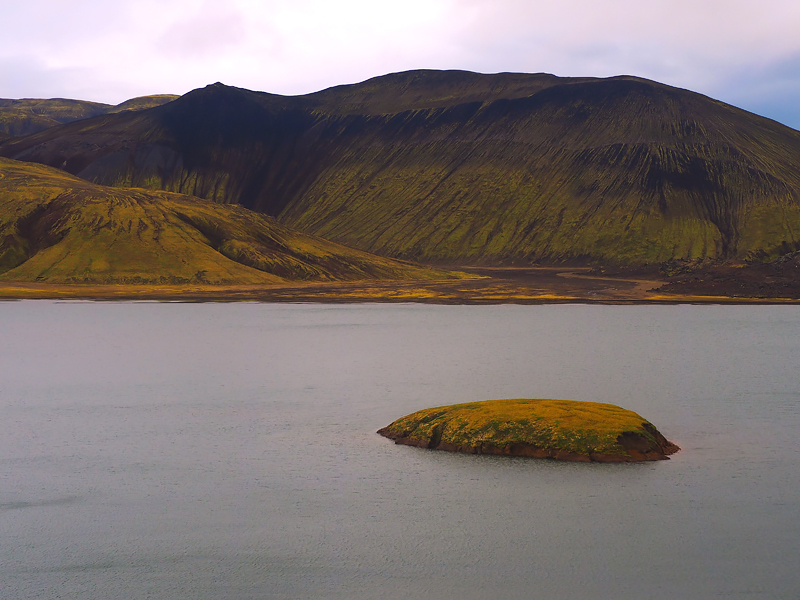 Still famished, we ate dinner at a fabulous Ethopian restaurant, and then went straight to the Secret Lagoon, craving some more hot water to hang out in. We drank wine and got caught up on the day's events with Ty and Theresa back at the campground, going to bed way past my bedtime.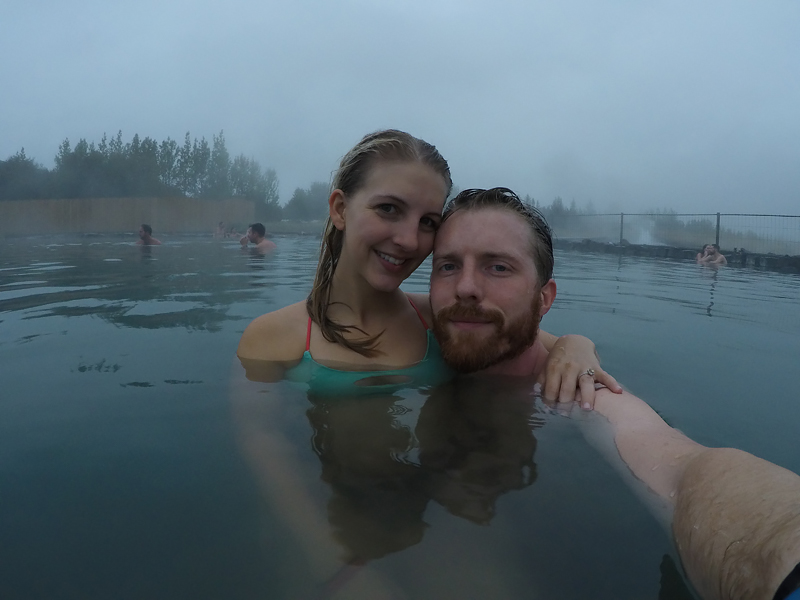 Fortunately, we did not have too many plans for the next day, so we slept in a little. We started our journeys at Hrunalaug, my favorite hot spring in Iceland. It's tiny, but the water is the perfect temperature, and the surroundings are charming.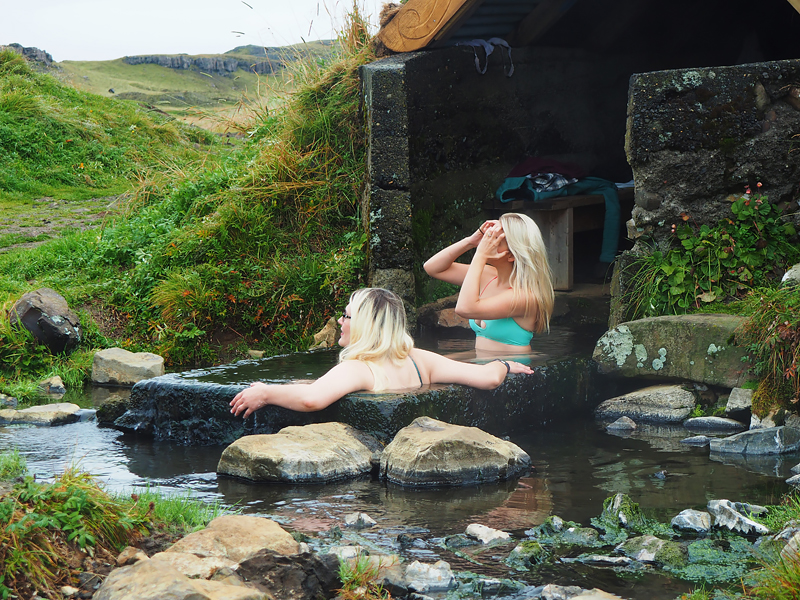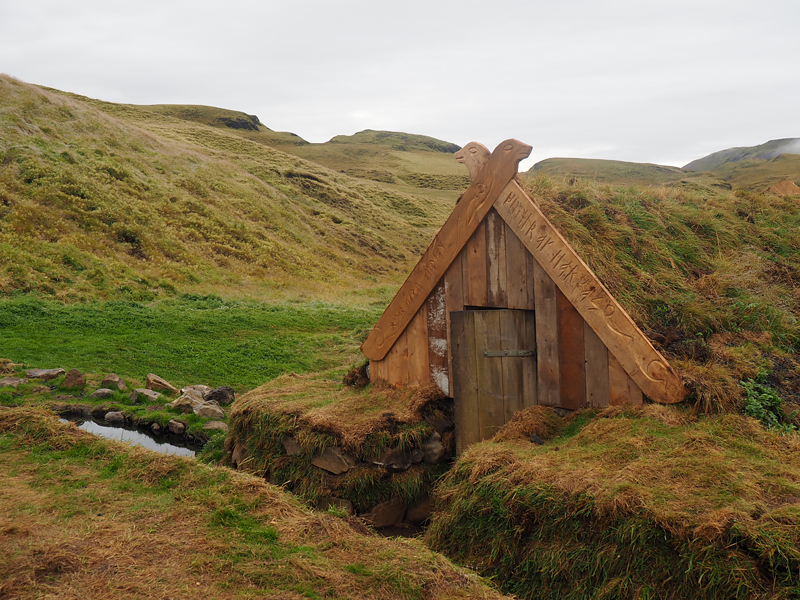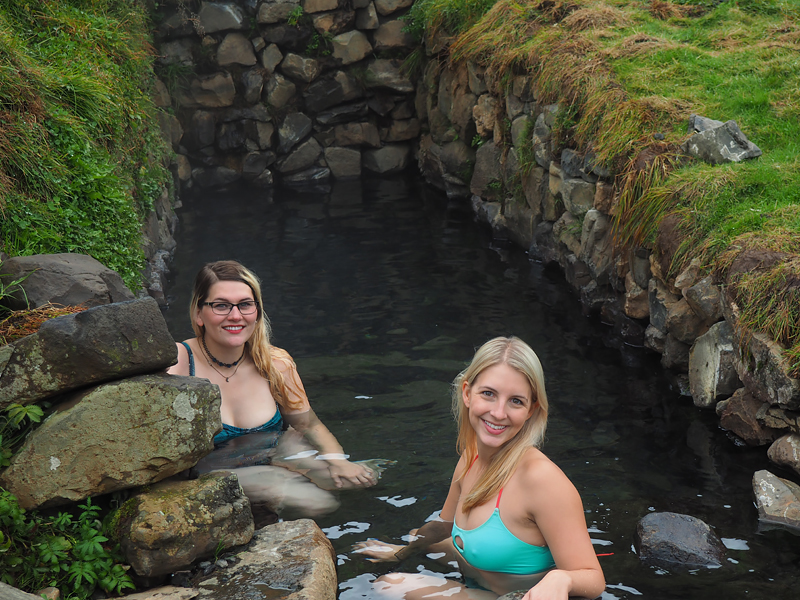 We drove to Gjain, a magical little valley filled with waterfalls, rivers, unique rock structures, the works. It's a fantastic place to waste some time, listening to the birds chirp as you explore and climb around.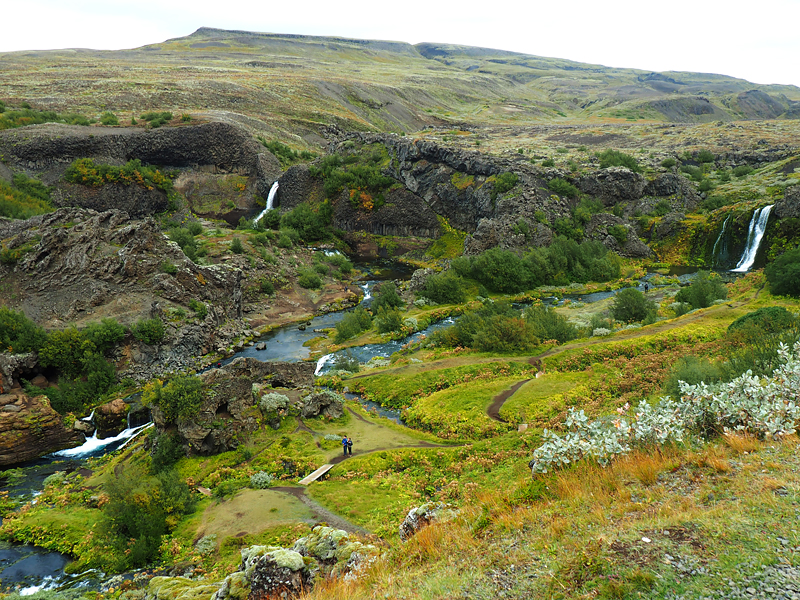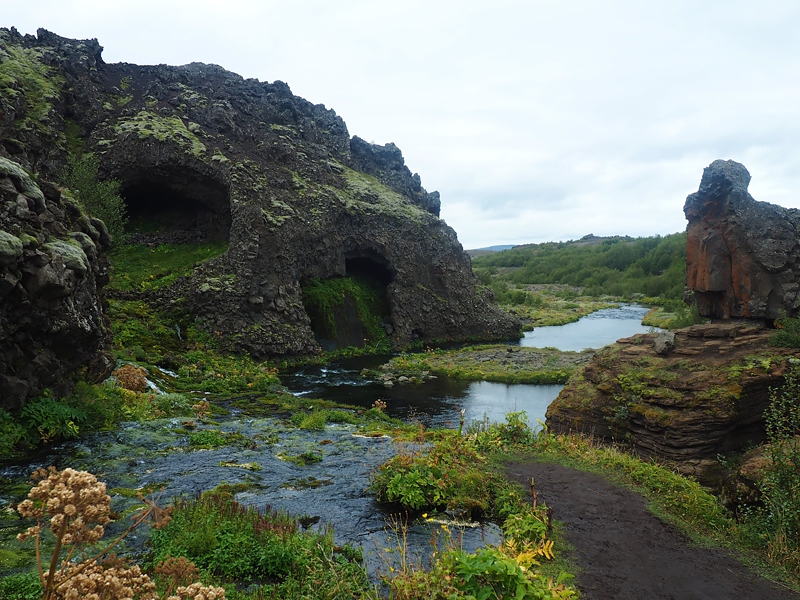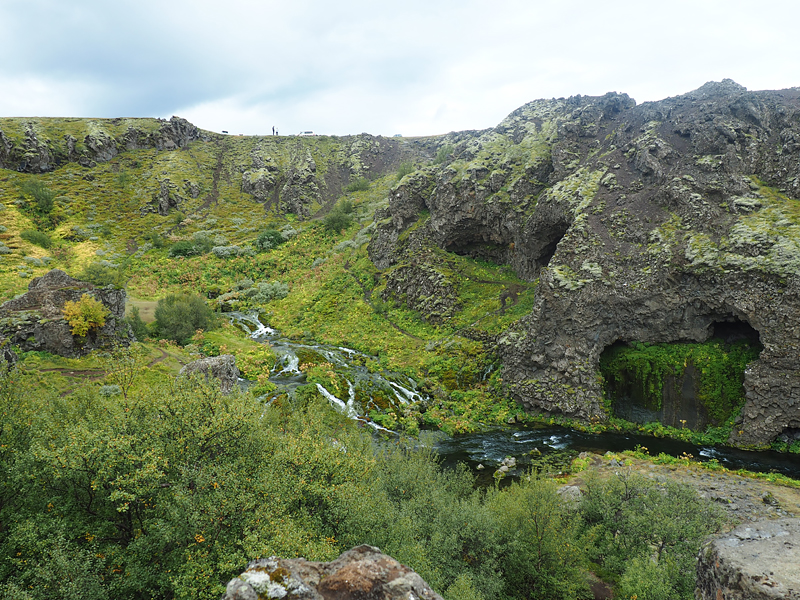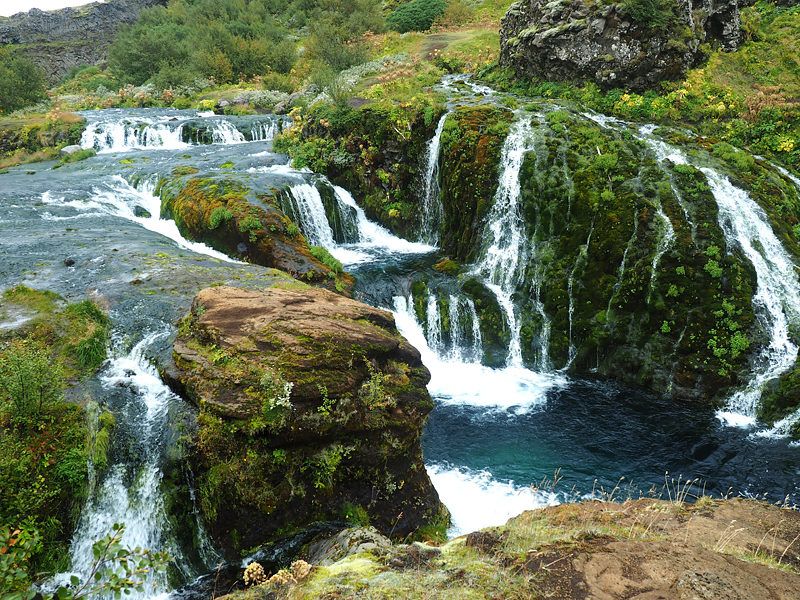 A quick stop at the nearby Viking-era longhouse, Stong, after that, and then we were off to Hveragerdi. We enjoyed some pizza and beer that evening, taking some time to spoil ourselves ever-so-slightly.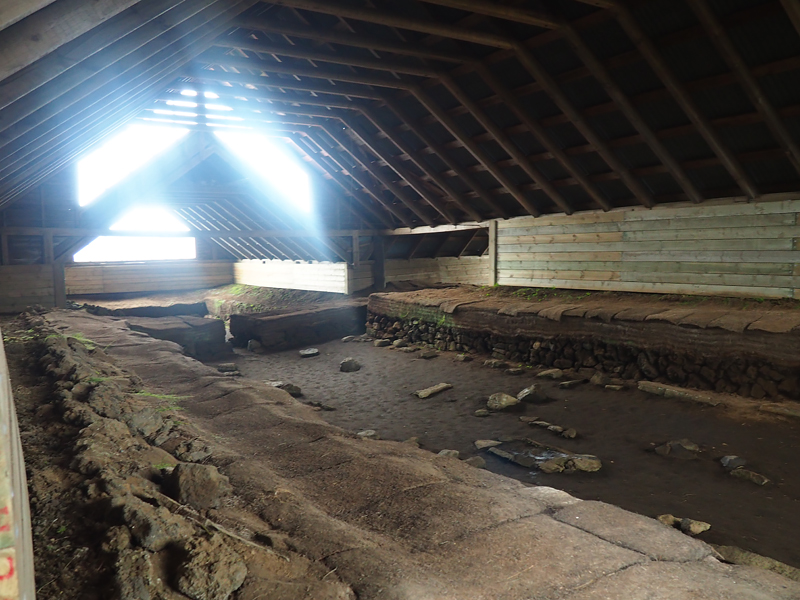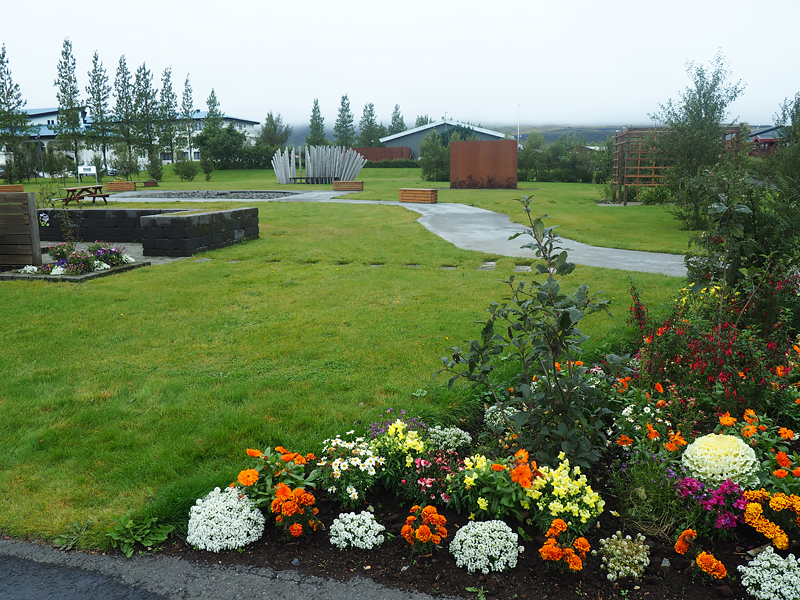 We woke up early to start the Reykjadalur hike. The hike to the hot river was all uphill, and the water there not terribly deep, but still a pleasant experience. Our timing was perfect. Just as we finished changing back into our clothes to leave, groups of people were arriving, and we passed more and more the whole way back down.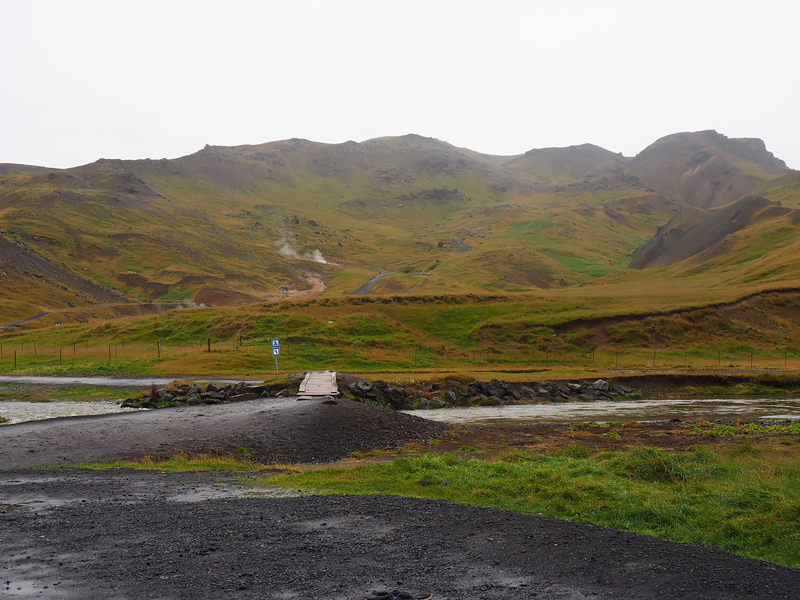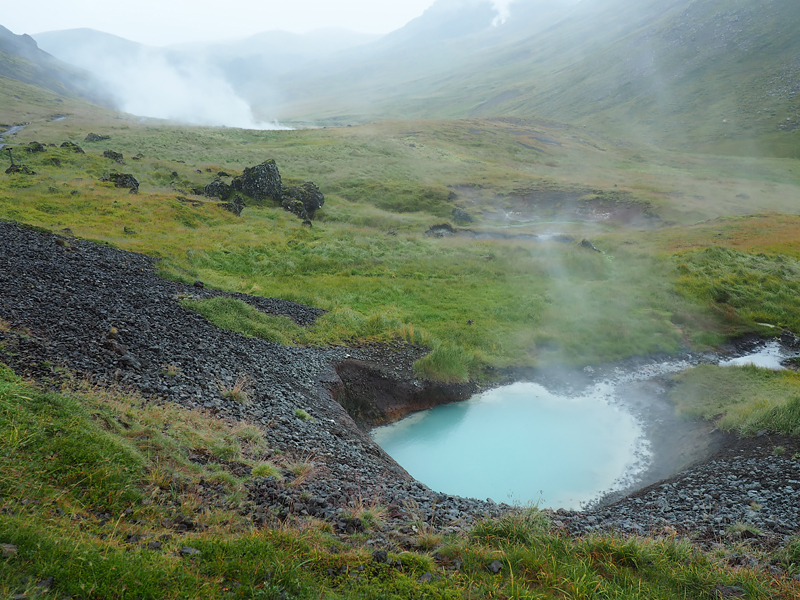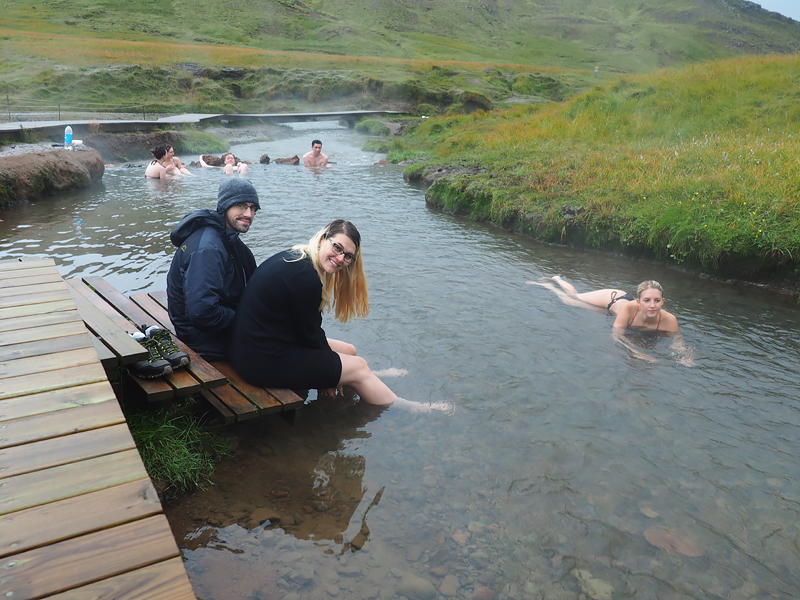 It was our last day in Iceland (until next time?!), and we spent most of it back in Reykjavik, getting ice cream, living in the luxury of an actual heated apartment with steaming showers and soft beds, dining on tasty Indian food, and having some beers at an Irish pub. What we had intended to be a single beer out turned into multiple as Theresa had spun a wheel that won us 6 Heinekin after we had all bought a Guinness. What better way to end a vacation full of surprises and fun.