Guatemala
We loved Guatemala.
The people were warm and beautiful, the weather ideal, the landscapes gorgeous, and the atmosphere lively.
Our trip did not get off to the best start though, as our flight with Avianca from Guatemala City up to Flores was first cancelled, then un-cancelled and on schedule, and then delayed 5 hours with nobody being informed. The plane was nice and new, but the communication and service were terrible.
But then we did finally make it to Flores in time to get some sleep and head to Tikal the following morning. Tikal was absolutely amazing, and staying at Tikal Inn was the perfect choice. We had a pool-side bungalow set in the lush, green, and in-bloom jungle. We were within the park, so we only had to walk a ways to see the magnificent ruins which is what we did our first day there.
We walked around, seeing as much as we could before turning back to eat some lunch. The temples were massive, and it was truly unique seeing the city, built as far back as 600 BC, set within the beautiful rainforest with the birds singing as you made your way from ruin to ruin.
Climbing up a few of the ruins, we got some pretty fantastic views. I tried to make sure I paid attention to what I was doing and seeing to impress upon myself that these structures I was touching were built by hand by Mayans hundreds and hundreds and hundreds of years ago.
We spent the rest of the day, enjoying our pool, restaurant, and bungalow and went to bed super early so that we were rested for our sunrise tour starting at 4am.
When we woke up, it was obviously pitch black, and everything was still and silent. We all walked straight to the Grand Plaza within the park, no one talking. We stopped there to admire the beauty of the temples with the stars shining spotlights on them. Our guide demonstrated the echos that the steep steps of the temples created when he clapped. And then we continued on until we got to Temple IV, the tallest temple. We climbed up and up and up, until we were above the trees, sitting on the top step and listening to nothing but the rain below us. We sat there for an hour, until the sun started lightening the mist around us, and the jungle began to wake up. Birds started singing. Howler monkeys started roaring.
After awhile of this, we made our way back down to enjoy the guided tour of the park. Our guide showed us the behind-the-scenes look at the excavation process and gave us an education on the symbolism and hieroglyphs found on different shrines and structures. He explained the difference between pyramids and temples, as well as the most likely motives behind a lot of the structures.
After a couple hours, he let us explore some on our own, so explore we did.
We went back to our hotel to eat breakfast and get ready for our journey back to Guatemala City. We walked around the grounds, talked with various other people, ate lunch, and relaxed until our shuttle arrived.
Our flight back was only delayed an hour this time, and we arrived in Guatemala City around 9pm. Alfredo Garcia, our hired driver, picked us up and drove us to Antigua where he dropped us off safe and sound at our hotel, La Villa Serena.
Our hotel was lovely with a comfortable bed, perfectly hot water, and an absolutely wonderful terrace full of plants and flowers, and a big hammock overlooking the little courtyard.
You could walk up further to the rooftop terrace to see views of the volcanoes, where we saw one of them erupting.
The courtyard was also full of plants and flowers, and we loved sitting down there with the sunshine warming us in the cool mornings and evenings, eating the yummy breakfast the chef prepared for us.
Our only complaint was that the walk to the center of town had far more bus traffic belching black smoke in our faces, than it did walking traffic. We would be the only ones walking down the street in the morning.
We only had one full day in Antigua, so we set off exploring as early as possible, taking time to people-watch in the park and walk around to see the different cathedrals, and ruins, all of which were beautiful.
We also went to the arch, a very popular site in Antigua. Yellow happens to be my favorite color, so a beautiful yellow arch, over a cobblestoned street, lined by colonial-style buildings… well, I liked it quite a bit.
We spent some more time venturing into some colorful markets, and mostly, sitting in the park, enjoying all the goings-on around us.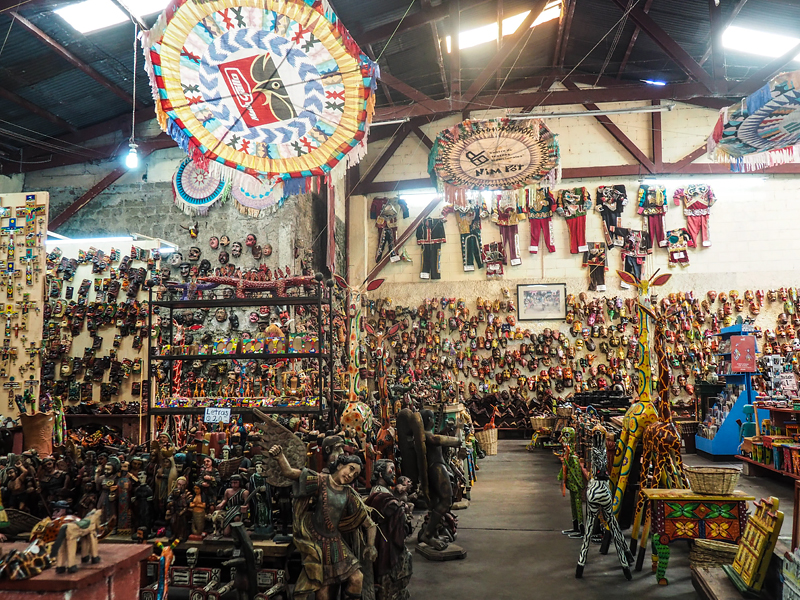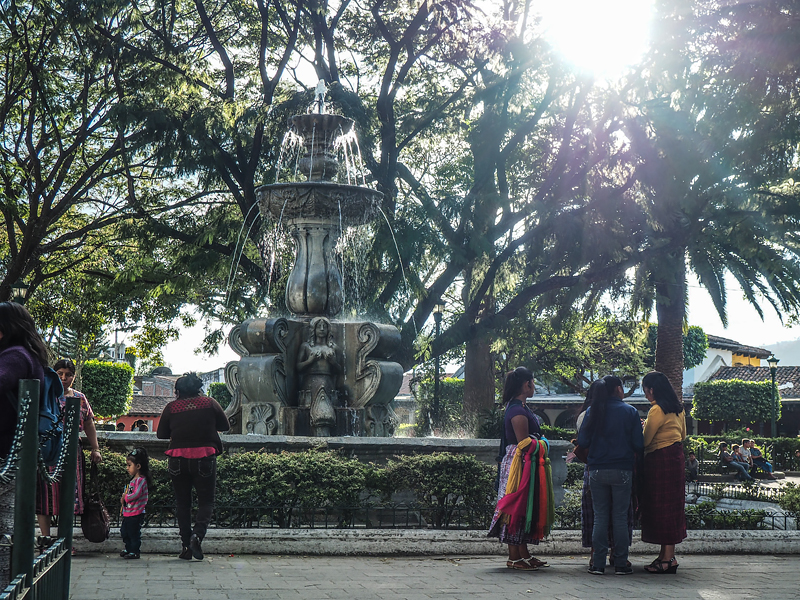 We met up with an old friend of Anthony's for dinner and then went back to our hotel to relax and enjoy the terrace some more.
The following morning, we went to Santo Domingo, an old ruined monastery turned 5-star hotel, restaurant, museum, etc. to walk around a bit. It was really beautiful, and we wished we had more time there but had to make it back to meet our driver.
It was about a 3 hour drive to Lake Atitlán, and the second half of it offered stunning views of the highlands. But those didn't compare to the first real view we got of the lake.
Pictures truly don't do it justice. I fell completely in love with it. We took a private boat over to the house we were renting, and I fell even more in love. Our house, which we found on VRBO, was perfect– though too much house for us– and had amazing views of the lake and surrounding volcanoes. It also had a wonderful terrace with firepit and hammock and seating, and a private dock to hang out on and hop on the public lanchas to go to town.
We spent our 5 days on the lake taking the canoe out in the morning,
village hopping and enjoying the abundance of vegetarian food around the lake during the days,
and drinking next to the fire either on the terrace or in our great room in the evenings.
The villages all had their own unique personalities. We were closest to San Marcos, which is hippie heaven. It was full of holistic centers and yoga studios and all sorts of random things. The people walk around barefoot, and the dogs look a little bit more cared for.  San Pedro is a backpackers' mecca.  It's busier, with plenty of bars and restaurants, and touristy things to do.  San Juan is a small village, almost entirely indigenous, with women's weaving cooperatives and cute little art galleries.  Santiago is also almost entirely indigenous and is the largest village on the lake.  When you show up on the dock, you walk through several little street-side shops and markets, and the locals pass by you, crammed together in the bed of a pick-up truck.
One day, we did try to hike the volcano San Pedro, but between the blisters my hiking boots were giving me and being completely unaccustomed to that high of an altitude (I am from Kansas after all), I ended up giving up before we made it to the top. But not before seeing some pretty spectacular views anyway.
I could see myself living on the lake. I certainly was not ready to leave when our five days there were over. But alas, on our last morning, we caught the lancha to Panajachel and met up with Alfredo again. He took us on to Chichicastenango where we experienced the hustle and bustle and beautiful colors of the market.
While there, we went on to the cemetery in town to see the colorful mausoleums and learn about the local traditions.
Eager to get back to Antigua for awhile before leaving the next day, we quickly made our way back to the car and went on. Alfredo dropped us off at the Yellow House hostel, which was easily worth the $25 we paid for it. We were upstairs, with the terrace right outside our door. Breakfast was big and delicious, and while I have slept on more comfortable beds, it did the job.  It was also a short walk from the arch and the square… which is mostly where we hung out that day.
It was a Sunday, and the square was very lively with live music and dancing, a bunch of people and dogs wandering around, and a couple different buskers performing. There was also a group of guys walking around with pitbulls, and it turns out they were a group whose aim is to destroy the myth that pitbulls are a dangerous breed. We spent some time loving on some of the dogs and people-watching once again before we ate dinner and went back to our hostel.
I was extremely sad to go back home on our 11th day. Guatemala is so rich in its culture, and while there are no doubt some bad apples, everyone we met there was so warm, helpful, hard-working, and friendly.  Hopefully, we will come back some day to see more of the country and more of what we've seen already.