Vietnam and Cambodia
Another wonderful vacation in the books! For our very first trip to Asia, we went to Vietnam and Cambodia, though we didn't have enough time to give Cambodia close to all the attention it deserves (let's be real, there's never enough time to give any country all the attention it deserves).
We flew into Hanoi, after an ungodly amount of time in planes and two layovers. It was midnight on a Friday night when we made our way to our apartment, just a few steps down an alley from Beer Corner in Old Quarter. It was utter madness. Our driver had to stop a few blocks away because he couldn't get through, and just kind of pointed in the vicinity of where we needed to go. Luckily, I had walking directions sent to me and recognized the Circle K that marked the entrance to our alley of our wonderful home.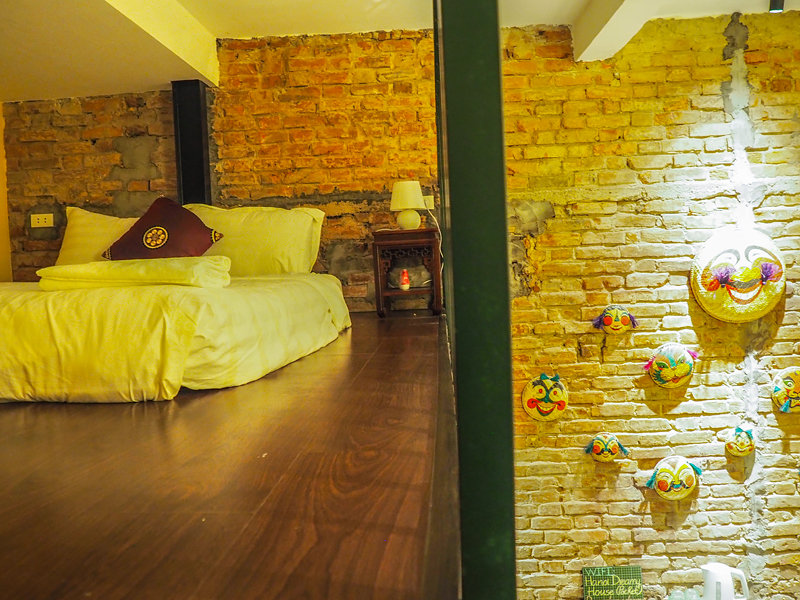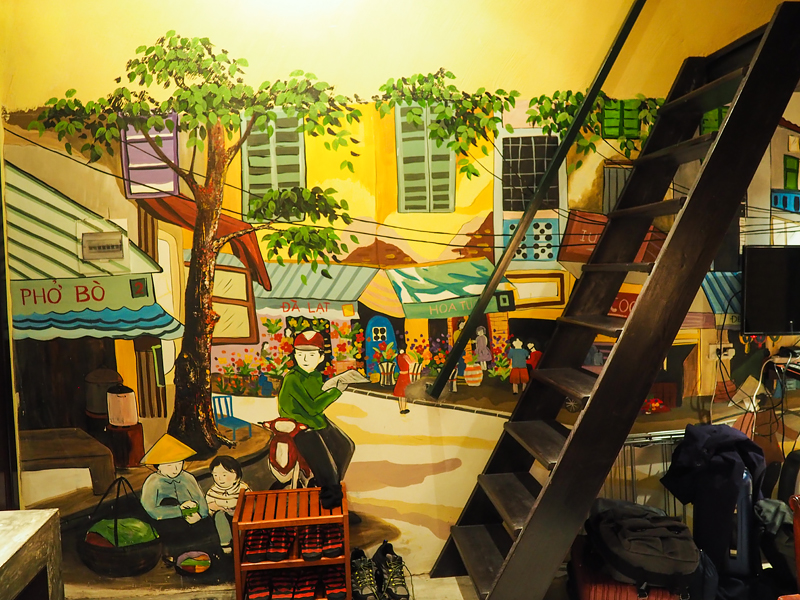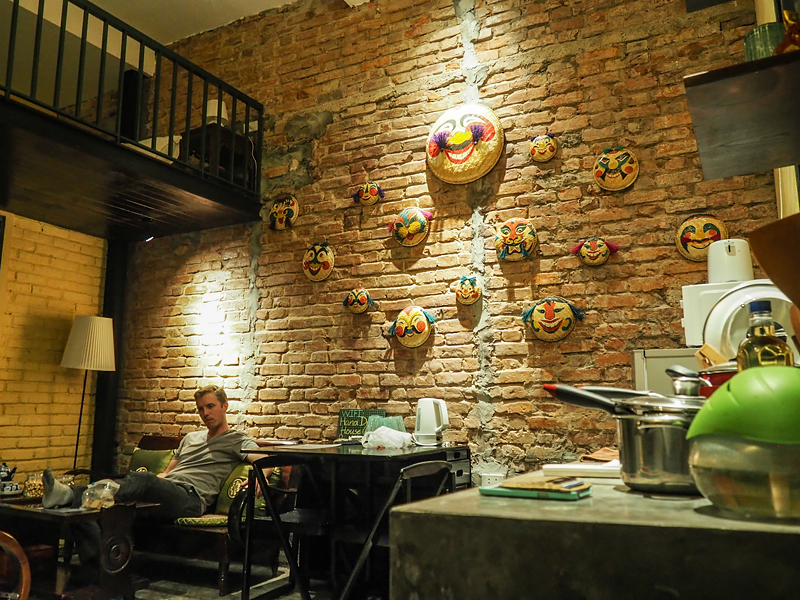 We ventured out just long enough to take in the scene and buy a few beers, but we were way too exhausted to join in. It did get me very excited about our location, though, and all the fun that Hanoi promised to provide.
Our first day there, we really just wanted to familiarize ourselves with the area, so we walked everywhere. The first thing that stood out was all of the motorbikes. It was insane. It was so hard to walk anywhere, but it honestly didn't look like it was much easier for the people driving. It seemed like no one followed any traffic rules, they all just did what they wanted without stopping for anyone. We eventually got the hang of it, and managed to go the whole trip without being run over, so I'll call it a success.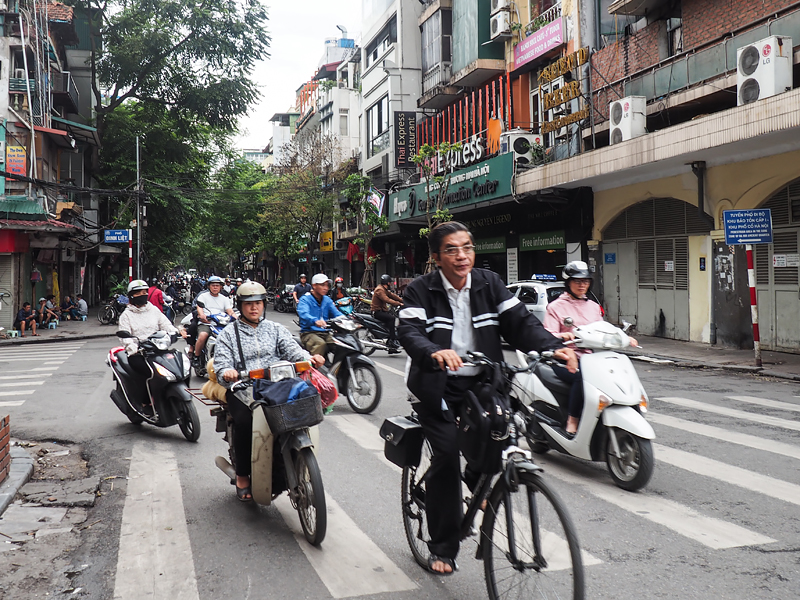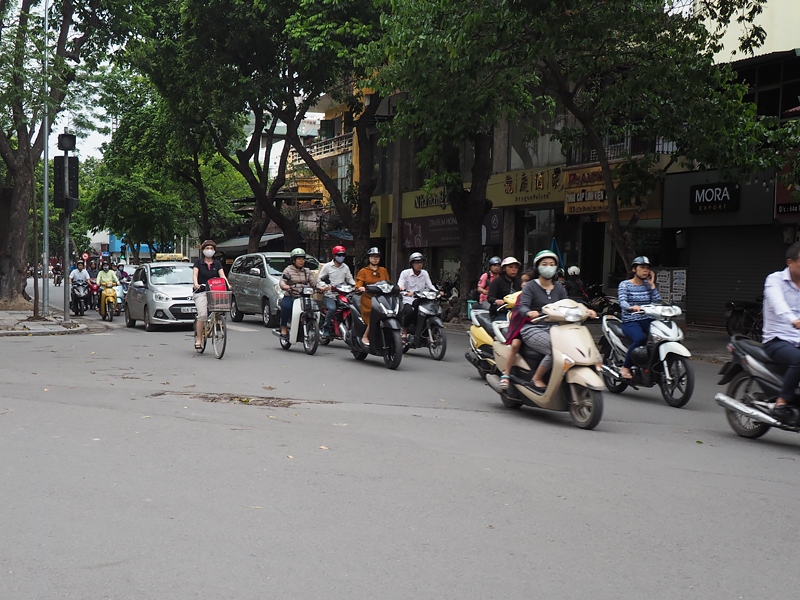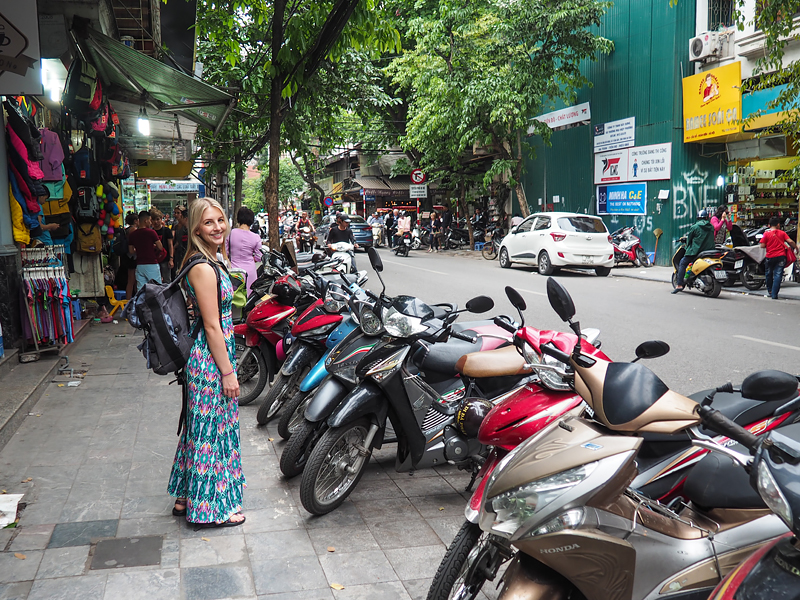 The other things that stood out were just all the interesting quirks of the different cultures that we were immersed in – everyone wearing a mask, all the street food stalls with people sitting on their tiny plastic stools eating their pho and drinking their Vietnamese coffee, massive carts and bikes being pushed loaded up with supplies, the conical hats, the women wearing their áo dàis. These are the things I love about traveling abroad. The United States is an absolutely beautiful country that I need to see more of, but there is just something so special about seeing completely different cultures and how they can live so differently than me.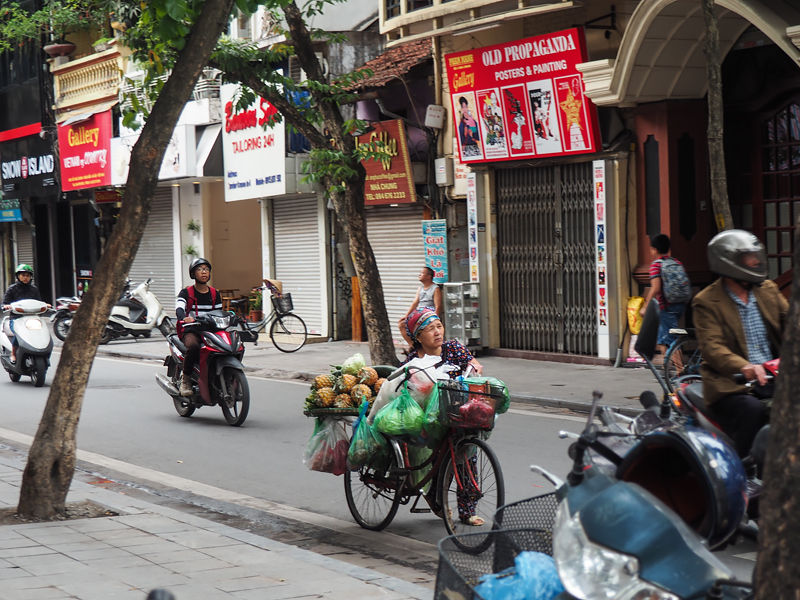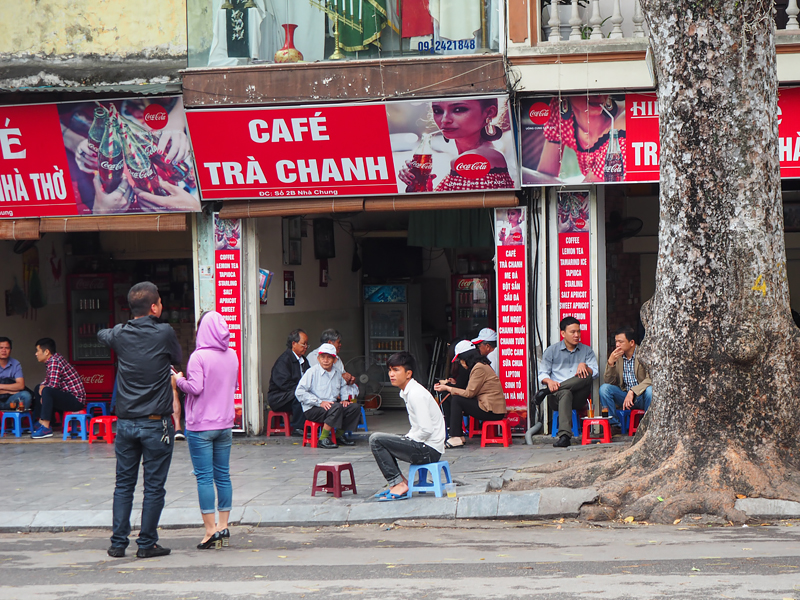 We walked all over Old Quarter that day, taking it all in. Hoan Kiem Lake was probably our favorite place, due to its festive atmosphere. In the mornings, the lake is surrounded by locals practicing Tai Chi, or couples snuggling on benches.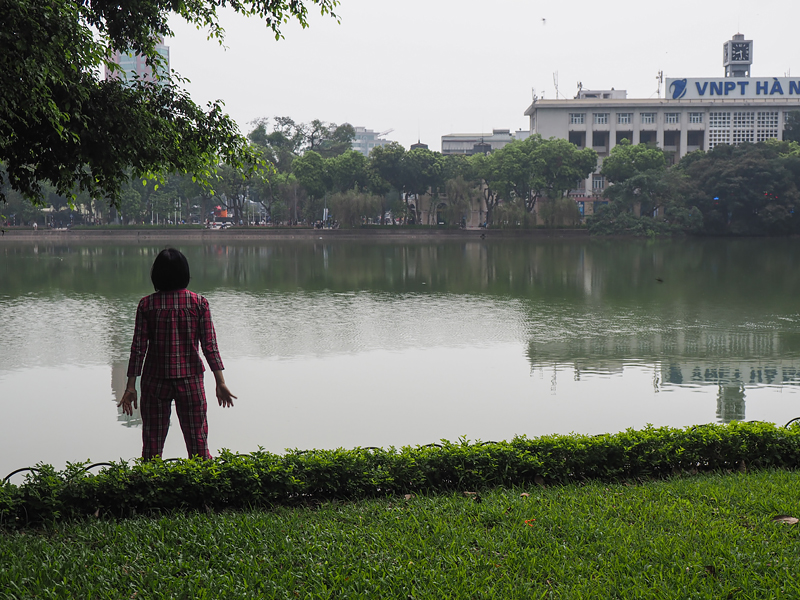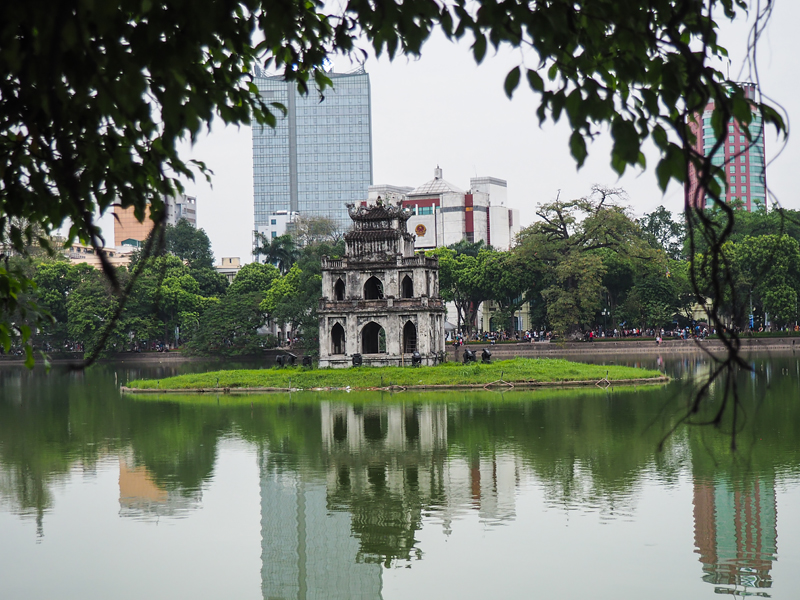 In the evenings, it's surrounded by just about everyone. Kids are playing games or rollerblading, vendors are selling food or crafts, men are working out, couples are taking wedding pictures, just everything. We walked all the way around the lake, taking in some detours, but also stopping to have a drink and watch all the people.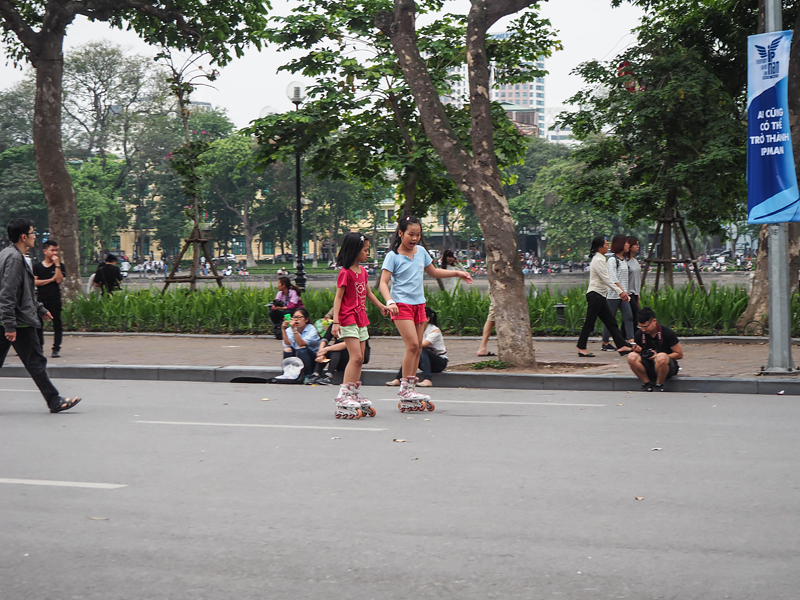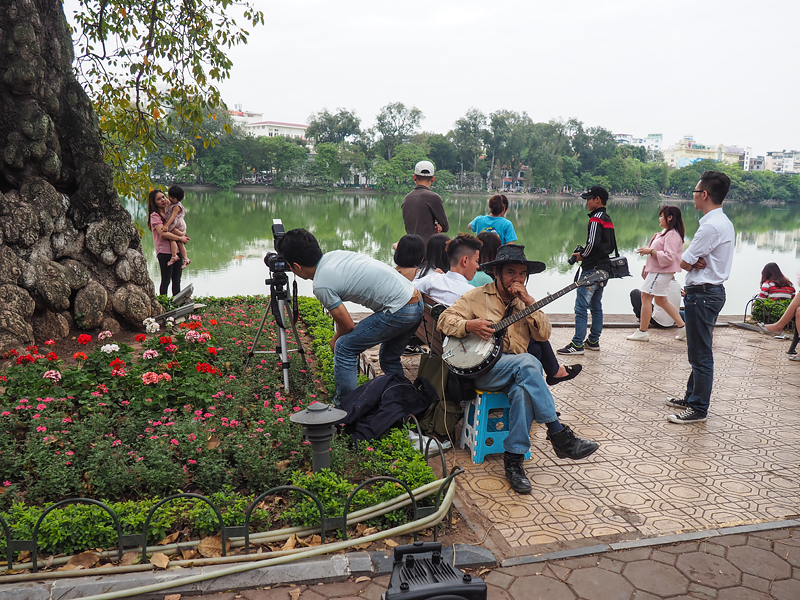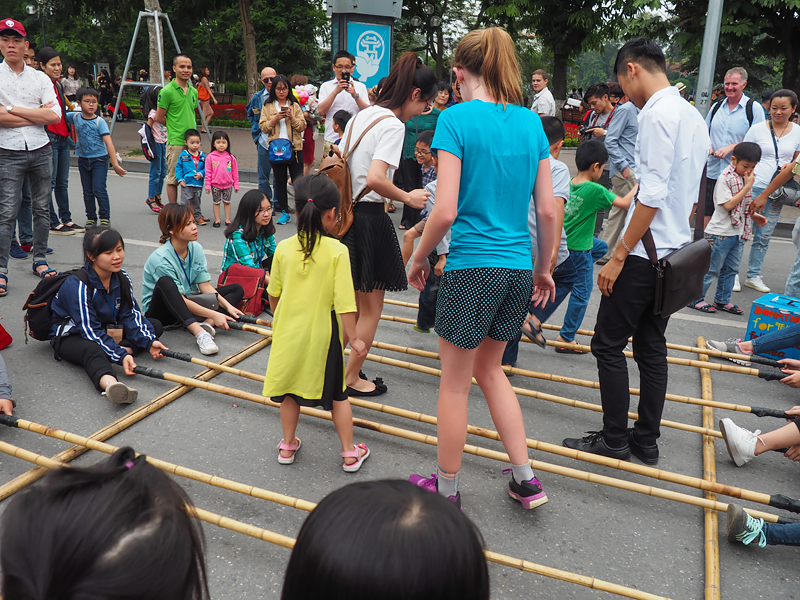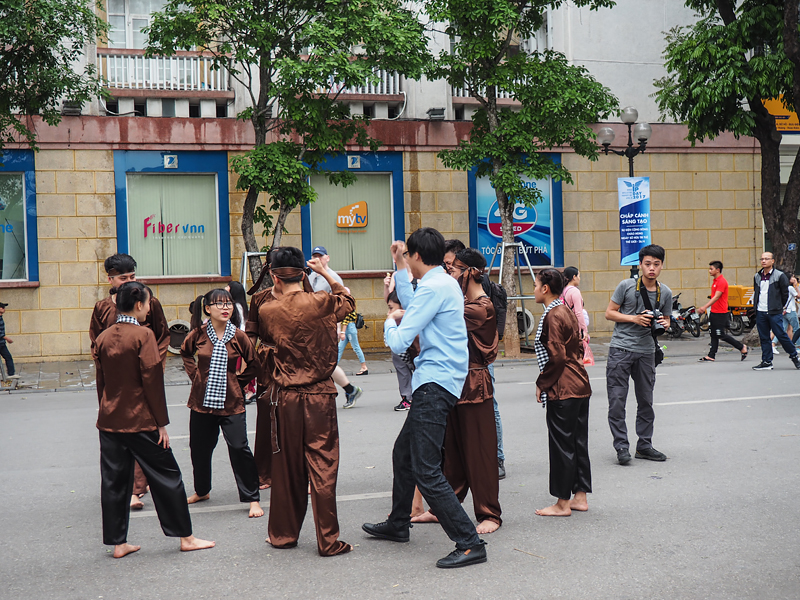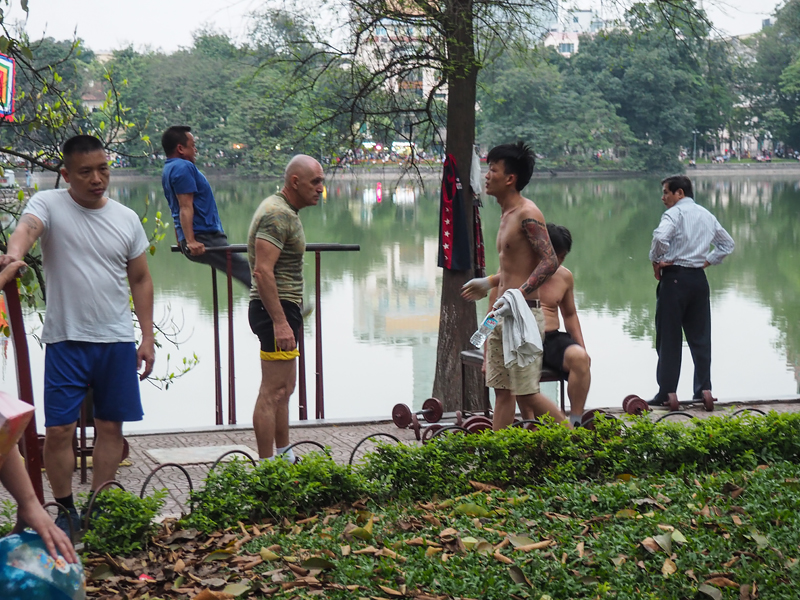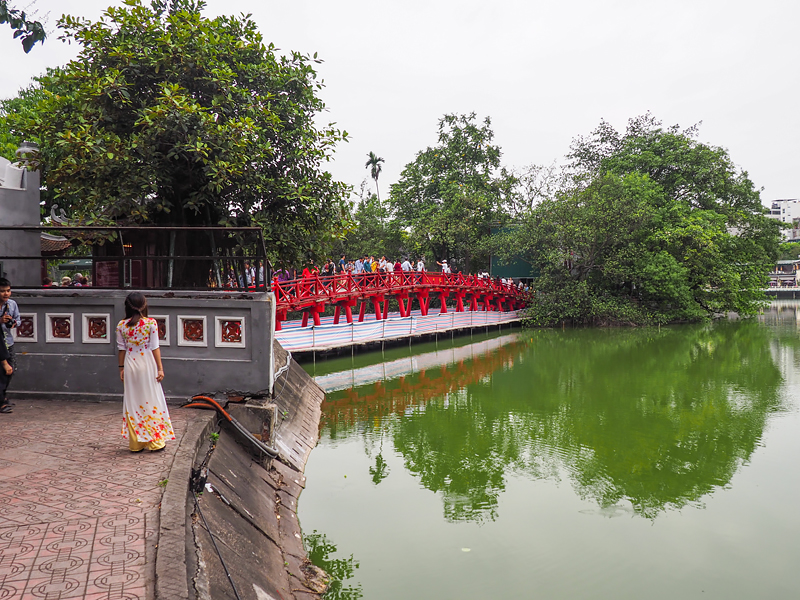 For dinner, we ate at a Vietnamese restaurant called Bun Cha Ta, which was a great experience. We took our shoes off when we got in, sat basically on the floor, and were served our meals with a great explanation of how they were supposed to be eaten. As someone who is not a fan of not knowing what I'm supposed to do, this was much appreciated. Also, the food tasted great.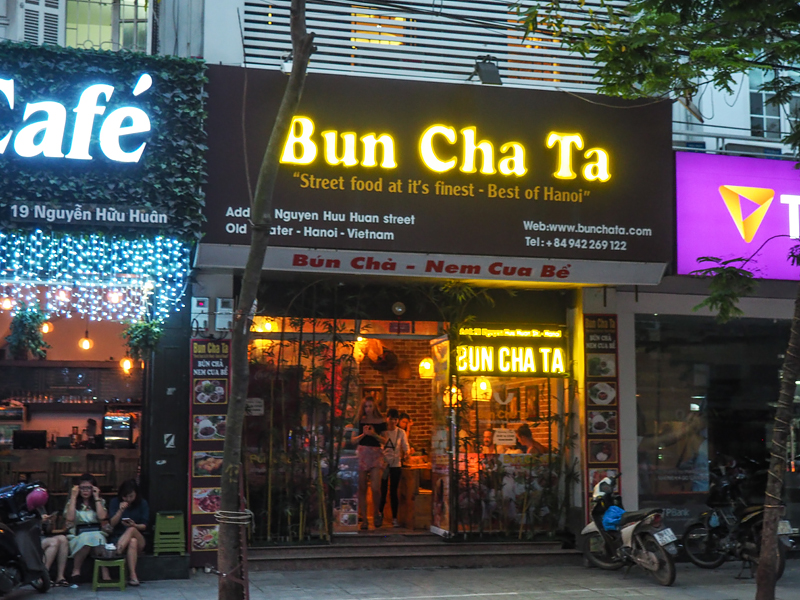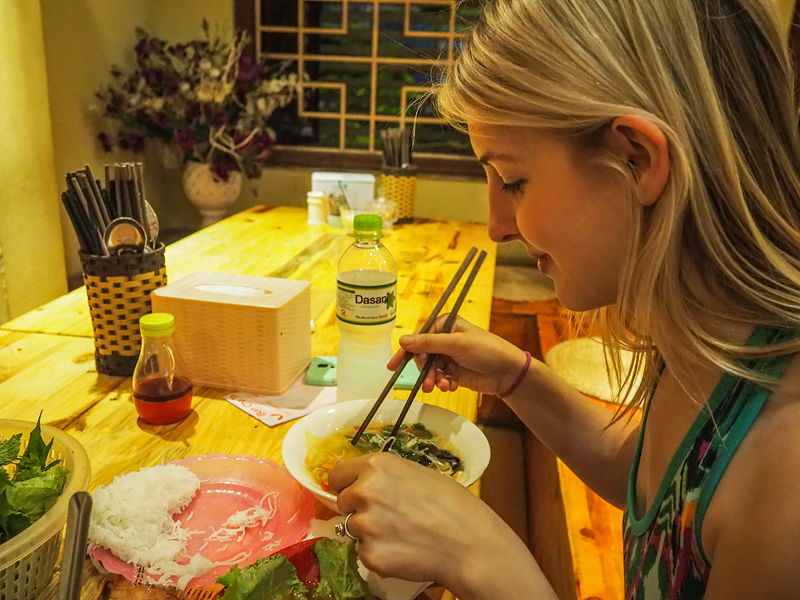 We went out for the party on Beer Corner that night, the street being completely transformed. Every bar and restaurant putting dozens of little chairs out in front for customers. There were so many people, and everyone looked like they were having such a great time.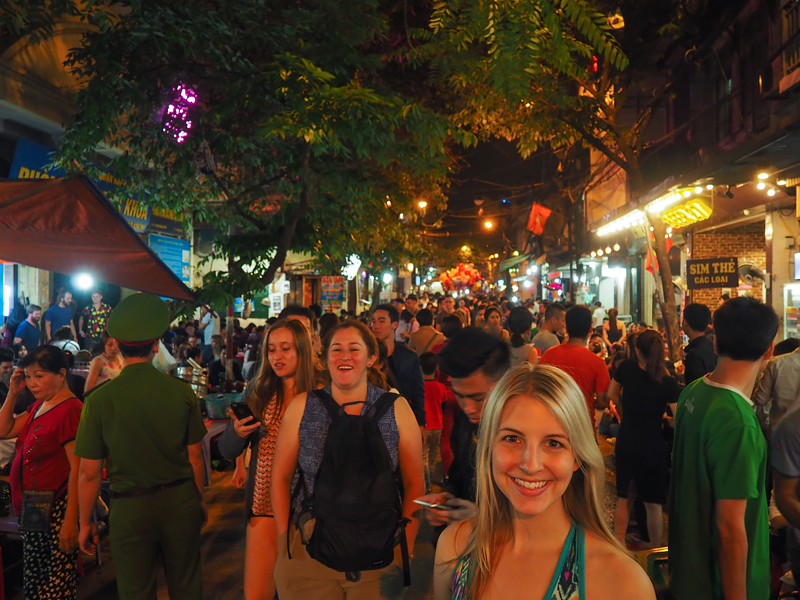 The next day, we took in some of the more traditional sites, visiting Hoa Lo Prison, the Women's Museum, and the Temple of Literature. I absolutely loved the Women's Museum, and Anthony loved the Temple of Literature, so it was a win/win.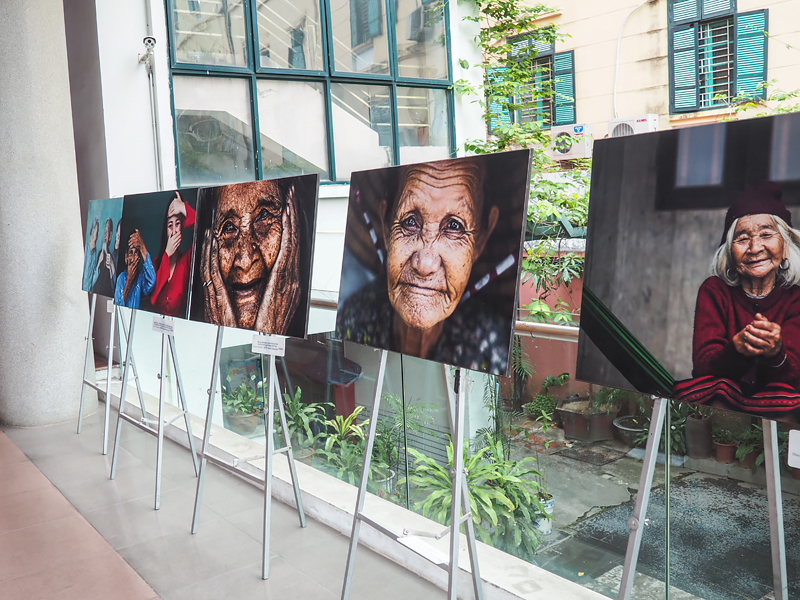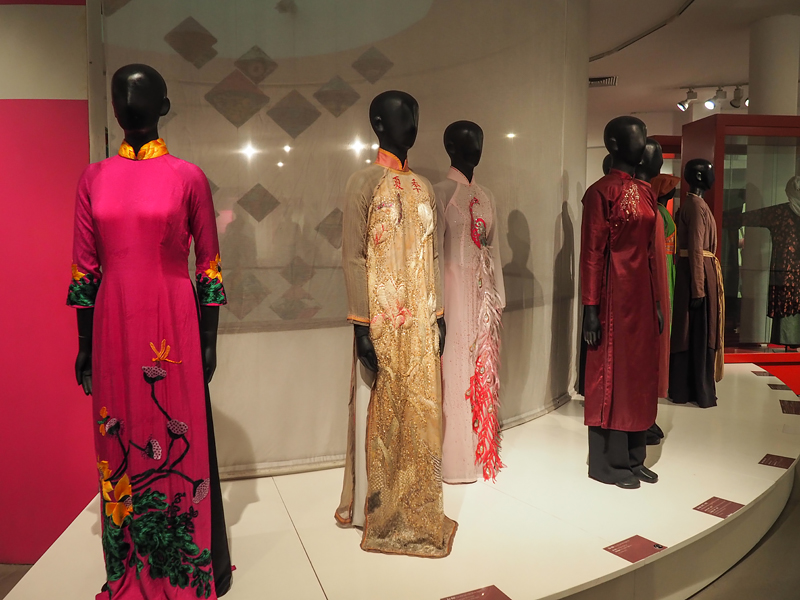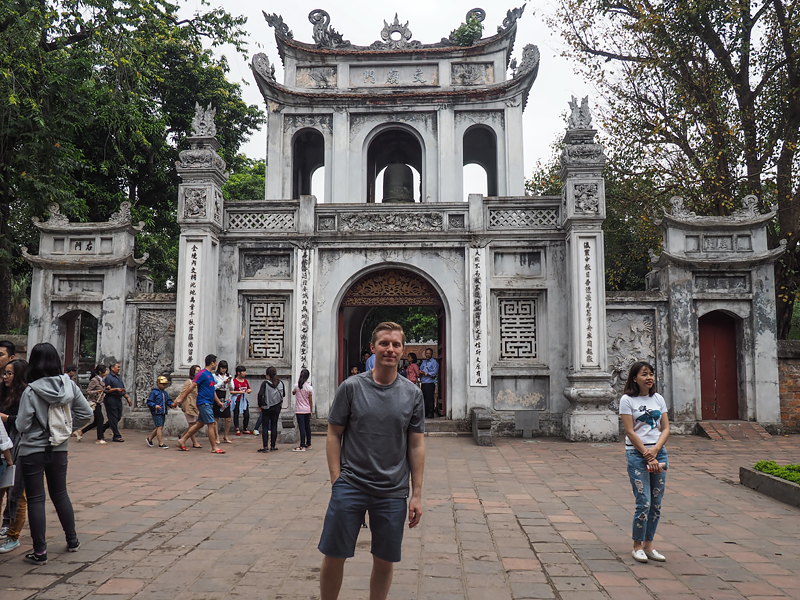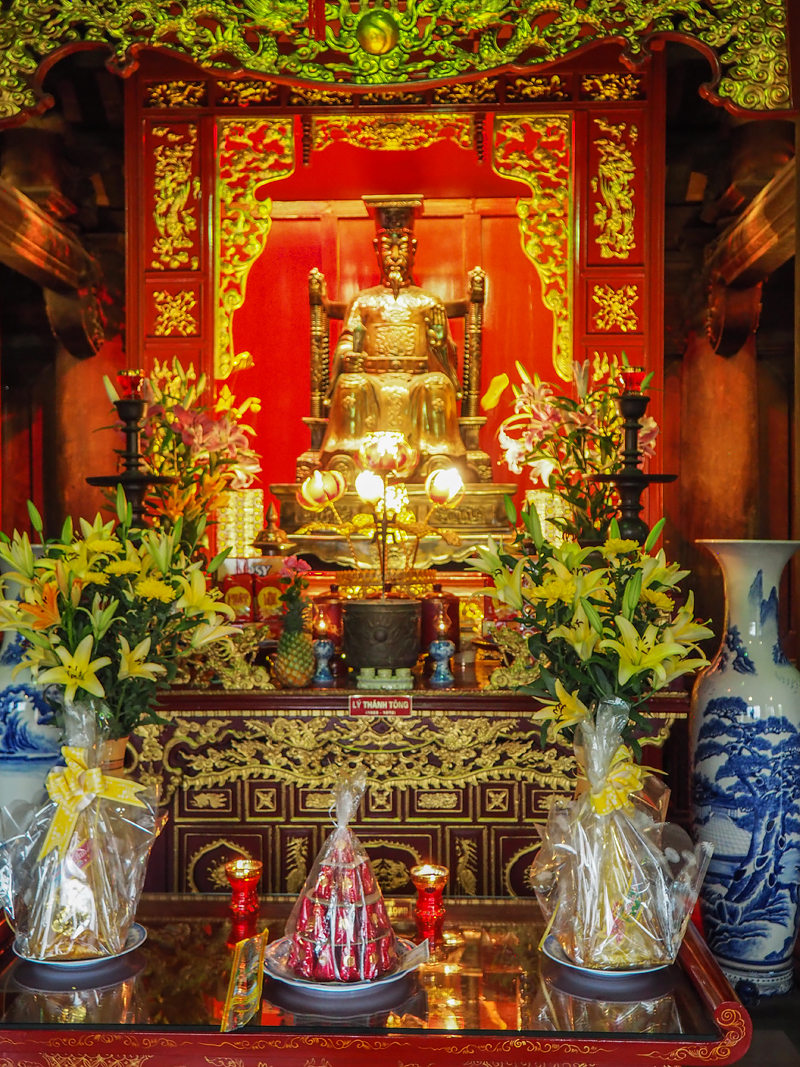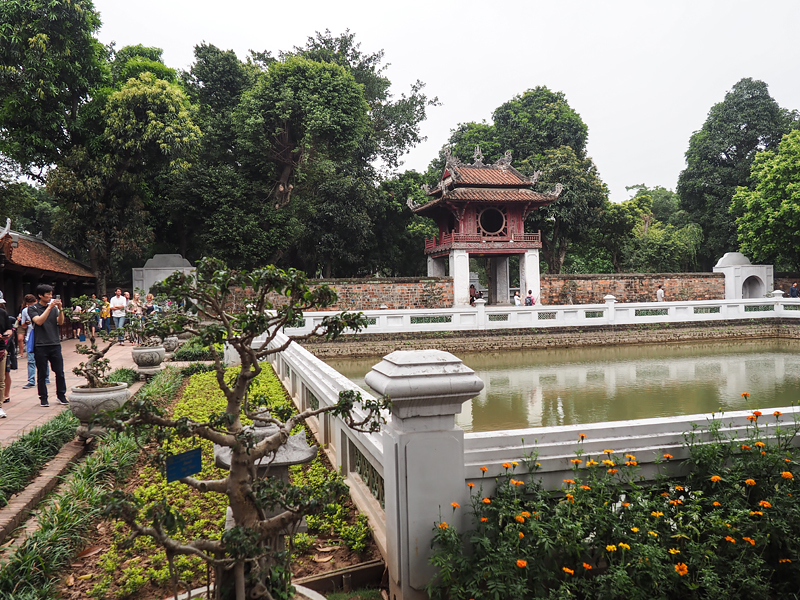 We had wanted to visit the Museum of Ethnology and the Imperial Citadel of Thăng Long, but by afternoon, I was desperately needing some food (our first Banh Mi!) and a nap, and ended up napping longer than I would have liked. For that evening, we went back to the lake and then to find another restaurant in Old Quarter before coming back to Beer Corner.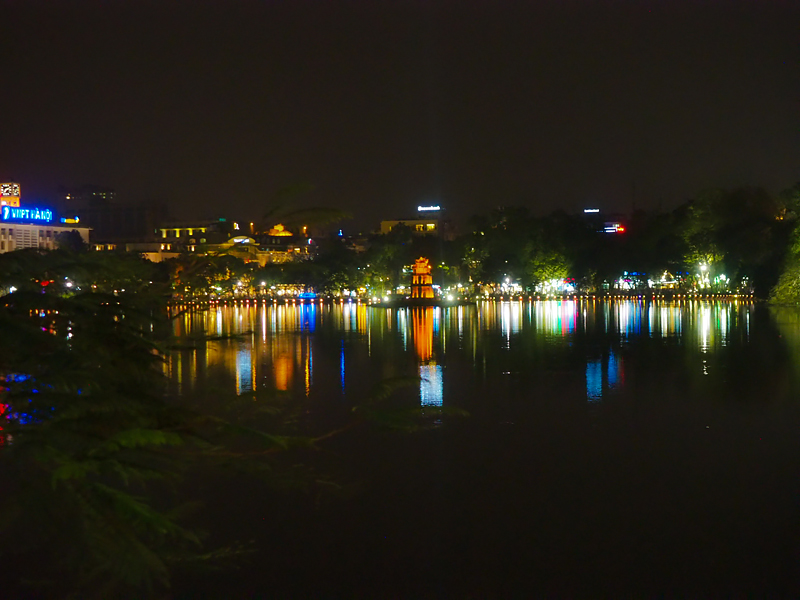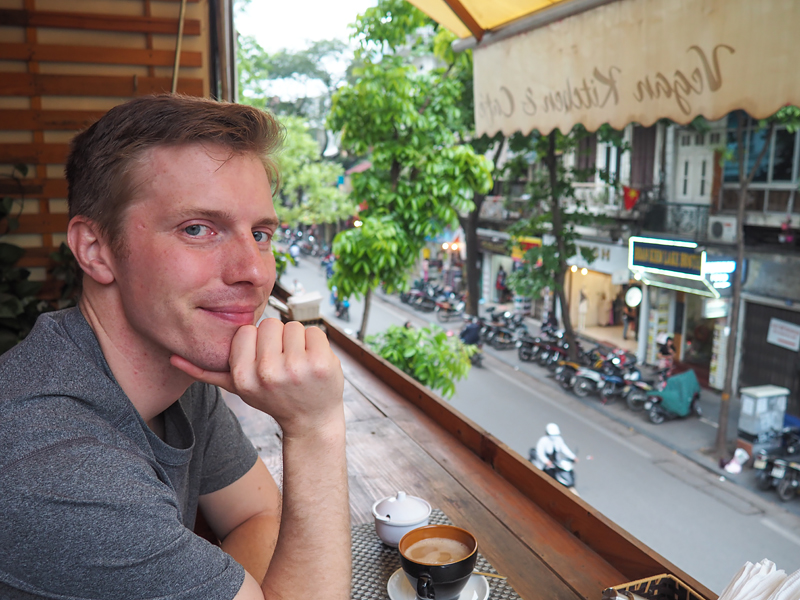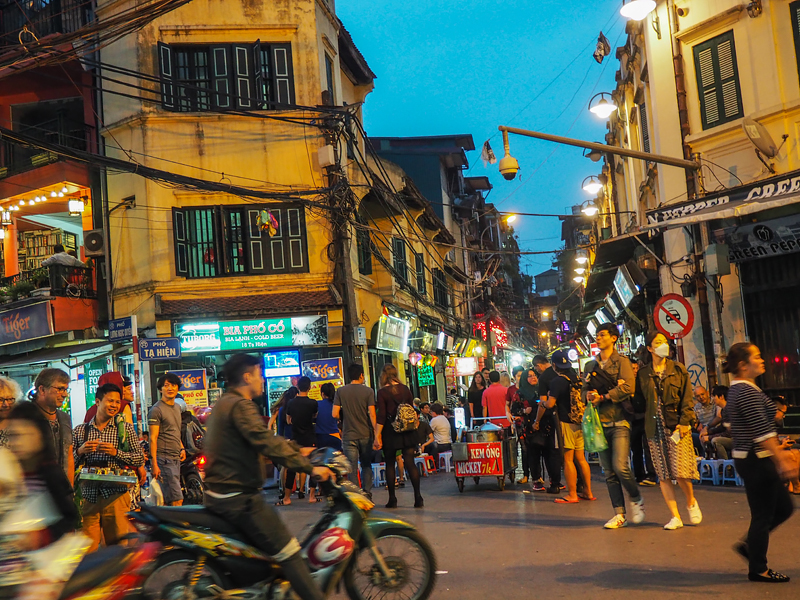 Our next adventure after Hanoi was our tour of Ha Long Bay (and Lan Ha Bay and Bai Tu Long Bay). We took the 6am train to Haiphong, and had around 20 minutes to find a taxi, drive over to the dock, and catch the hydrofoil to Cat Ba Island. I was pretty stressed about this, but we made it with no issues. Our tour company, Cat Ba Ventures, had a guide waiting for us when we arrived. We had decided to do a private tour with them which we really enjoyed.
Leaving from Cat Ba Island instead of Ha Long City means way fewer boats, and thus way fewer people on the water. It was wonderful. We often felt like we were cruising through the bays by ourselves. And the vistas were out of this world.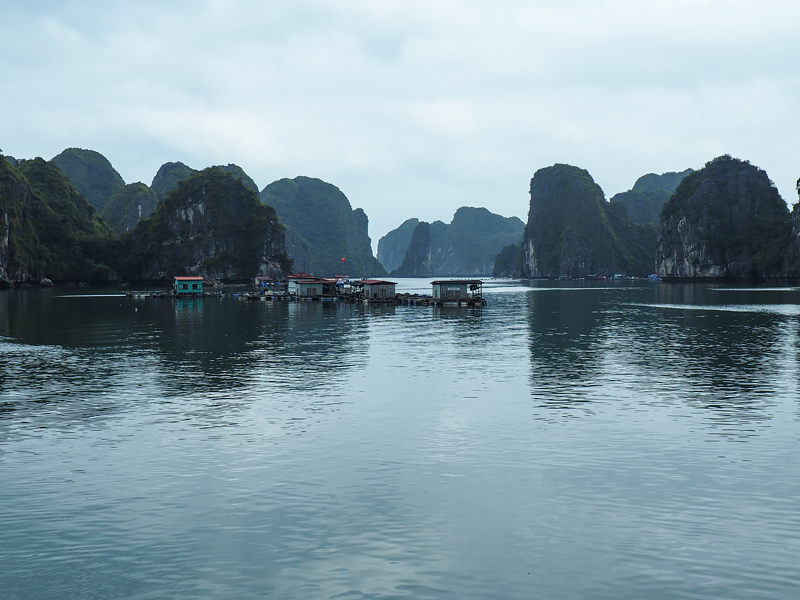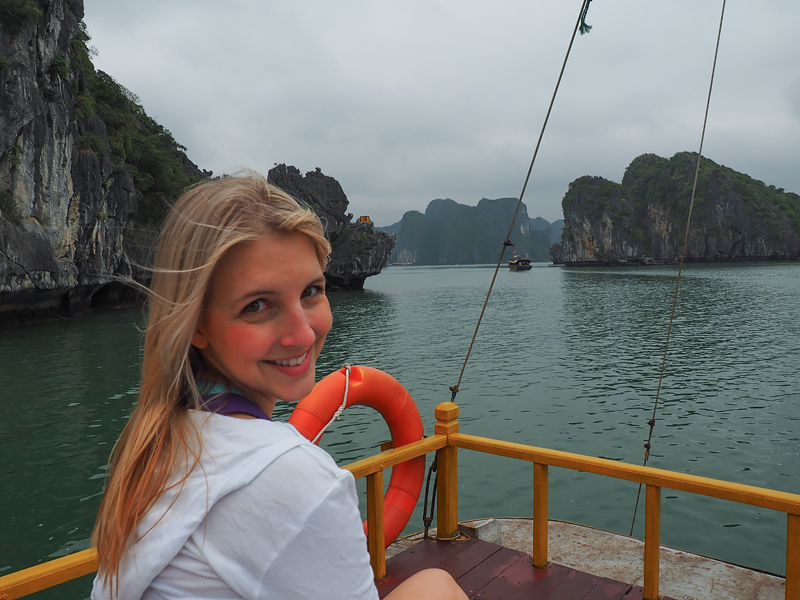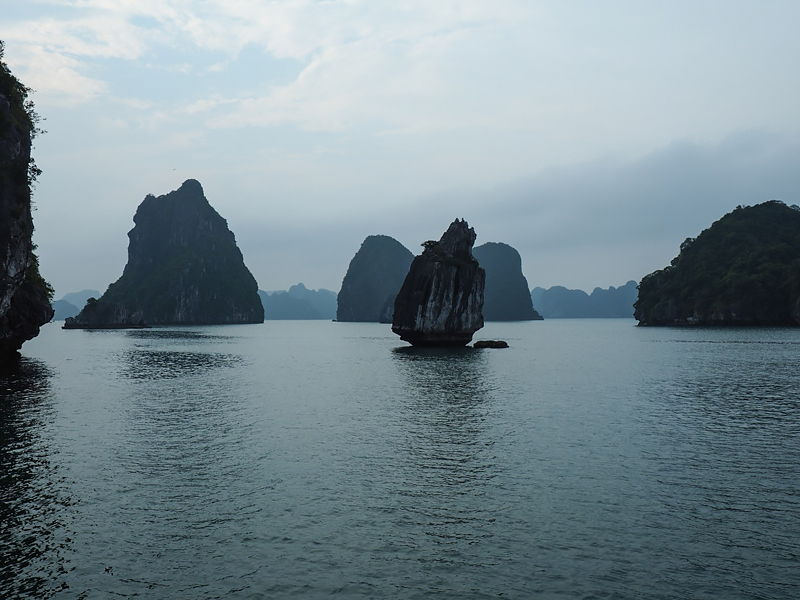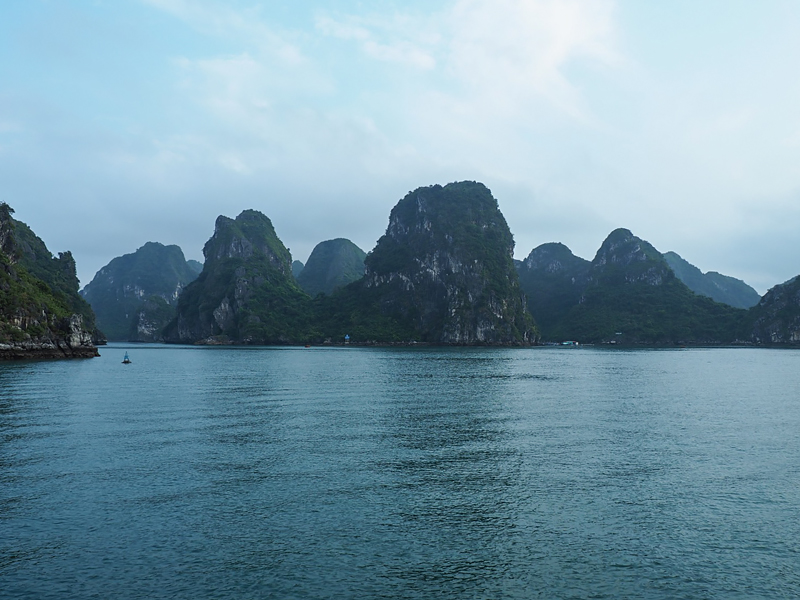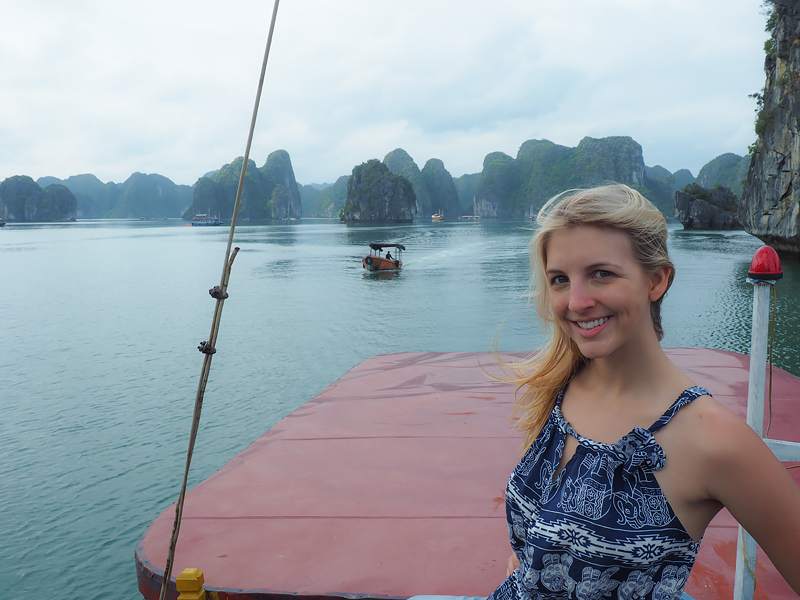 We visited a floating fish farm, one of the lifestyles that I just cannot grasp because of how immobile it is.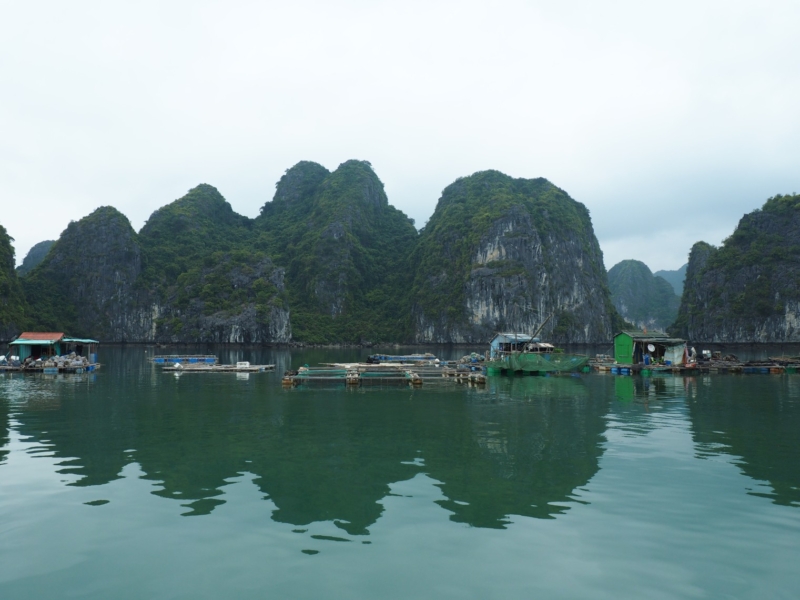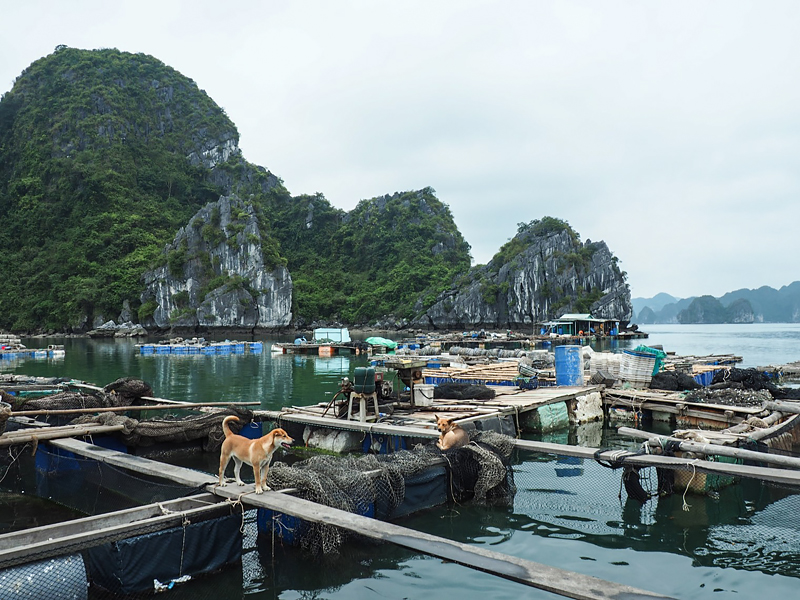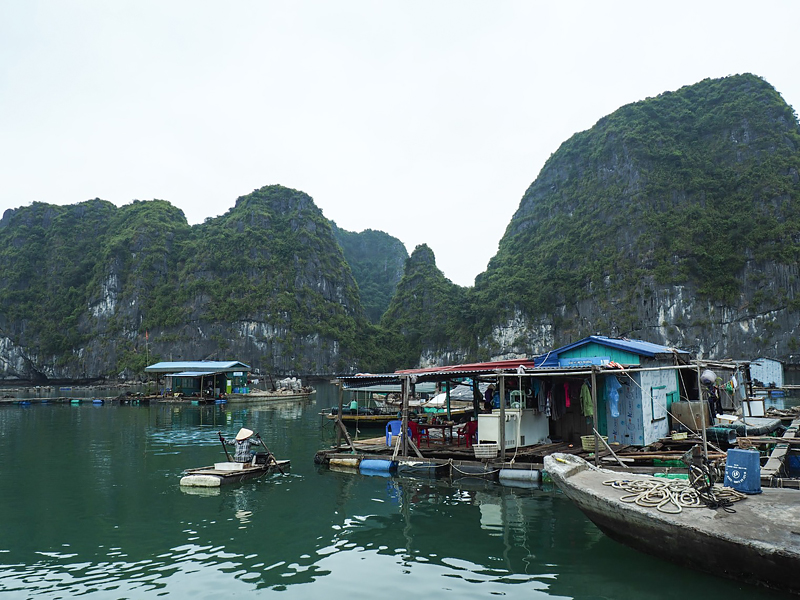 We also did a bunch of kayaking, which was the best part. We would kayak through these long, dark caves and come out to the most peaceful, beautiful lagoons. And each time, we had it all to ourselves.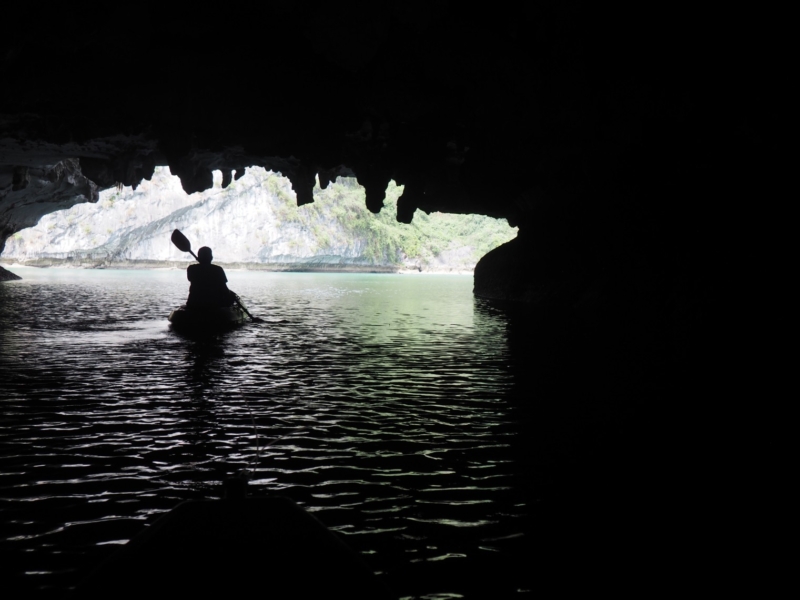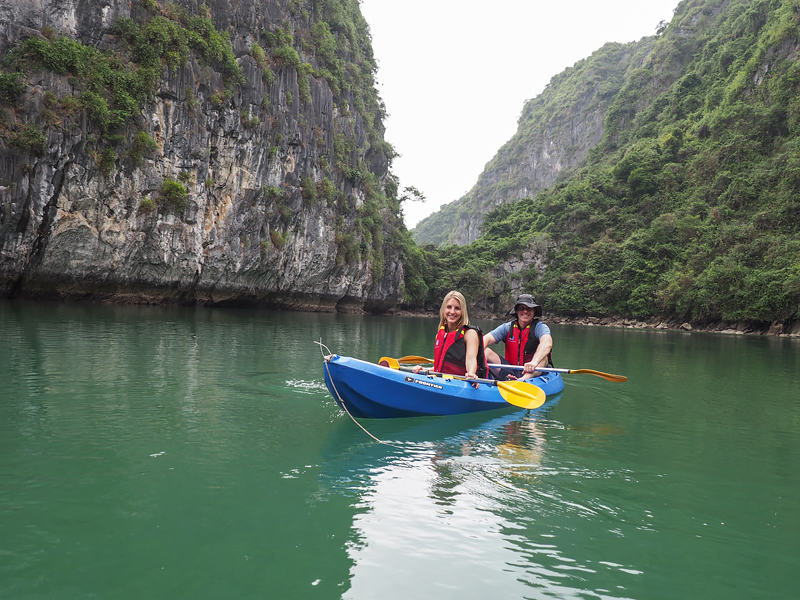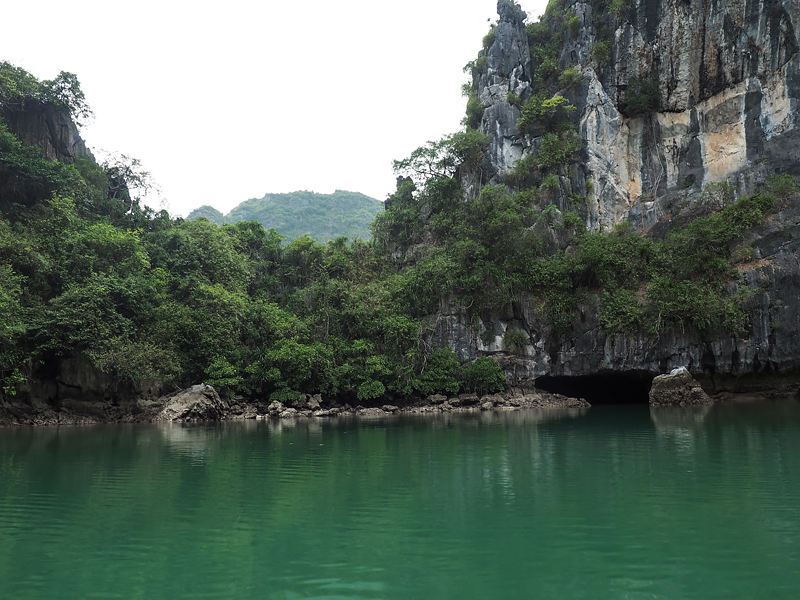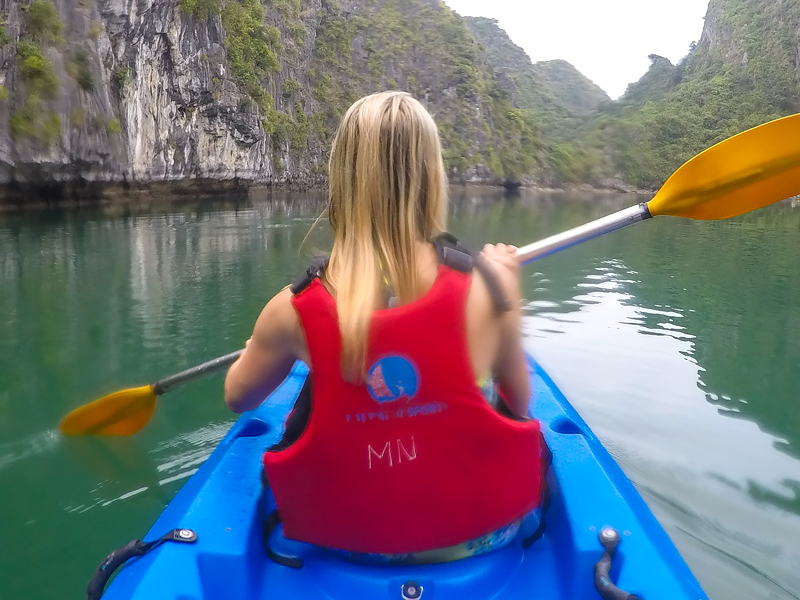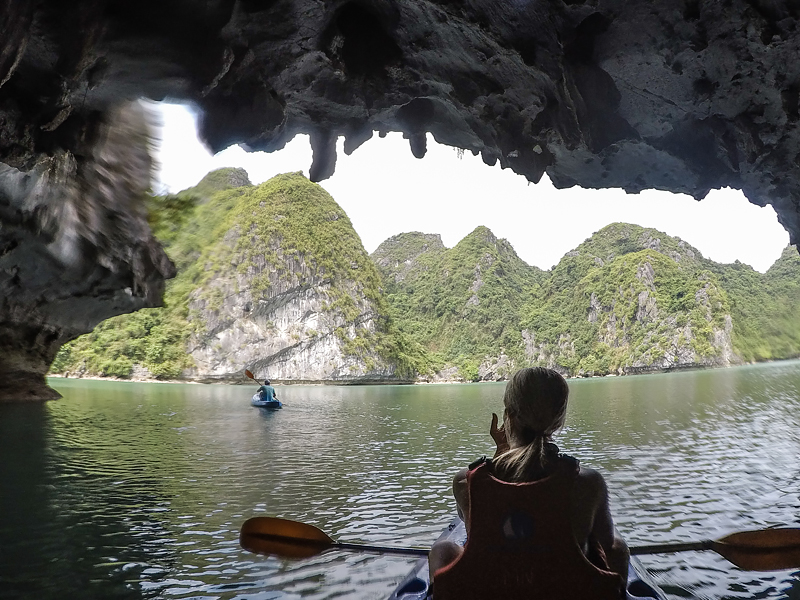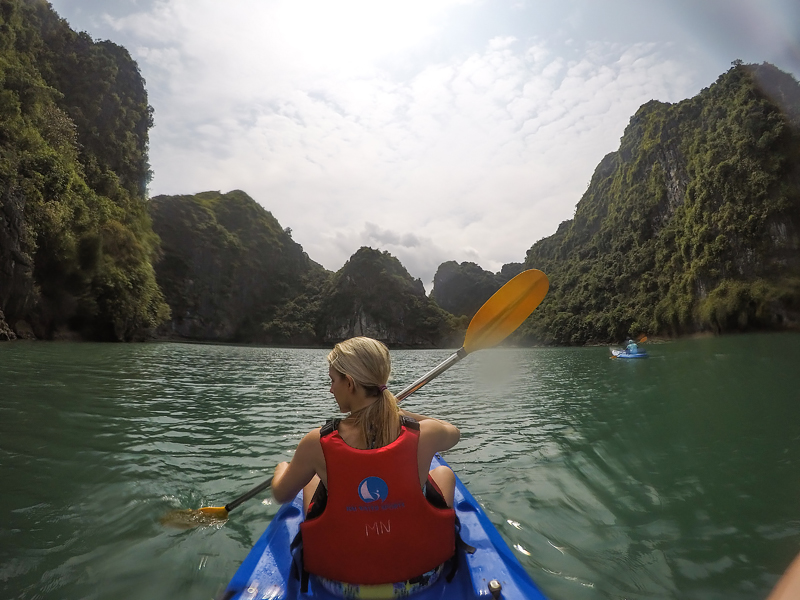 In one of these lagoons, we discovered a bunch of monkeys, which was obviously amazing. We hung out there for quite awhile, getting excited every time we saw one hop from one branch to another.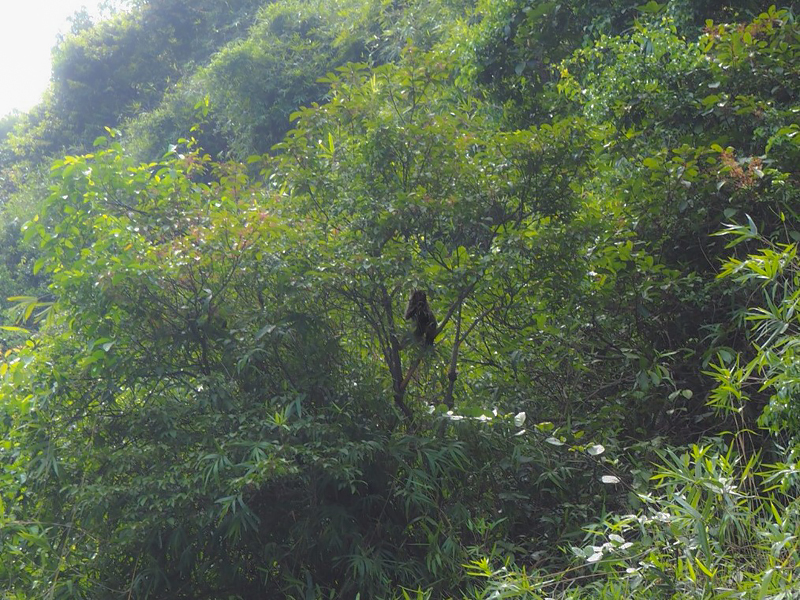 On the second day, we also found a secluded beach to swim and snorkel. Somehow, Anthony managed to swim into a jellyfish which was not pleased and retaliated by attacking his leg. Anthony didn't pay it any mind though, and was surprised when we came back to the boat half an hour later and the crew seemed much more concerned and quickly had him go get some natural remedy put on it.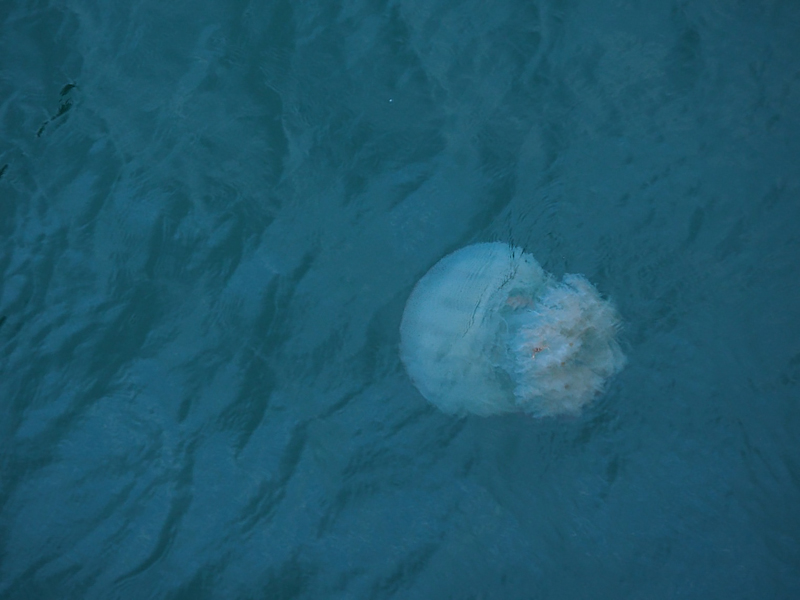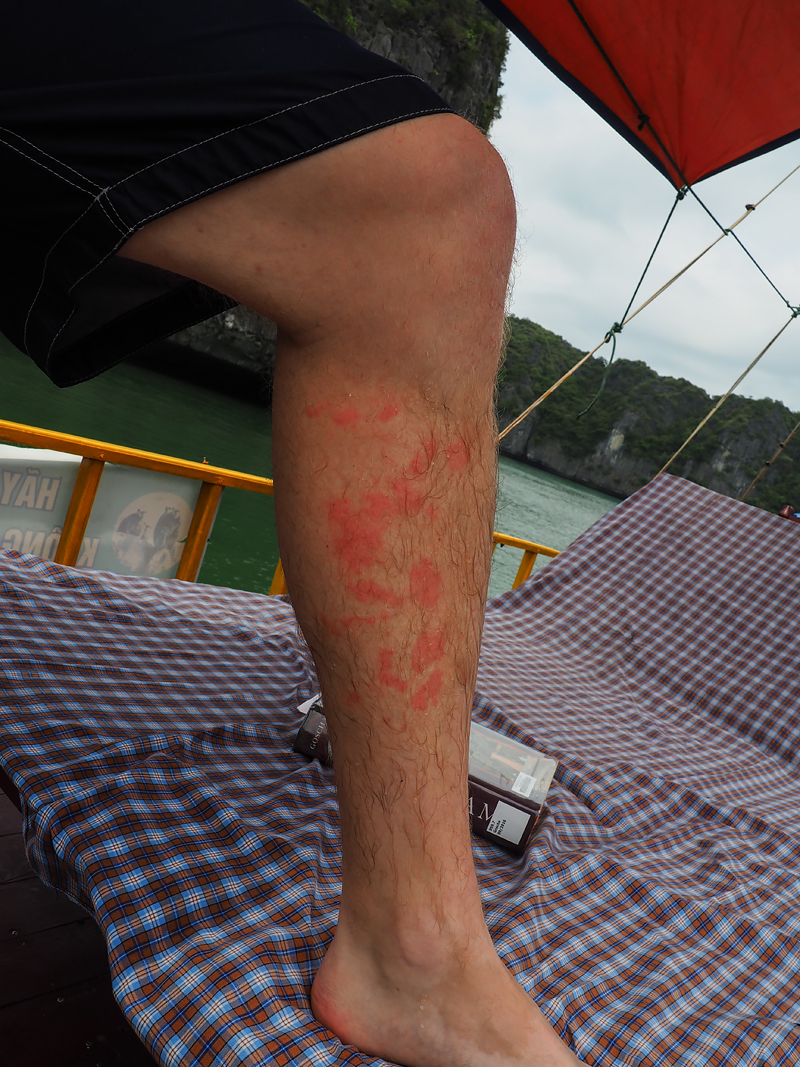 Meals were massive and delicious, and our guide was great. He was personable, informative, and spoke good English. All in all, it was a highlight of the trip, and we loved every minute of it.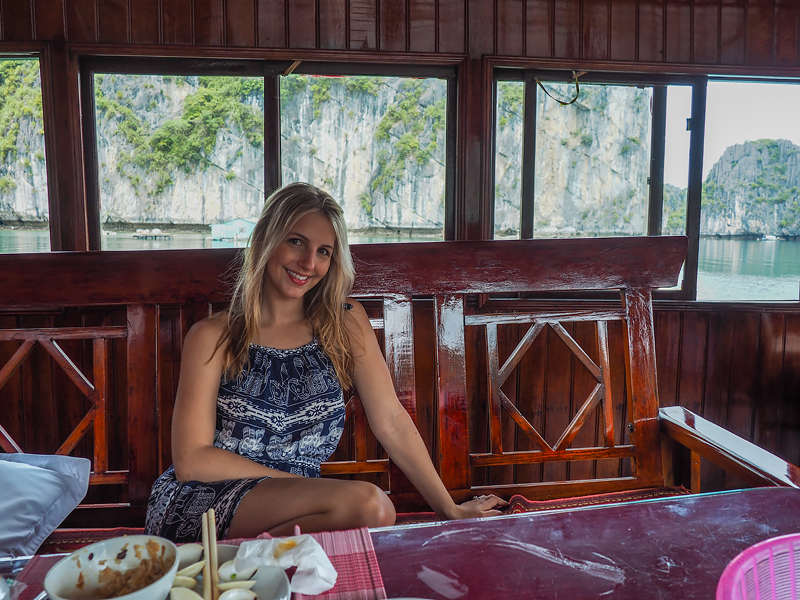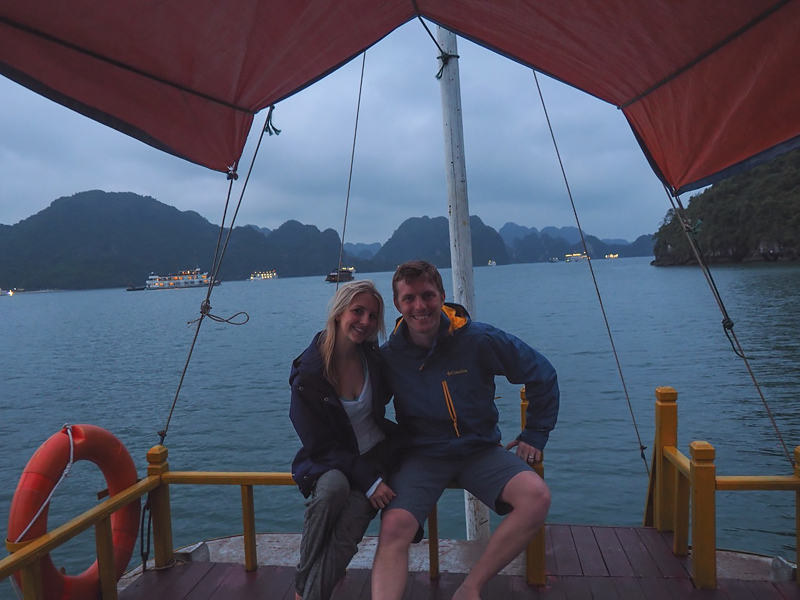 We left Cat Ba Island late afternoon of our second day, catching the hydrofoil back to Haiphong.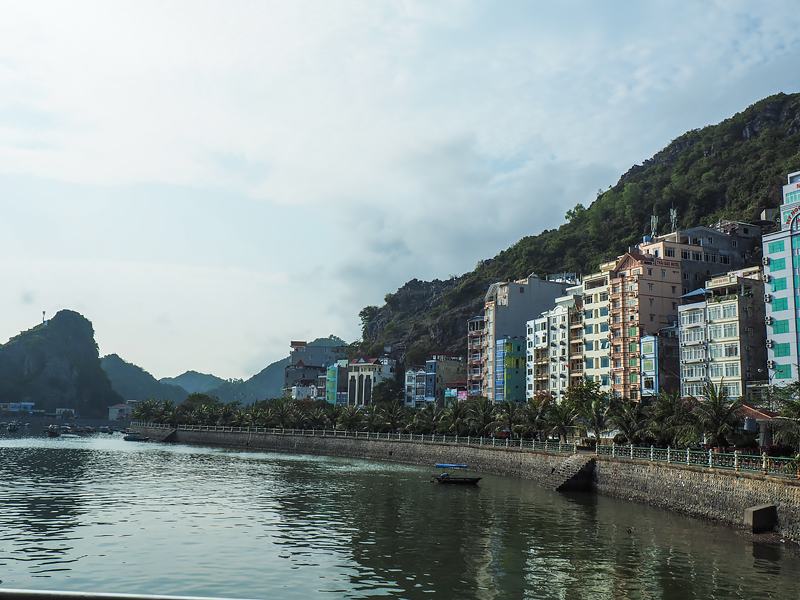 There, we had a driver waiting for us, and he took us the three hours to our hotel in Ninh Binh, Tam Coc Garden Resort. We felt so out of place staying somewhere so nice, but it was a refreshing change being so spoiled by staff. It was late, and I was tired, so I took a bath in my lovely tub, had room service delivered, and went to bed.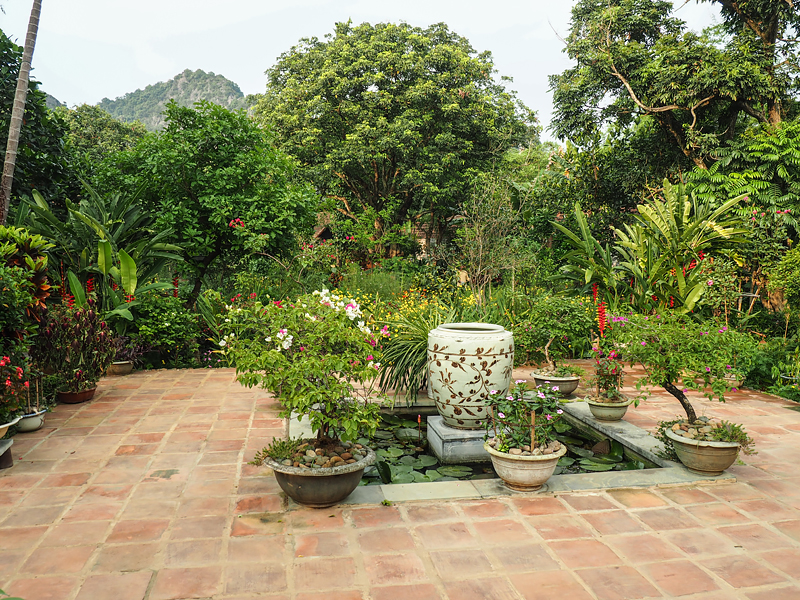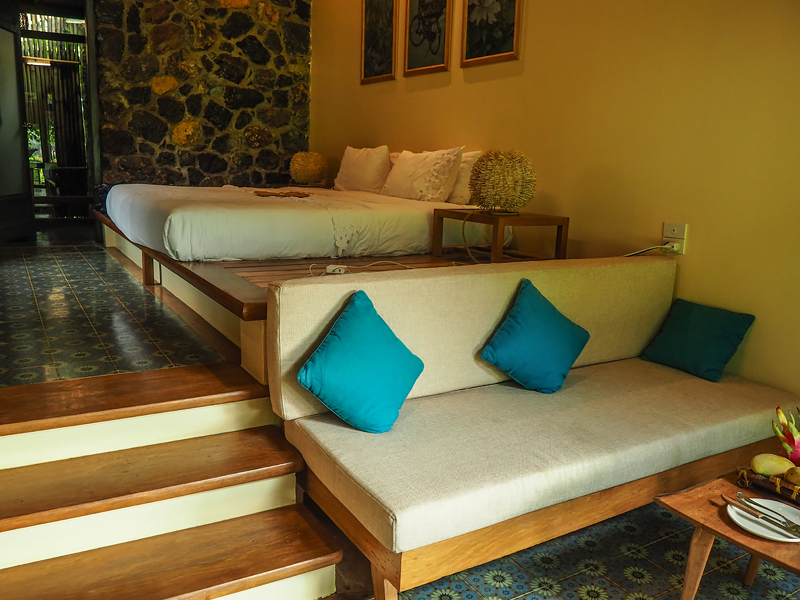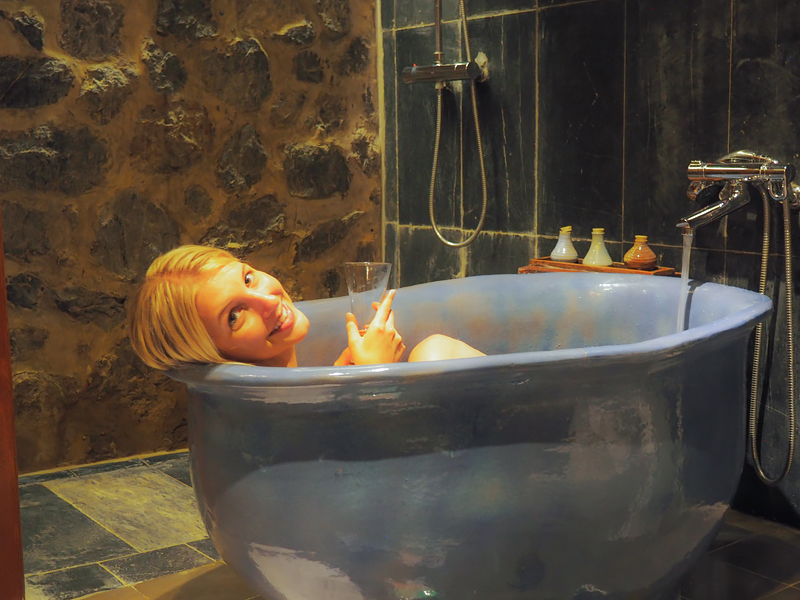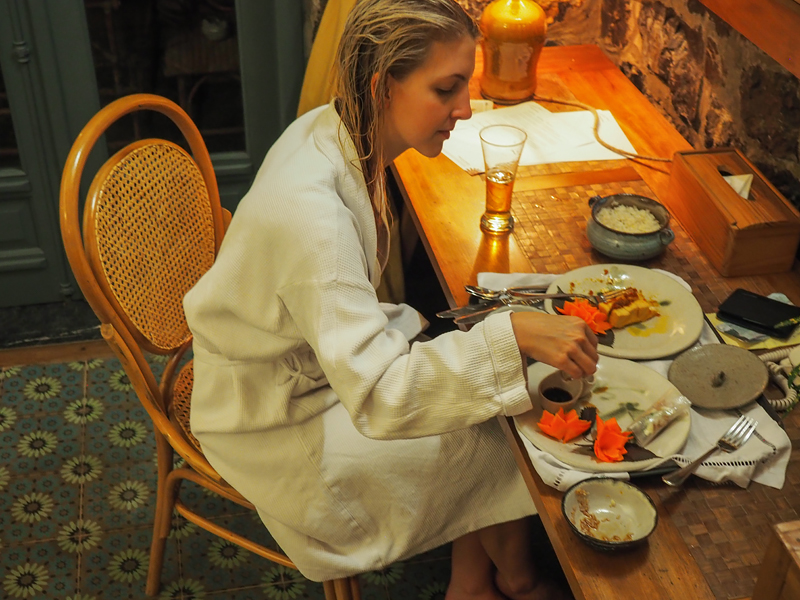 The following day, we were to explore Ninh Binh with our guide, Toan. We met up with him and another driver at 8:30 am, hopped onto the back of their motorbikes, and off we went, cruising through the countryside and enjoying some breathtaking scenery.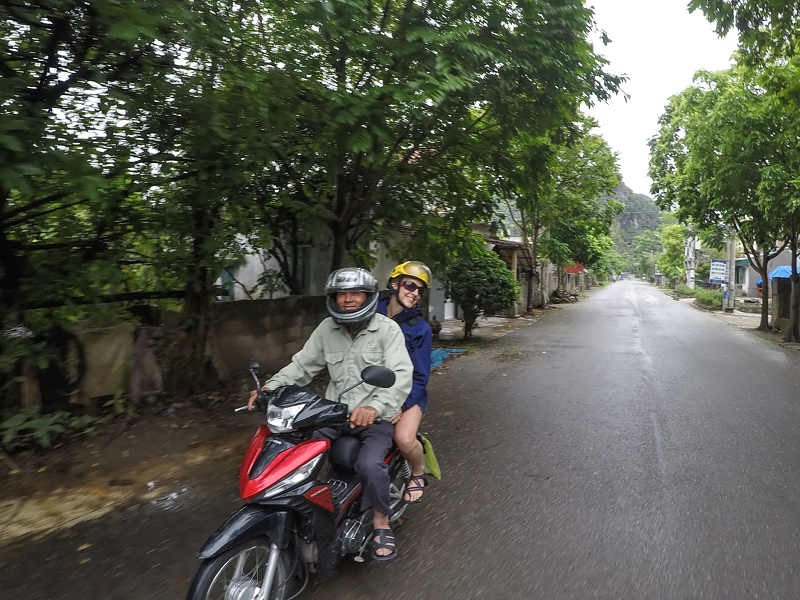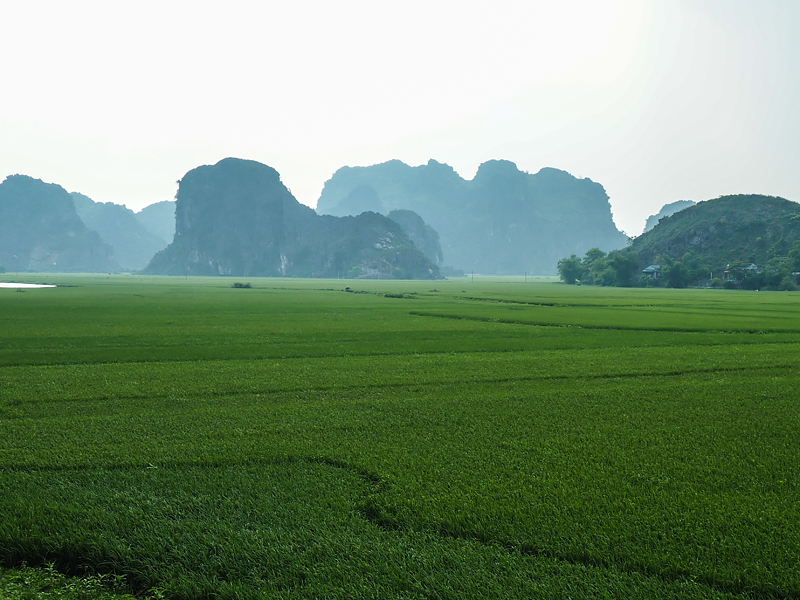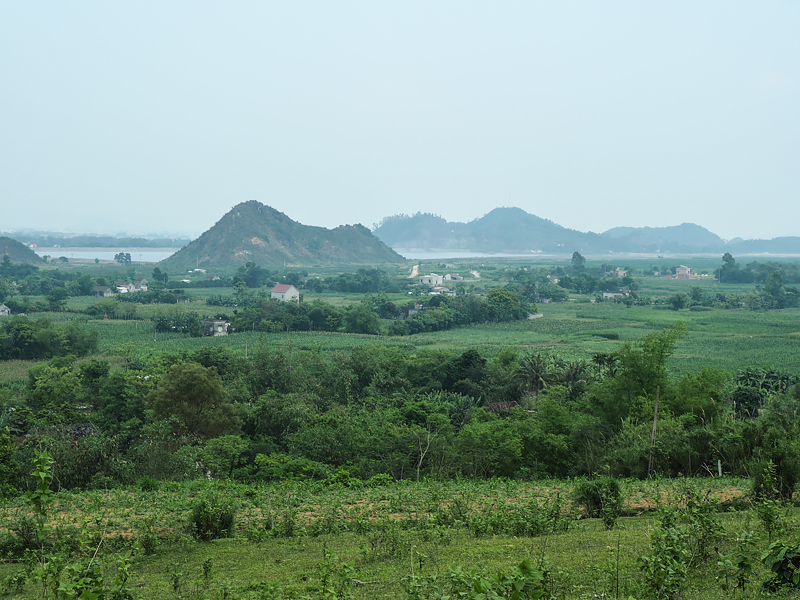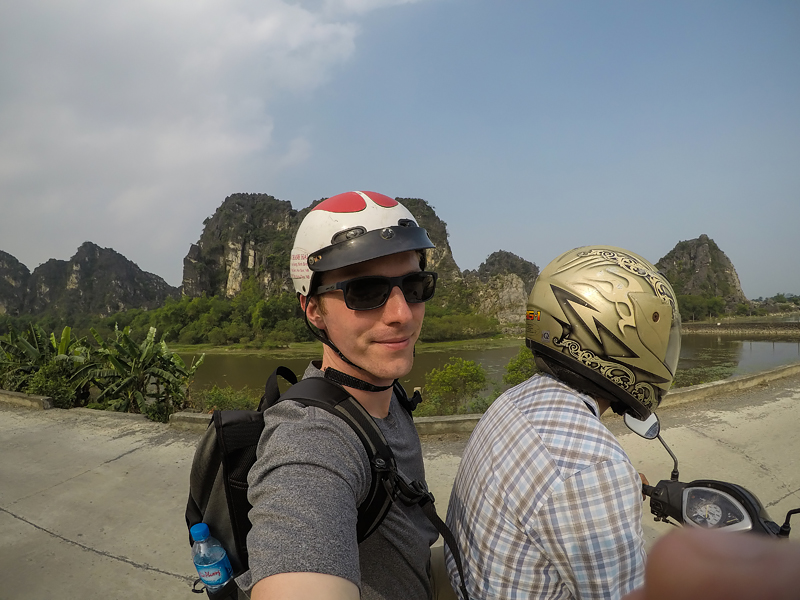 After a decently long ride, we arrived at Cuc Phuong National Park. Here, we saw the Primate Rescue Center (my dream!) as well as the Turtle Conservation Center.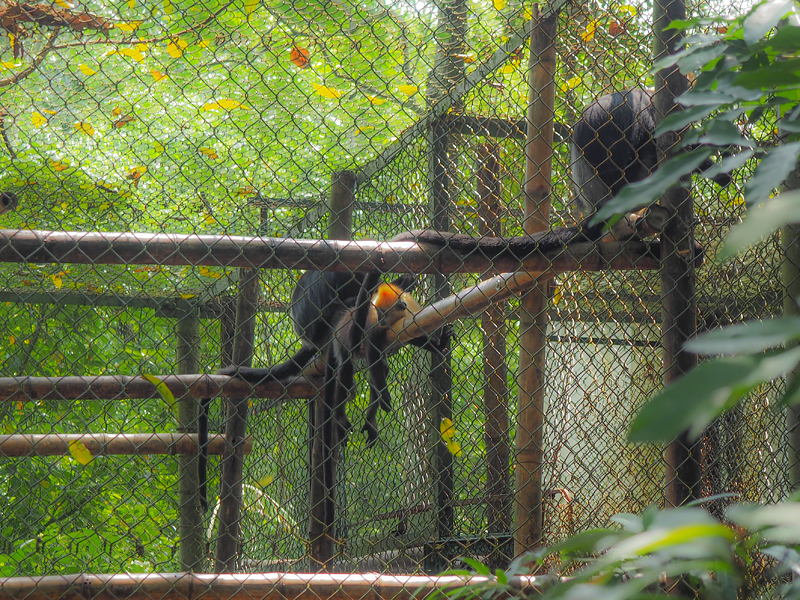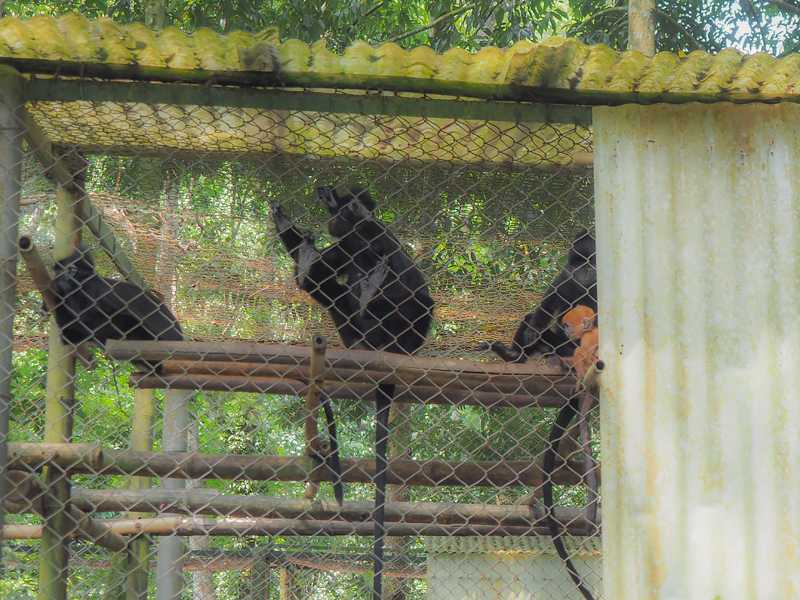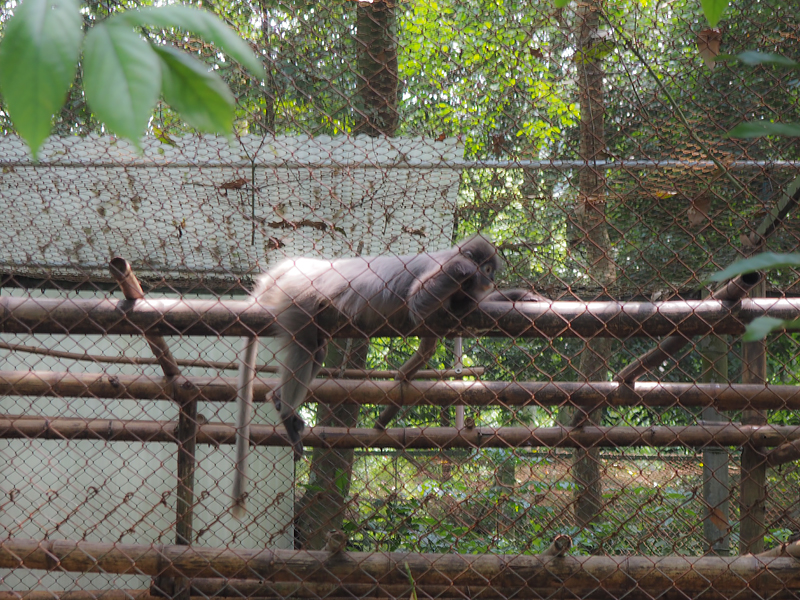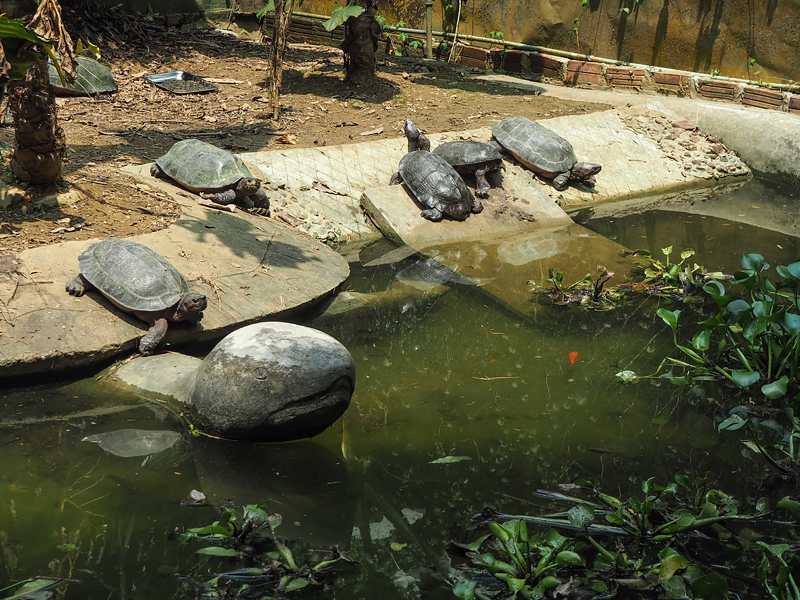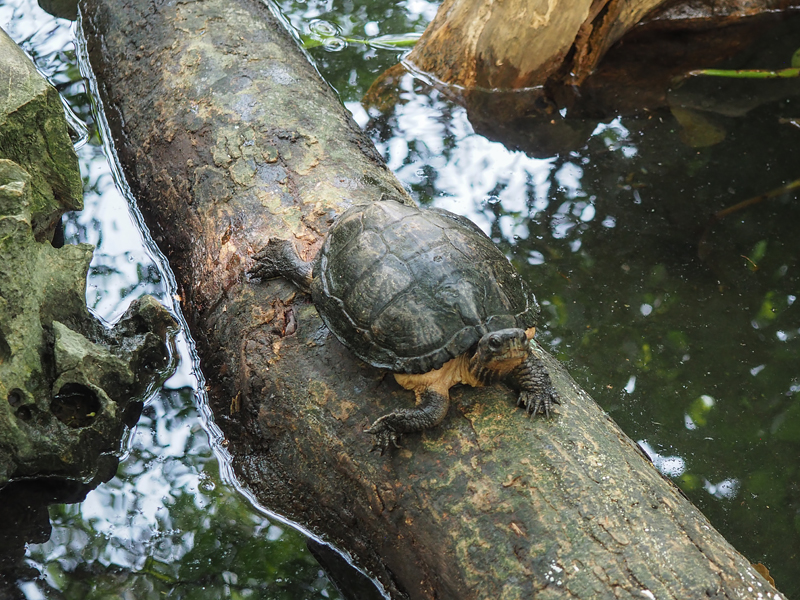 Off to a great start, we met back up with Toan and rode through the jungle until we reached the Cave of Prehistoric Man. The cave required quite a bit of climbing in the jungle heat, but it was really cool. It seemed like it would just go on forever, so we explored seeing the various stalagmites and climbing up some stairs to see a bunch of bats.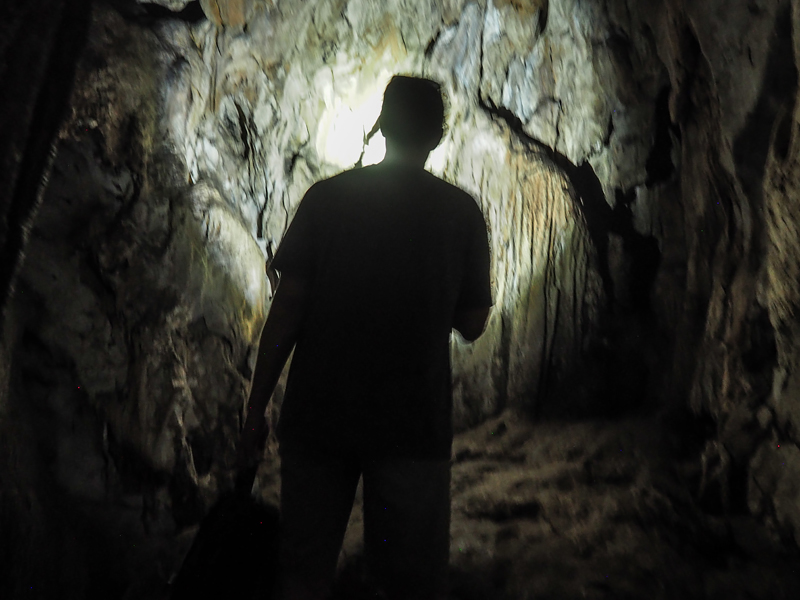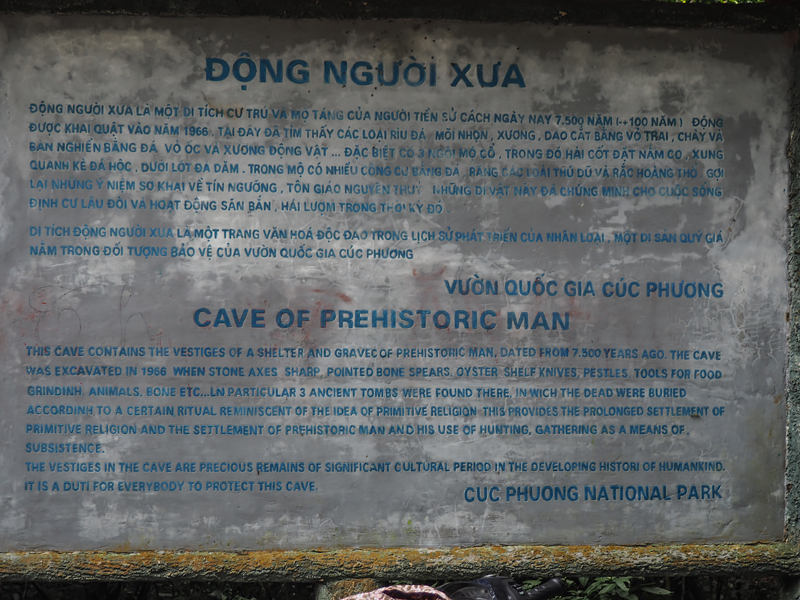 Afterward, we hopped back on the motorbikes, cooling off as we rode through the canopy of trees until we stopped for a huge lunch.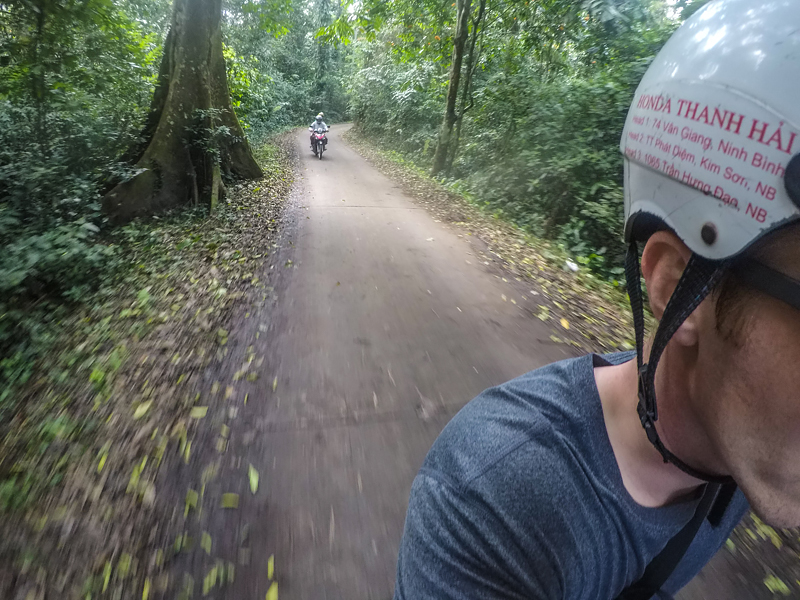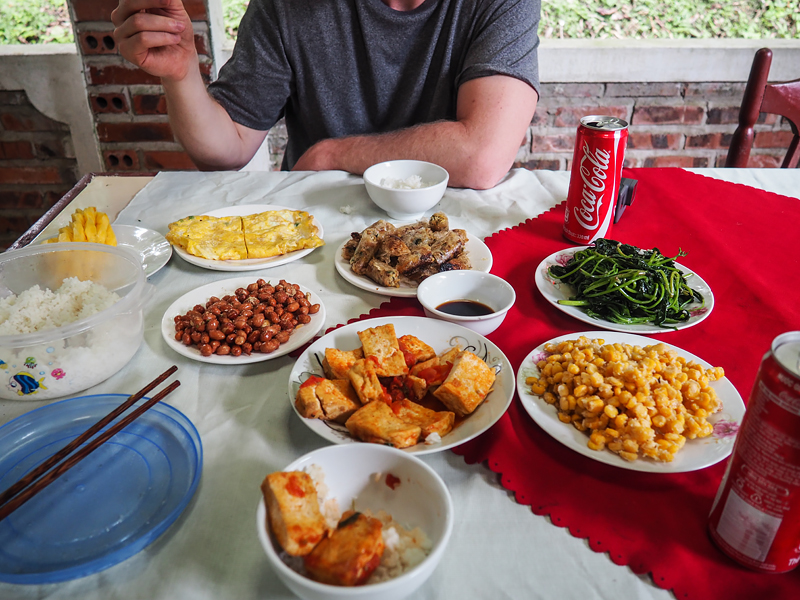 Refueled, we started our trek through the jungle, which I was entirely unprepared for. First of all, it's the freaking jungle. It's hot. And humid. Secondly, the whole damn walk is stairs it seemed like. And thirdly, it took at least two hours, probably three.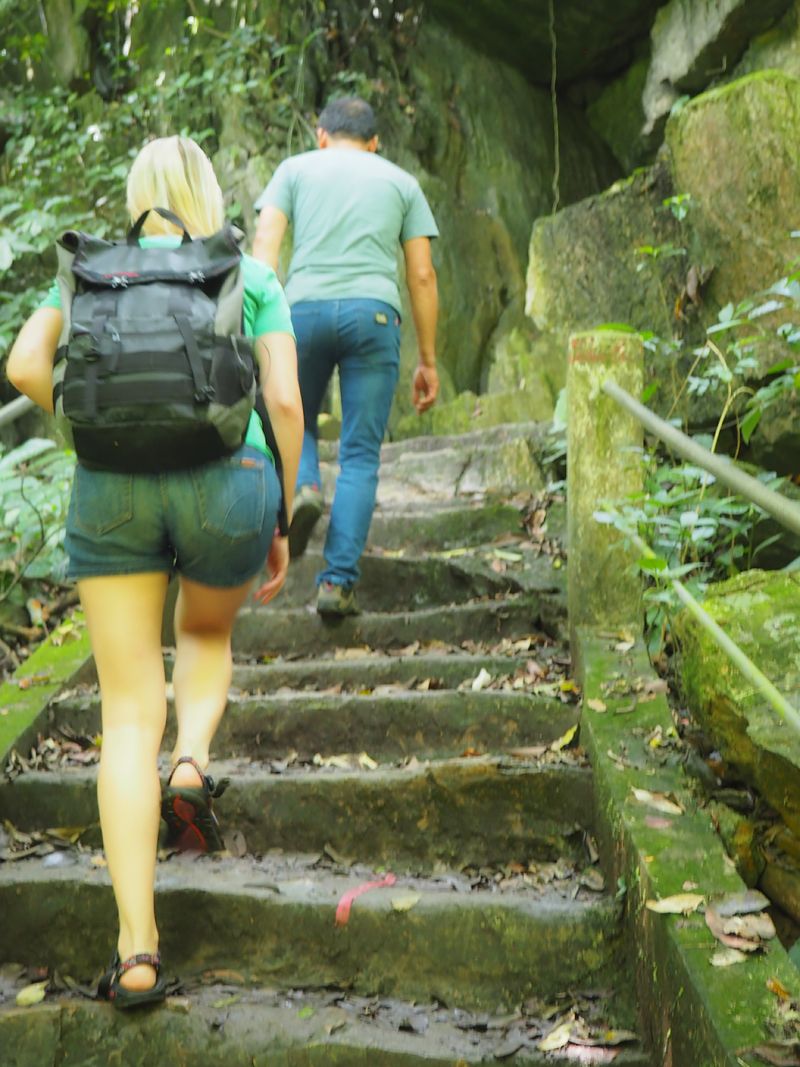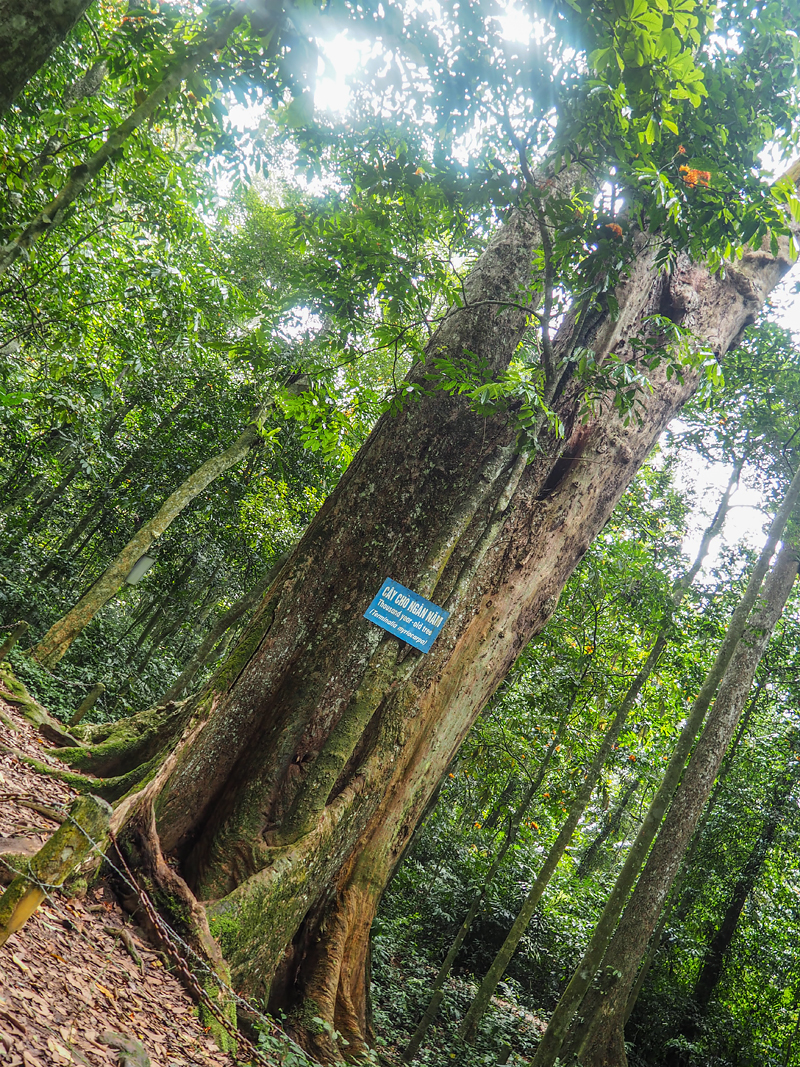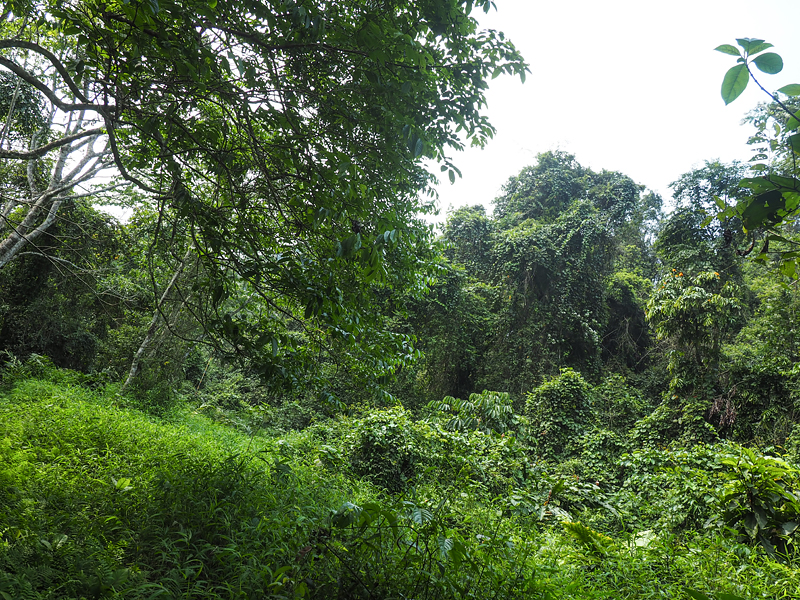 Once we had survived that adventure, we happily got back on our motorbikes to finish the circuit around Ninh Binh. The drive was just beautiful, and we made lots of stops for pictures. In addition to the gorgeous scenery, it was really cool seeing the locals going about their day in the countryside, hard at work on their farms.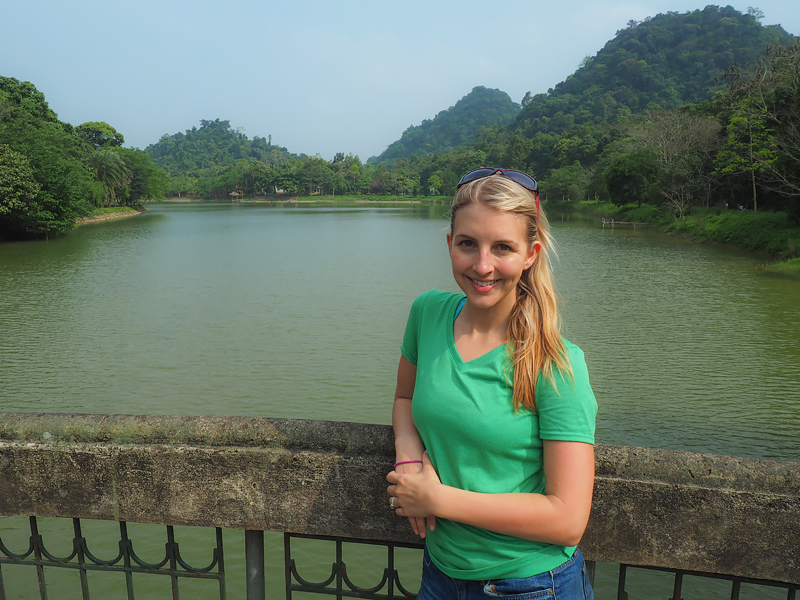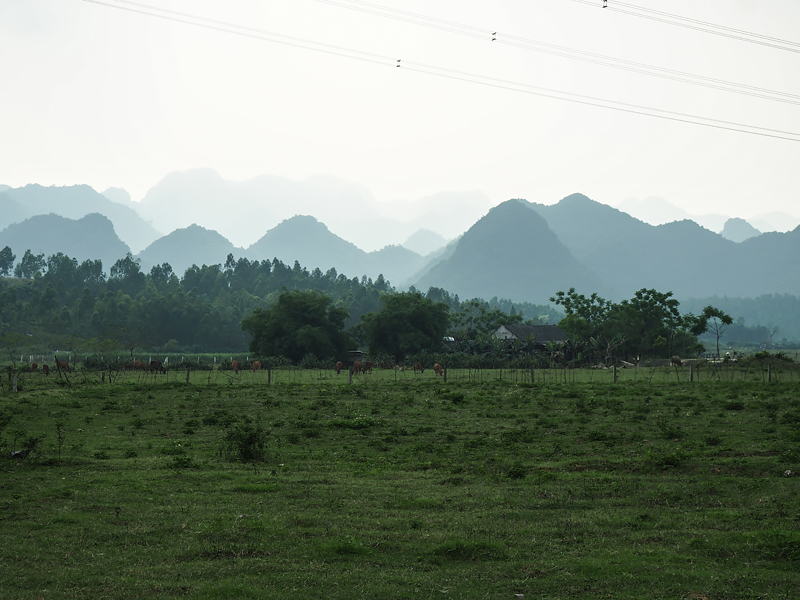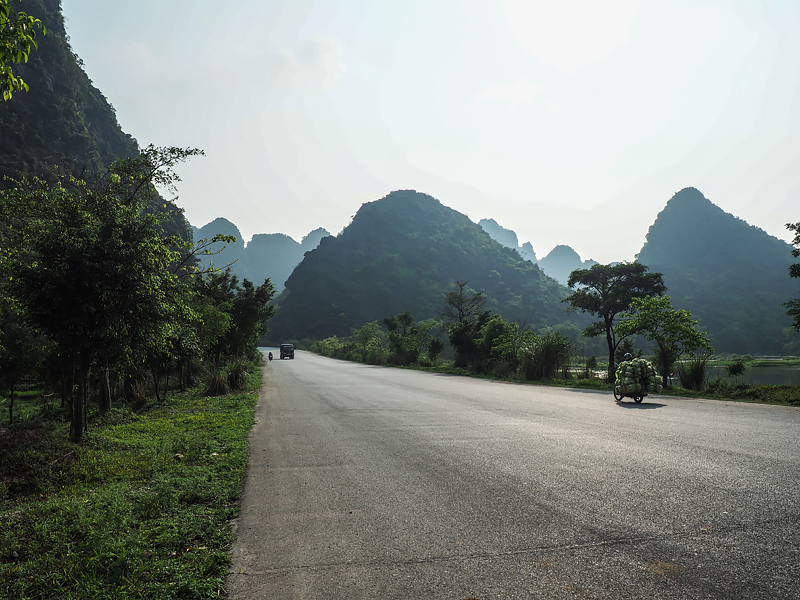 That evening, we hung out at our hotel. After our jungle trek, we were very excited to cool off at our pool, as well as have a lovely dinner outside.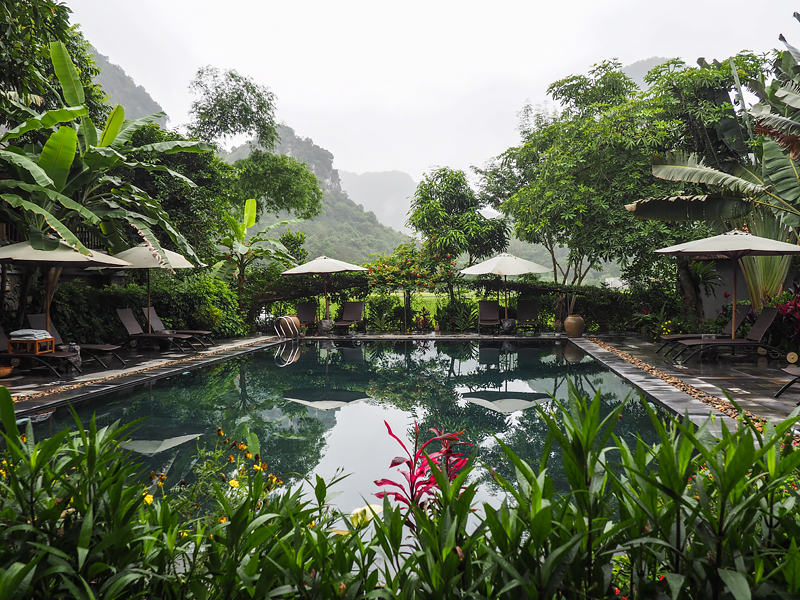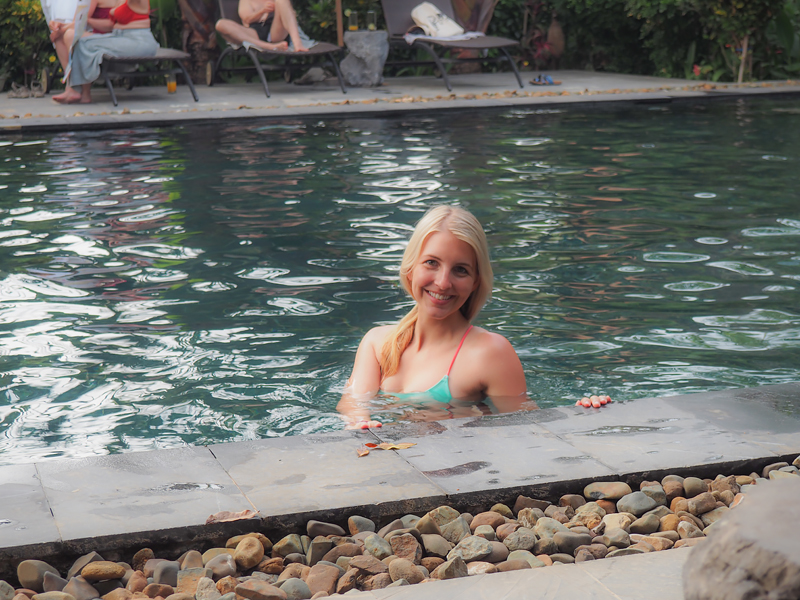 Our second day in Ninh Binh, we were with Toan again, but this time, it was pouring down rain. They brought these hardcore ponchos for our ride, but I still managed to get soaked by the time the morning was over.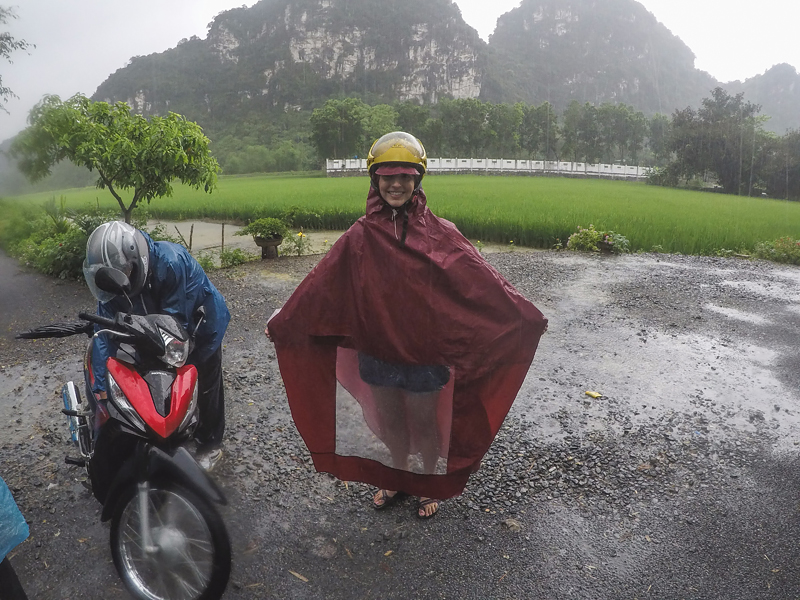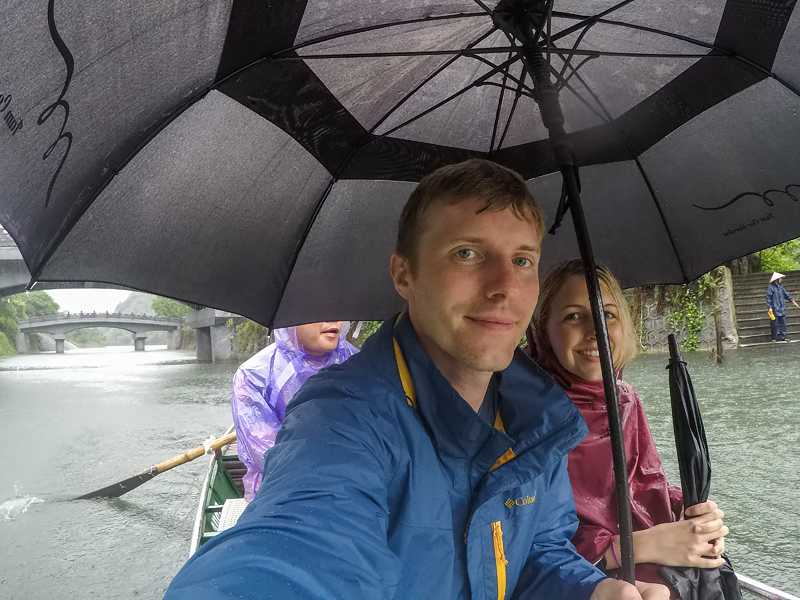 We started out with a boat ride down Trang An, which even through the rain, was beautiful.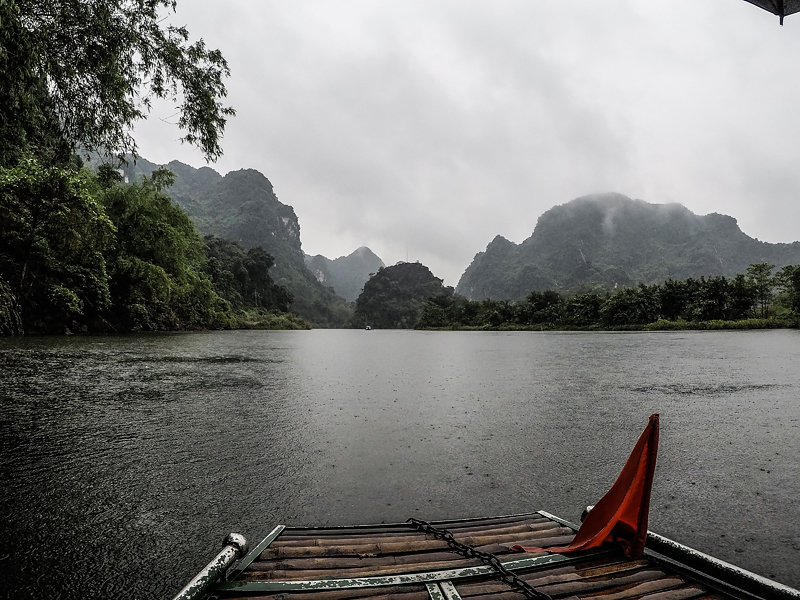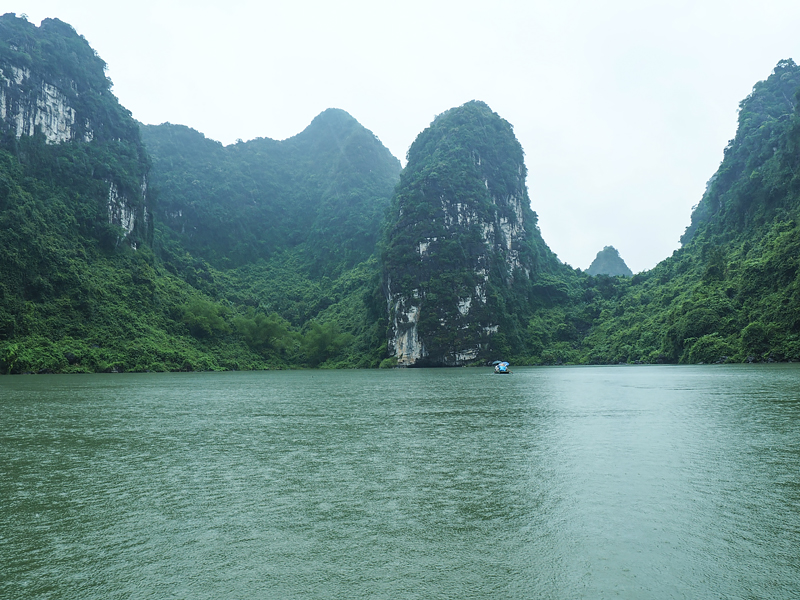 There was no current on the river, and we were being rowed by a tiny Vietnamese woman. I felt bad for her, but she clearly does this multiple times a day, as she had no issues. We even went through some truly difficult caves to navigate, and she made it through all of them like a pro, never hitting the sides.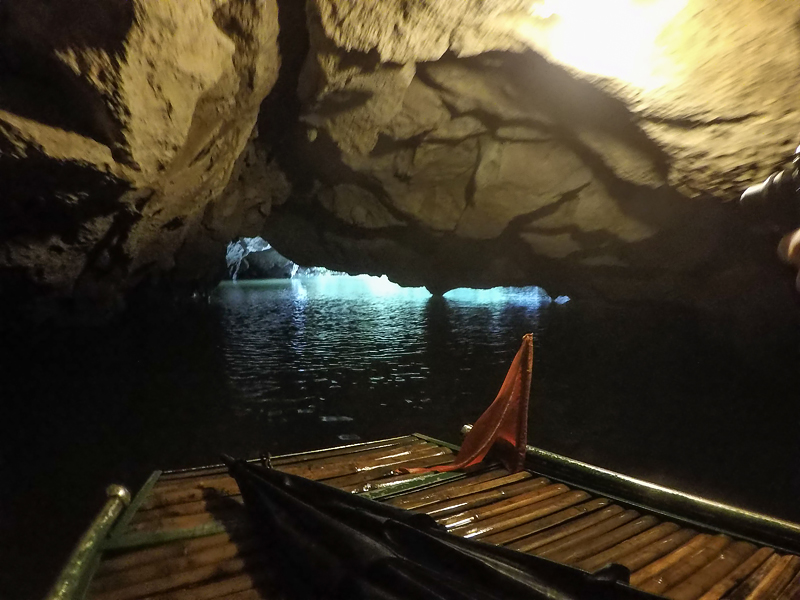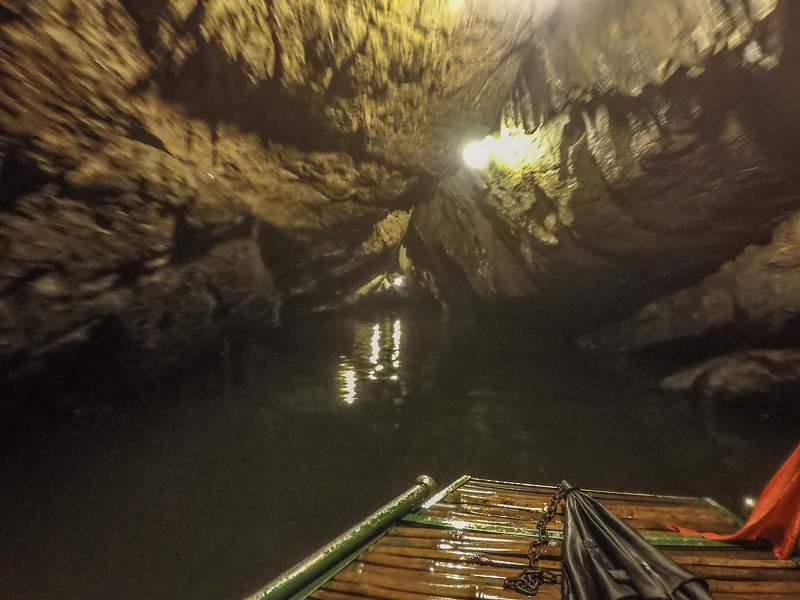 The boat ride got in a rhythm of beautiful mountain views, caves, temple. Beautiful mountain views, caves, temples.  No one spoke English, so we weren't sure what the various temples were, but they were still cool.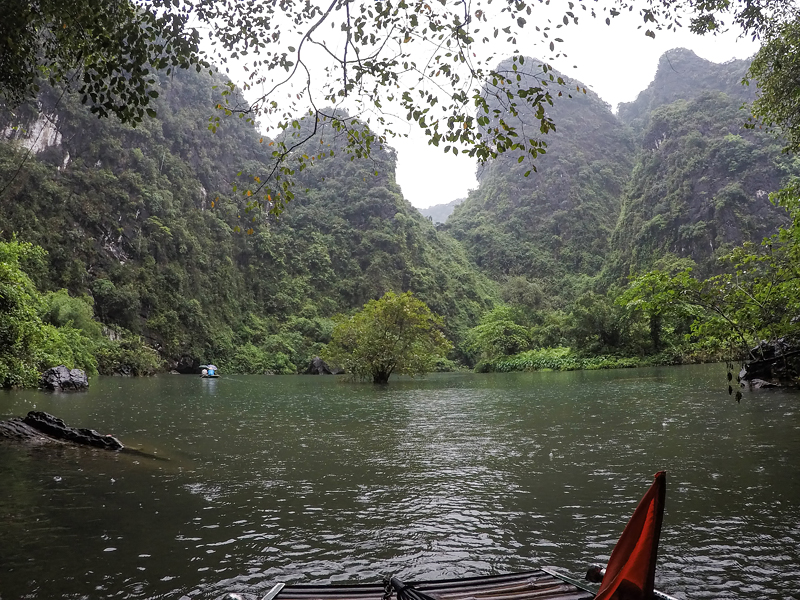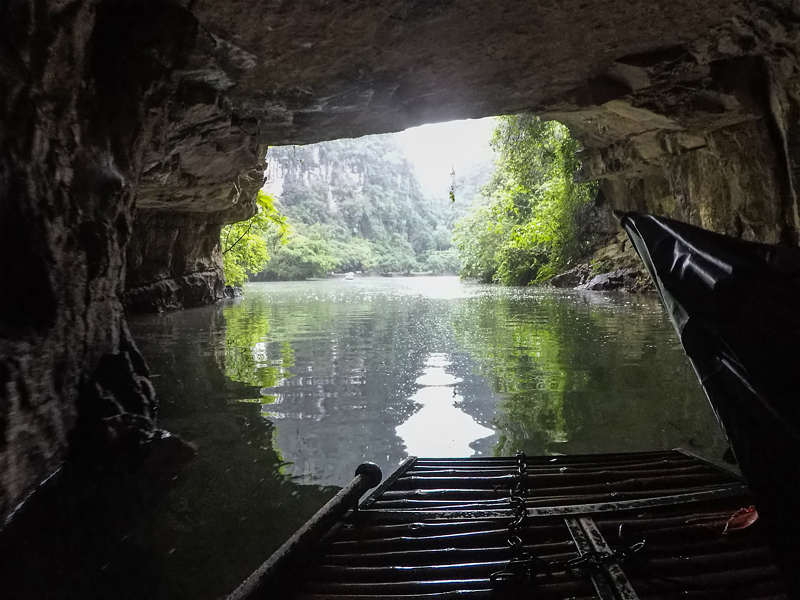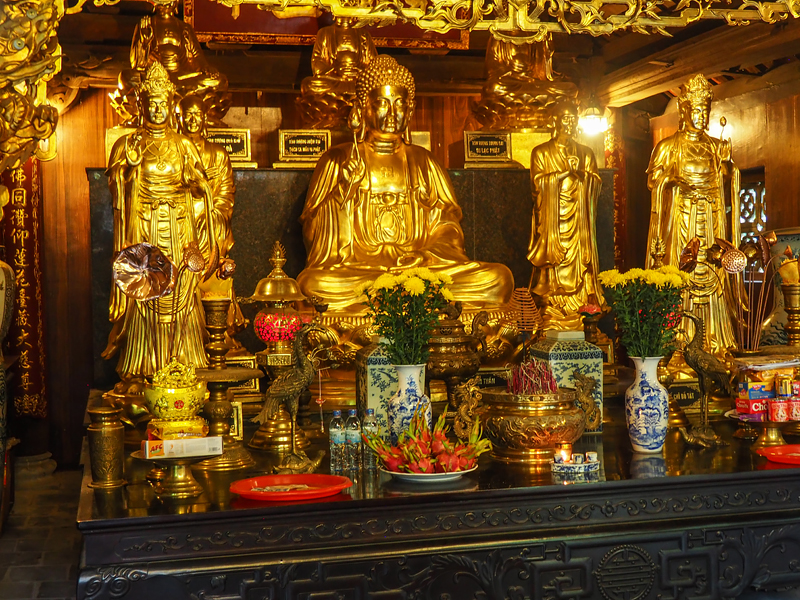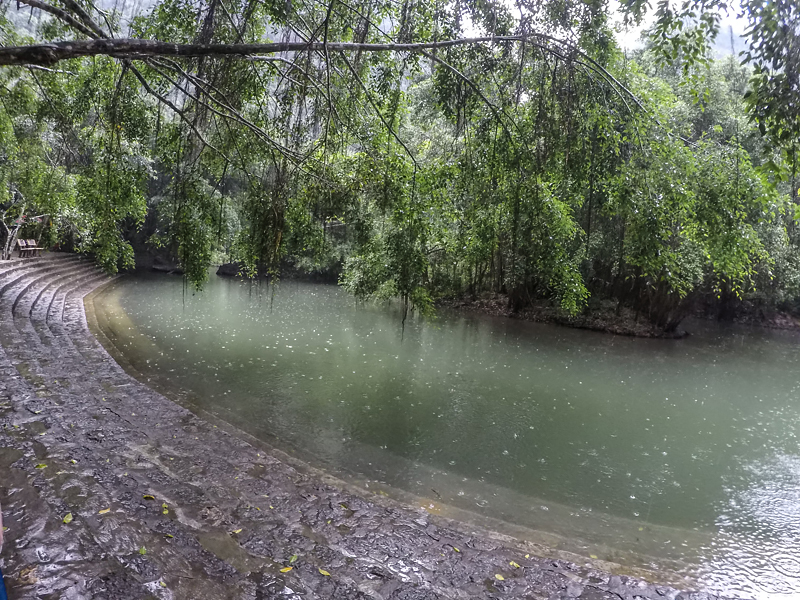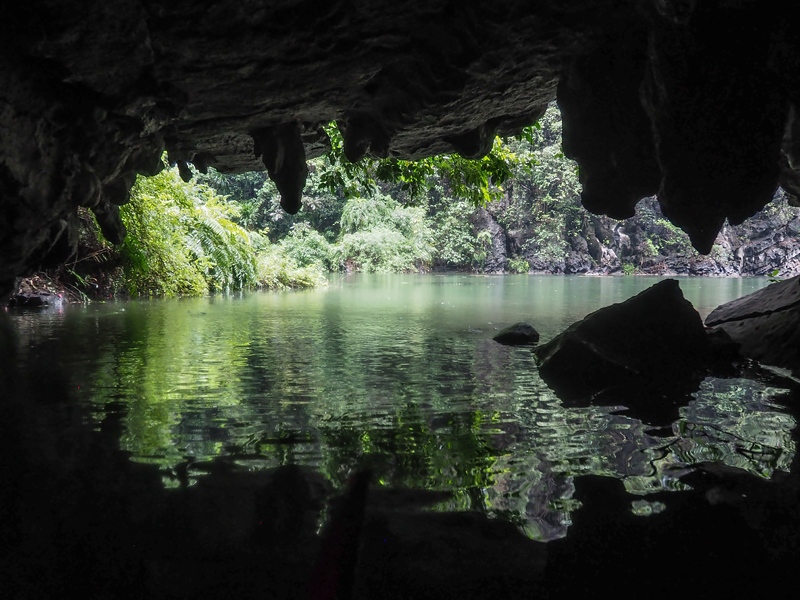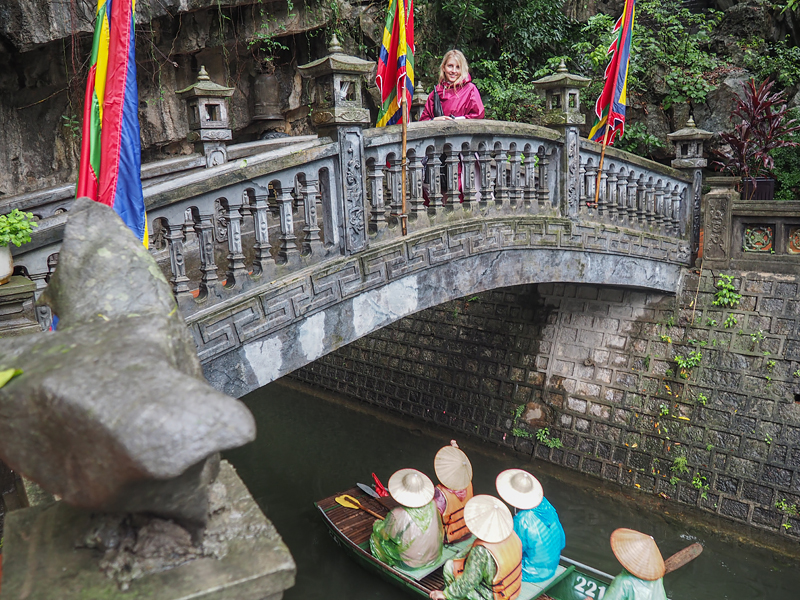 Even though it was rainy, getting out early was the way to do it. By the time we made it back, there were dozens and dozens of boats leaving the station.
We got some lunch, and then we made our way to Bai Dinh, an absolutely huge Buddhist temple complex, the largest in Vietnam. While there is the older temple, most of the complex is newly built.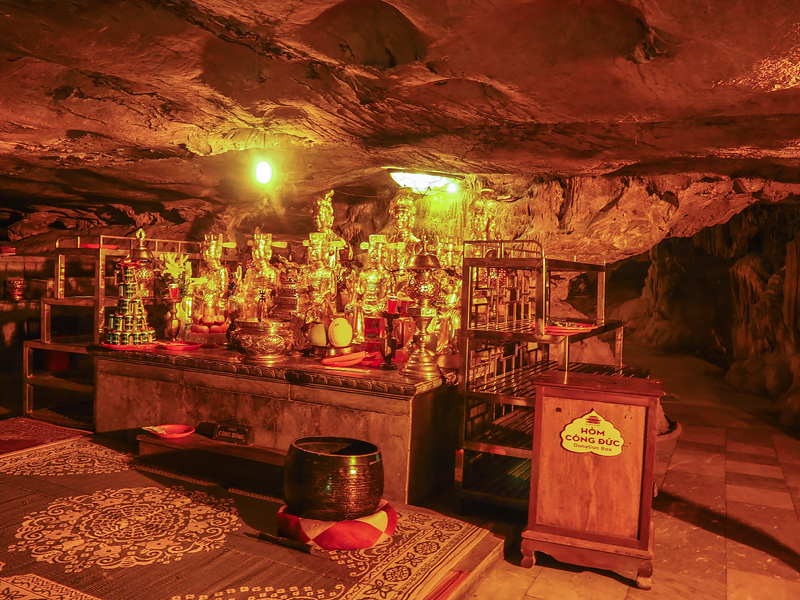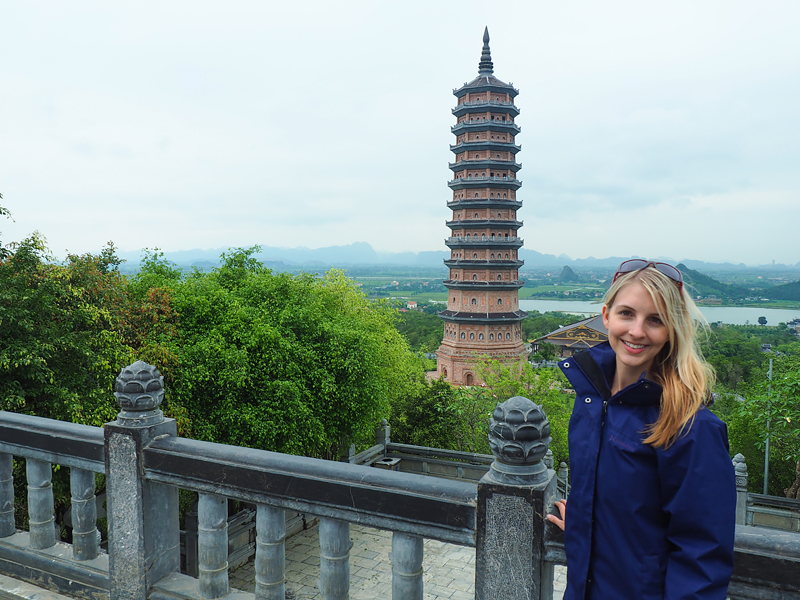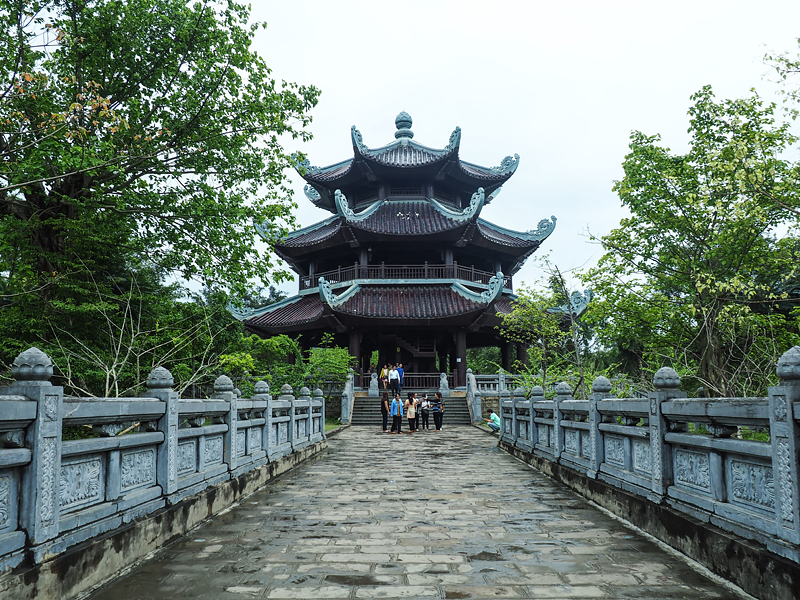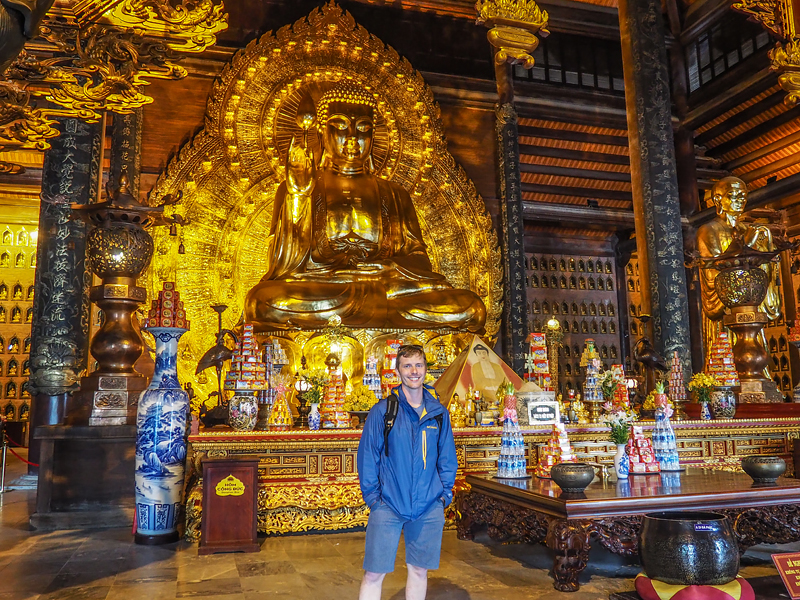 We spent nearly the entire afternoon wandering around here, Toan giving us some context and information along the way.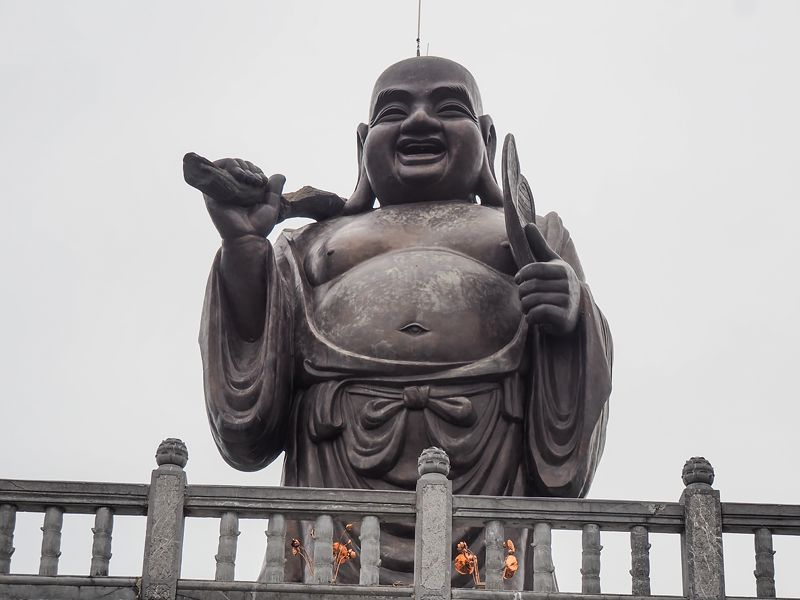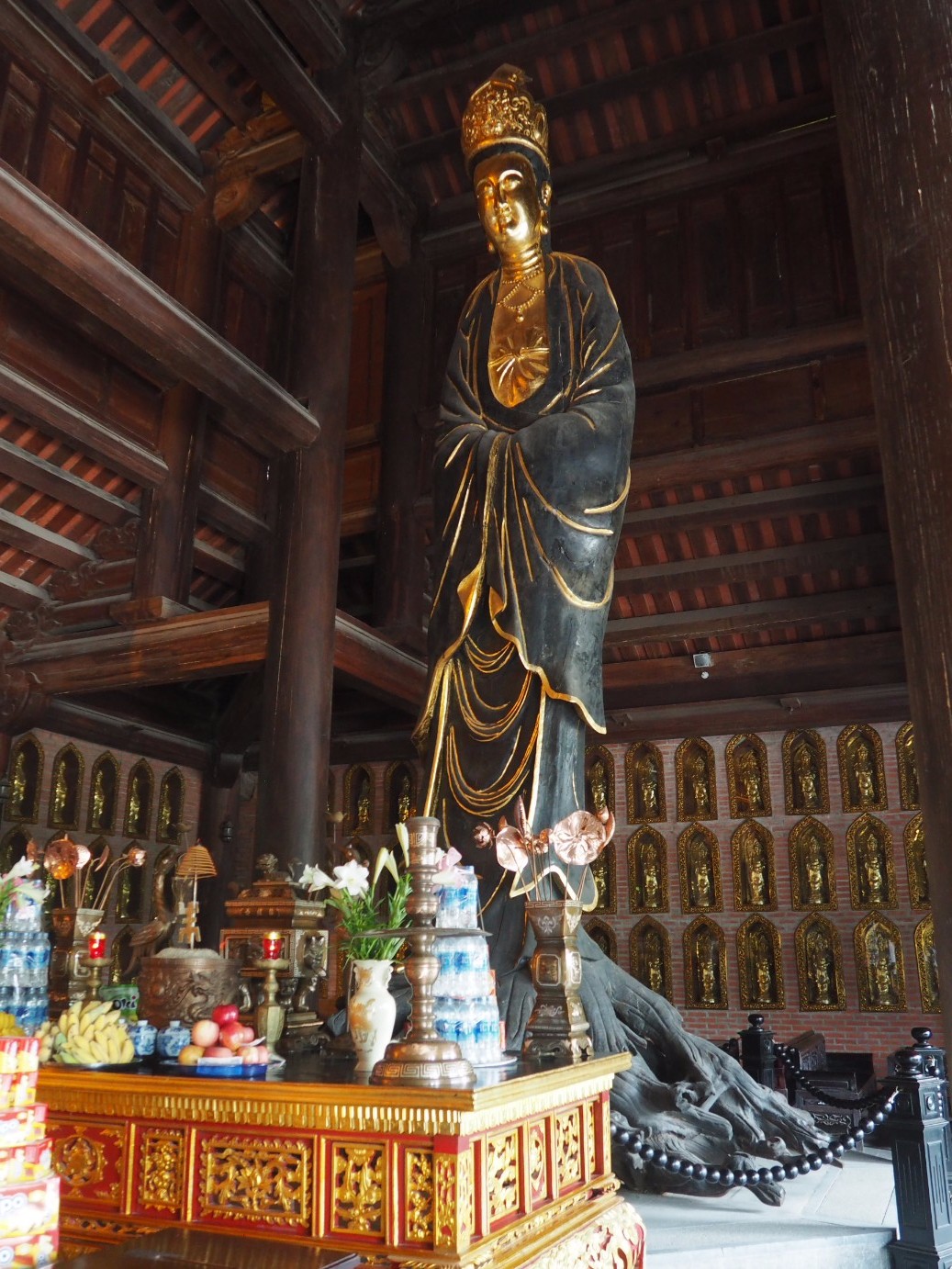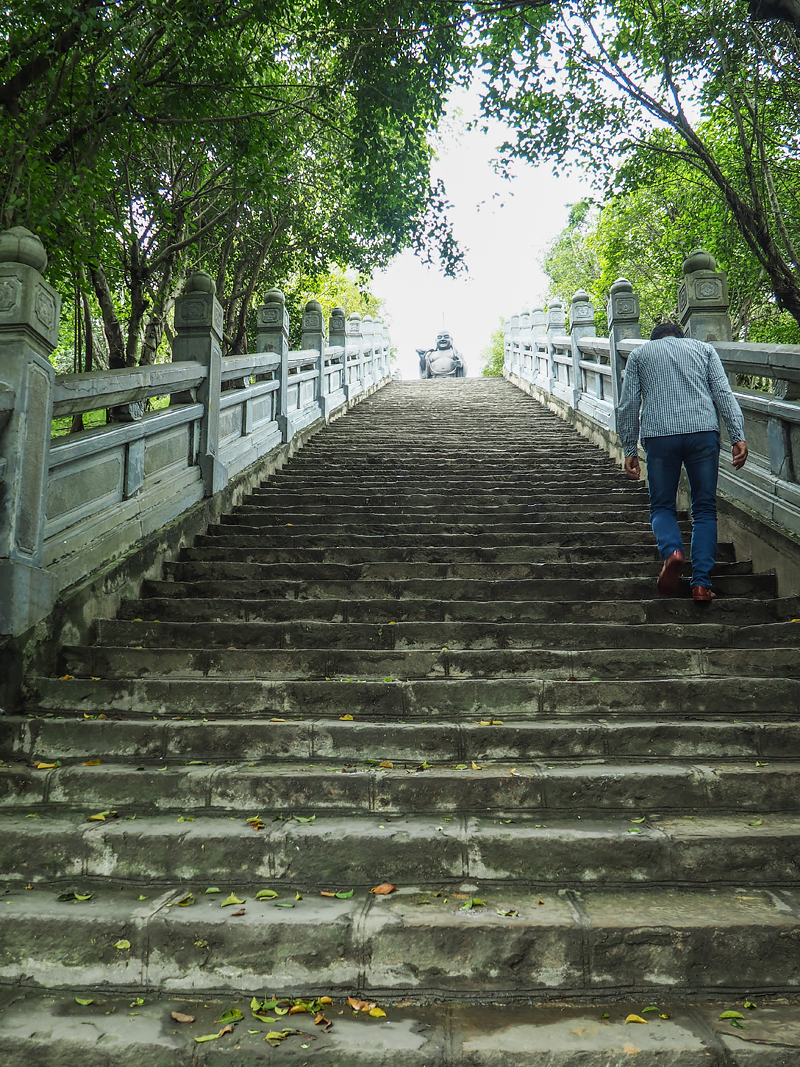 We drove down some old roads through some local villages on the way back, and made a couple stops to take in some views of the rice paddies and karst mountains.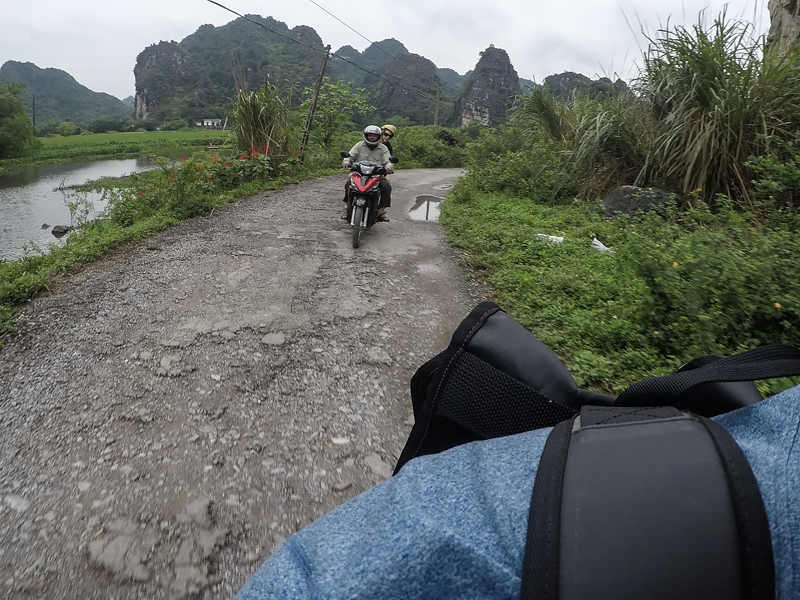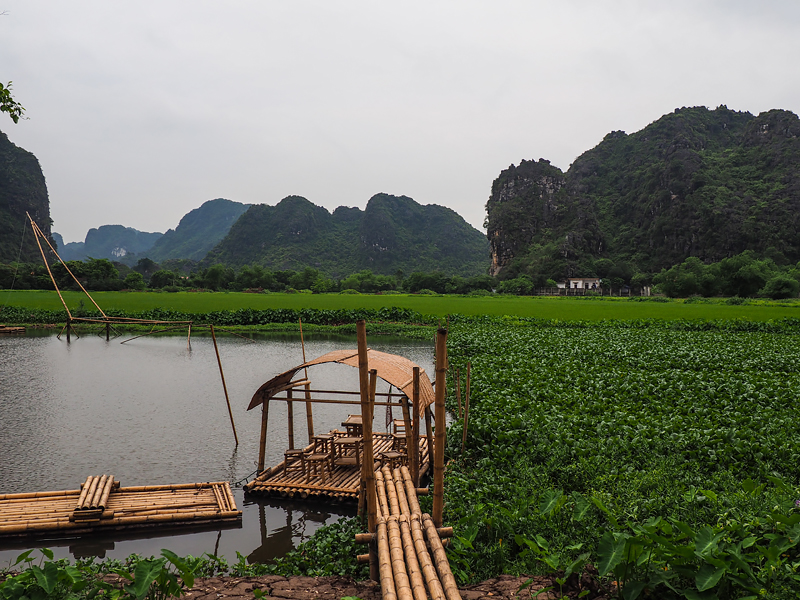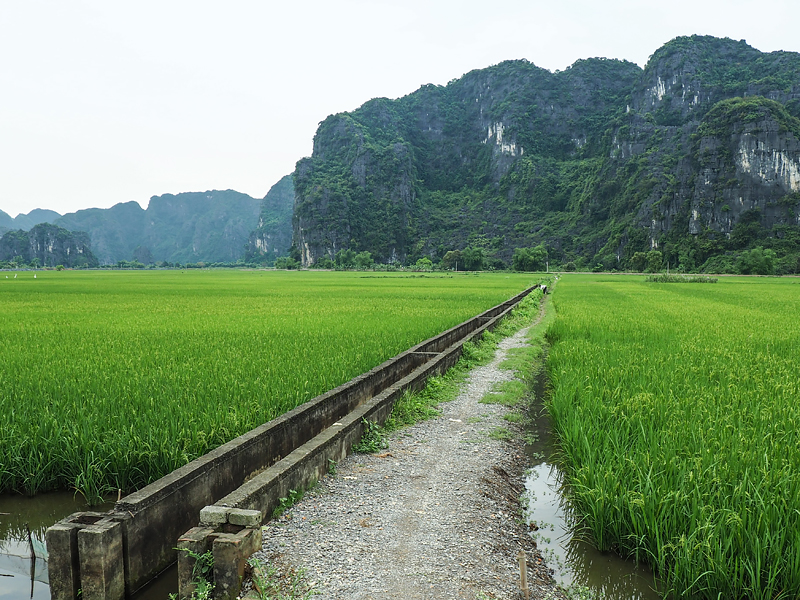 We had some time the following morning to explore some more, so we borrowed bikes from our hotel, and rode off to Bich Dong Pagoda.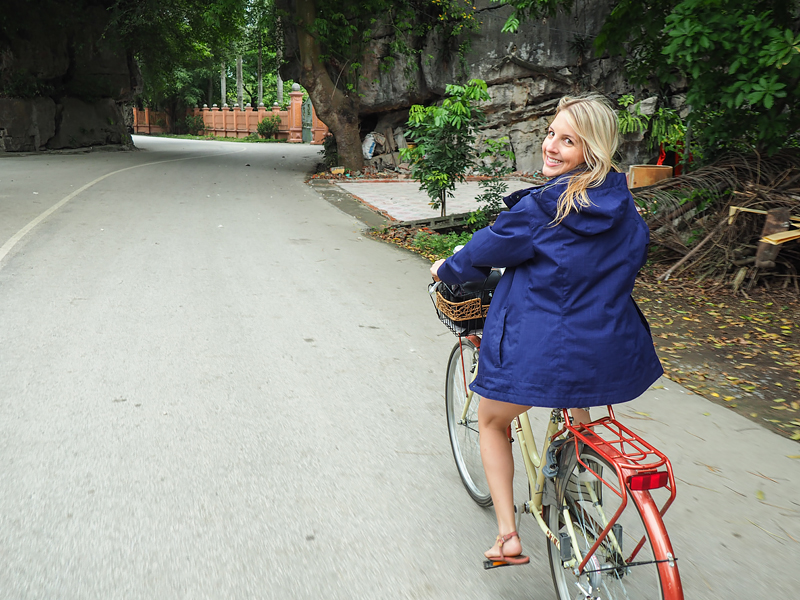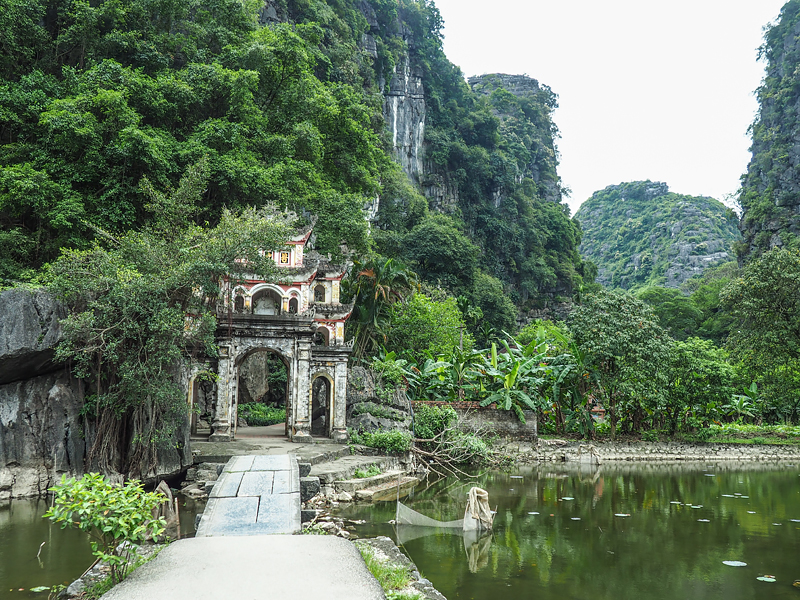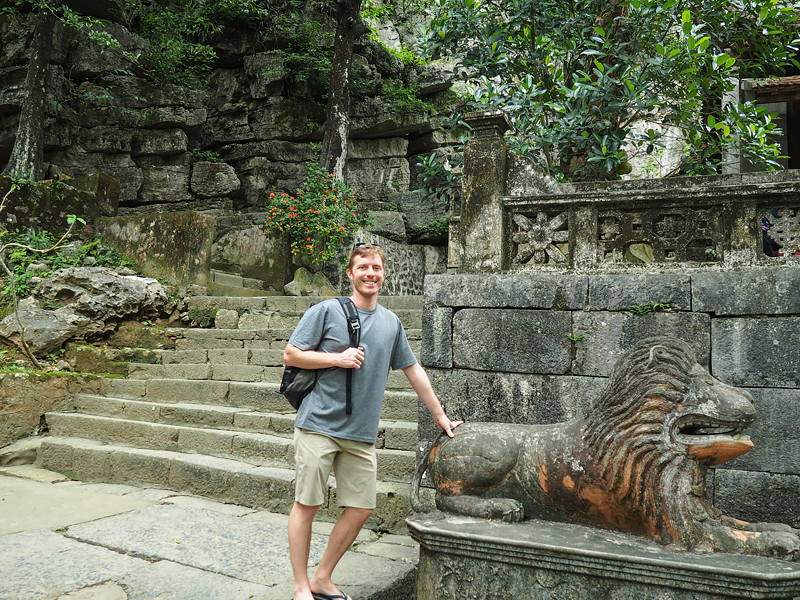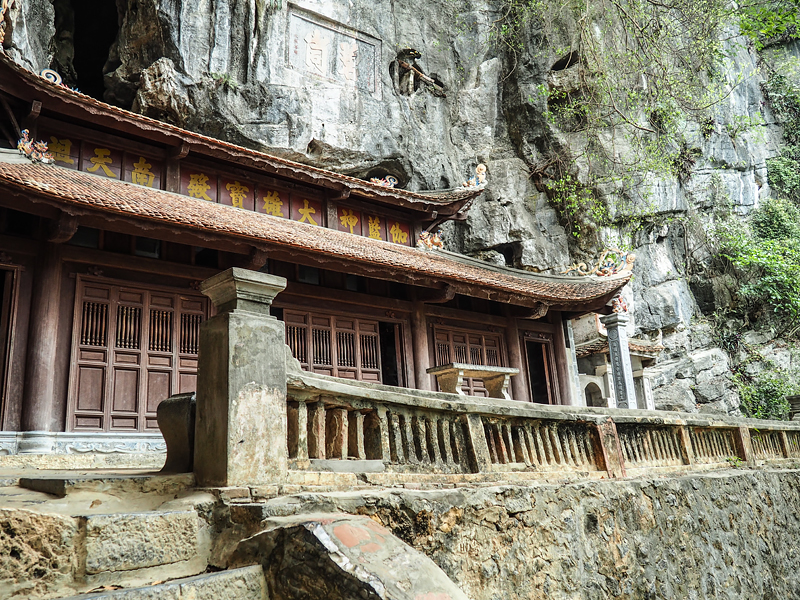 It was pretty small, so we didn't take long there before riding into town a ways, enjoying the landscapes right there around our hotel.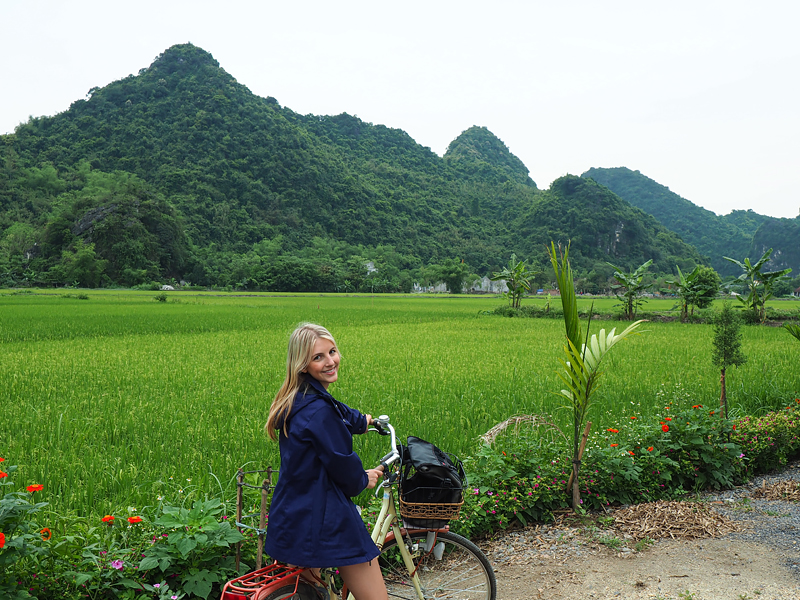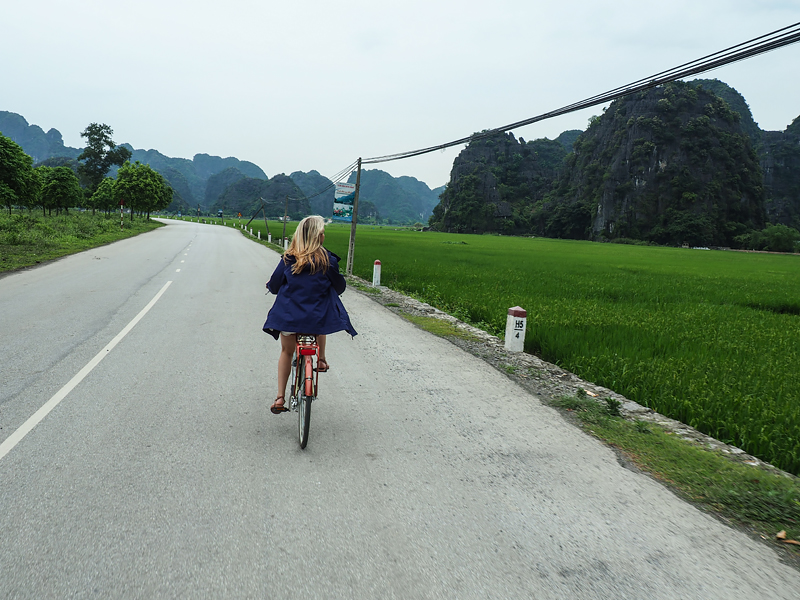 Around noon, we checked out and met up with our driver, who took us back up to the Hanoi airport for our eventual flight (three flight delays) to Siem Reap, Cambodia.
It was 10pm by the time we made it to our little boutique hotel in Siem Reap, Cabana D'Angkor Suites. We were met with cool towels and a refreshing fruit drink, and were shown to our room, right next to the beautiful pool. I loved everything about it. But, we had to be up at 4am for a sunrise tour, so we quickly went to bed.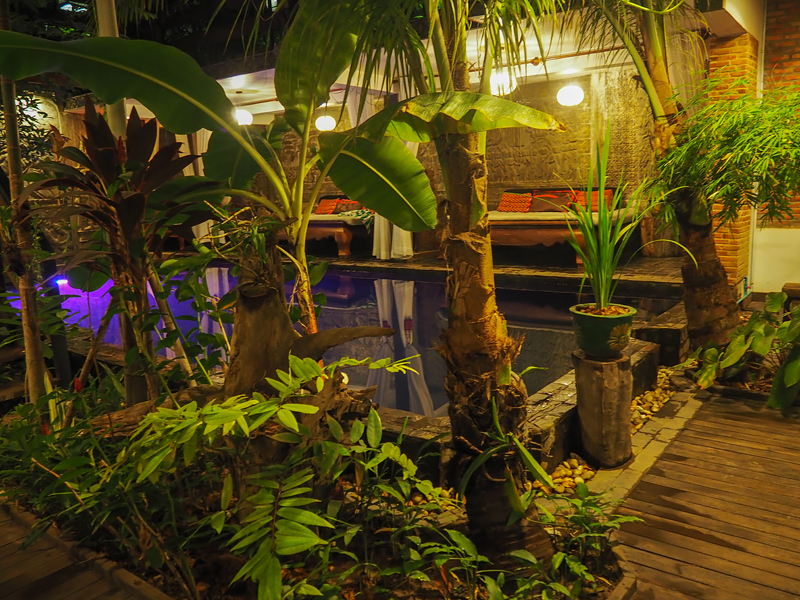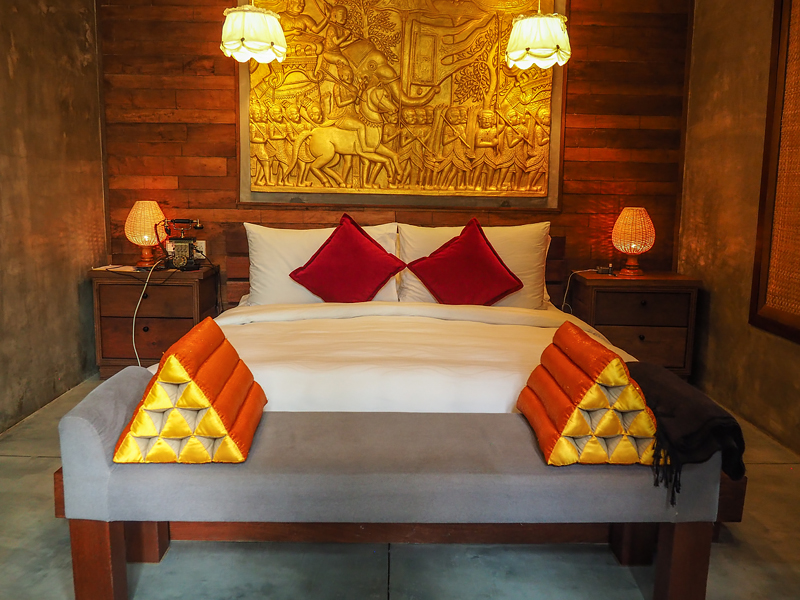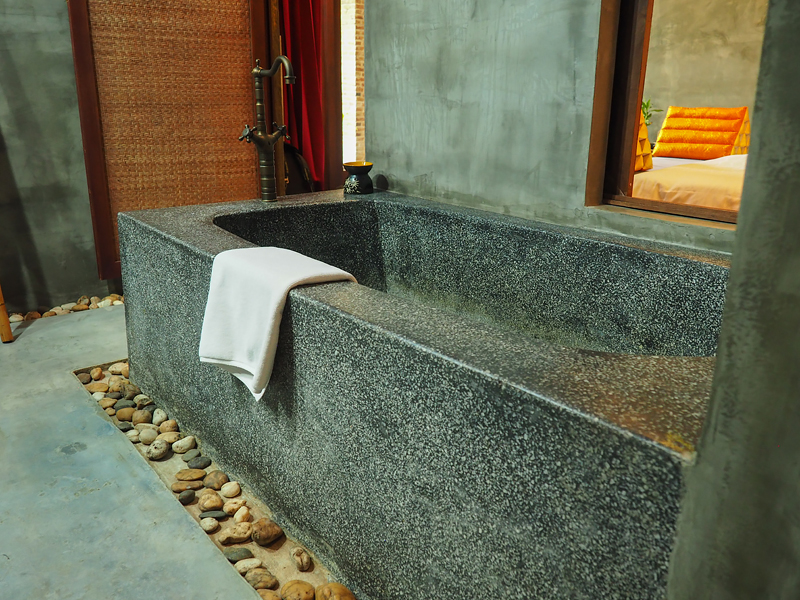 At 4:30am, we met up with our guide in the lobby. We had hired Happy Angkor Tour for our guide, and got Luon Vanna, who was fabulous. We got front row seats outside the gate to view the sunrise. It was cloudy, so the sunrise itself was nothing special, but it was still a great experience, watching the temple transform from just a shadow to the temple we've all seen pictures of, while the jungle around us woke up.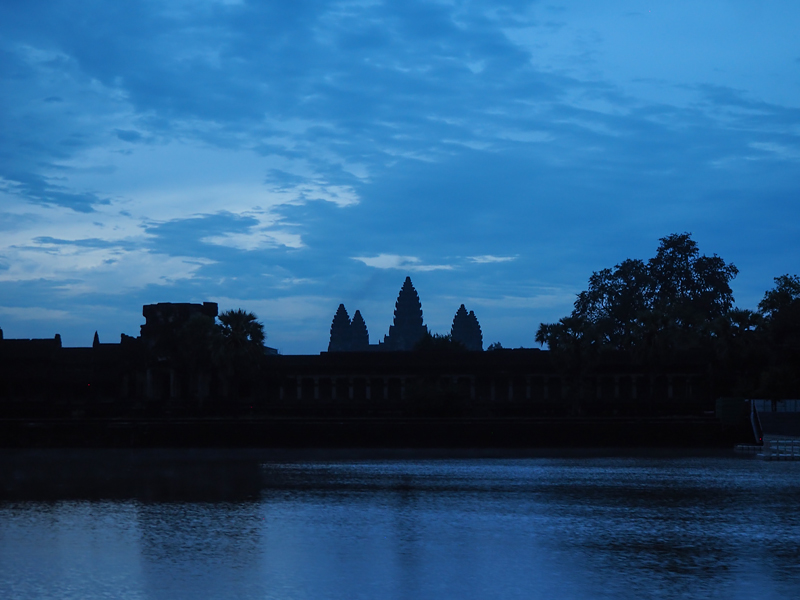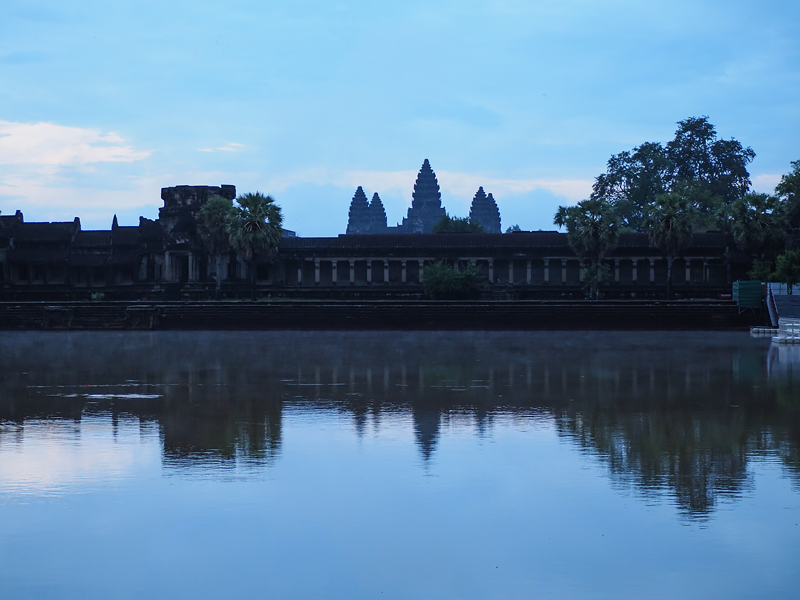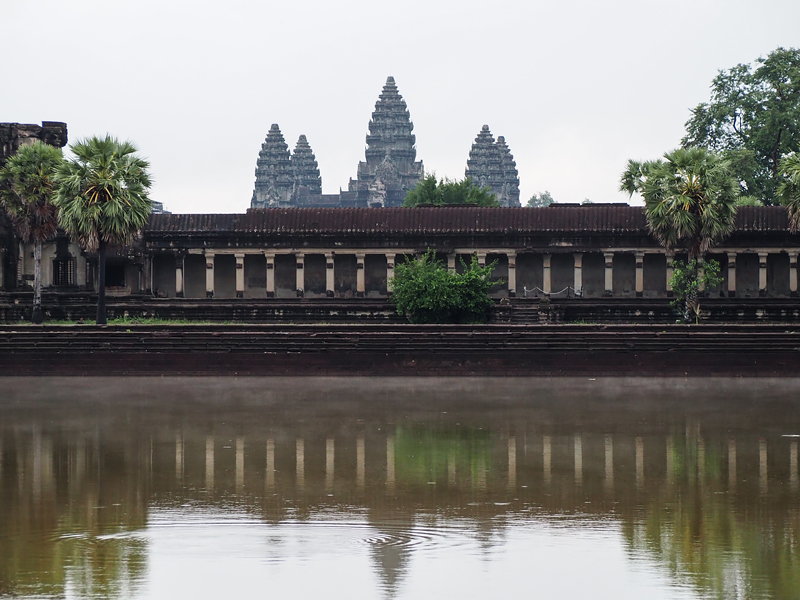 We went back to the hotel afterward for breakfast before exploring the rest of the park.
We started out at Angkor Wat, the main and most famous temple. It was nothing but spectacular. The Temple was huge, the details intricate, the views beautiful. It was so hard to imagine how something like this could be built so long ago.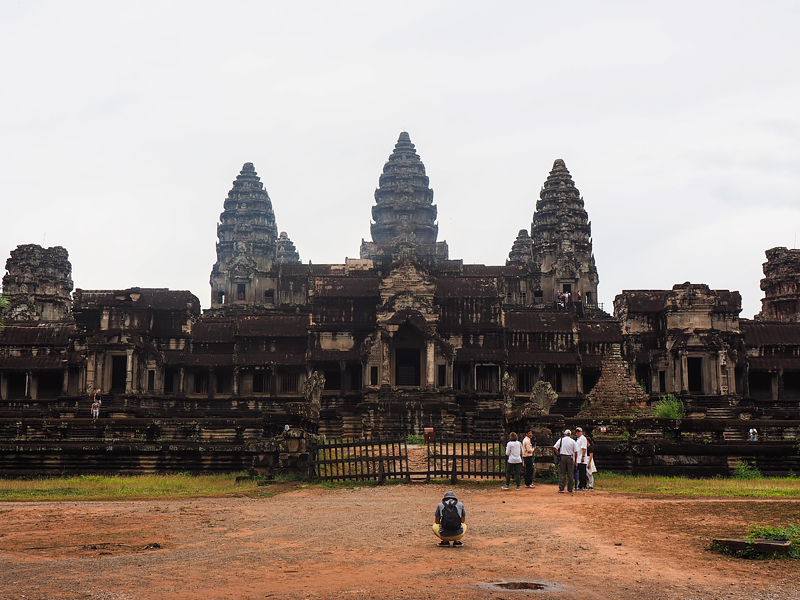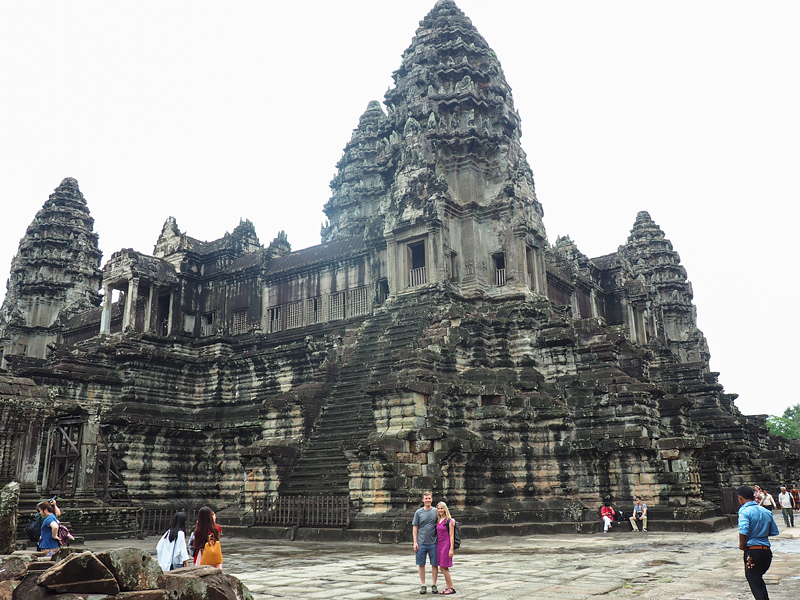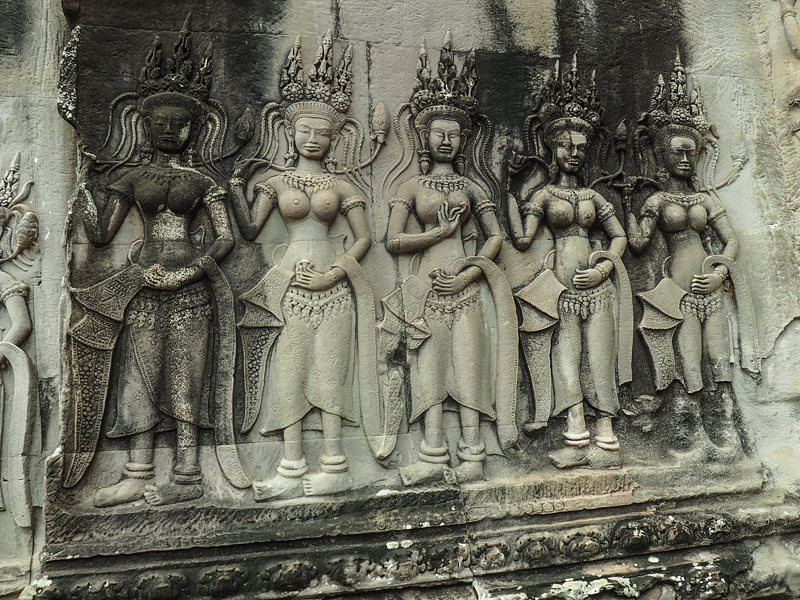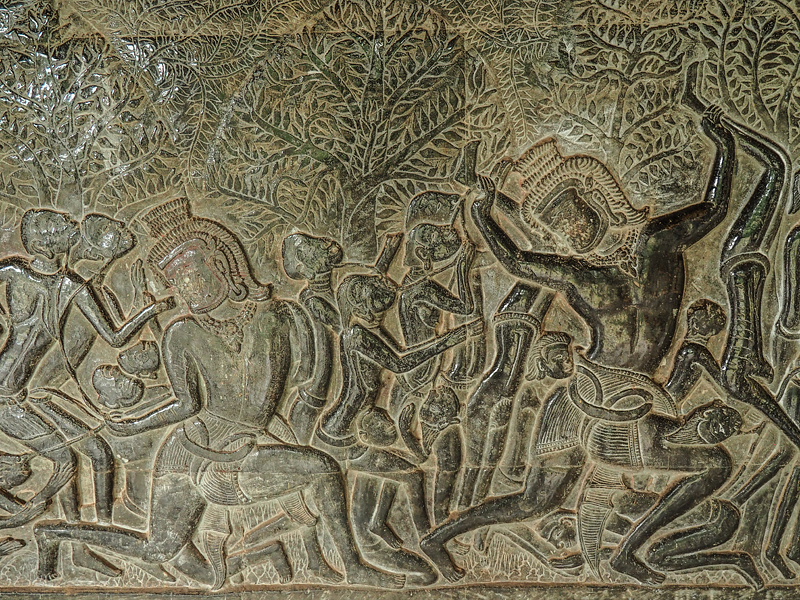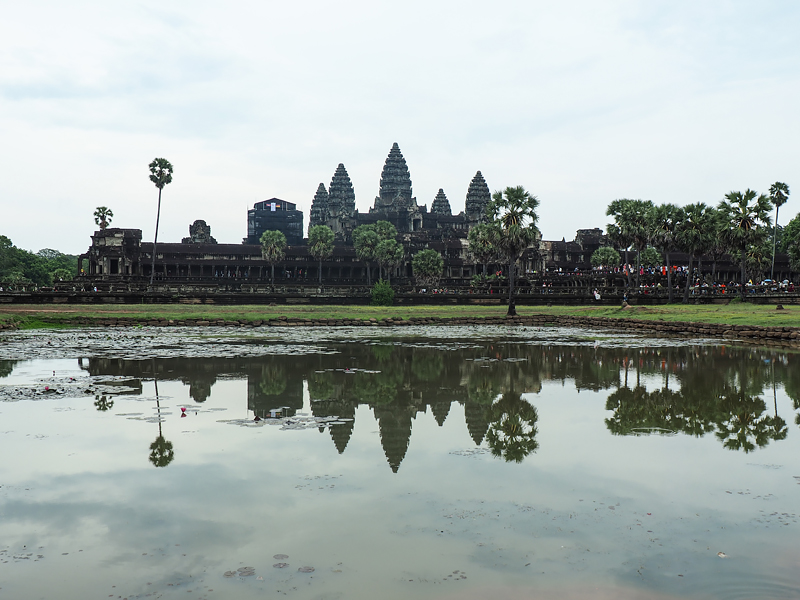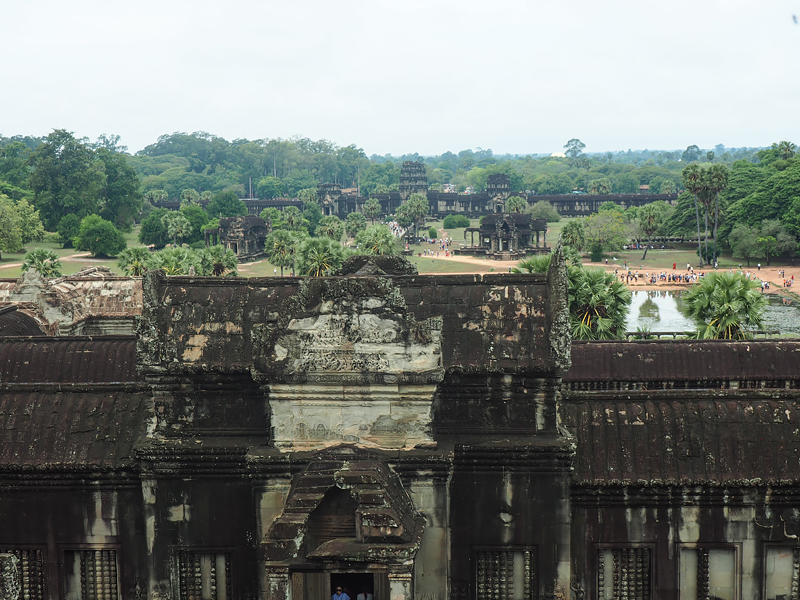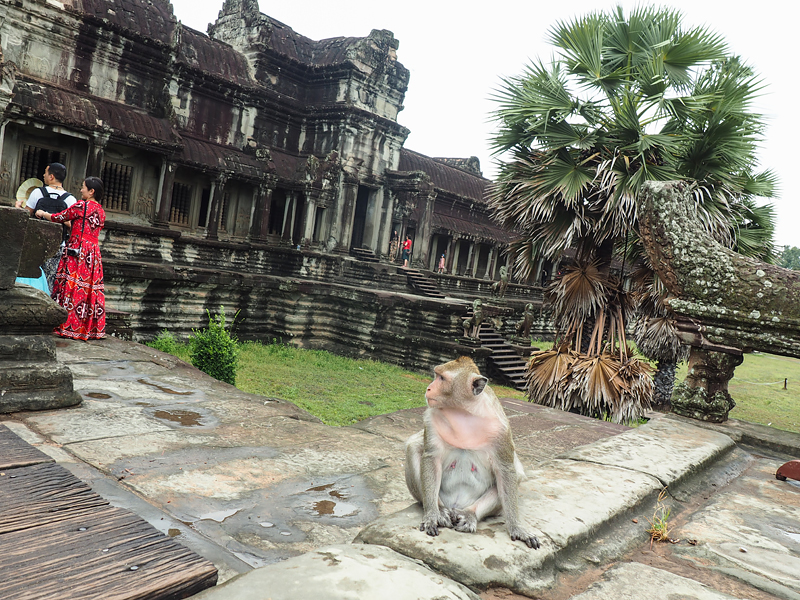 After Angkor Wat, we went to the city of Angkor Thom, primarily to see the Bayon, with its smiling faces.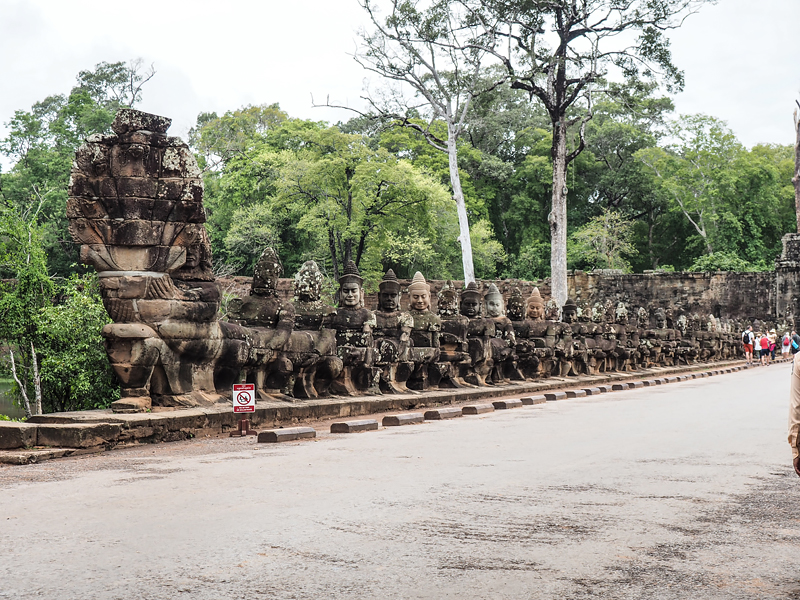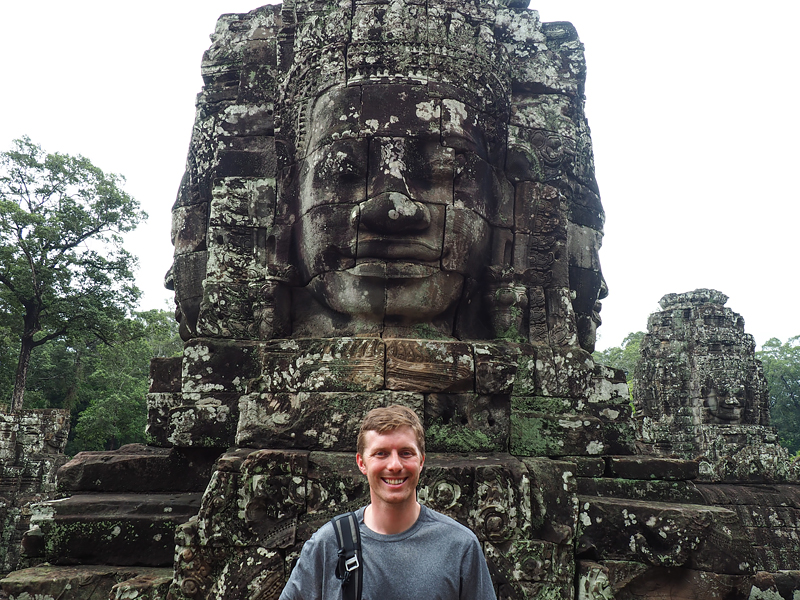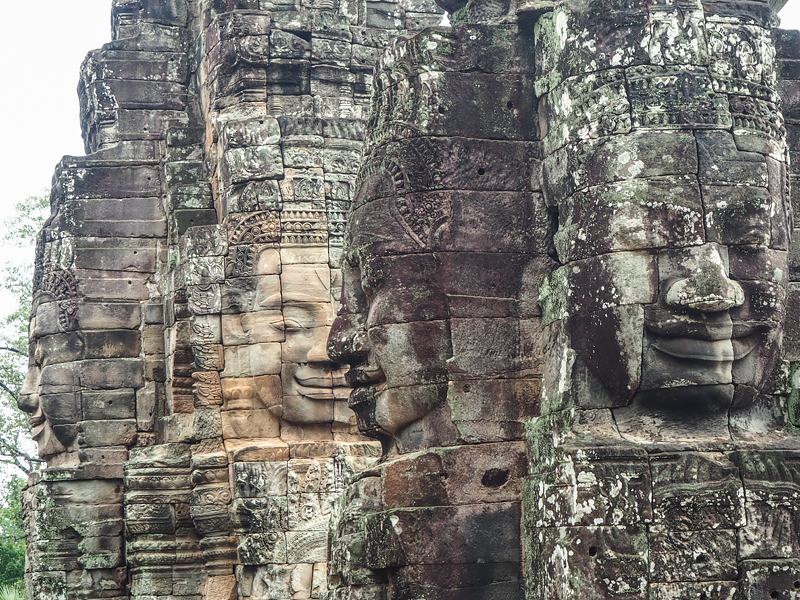 The Bayon was a really cool temple, though hard to get around due to the crowds.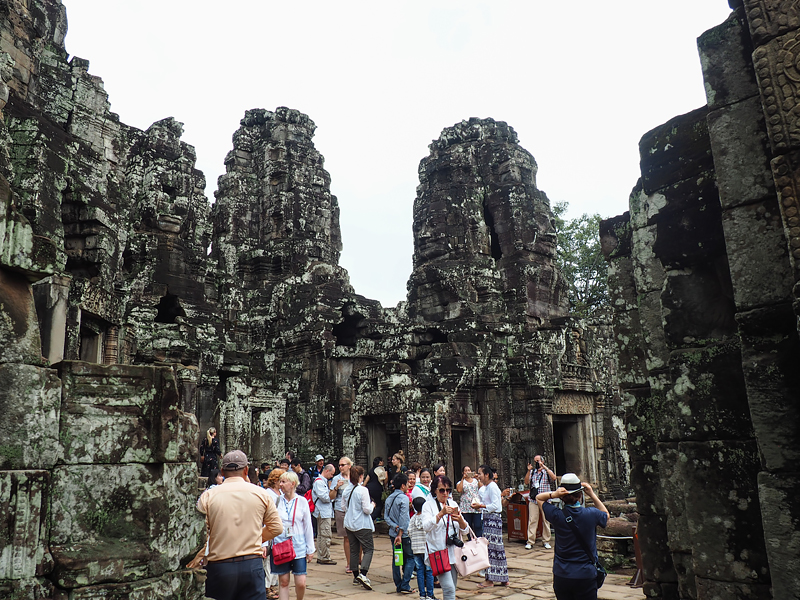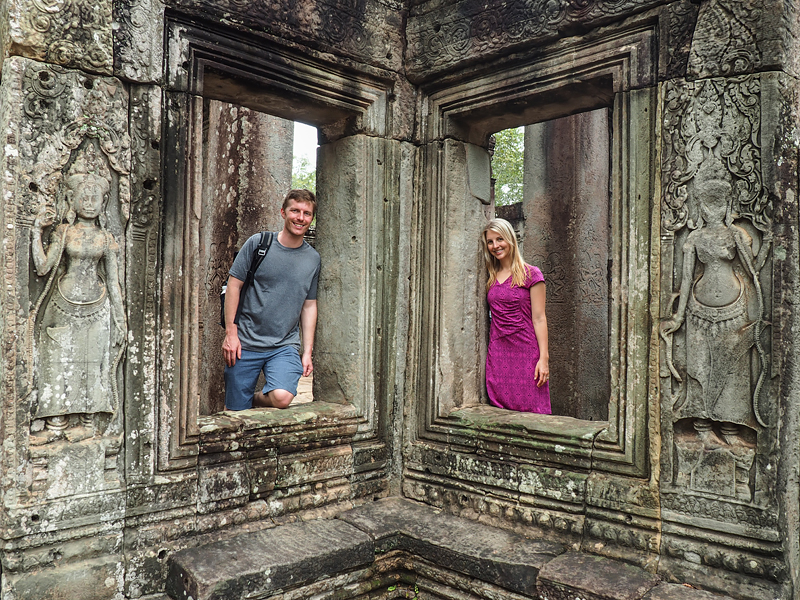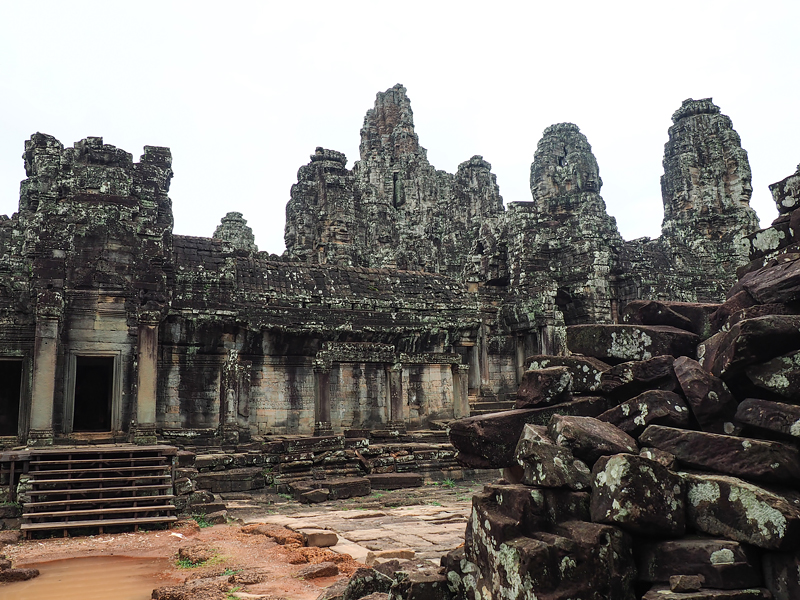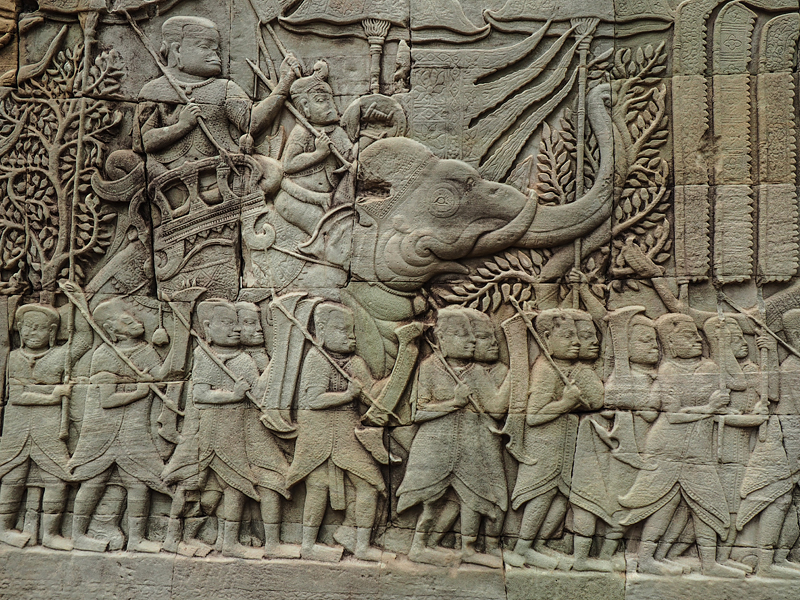 Before leaving Angkor Thom, we visited a few other temples, as well as a secluded gate to get away from the crowds.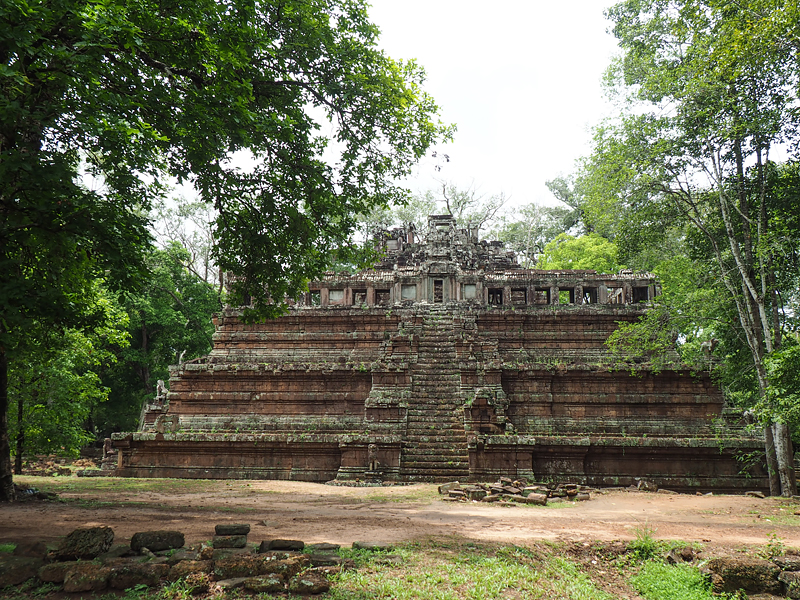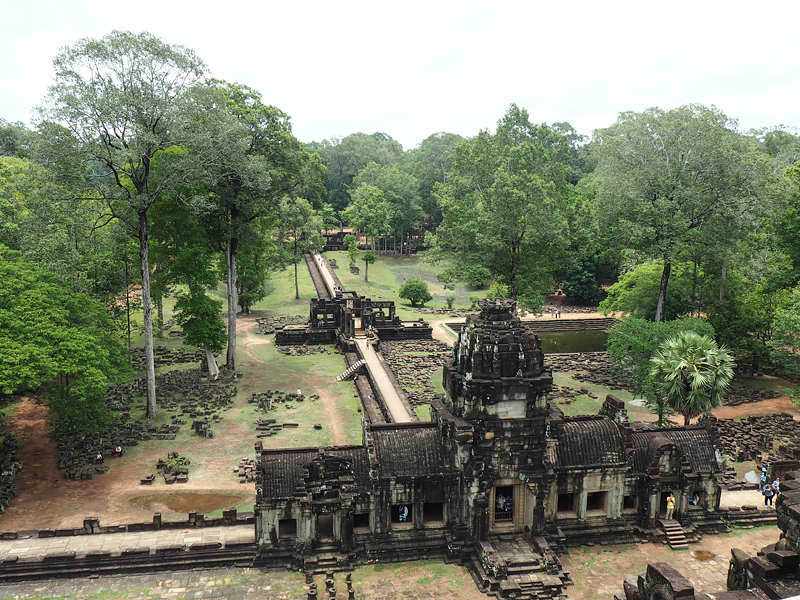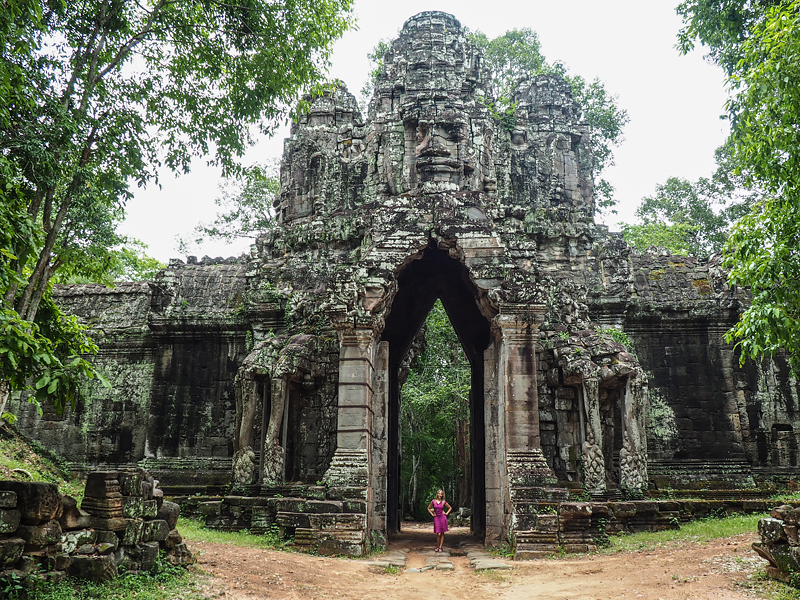 Our next temple was one of our favorites, Ta Nei. It's such a perfect combination for me of historic architecture and nature. Much of Ta Nei was destroyed, and trees grew throughout. There was also no one else there to ruin the peace of it.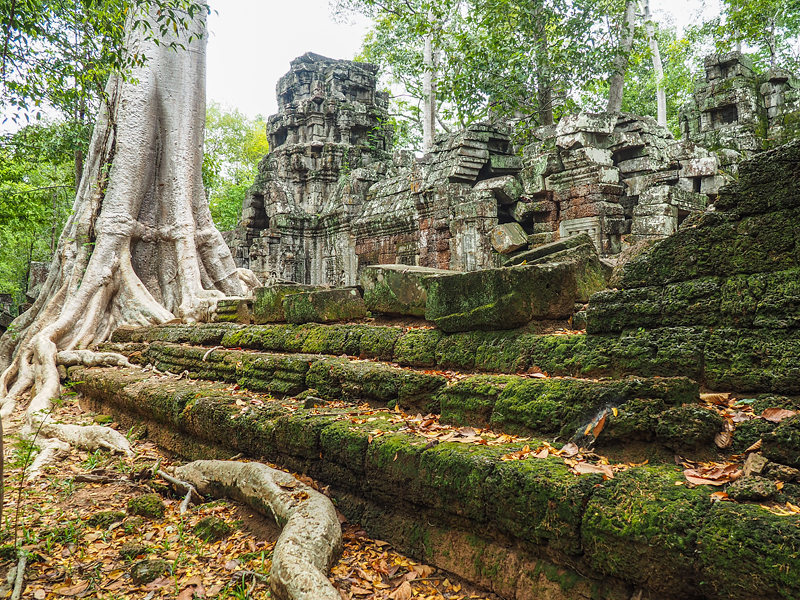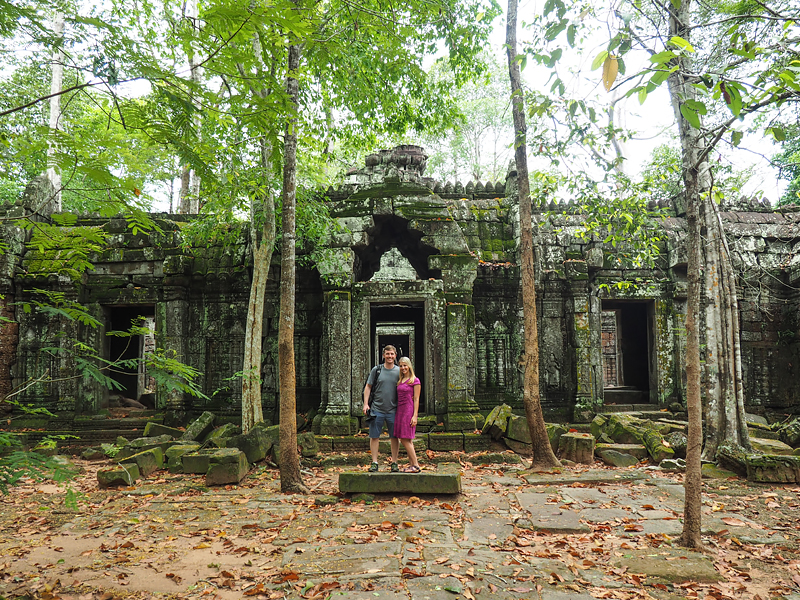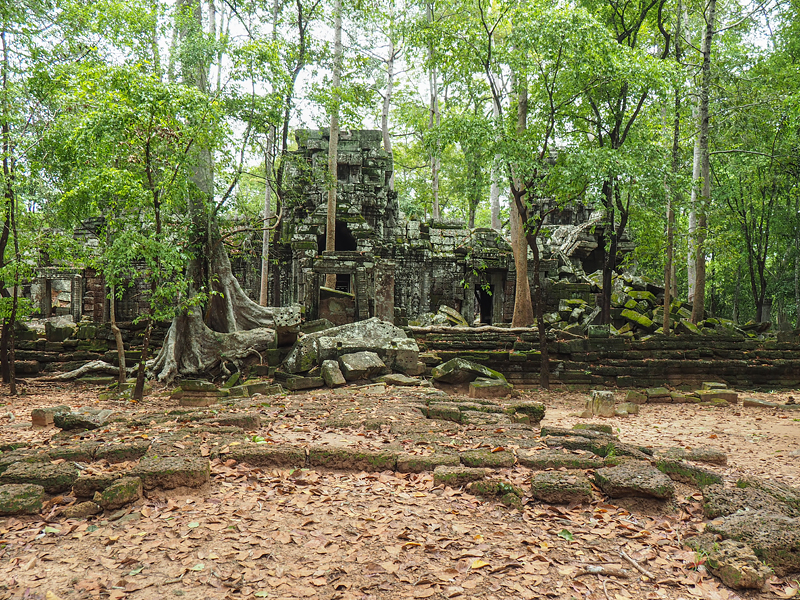 We had a delicious Khmer lunch in the park before our final stop, Ta Prohm.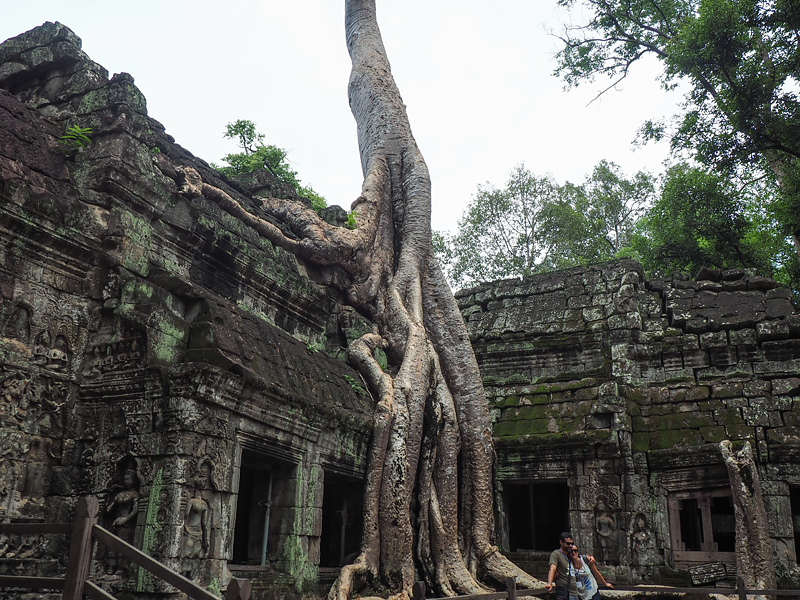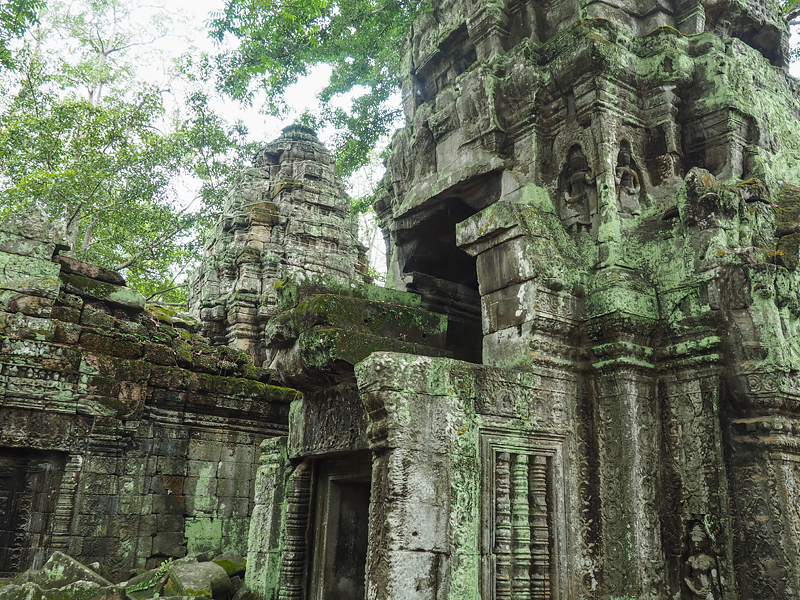 Ta Prohm is a beautiful temple, a bigger, more elaborate version of Ta Nei. However, it is quite famous, partly due to it being the "Tomb Raider Temple," so the crowds were massive, and it was impossible to get the pictures we wanted.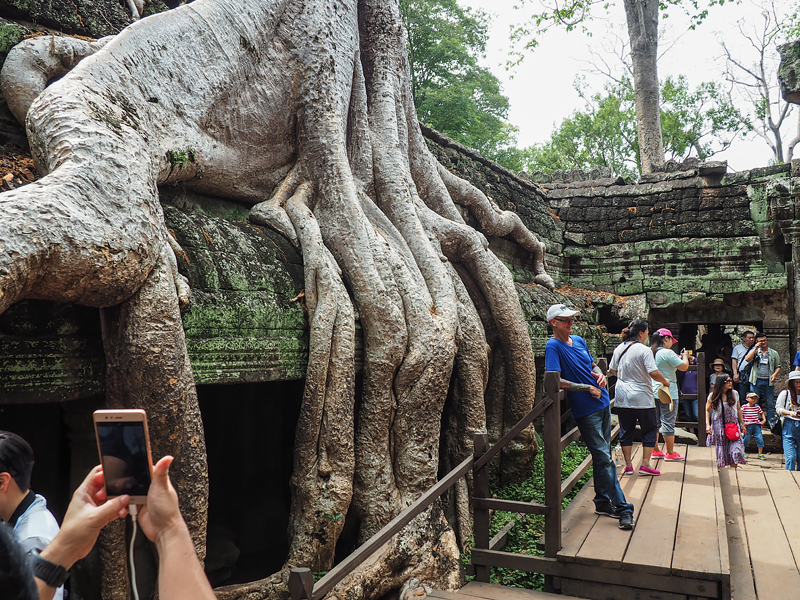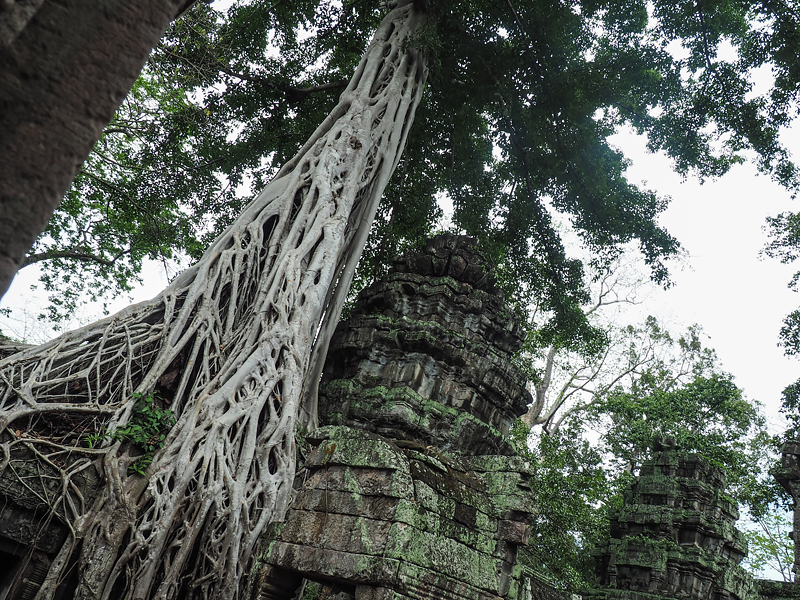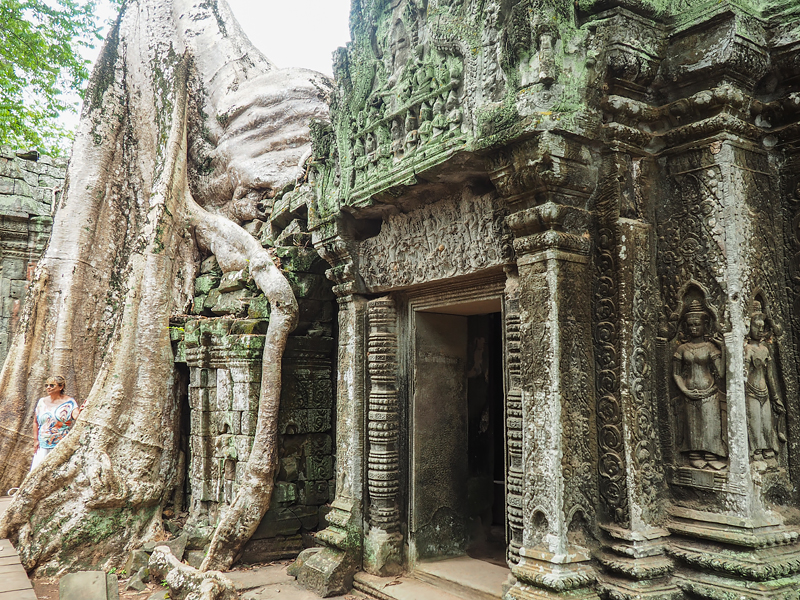 That evening, we enjoyed our hotel pool as well as our hotel restaurant, too tired to venture into town until the following day.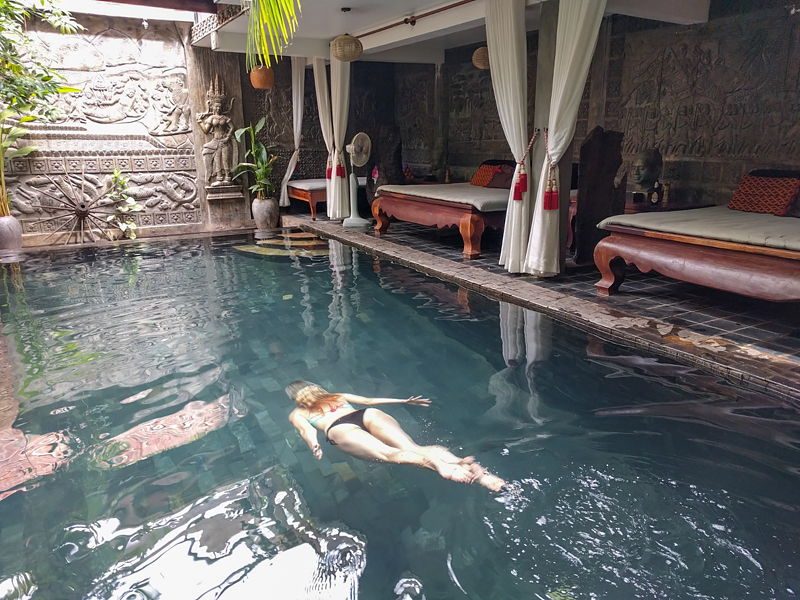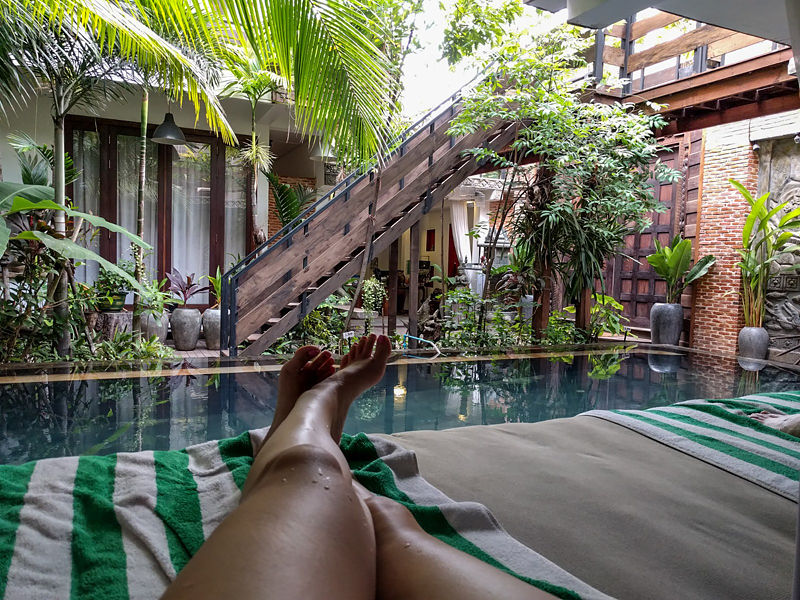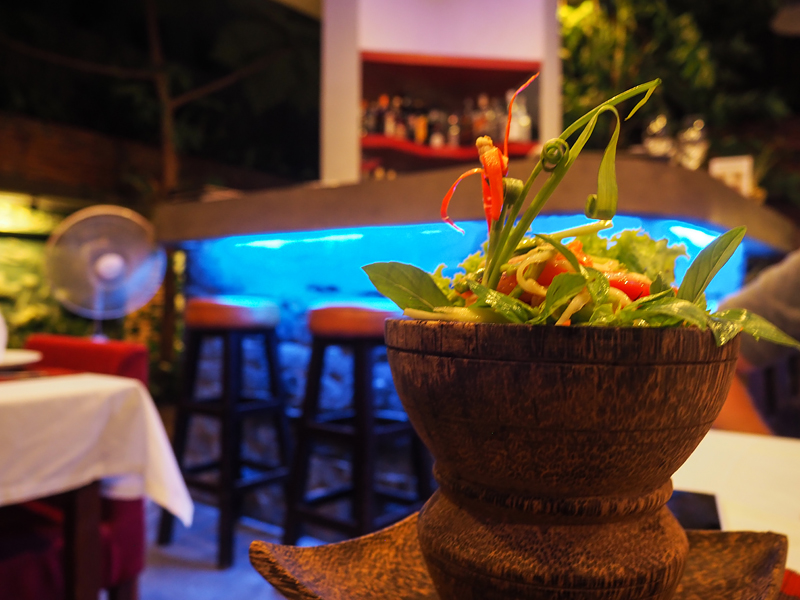 Pub Street is the touristy part of town, but I enjoyed it. We did some shopping, ate some ice cream, drank some mojitos, and then found Batman Driver. Or rather, Batman Driver found us, while we were enjoying our mojitos. He was persistent, and we ended up hiring him to take us to Banteay Srei, the Lady Temple out in the countryside. He bragged the whole time about how fast he drives, swerving around singing the Batman theme song, making us laugh.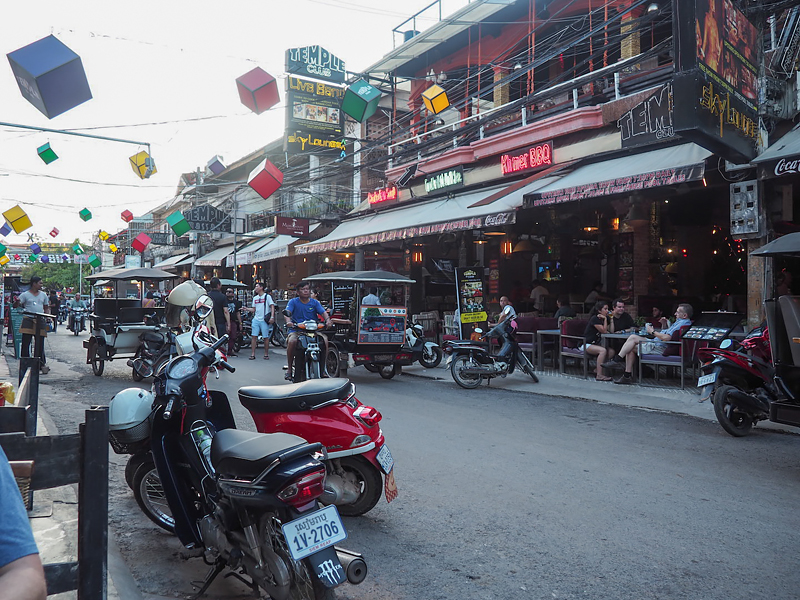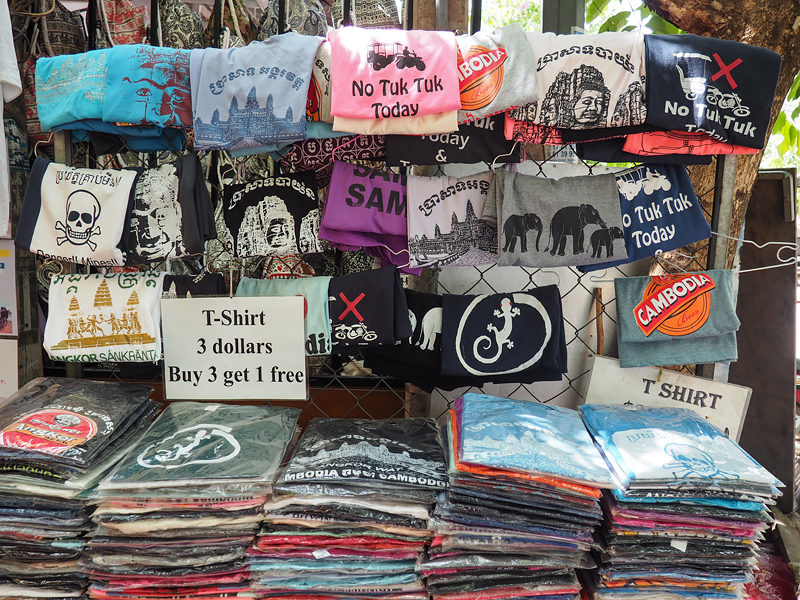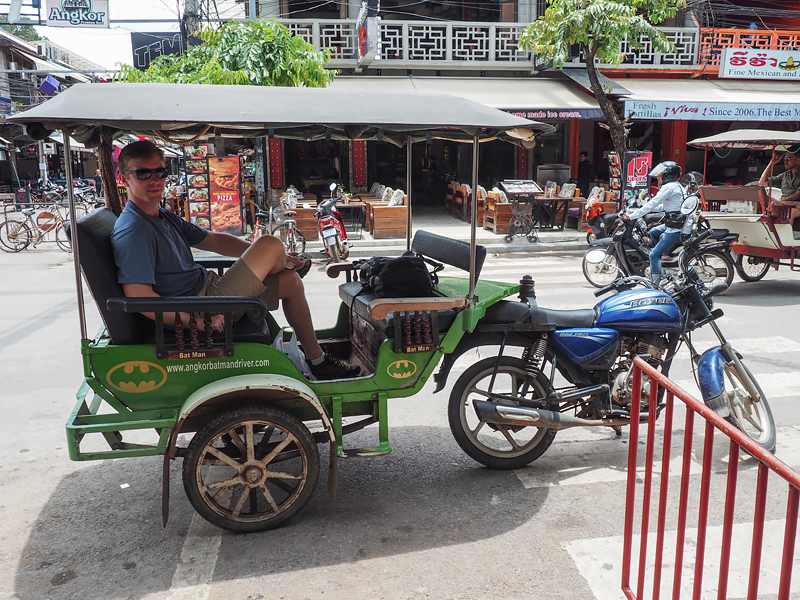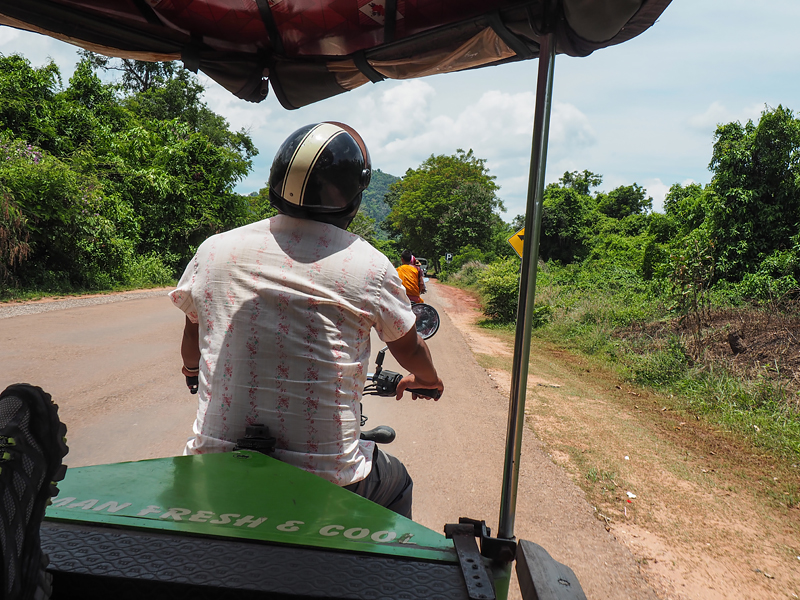 We road for over an hour through the countryside to reach Banteay Srei, and arrived for the hottest part of the day. It's one of the oldest temples, older than Angkor Wat, yet possibly the most beautiful. It's made of a pinkish sandstone, and the carvings and sculptures were some of the most detailed we had ever seen.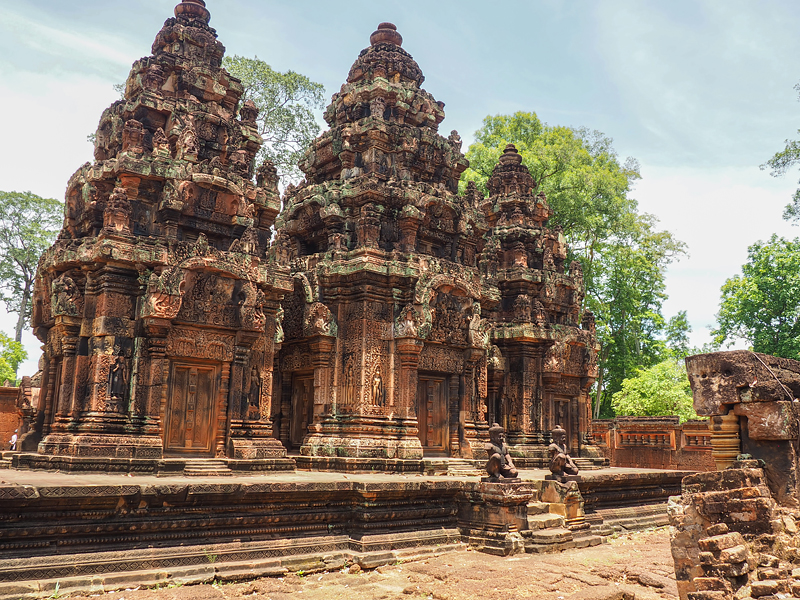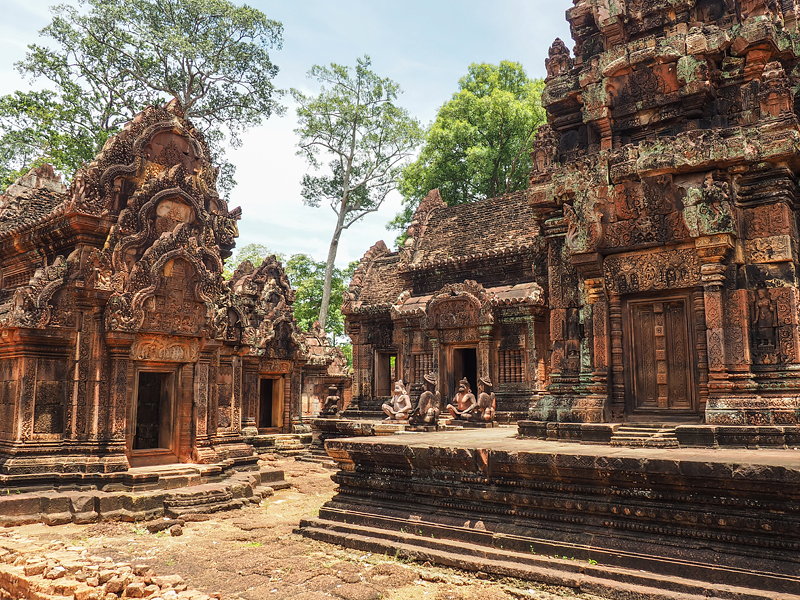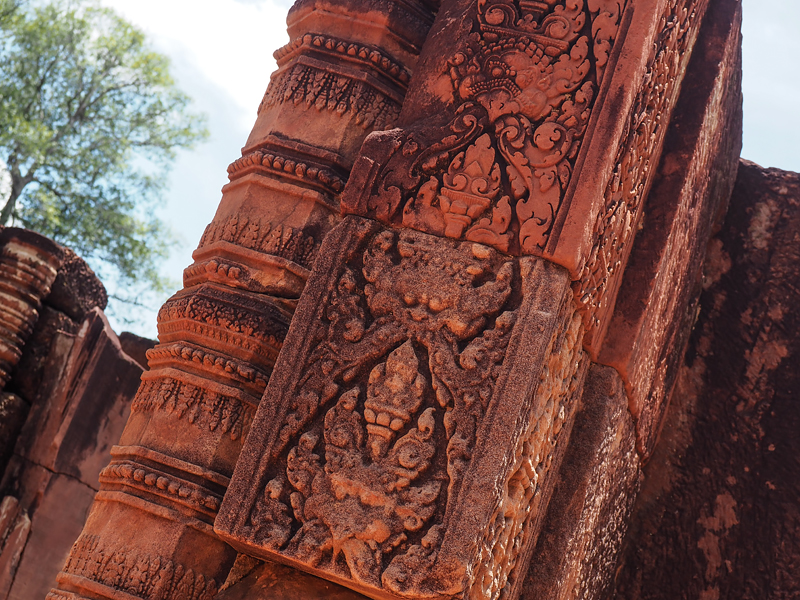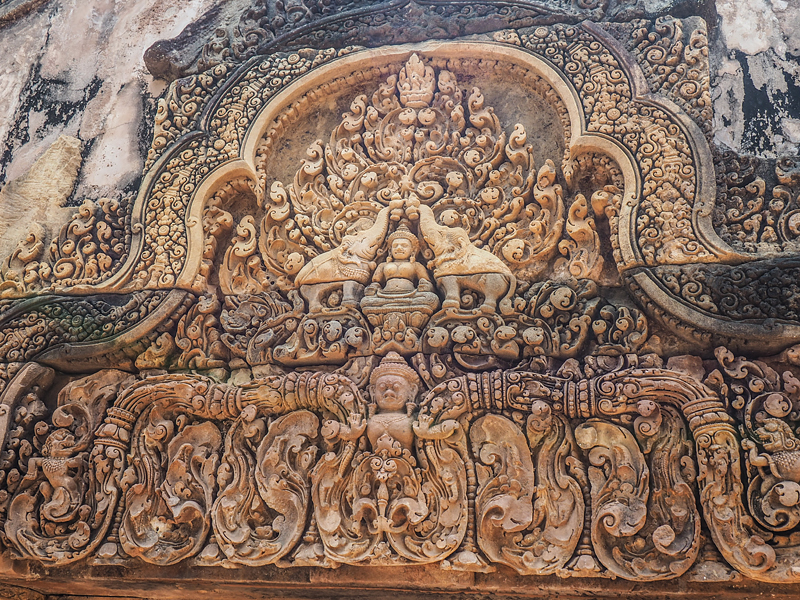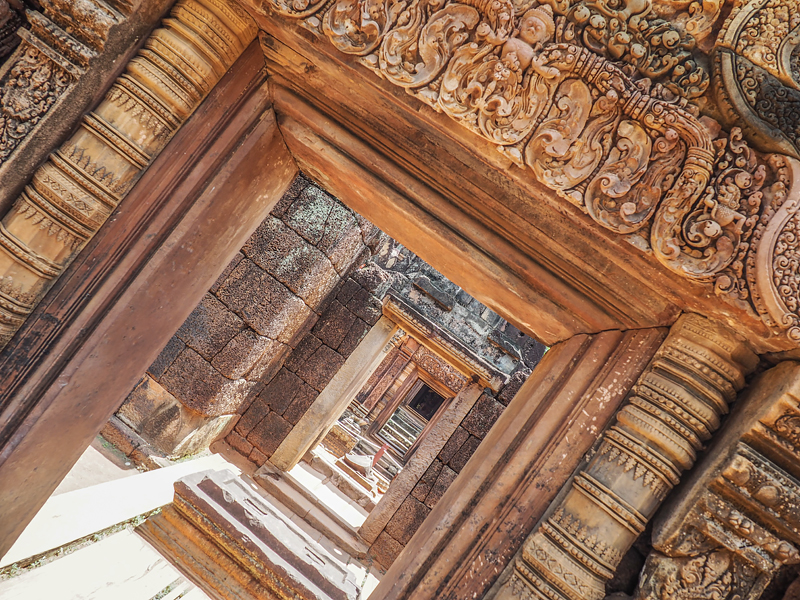 I would have loved to see the temple in the morning light, but as we were there middle of the afternoon, I appreciated its small size, so that we could hop back in our tuk tuk and ride back to our pool.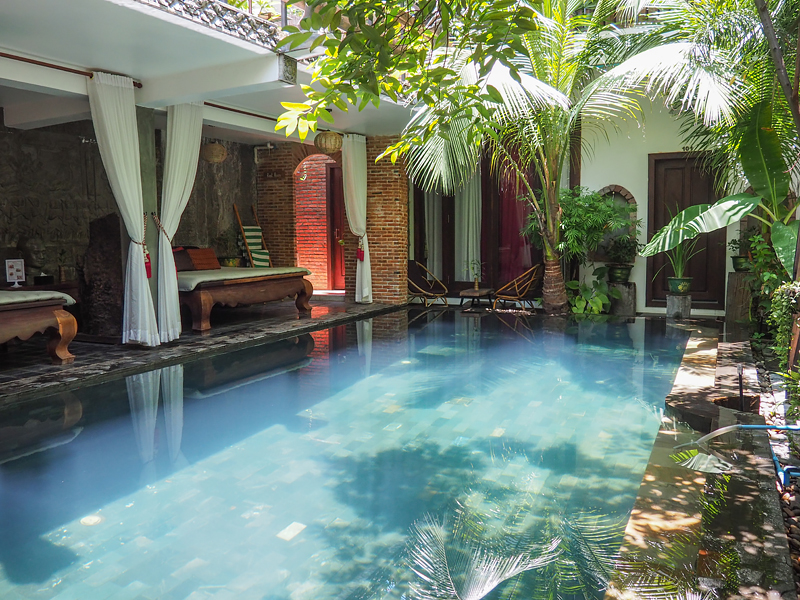 We went back to Angkor Wat later that afternoon to see it in the afternoon hours with smaller crowds. Great decision.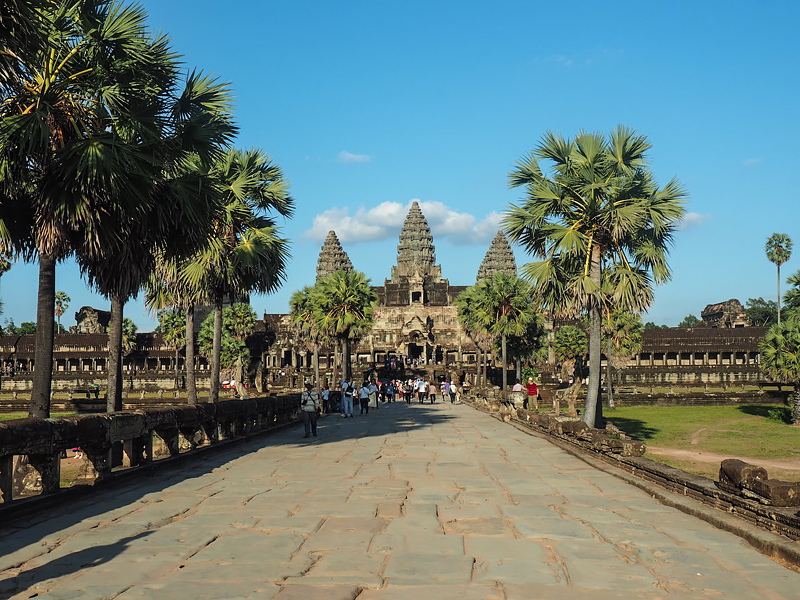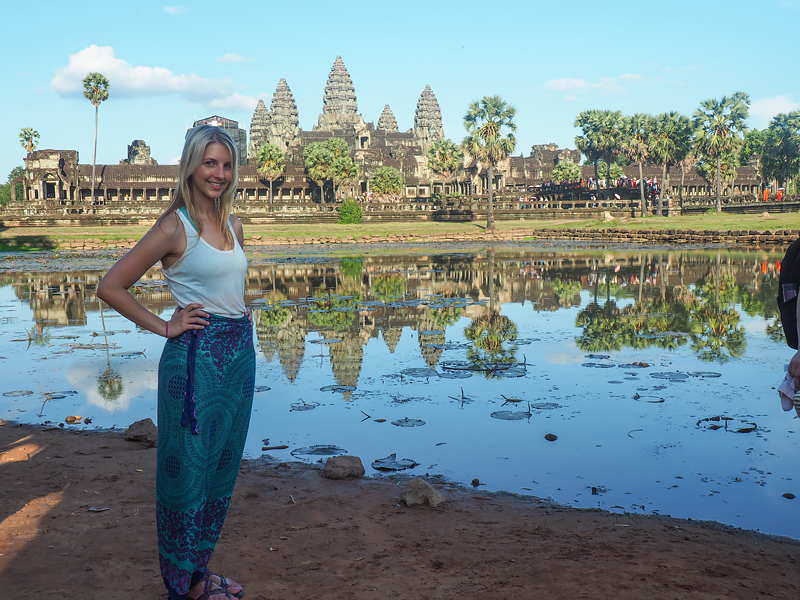 Once we were done staring, we went back to Pub Street for dinner and people watching, and it did not disappoint.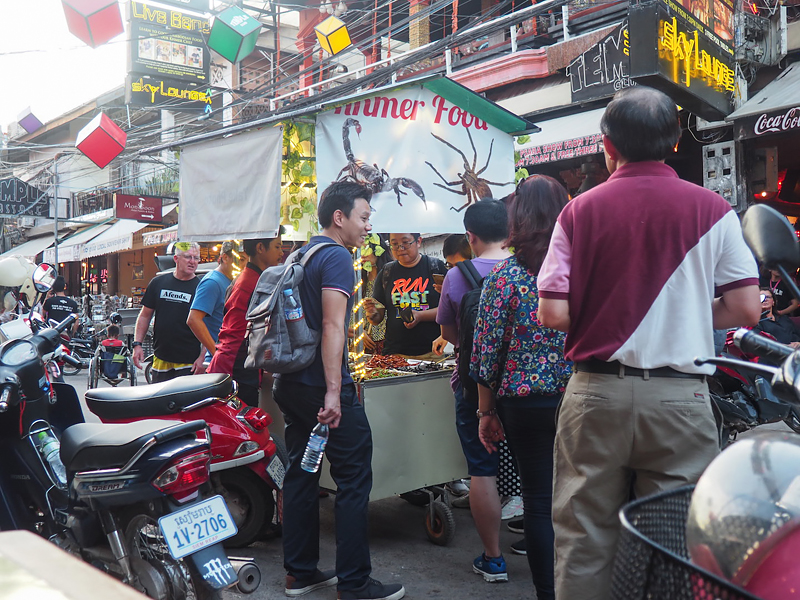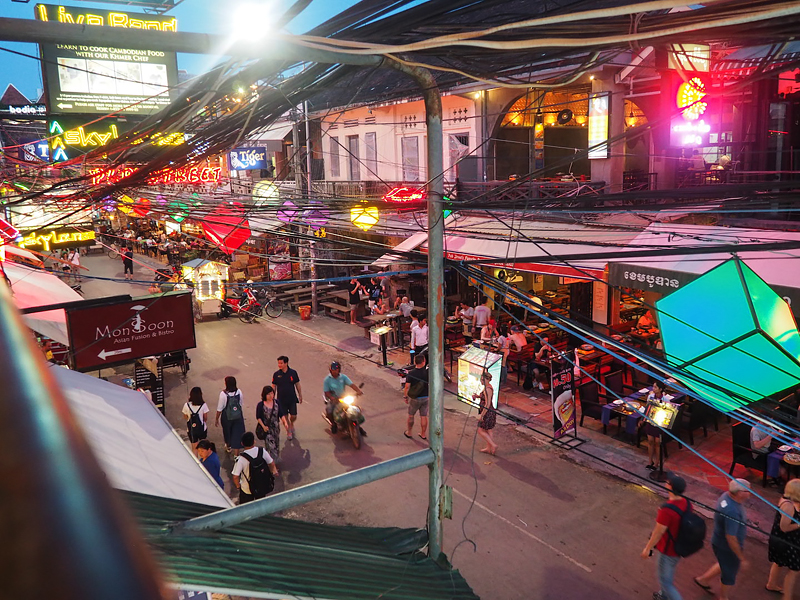 We decided we needed to try to see Ta Prohm with fewer crowds as well, so on our third day, we got there when it opened. While it certainly wasn't empty, it also wasn't the crowded madhouse it had been a couple days earlier.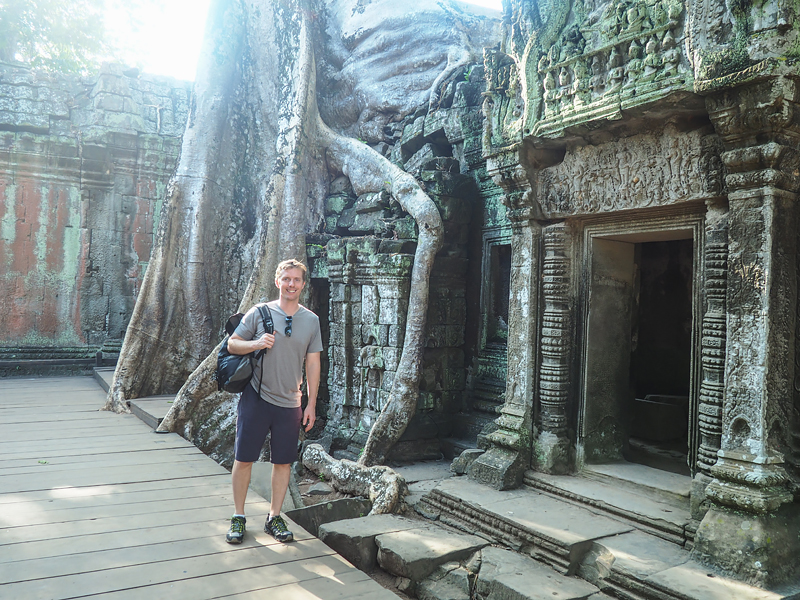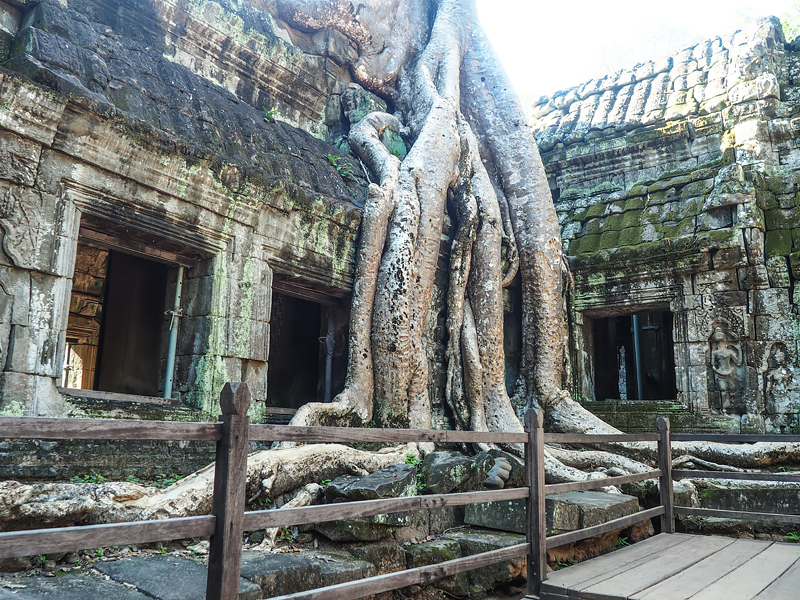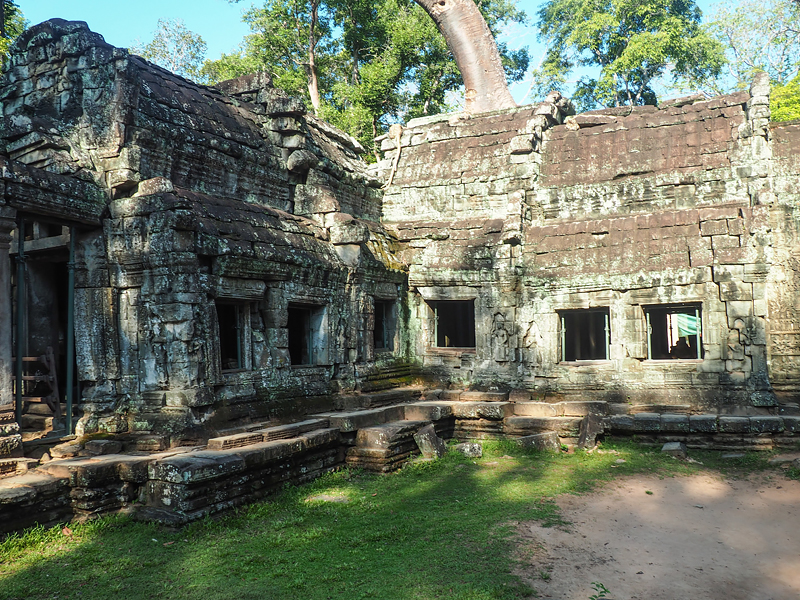 We then visited Ta Keo, a huge temple with many steep stairs to climb up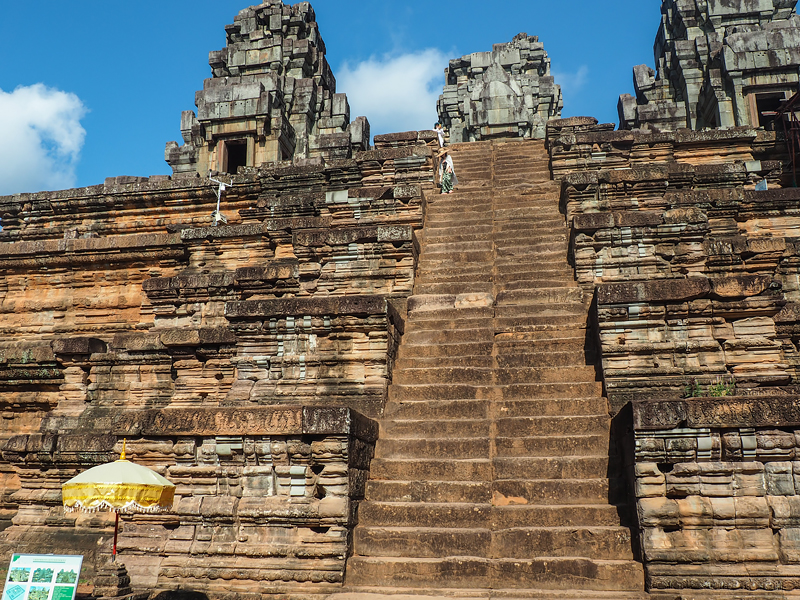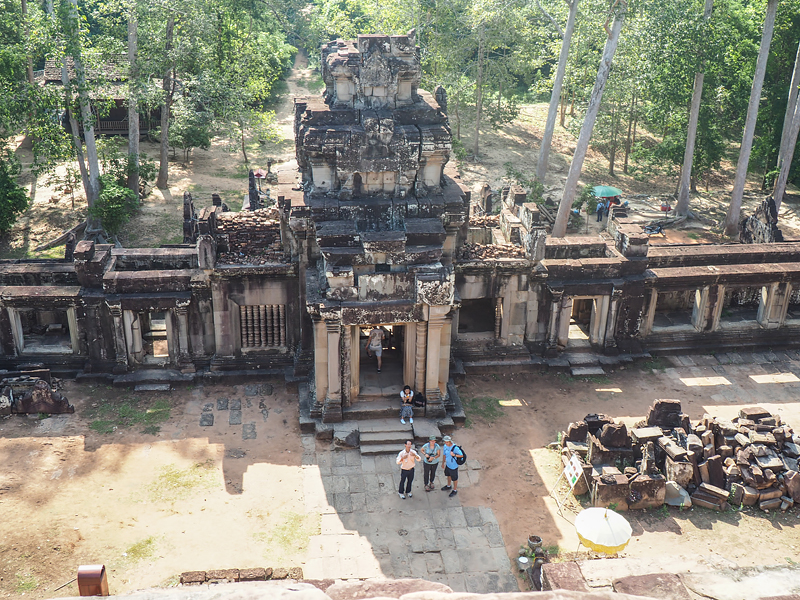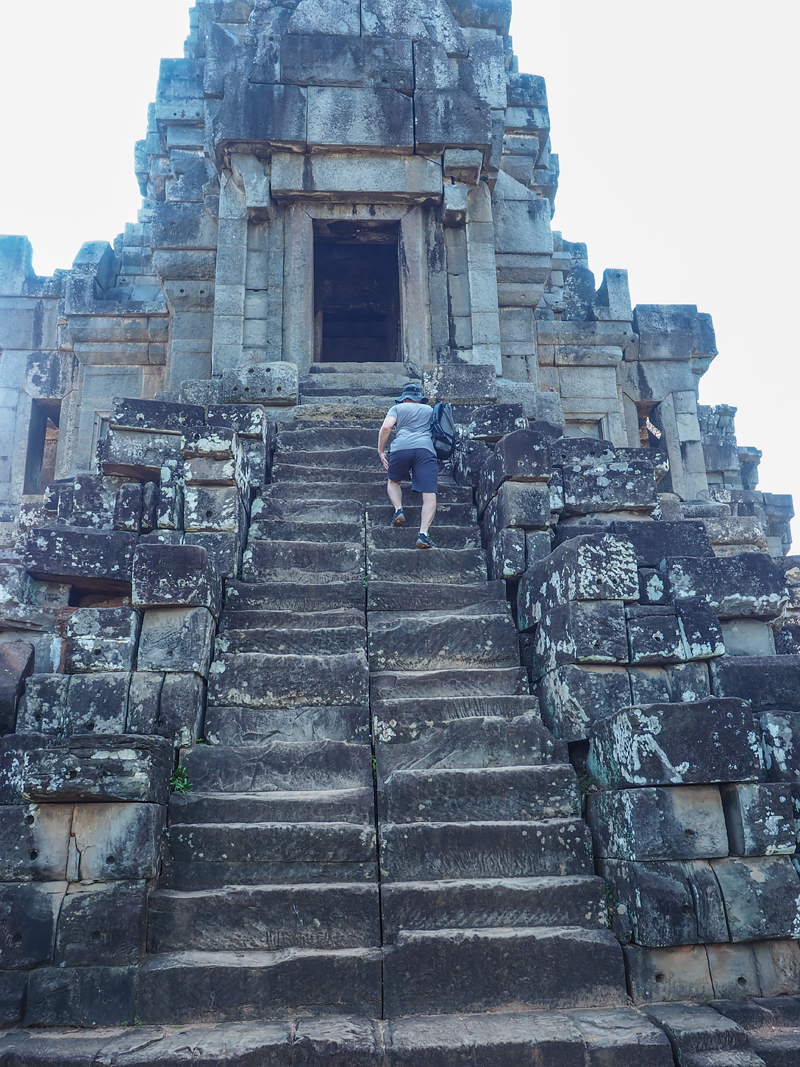 And after Ta Keo, our final favorite, Preah Khan. I tend to have a certain "type" that I like, as Preah Khan was another in which much of it had been destroyed, with rubble and tree roots intermixed with the lovely architecture. It was also much larger than I was expecting, as it just never seemed to end. We probably didn't even get to explore half of it, but what we did see, I loved.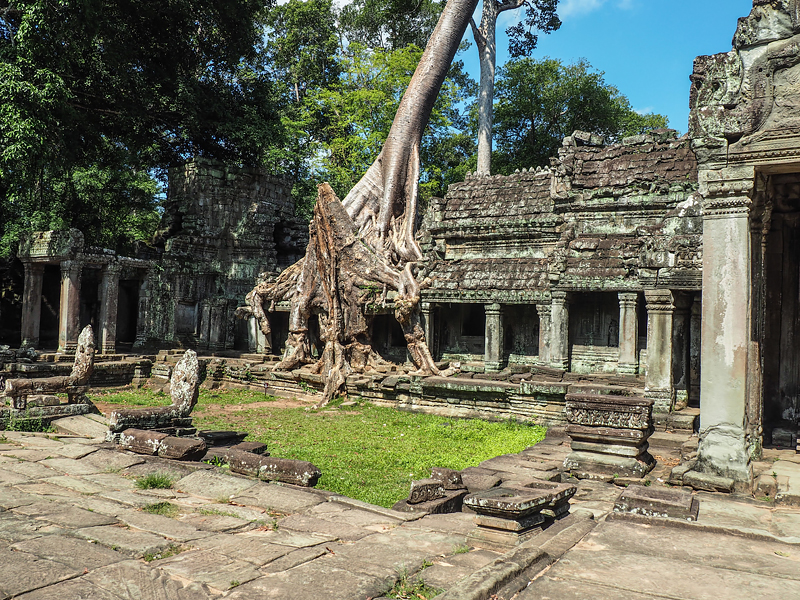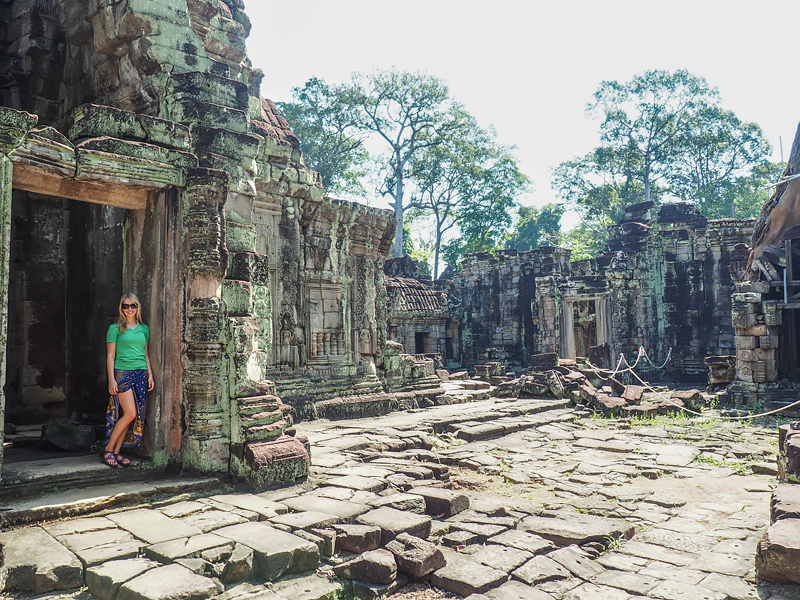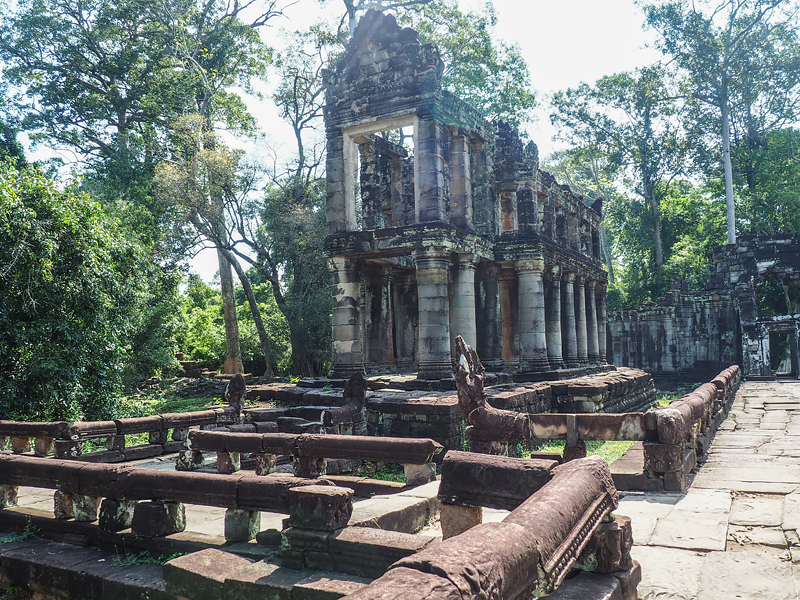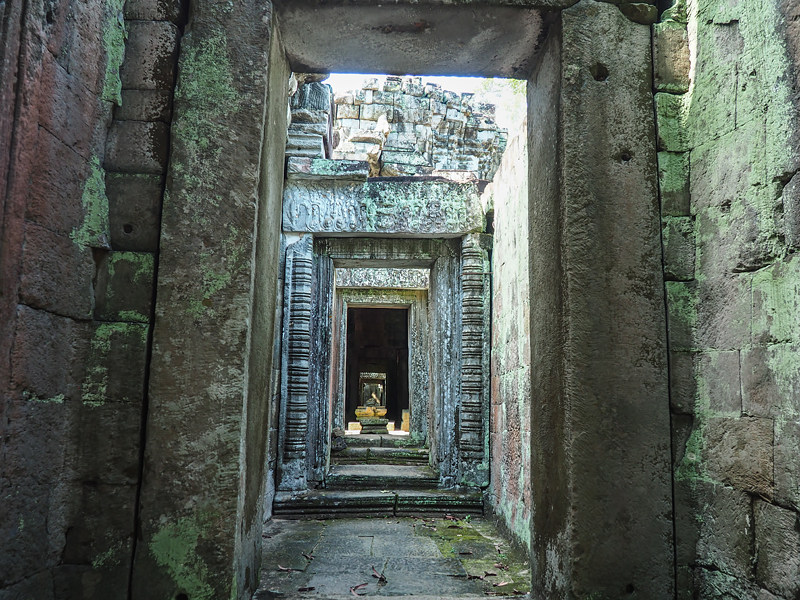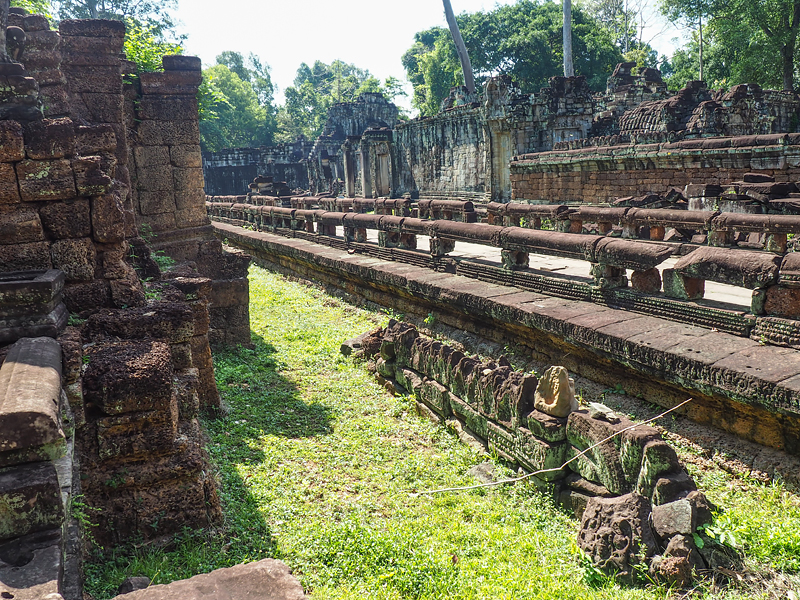 We wasted the afternoon in town, as we had to check out at noon but not be at the airport until 6.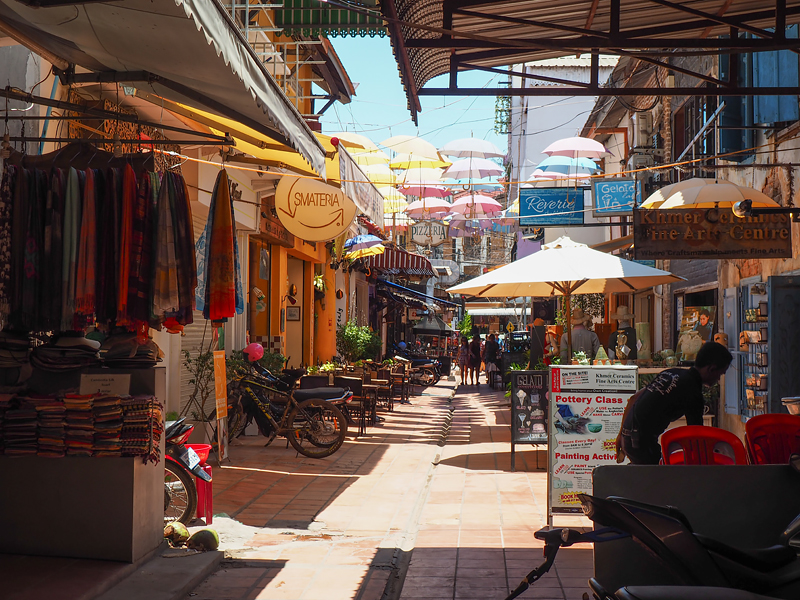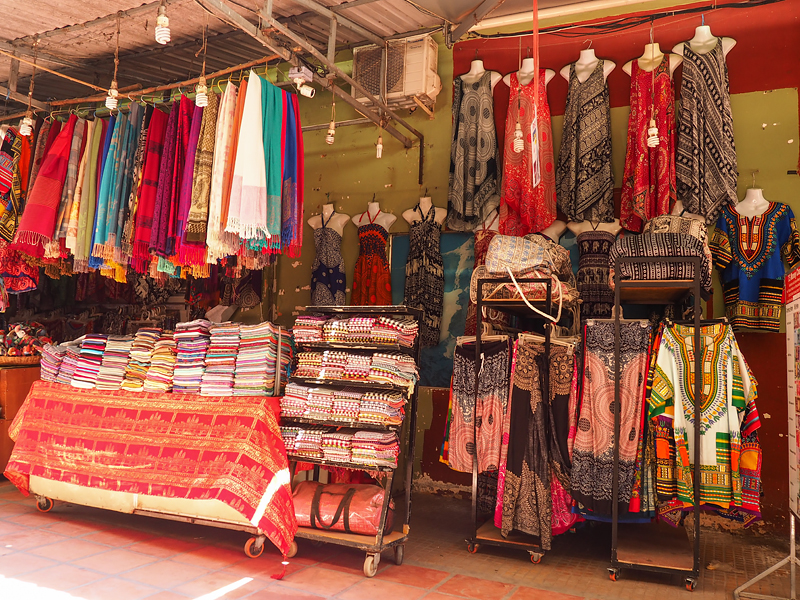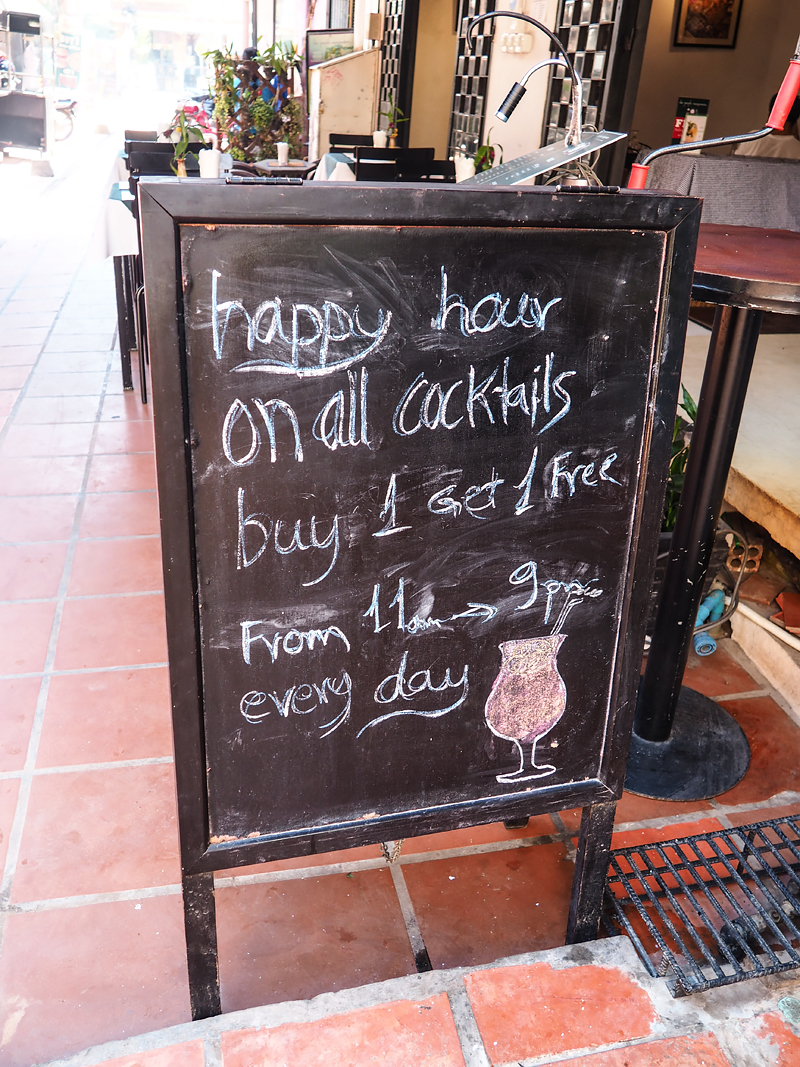 The hotel was wonderful though and let us come hang out at the pool some more and use their showers before providing a free ride back to the airport.
We were sad to leave Cambodia after seeing so little of it, but hopefully we will make it back some day.
We made it back to Hanoi, to our new apartment on Truc Bach Lake and West Lake late that night. Our apartment had a wall of windows to view the lakes. It seemed to be a slightly ritzier part of town, with various expats around. We went to a place called Bromance & Beer for some water, and of course, beer, staring out at the lake.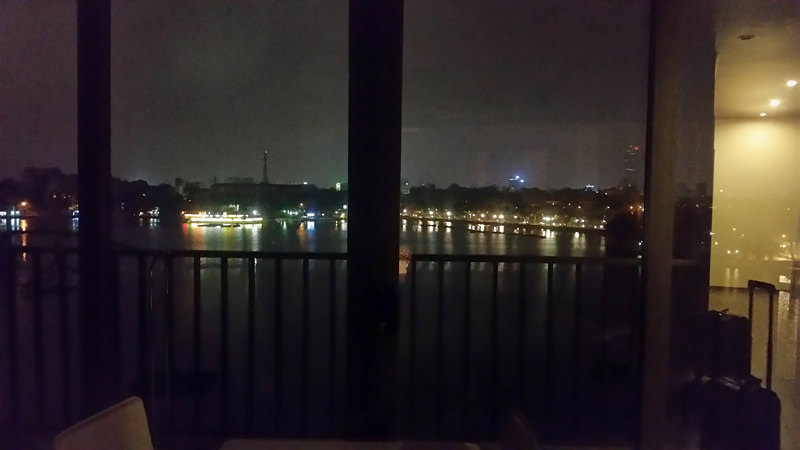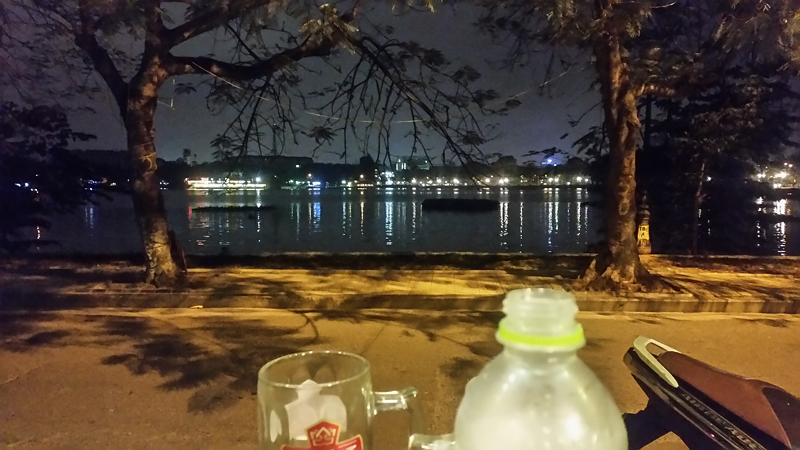 The next day, we had the whole day to waste as our flight home wasn't until midnight. We stopped at a couple coffee shops, ate lunch at a yummy Vietnamese vegetarian restaurant, and I had quite the unique spa experience at Huong Sen. I paid about $15 for an hour of 45 minutes of herbal baths, back scrubs, steam rooms, and the most thorough and fabulous massage of my life.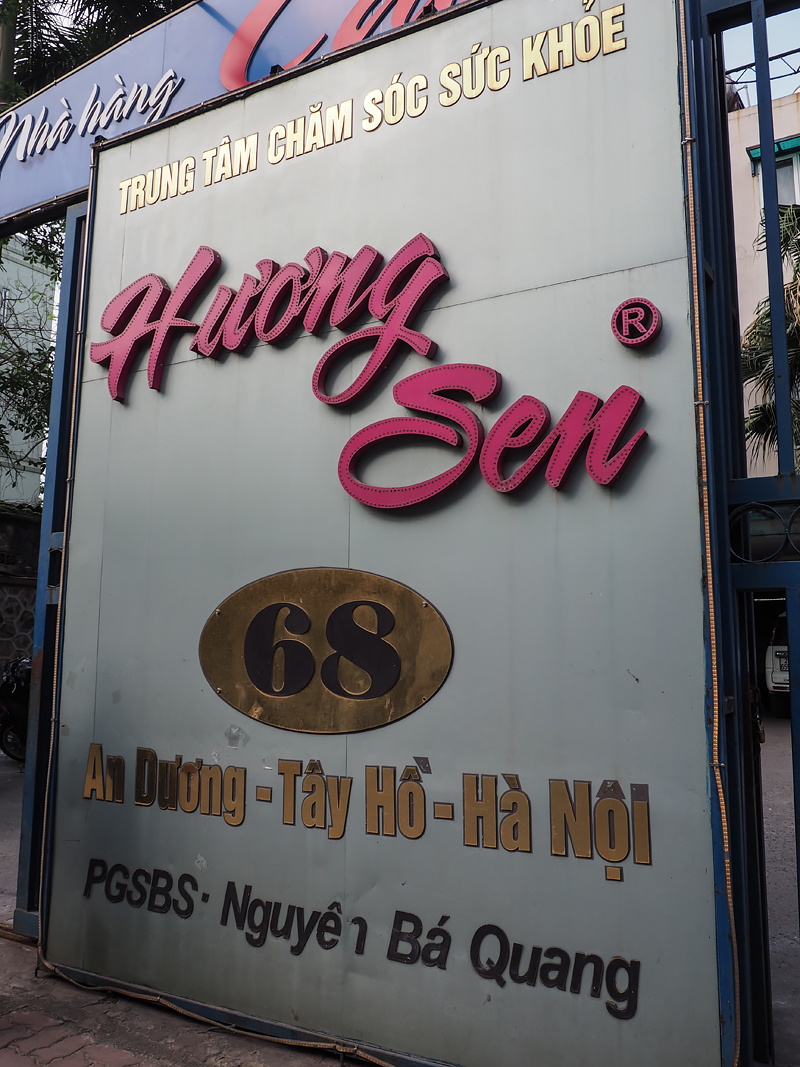 After which, we hung out at some cafes, ate a yummy Indian dinner, grabbed our luggage, and spent the next who knows how long, sitting at airports and on airplanes.
The travels there and back were pretty awful, particularly for someone with a bad back, but I would definitely say it was worth it. And it certainly won't be our last time making the journey to that part of the world!