Costa Rica
First things first, I must admit that I did not plan my trip to Costa Rica. It was my first time out of the country, and my now-husband had been there before, so I let him plan it. This meant hostels and spur-of-the-moment planning which isn't really my way of doing things.
We flew into Liberia, only taking time there to get a drink at a nearby restaurant (my first legal drink, actually), after which we hired a shuttle to take us to La Fortuna, offering fantasic views of lush green mountains. We arrived in La Fortuna after dark, seeings kids out in the street in front of our hostel, playing soccer. Our hostel smelled like sulfur, had 4 beds packed into the room, and the toilet was separated only by foggy glass. This was my first experience with a hostel, and to be honest, I was expecting worse.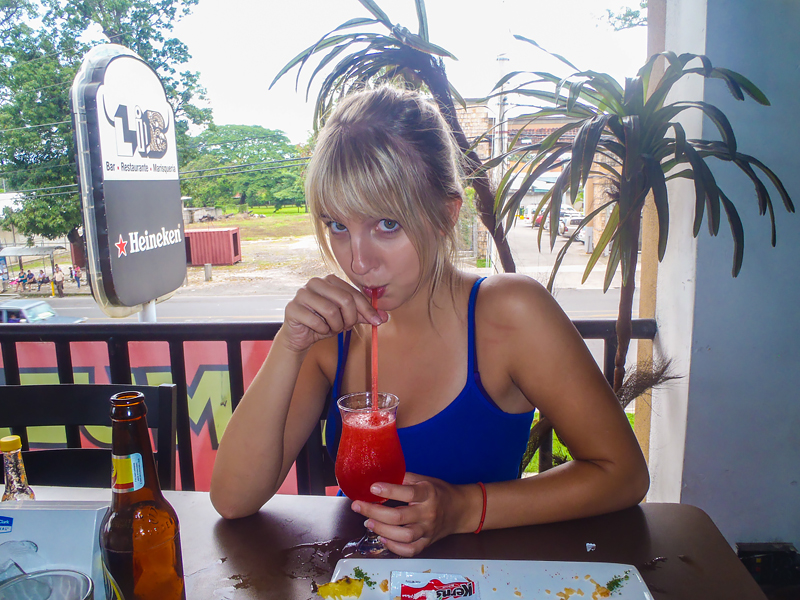 The next day we explored the town, walking around the central park, checking out the local church, and eating some tipico Costa Rican food at open-air restaurants. The weather was absolutely perfect for this, and I decided I would not eat indoors this whole trip.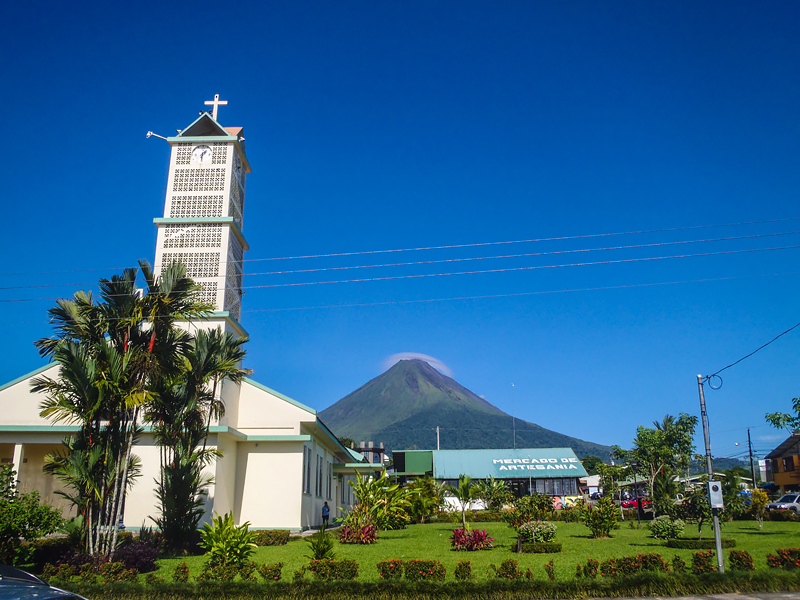 I was both fascinated and saddened by the number of stray dogs that wandered around looking for food. I fed and pet them every chance I got. I think they just put up with the petting so they could get the food.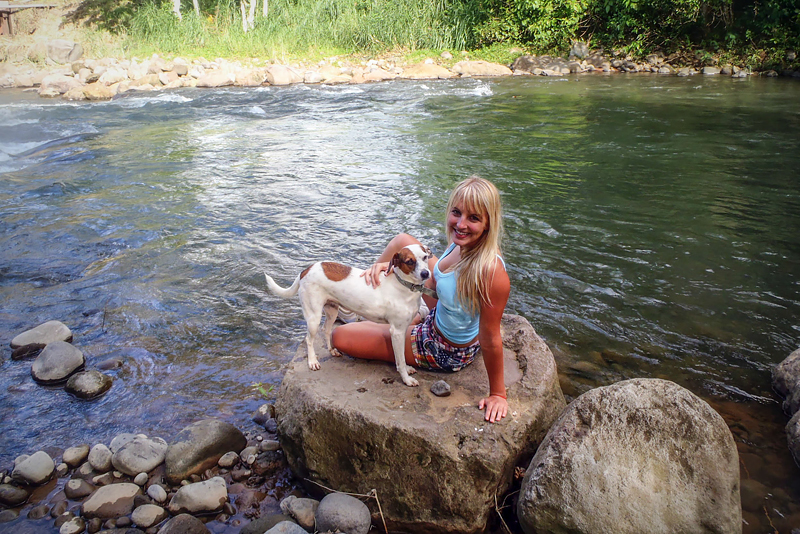 That same day, we went white water rafting. This was another first for me, and boy was that obvious. I showed up in my little string bikini, whereas everyone else there was wearing some type of shorts. I didn't understand why- they knew we were going to be getting wet, right?! Then we hit the rapids, and I spent most of my time picking out my wedgie and cursing myself. Besides that discomfort, it was a blast. The guides seemed to really enjoy their job, and kept everyone safe. We got a snack of fresh pineapple (good God the pineapple is amazing in Costa Rica) and bananas and mangos. By the time we got back to our hostel, we were exhausted.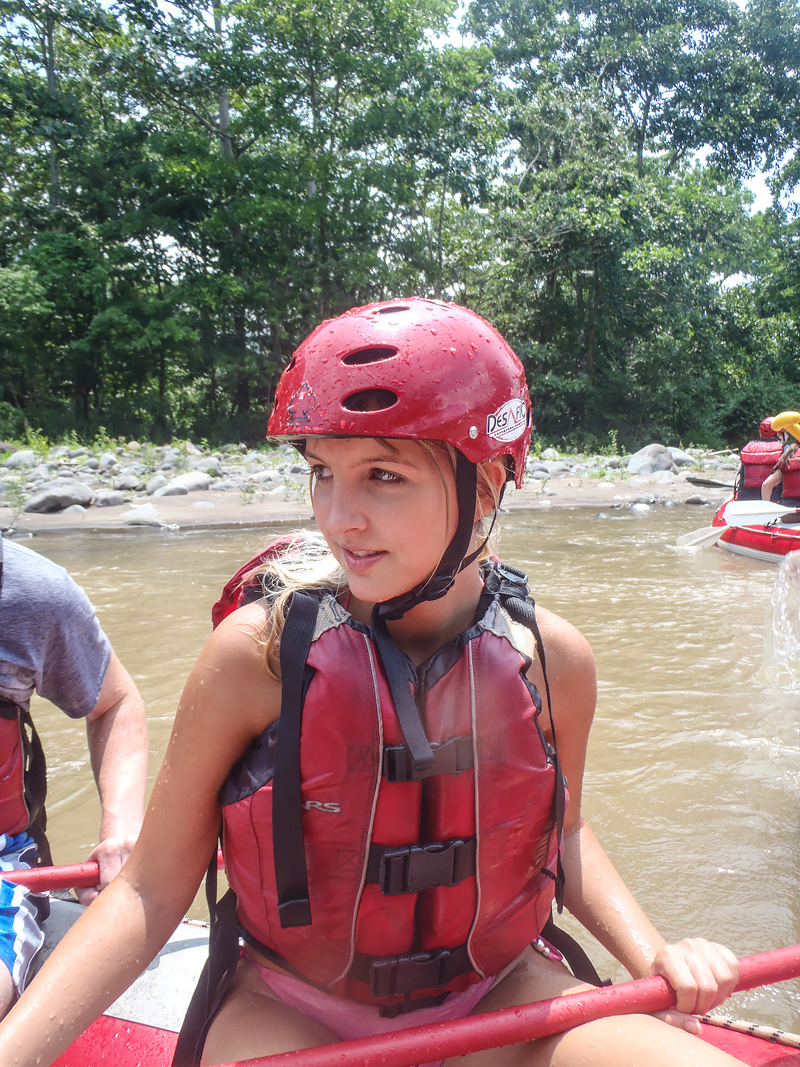 The next day, we hiked Volcan Arenal.  The weather was absolutely terrible toward the beginning, and we had to stop for awhile under a tarp, with lightning striking very close by. This did give us a chance to get some pictures of the volcano before we started climbing it though. Eventually it cleared off, and we were off on our hike. Our guide seemed very entertained by his job and took great pride in pointing out all of the flora to us.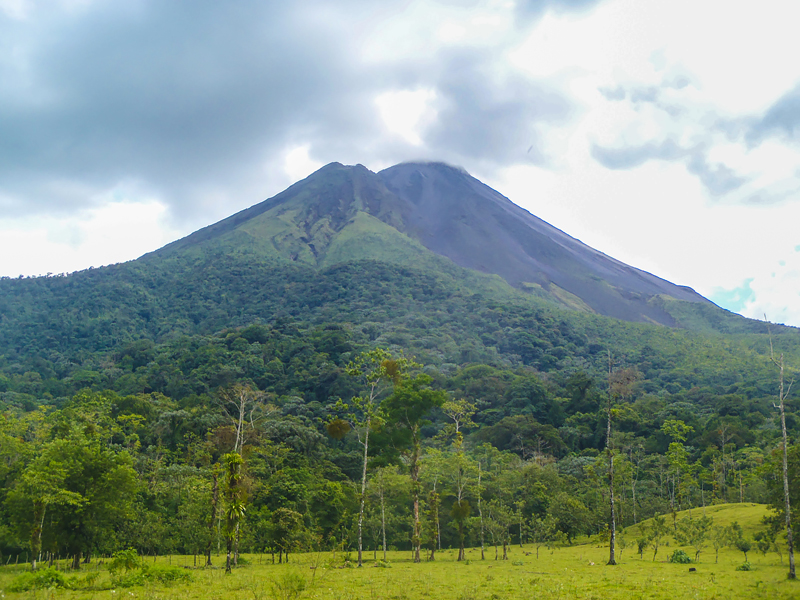 The following day we visited a hot spring resort. It was beautiful, with pools of various temperatures, but it wasn't as "natural" as I had expected. The pools were natural in the way they were heated, but not the set up. The pools and waterfalls were man-made, and there were slides and bars. I think most people would probably prefer this, but I had this picture in my mind of big warm ponds in the ground out in the middle of nature.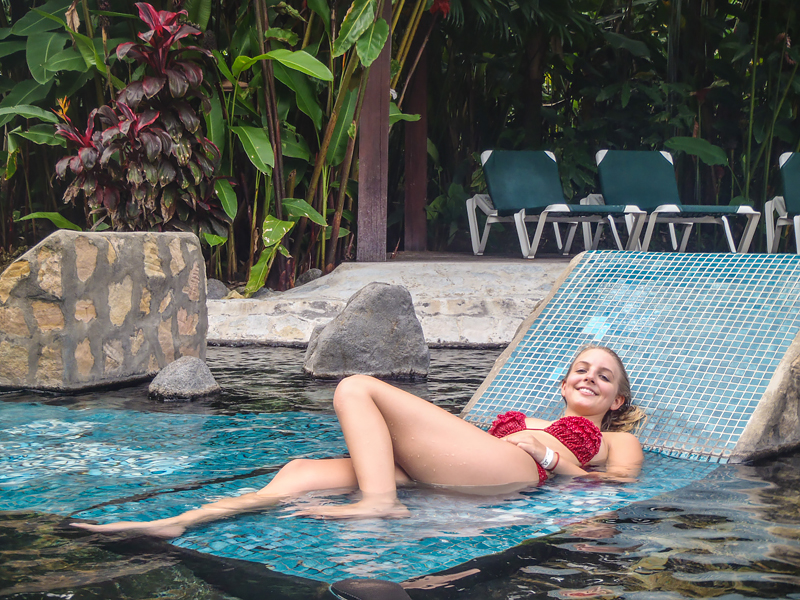 The following day we journeyed to Monteverde and had only enough time to walk down the main street and get a few drinks at the bar. Our hostel there was much better. We had a nice, clean room with a single bed and a separate, private bathroom. There was a lounge area where other guests hung out in the evenings.
We woke up and went to do a canopy tour in the cloud forest. While the harness certainly was not the most comfortable thing, it was thrilling flying through the forest, getting higher and higher. I will admit that I chickened out at the highest one though, choosing not to go superman-style (lying flat in the air, facing the ground) and also opting out of the Tarzan swing (basically bungee jumping). I now regret being such a coward, but alas, c'est la vie.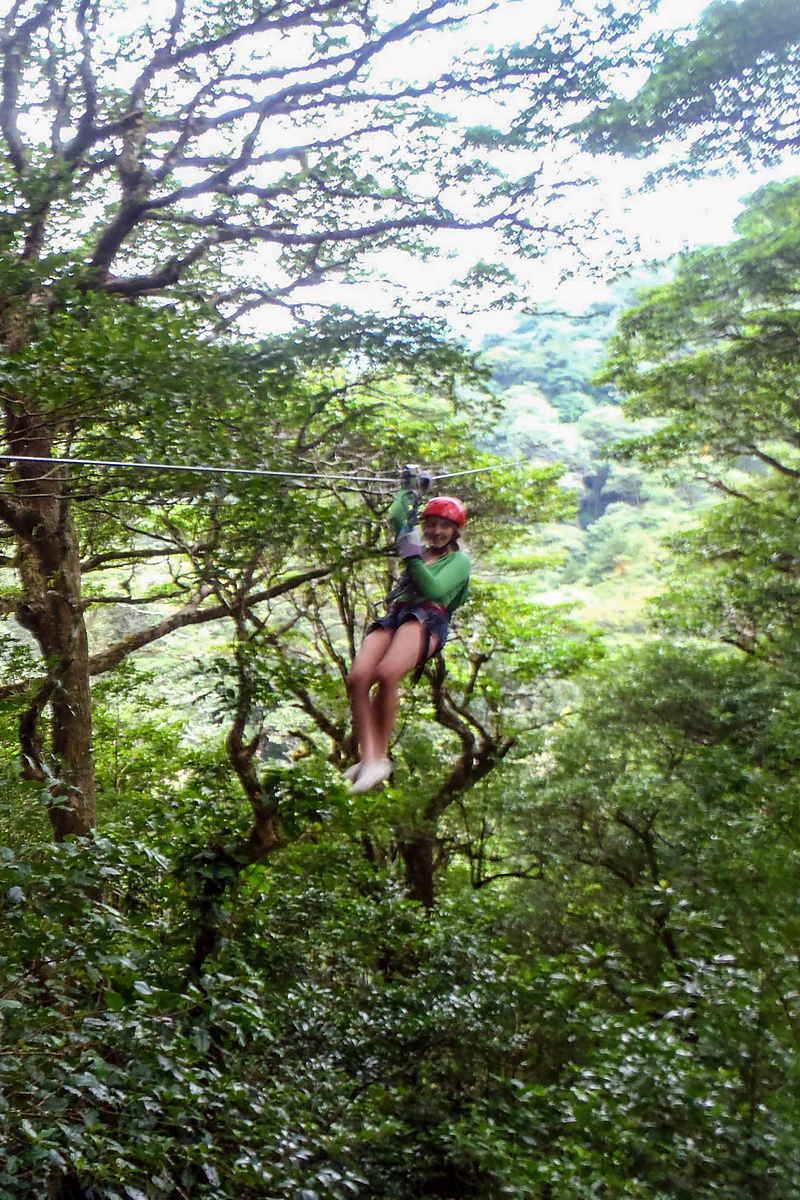 The rest of our time in Costa Rica was spent lounging on the beach in Samara which I loved. It was less touristy than a lot of beach towns and had a cool vibe. We spent more money and stayed at a nicer hotel just across the road from the beach. We ate at delicious restaurants, really making the most out of all the calamari and ceviche. We also found an awesome bar down on the beach that apparently no one else knew about. The poor bartender probably hated us because we kept requesting piña colada, which he would then make by taking a machete to a pineapple and a coconut, but goodness, they were delicious. We would walk the beach in the evenings, and explore new areas during the day, such as nearby Playa Carrillo and its small animal sanctuary.

One night, we splurged and chose to eat at an expensive restaurant on the beach. We saw lightning in the distance that was quite pretty. All of a sudden, that storm was on us with force. We were ushered under a tarp, while everything flooded, and the wind blew glasses off shelves and knocked chairs over, and the lightning would not stop. A couple months prior to this trip, I had been in the Joplin tornado. Due to this, I developed quite the PTSD when it comes to storms, so while everyone else was enjoying this crazy storm, I was hysterical. I chugged beers hoping this would calm me down, but I was just shaking and crying, and unable to stand up because my legs would not steady. Our hotel was literally just across the street, but I could not be talked into going there because it required walking outside in the lightning for one minute. Finally, I made it to my bed safe and sound, though unable to sleep until the storm calmed down.
The following day we had signed up for a nature hike. The storm the night before had caused all the animals to go into hiding, but it was still a beautiful and enjoyable hike with a very friendly and interesting guide. His name was Alvaro, and he had cleared the path himself with a machete years prior. We stopped at a lookout toward the top, and enjoyed each other's company and some tasty fresh fruit.

Costa Rica was an amazing country. It was fun and safe with perfect weather and lush, gorgeous scenery. It was cheap (though not by Central American standards), and I would not hesitate to go back.
Pura Vida!