Bay Islands, Honduras
The Bay Islands, Honduras is one of the cheapest places to learn to scuba dive in the world. They also have a huge, beautiful coral reef right off the coast, part of the Mesoamerican Barrier Reef System, which is the second largest coral reef in the world. Utila even has whale sharks throughout the year. So when we had about a week available for a quick trip, I decided to go for it.
We flew straight into the island of Roatan. Getting to Utila is much more difficult, however. Three days a week, they have a direct ferry between the islands, but unfortunately, the one on the day of our arrival was earlier than our landing. Instead of wasting a night and staying near the airport to catch the ferry the next day, we decided to book a charter flight with Captain Angelo on IslandAir.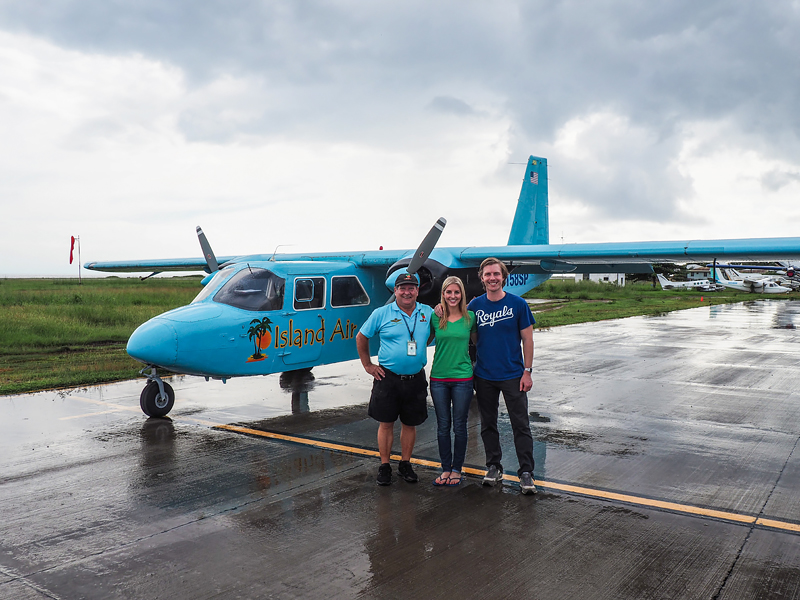 The plane can supposedly seat nine people, but there were three of us, and it was pretty tight with our luggage. The flight was only 13 minutes from takeoff to landing, and it was smooth and easy. If you're short on time, I'd definitely recommend doing the charter flight option.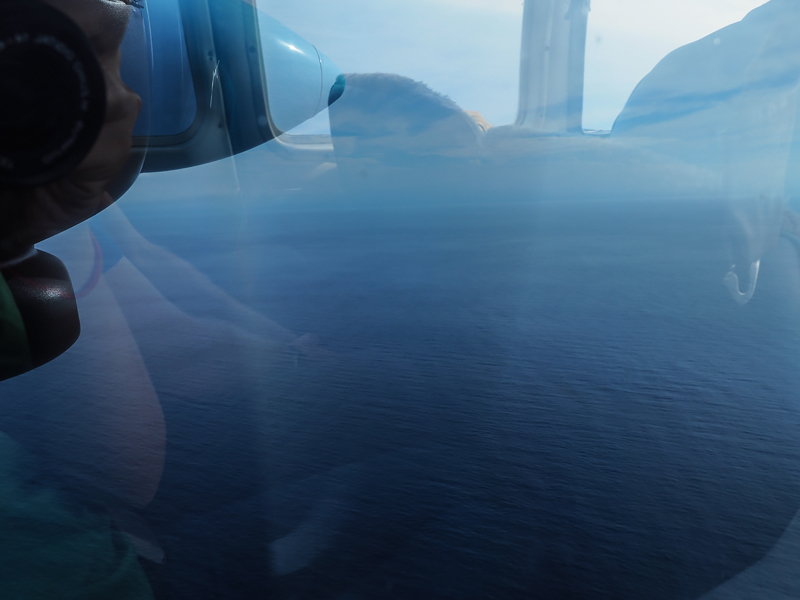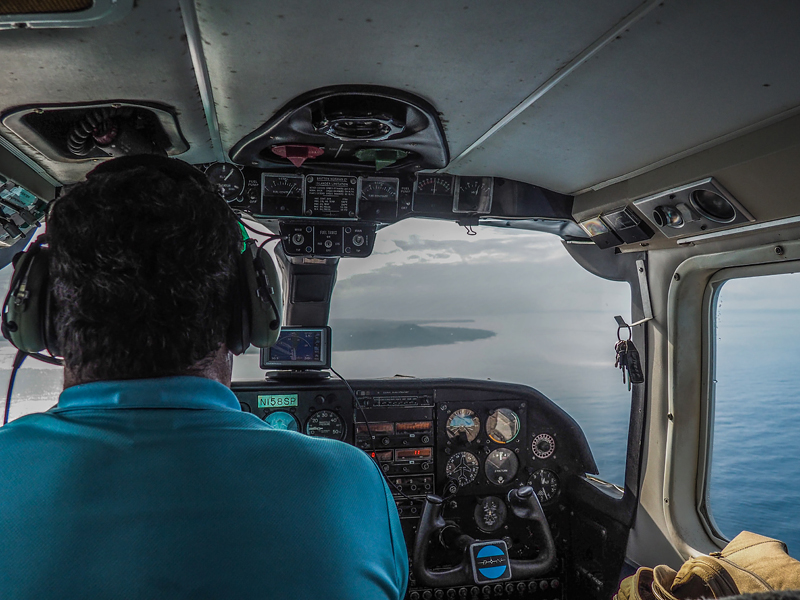 We were picked up from the "airport" and taken to our treehouse in the jungle. The treehouse was about a 15 minute walk, or 5 minute tuk tuk ride from town, but it felt like a world away. Utila is a rather flat island. There are two big hills, Stuarts Hill and Pumpkin Hill. The treehouse was built in and around a strangler fig tree up on Stuarts Hill, so from the deck we could see most of the island, but the only company we had were Betsy, Bob, and Junior the resident tarantulas living in the bathroom, nearby cows, a million geckos and other lizards, and some bats in the evening to help take care of the mosquitos.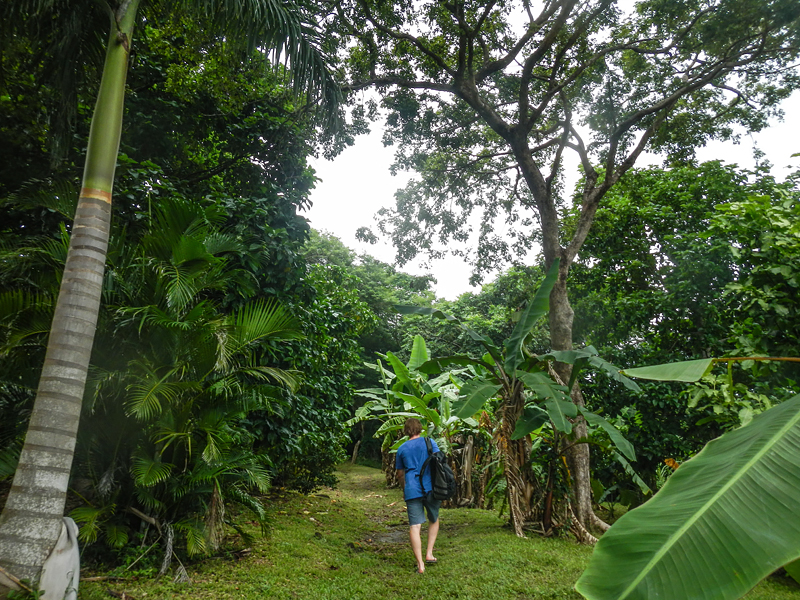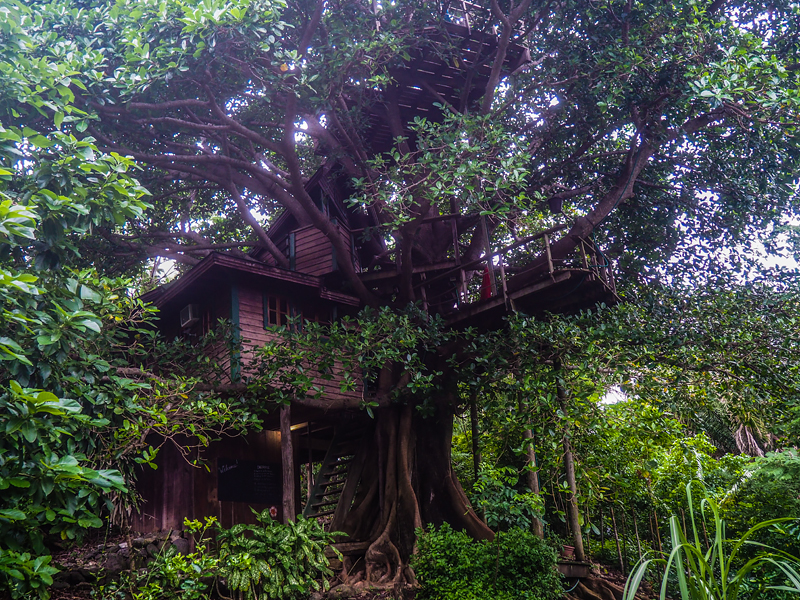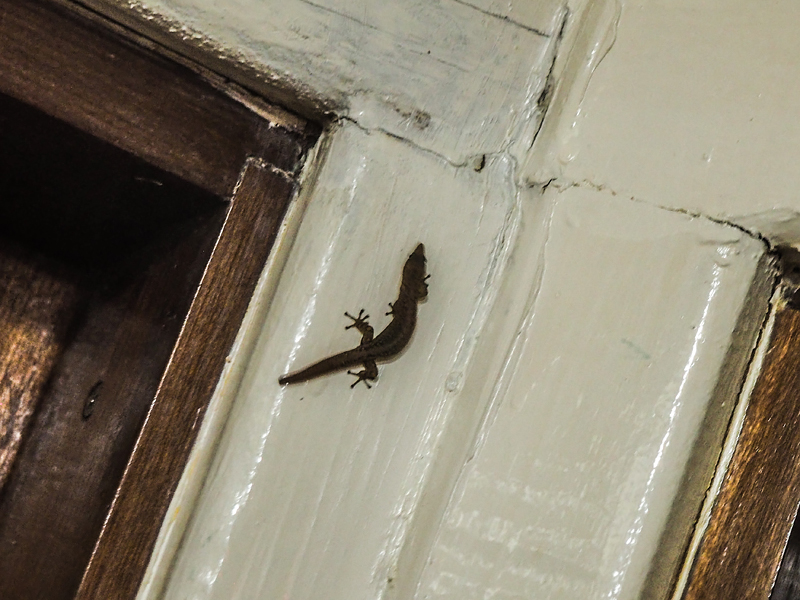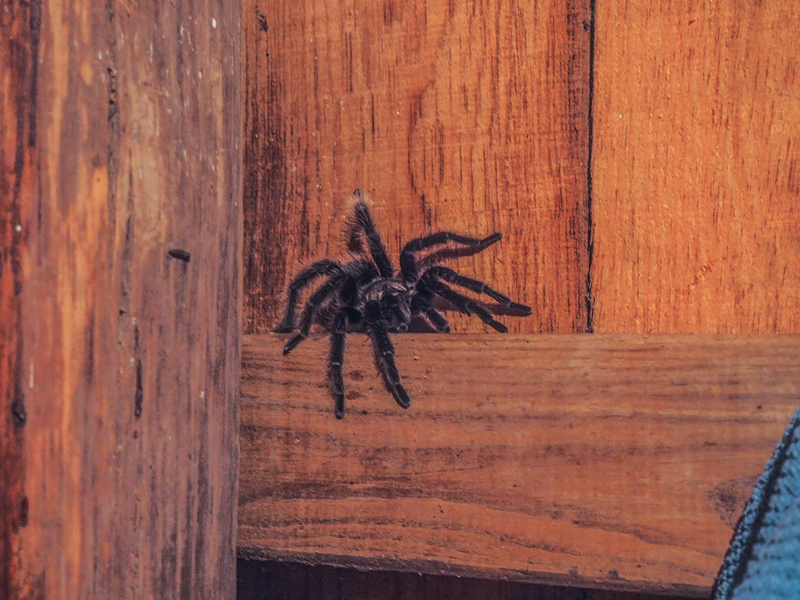 The architecture of the treehouse was amazing, as were the views.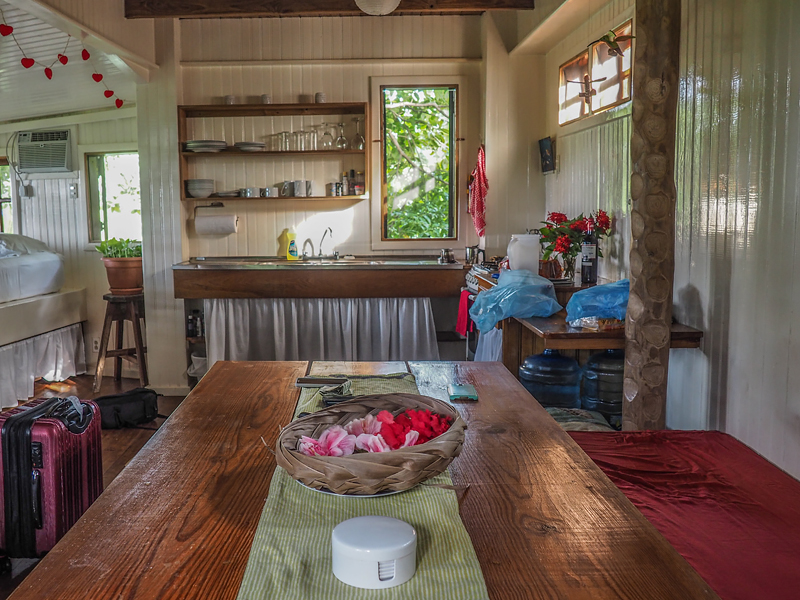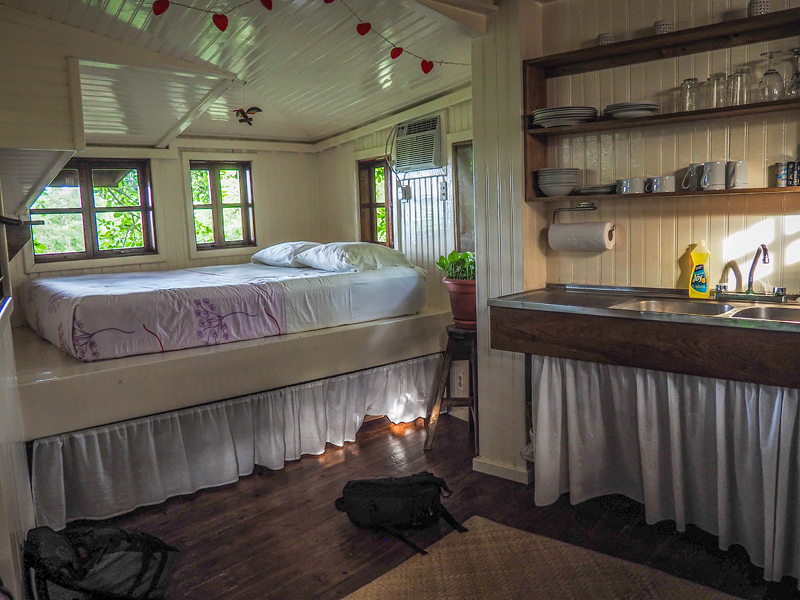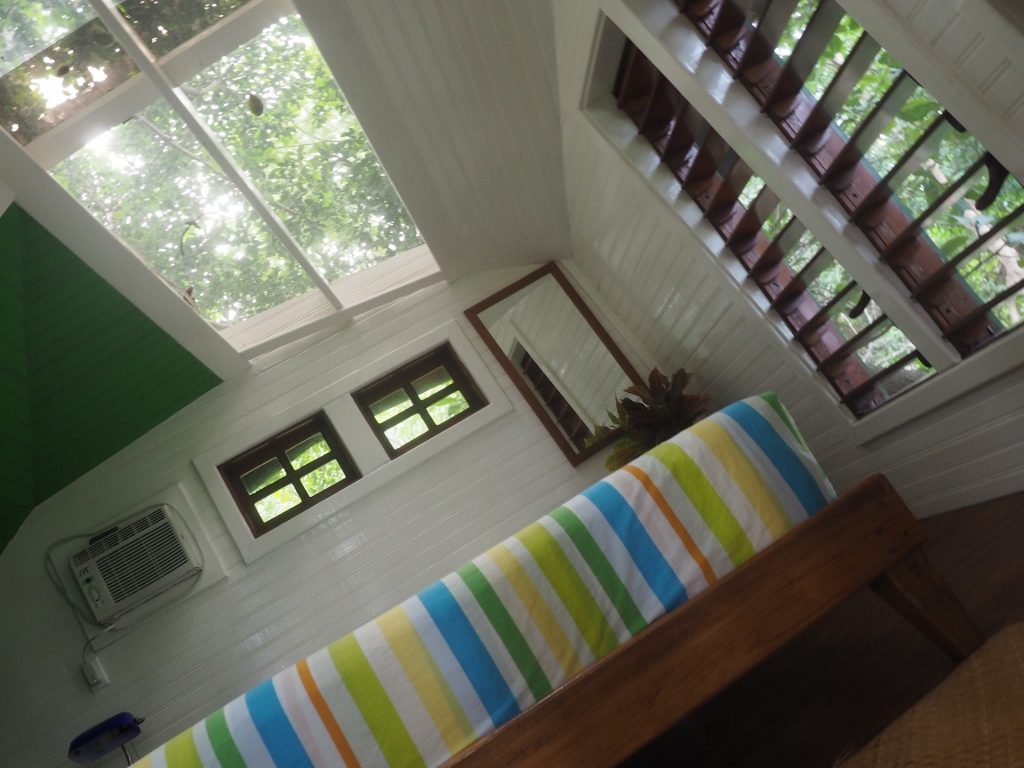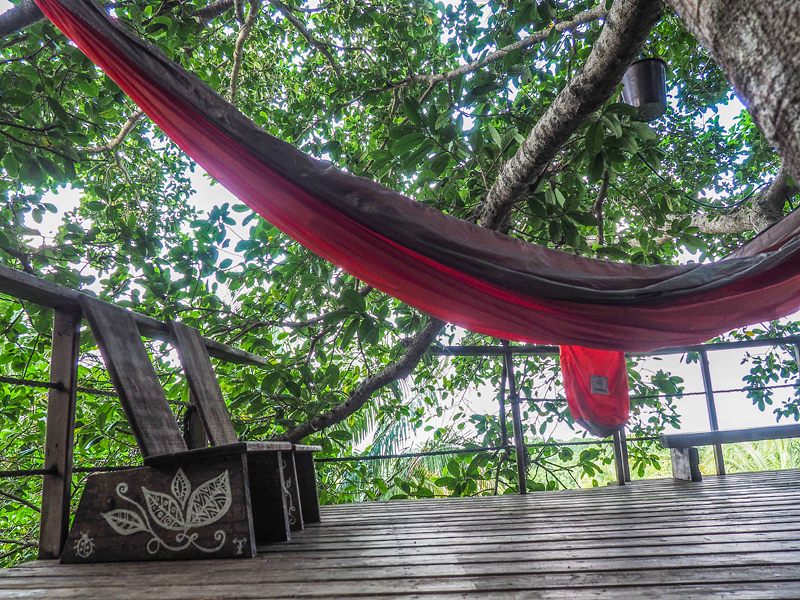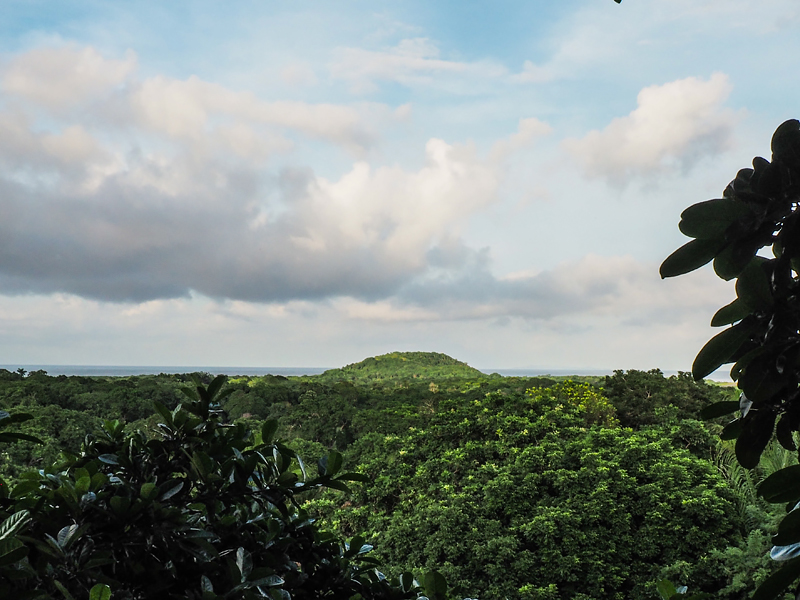 However, it was a struggle if you had to pee in the middle of the night. Unlocking 3 different doors to get down to the bathroom, navigating around the various critters, and having the tarantulas stare at you while you're peeing half-asleep was quite the adventure.  Particularly since the property managers mentioned when we checked in that "If we were really lucky, we'd see a boa constrictor." Maybe some people would think that's lucky. I thought it was terrifying, so walking down the treehouse in the dark paranoid that a boa constrictor was going to slither out in front of me at any second, was enough to make me suffer with a full bladder throughout the night. No boa constrictors made an appearance, by the way.
Utila itself was a decent little island. But the true draw is the underwater life. So, our first morning on the island, we arrived at the dock of the Bay Islands College of Diving (recommend) at 7 am to get our gear together, load it onto the boat, and take off. We had completed the education and confined water portions of Open Water certification back home, so all we had left were four open water dives.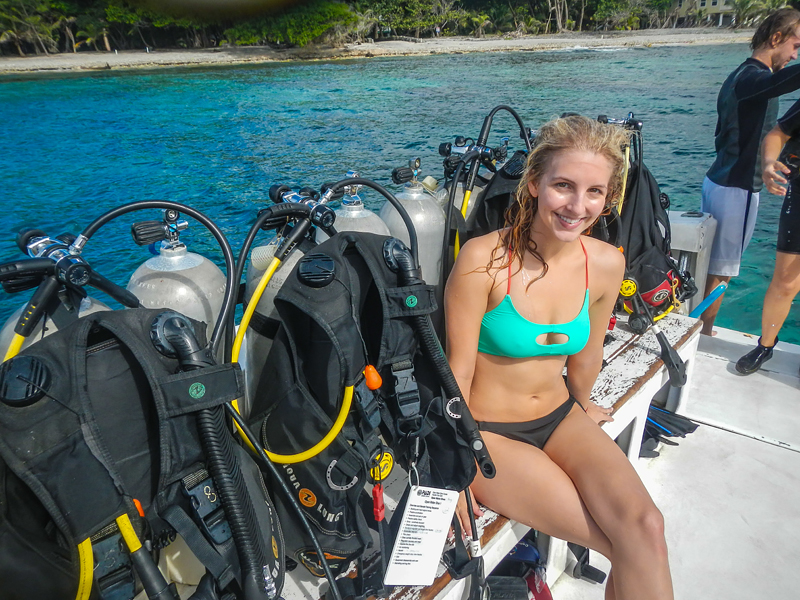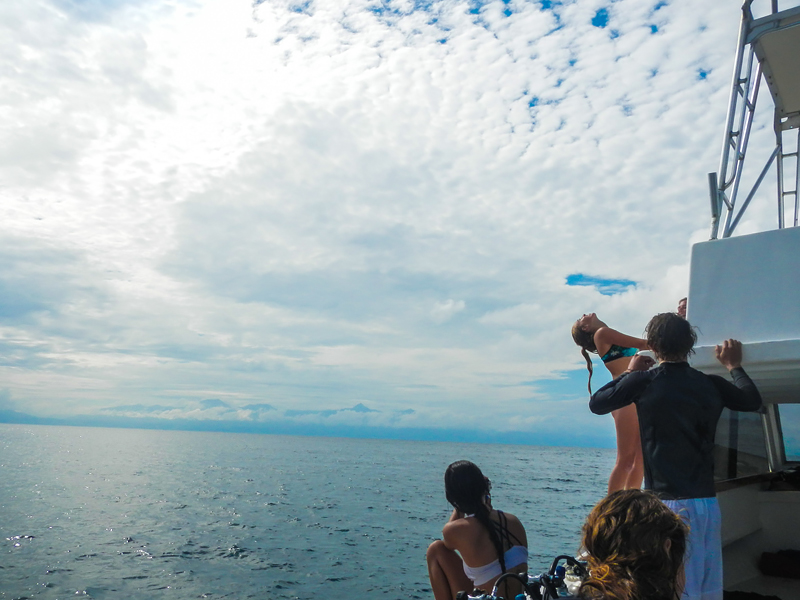 Our first day of diving had fabulous weather. We first went to Stingray Point where the colorful fish and coral left me in awe. The highlights of that dive were our first stingray sighting and an adorably shy porcupine fish peeking out of the coral at us. Next, we went to Big Rock where we saw several giant barracudas (one of which looked rather disturbing, as though he were hissing at us) and numerous stingrays as well. Huge success. We absolutely loved it.  We did not want to worry about trying to take photos while learning to dive, but fortunately, we met a couple that were getting involved in underwater photography. The underwater images here are theirs, so check them out on Instagram, @blueblanketimages!
Day two, we were out on the water bright and early again. We went to Black Coral Wall and Airport Reef. We got to dive down to 60 feet this time, and saw an incredible array of beautiful fish, a shipwreck, and an eel.
Once that was over, we were officially Open Water Certified! We came back to land, celebrated with some beers with our instructors in the Lodge, filled out our Log Books, signed some documentation, and went on our way, happy and excited.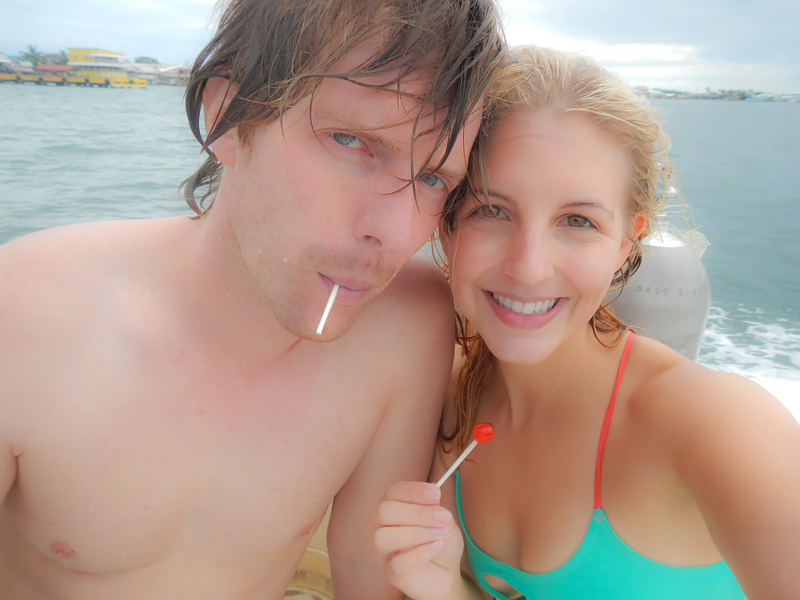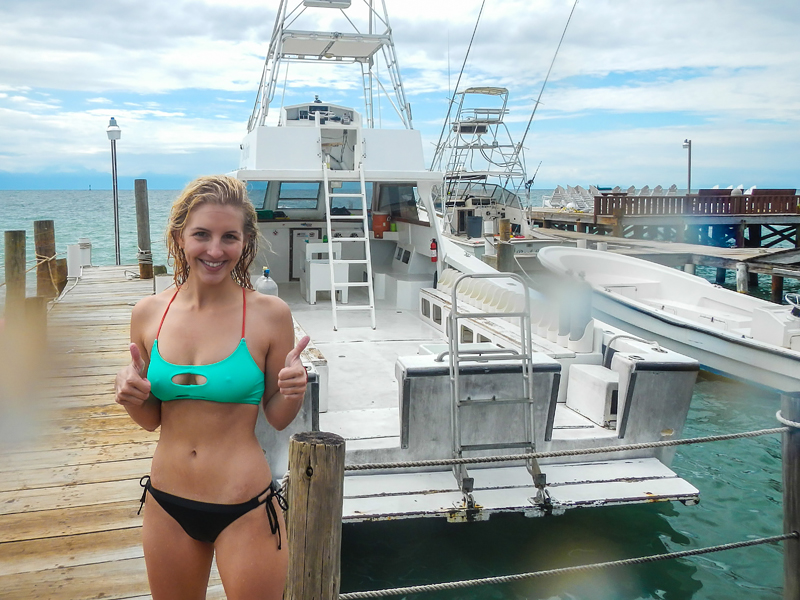 After some lunch, we walked back to the treehouse, rinsed off under our bucket shower, and relaxed for the evening.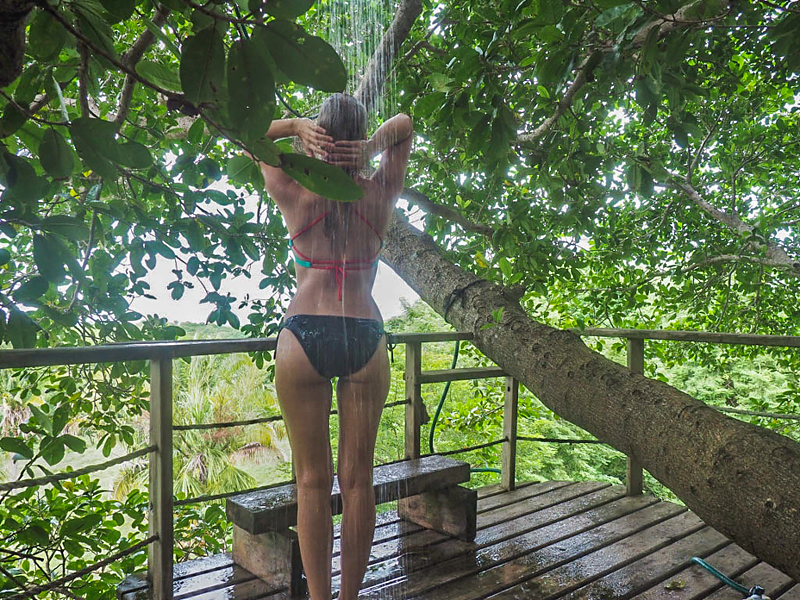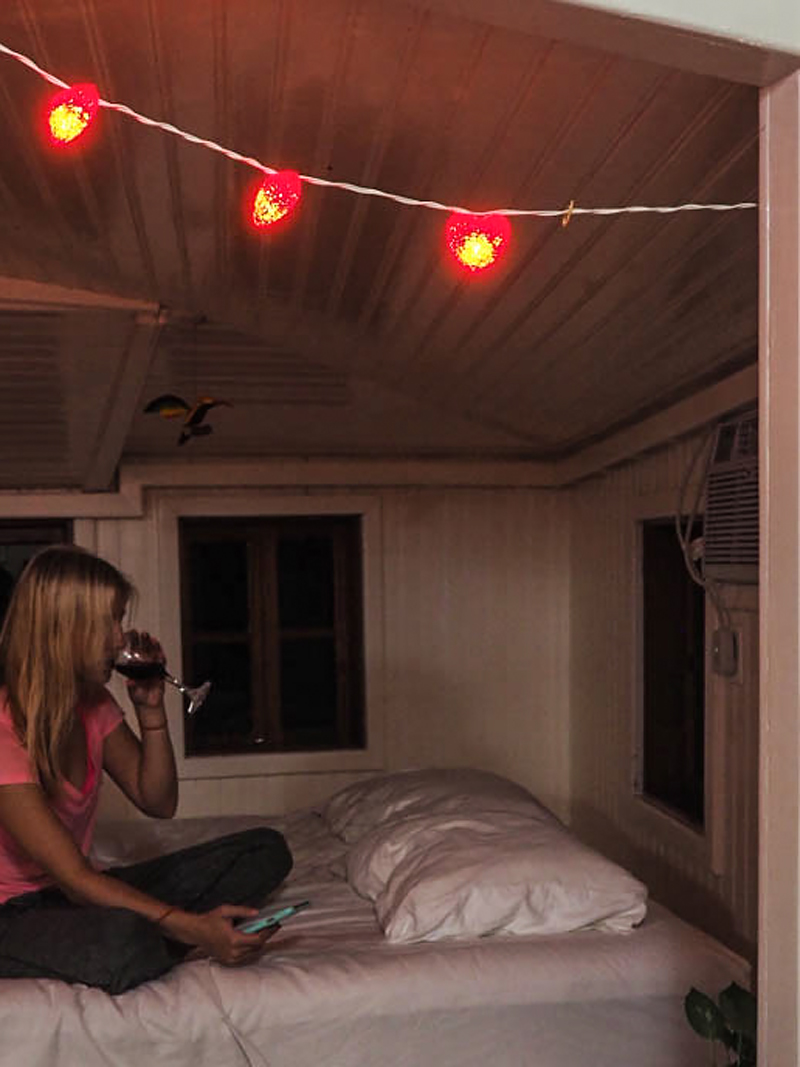 Since we hadn't had enough diving, we were out early once again on our third day, for our two free "fun dives" (meaning there was no educational component to them). It had been raining all night and morning, but they decided to go out to the north side of the island anyway, where the better diving is. The boat ride was long and cold and rough, but once we got suited up and in the water, it was a whole new world.  We went to The Maze first, where it's a maze (surprising, yes?) of coral walls with a deep drop off. Somehow, despite all the rain, the visibility was absolutely amazing. We could see all the way down, and swimming over the corals displayed brighter colors than we had seen before. Right toward the end of that dive, we saw a massive stingray.
Coming back out of the water, I was nearly freezing to death in my wet swimsuit out in the wind and rain, but we huddled under towels in the dry area until we got to our next dive site, Moon Hole. Here, we saw another small ship wreck, and a frog fish, which might be the weirdest creature I've ever seen.
The following day, we first took the ferry to La Ceiba on the mainland. I was surprised by how mountainous and beautiful the mainland looked as we approached. I'll have to make a point of coming back for it someday.  After a two hour wait there, during which we grabbed some food at a tiny restaurant packed full of local workers, we then caught the ferry to Roatan.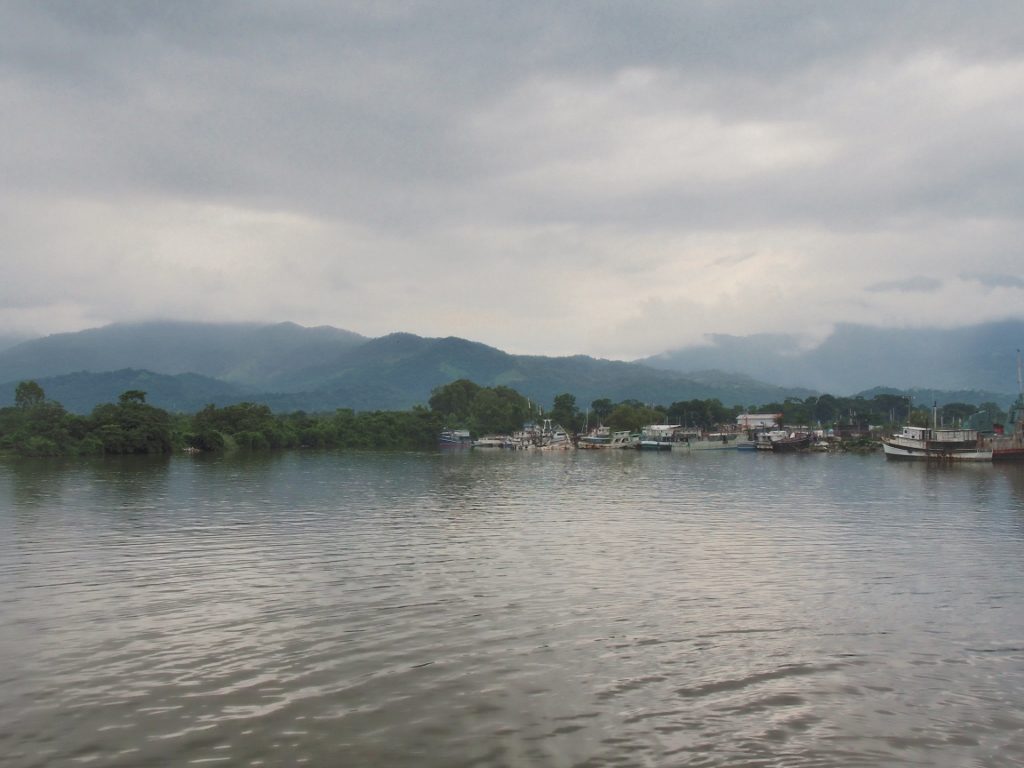 Roatan had a much different vibe than Utila. Much more tourist-y. The island was a lot bigger, and there were actual cars instead of just tuk tuks and scooters. We made it into West End where we checked into our apartment on the water on the outskirts of town, and then went wandering. The day was spent walking, drinking on the beach, and eating on over-water balconies. At one point, we were in a shop where a woman was loudly complaining about the lack of a tennis court at her resort. "I mean what's the point even? I guess I'm just not used to slumming it. And this is slumming it." Clearly she had no shame, but I was embarrassed for her.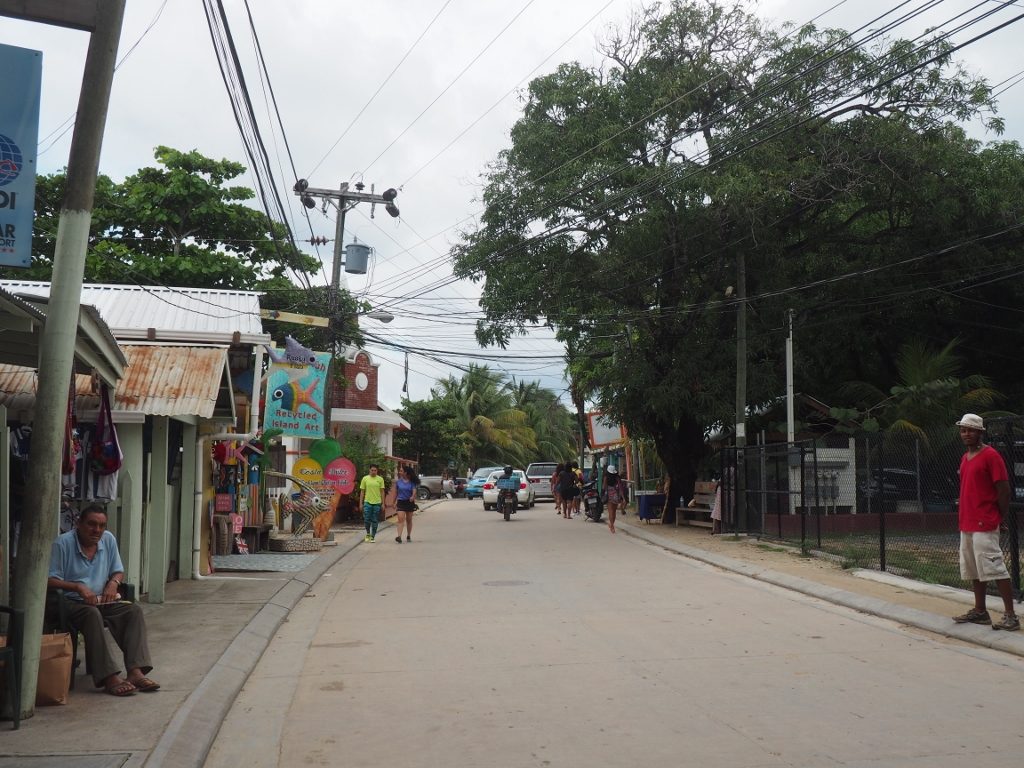 The next day, we took a water taxi in the morning over to West Bay beach. While the beach was lovely, I can't say that I was a big fan. Since it was low season, there weren't very many tourists, which may sound nice but we were constantly being harassed by people selling tours or bracelets or massages. The beach is lined with resort after resort, and if you're not staying in one of those resorts, you have nowhere to sit and hang out unless you want to pay one of them to be able to sit in their chairs (I did learn the next day that the bar Beachers has chairs in front for general use). We ended up wandering up and down the beach a few times, stopping in a couple places for drinks and lunch before deciding to head on back to West End for the rest of the day.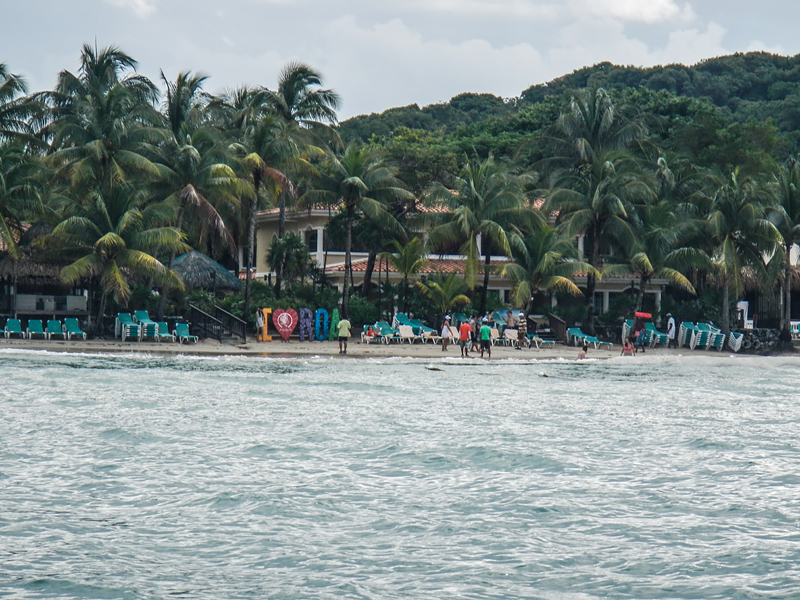 Our final full day, we decided to check out the scuba diving Roatan had to offer and went with West End Divers (again, recommend).  On our first dive that morning, we went out to Blue Moonshine where we saw a green sea turtle! To be honest, I forgot about everything else because I was so excited to see my first turtle while diving.
Brocken Inaglory [CC BY-SA 3.0 or GFDL], via Wikimedia Commons

We came back to the dive center to warm up with some coffee before heading out again to West End Wall. This was to be a drift dive where we went with a current along a coral wall. However, the current was much stronger than anticipated, and little ole me was being swept out very quickly, and I spent the whole dive trying to swim back into the current just to be able to stay with the group. Due to all this effort, I got low on air and had to surface early, exhausted. Anthony thought it was a blast, for the record.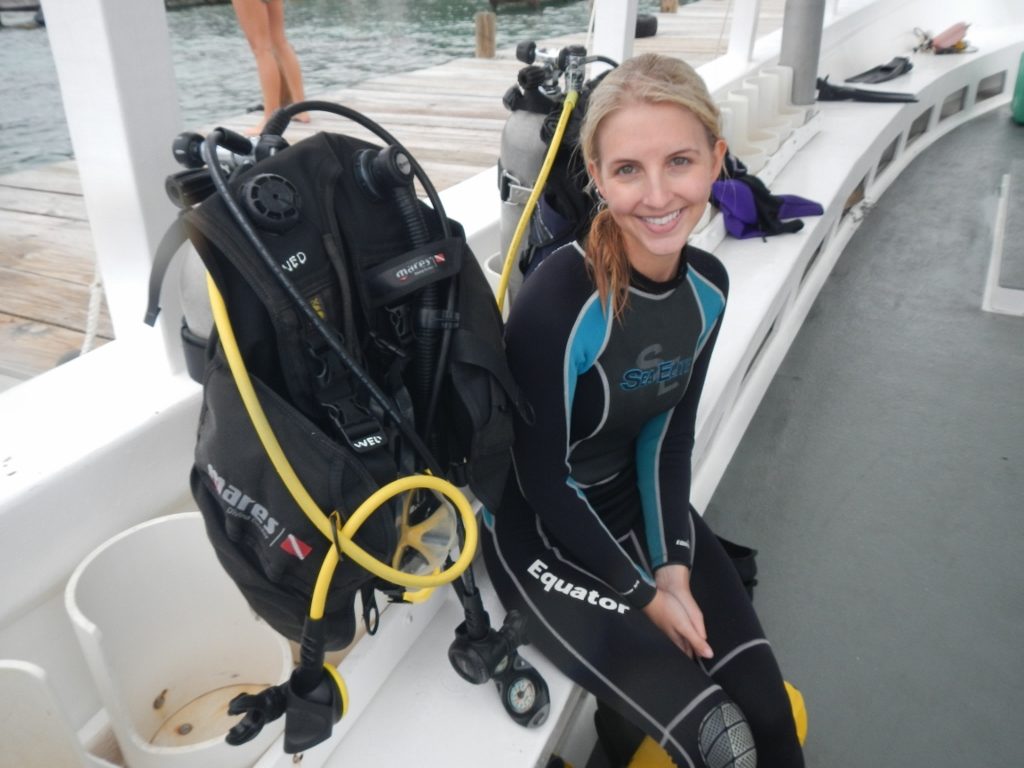 Afterward, we decided to get some papusas at a local restaurant, and ran into some friendly Polish tourists. Since I am an American Polish woman myself, we sat around and chatted about Poland and our various travels. That evening we went to a bar on Half Moon Bay to have a couple drinks, watching the waves lapping the shore.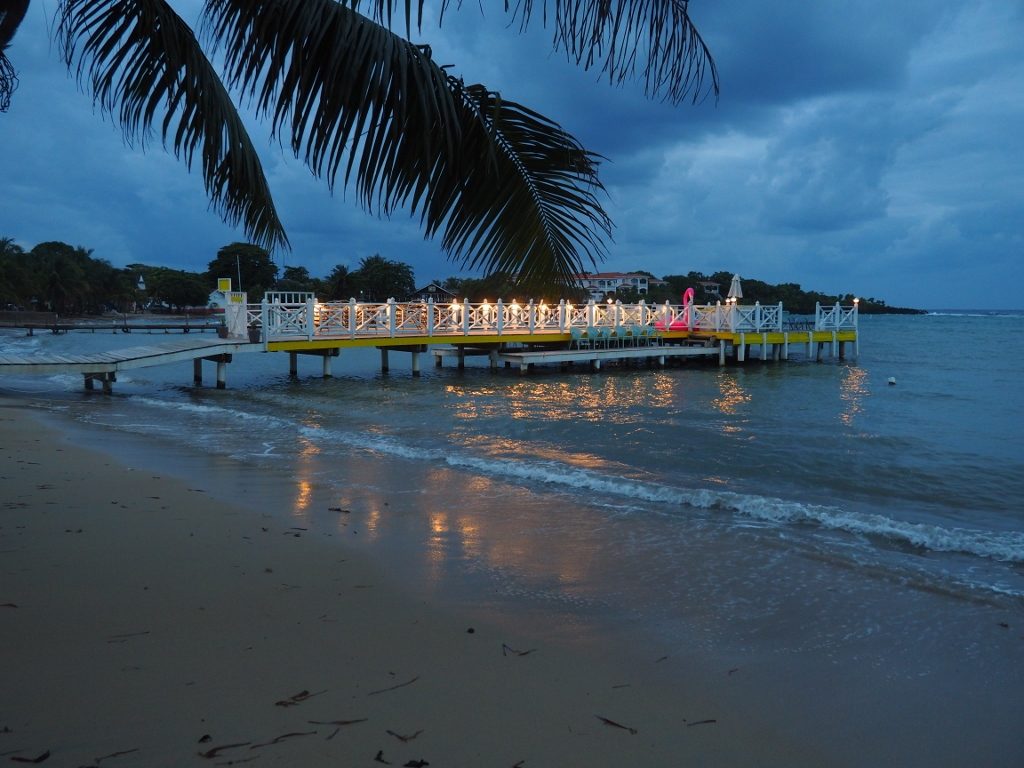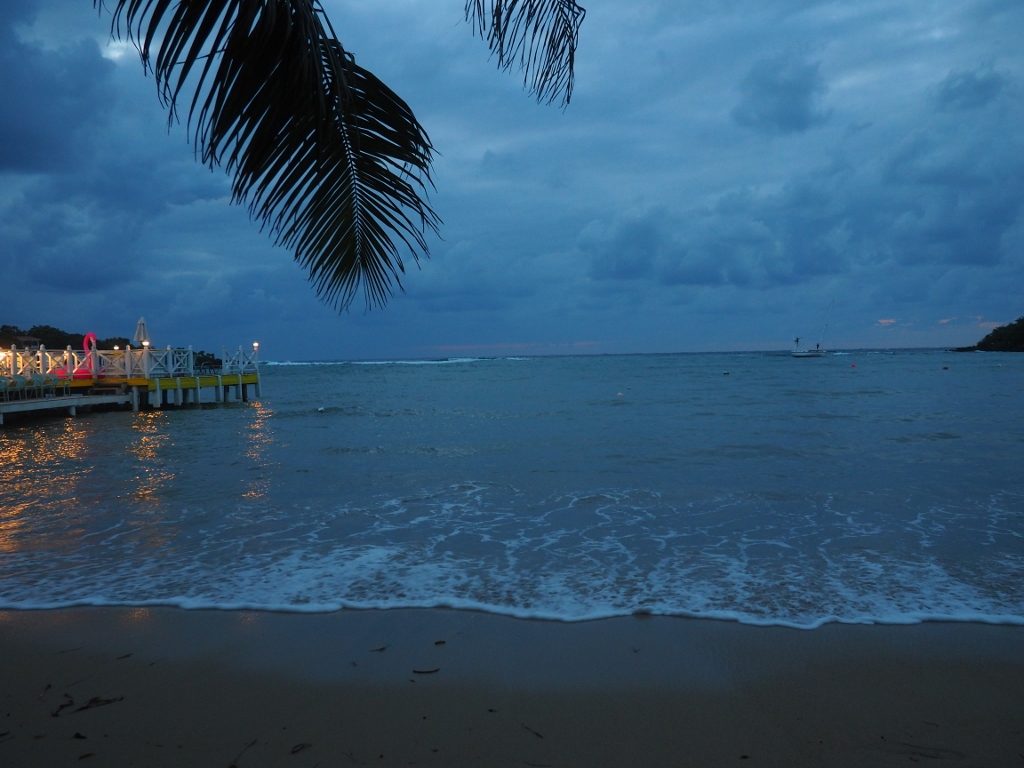 The following morning was stunningly beautiful. The temperature was perfect, sun was shining, and the water was calm and turquoise as could be. We saw multiple people wander out for some shore diving, as we sat on a balcony eating breakfast. We decided to hang out on the beach, soaking it all in, for as long as possible before we had to go back, pack up, and catch our taxi ride back to the airport.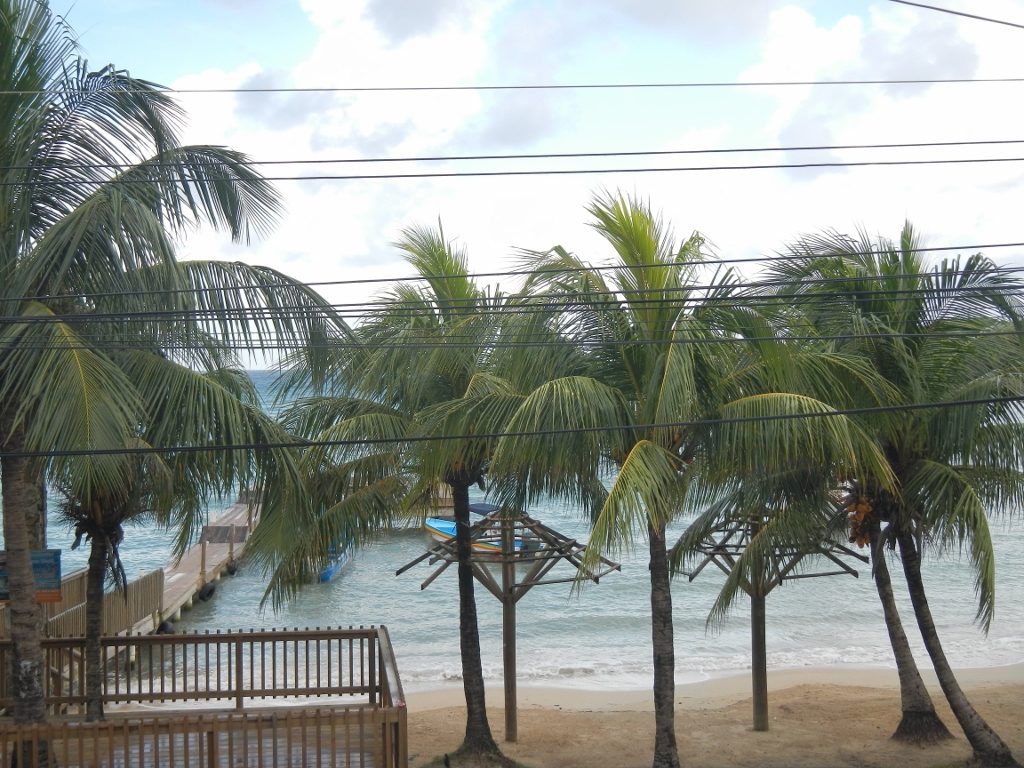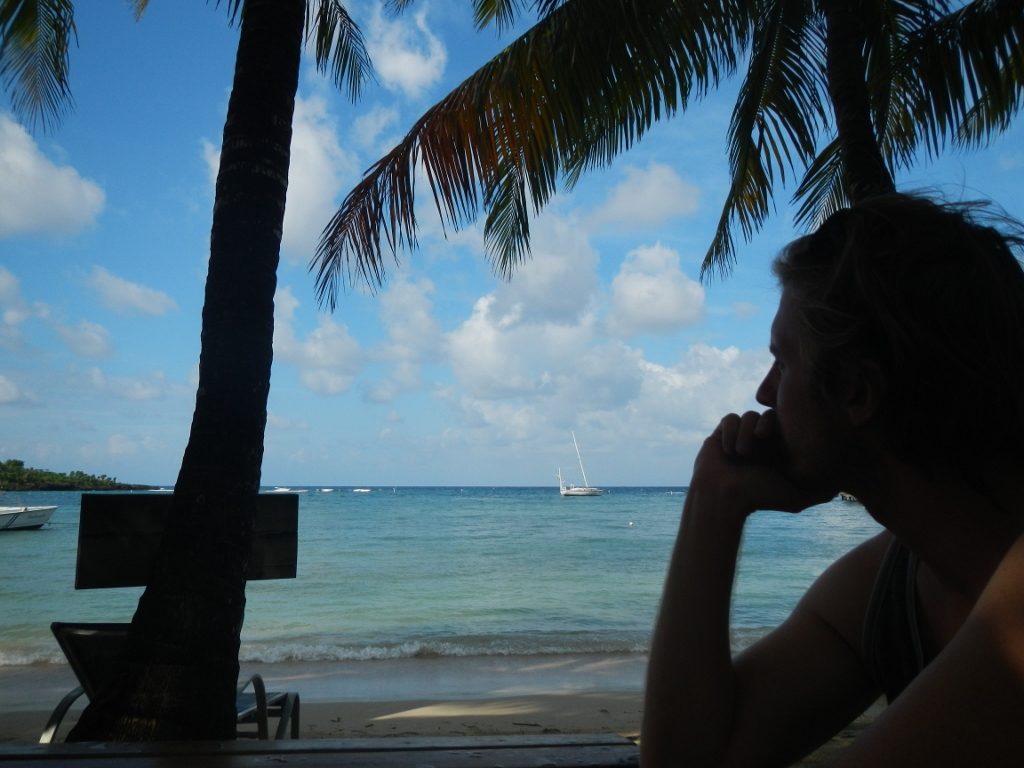 In short, we love scuba diving, and we hope to come back to Honduras in the future to see what the mainland has to offer us as well.