The four of us decided to head a little north on day 10 to visit Gjáin. But first, since we were already in Flúðir, I wanted to check out a tiny hot spring Anthony and I had visited last time, Hrunalaug. I had read shortly after our first visit that some tourists had trashed the place and that people should stop visiting, so my purpose was to just see it and snap a couple pictures. But as we got closer, we noticed there were a couple small signs showing people how to get there which seemed odd if the owners didn't really want tourists there anymore. And then we arrived, and it looked like the little "changing room" part had been kind of rebuilt and looked nice.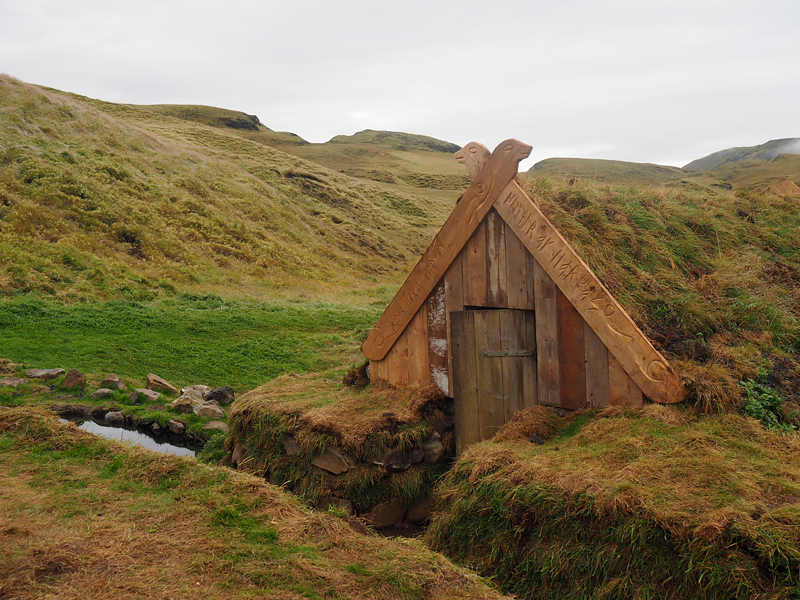 A different couple was leaving as we got there. The boys decided they didn't feel like getting in, but after seeing it, Theresa and I made the decision to change and hop in. I have to say, it was my favorite hot spring of the trip. It's definitely tiny, and I could see how groups of disrespectful tourists could trash it, but having it to ourselves that morning was wonderful.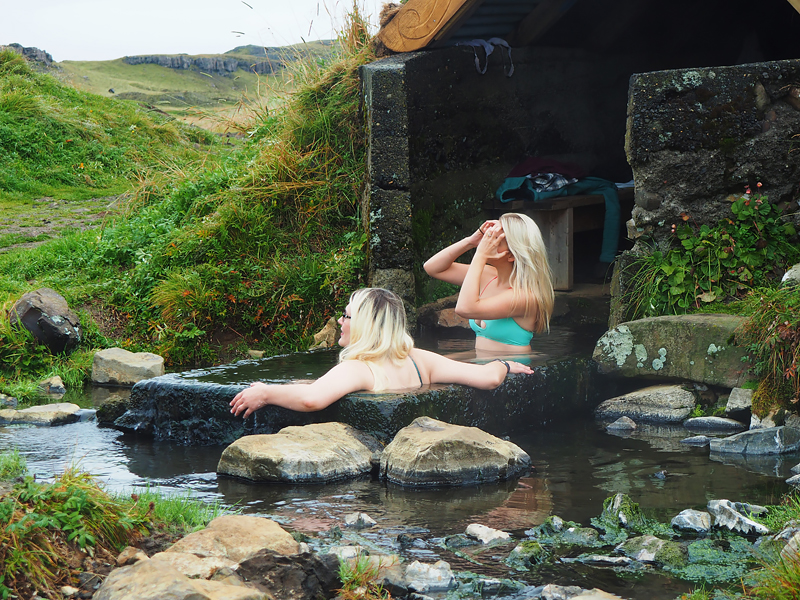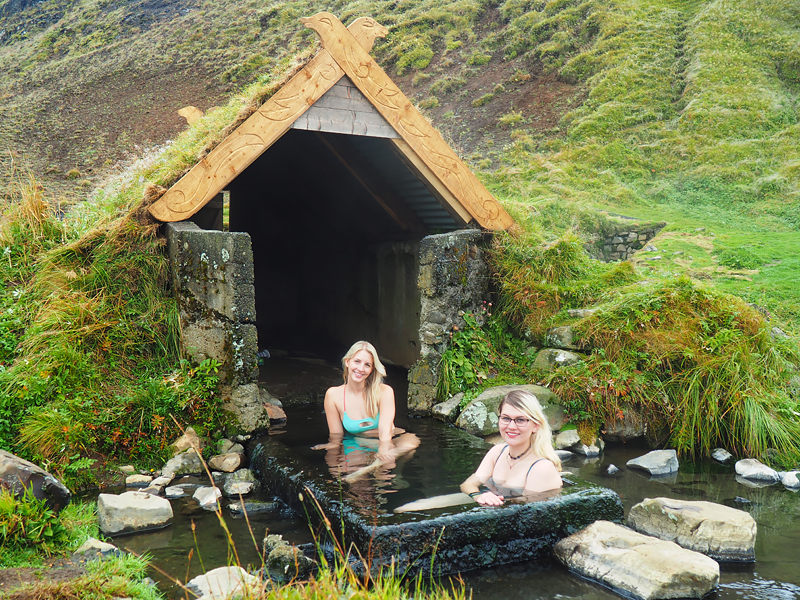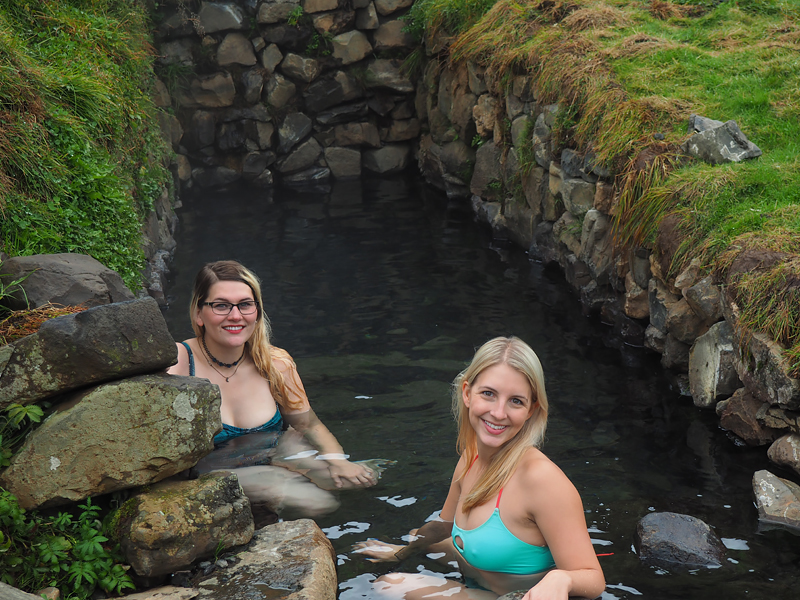 Afterward, the drive up to Gjáin included another awful gravel road, but fortunately we only had to stay on it around 3.5 km. At one point, I had to hop out and open a gate for the cars to get through, and shortly thereafter, we saw a few cars parked. As much as I like having places to myself, I was kind of happy there were other cars there because otherwise, I would have had no idea where to go.  We pulled up and looked over the edge down into this beautiful little valley filled with small waterfalls and rivers.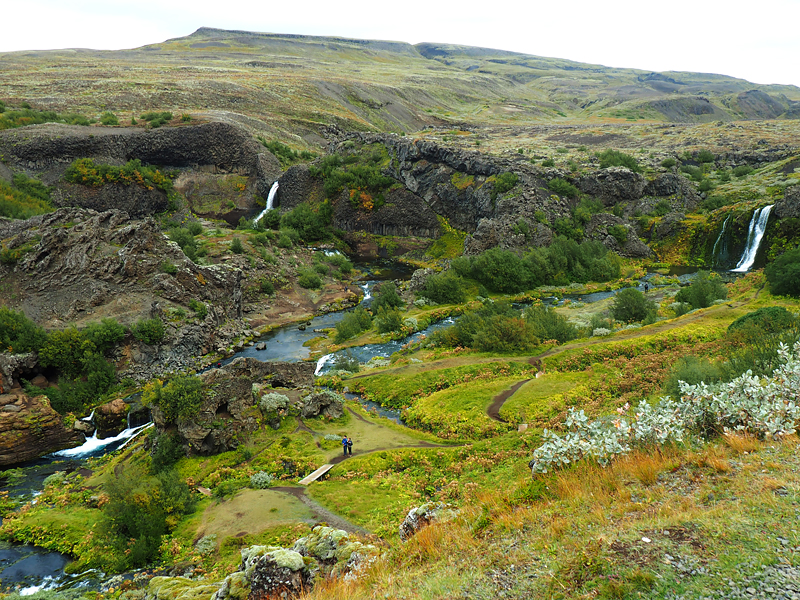 We climbed down and started exploring. It's a relatively small area, but it's the kind of place that you just want to keep climbing up cliffs and crossing rivers.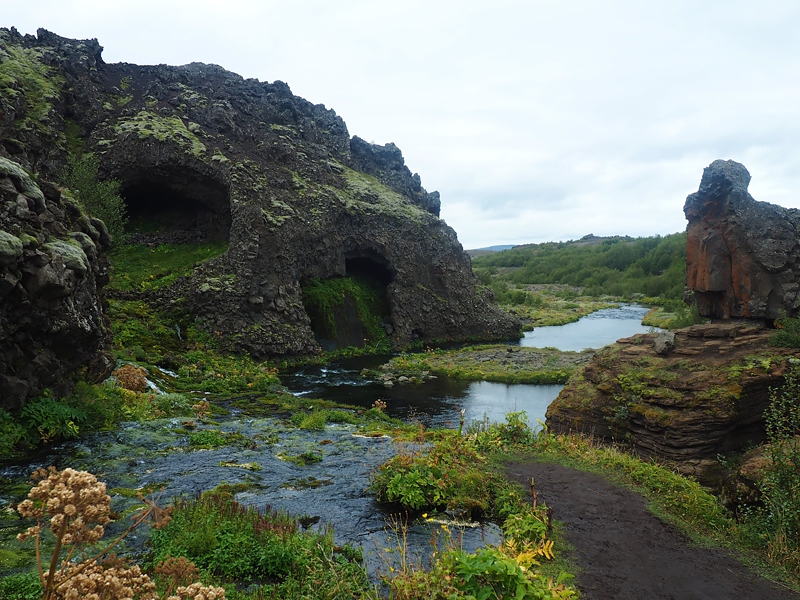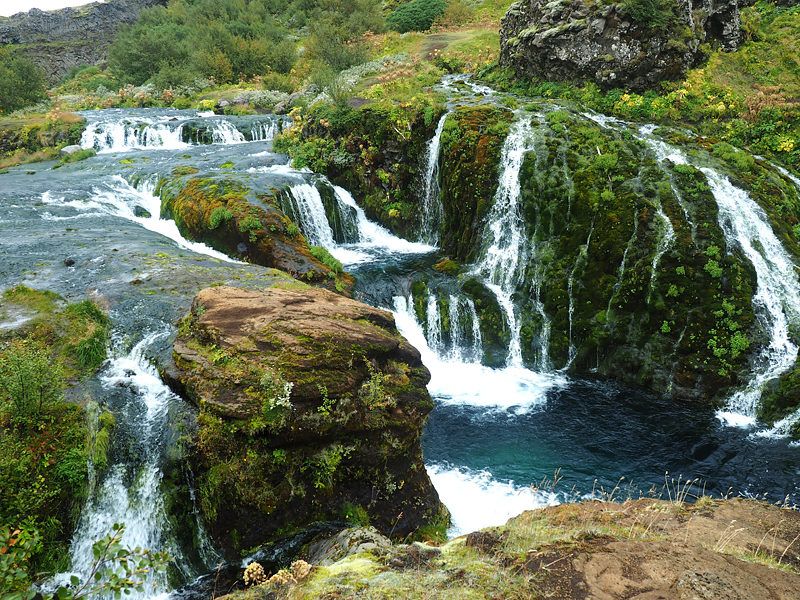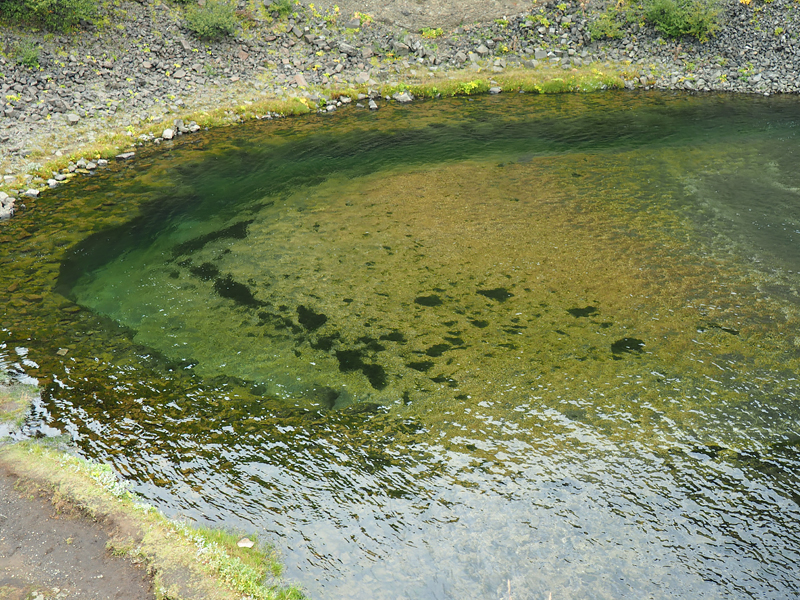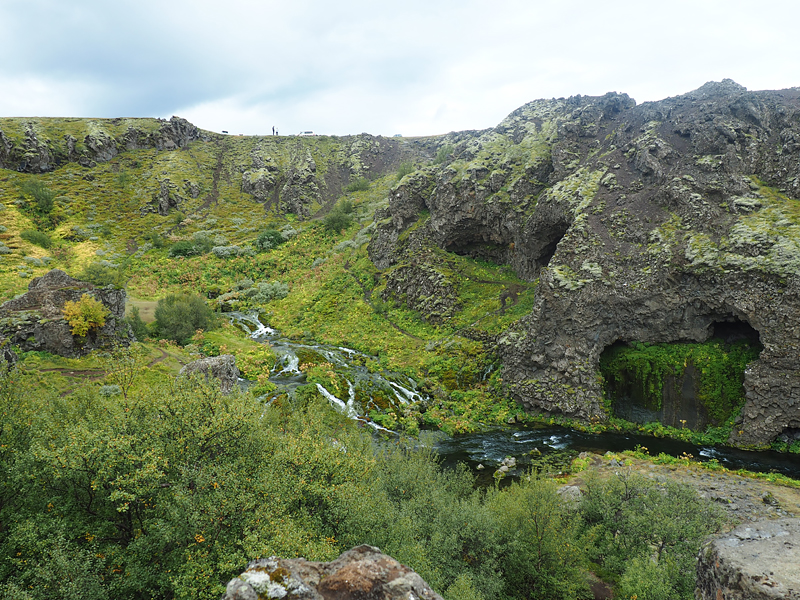 I had seen it referred to as a "magical little fairyland" before, and while we didn't notice any fairies, I thought it was an apt description. If fairies exist, they live in Gjáin.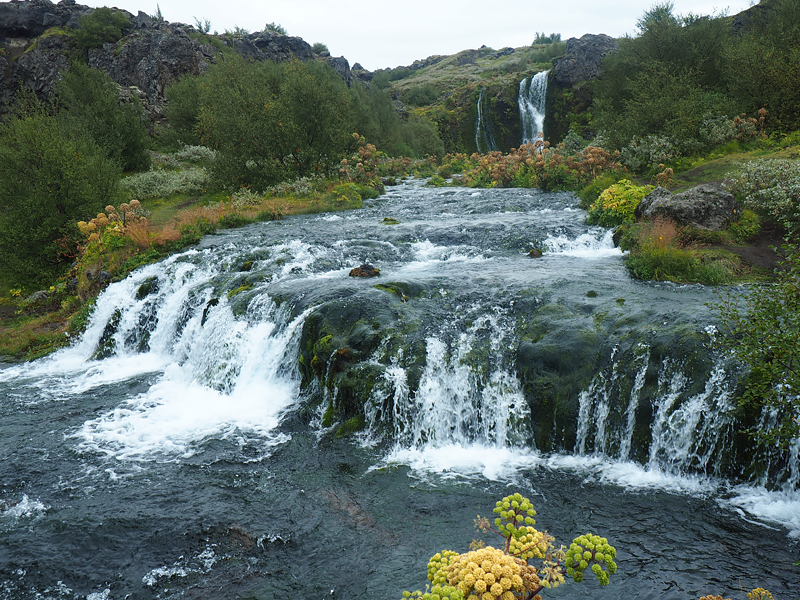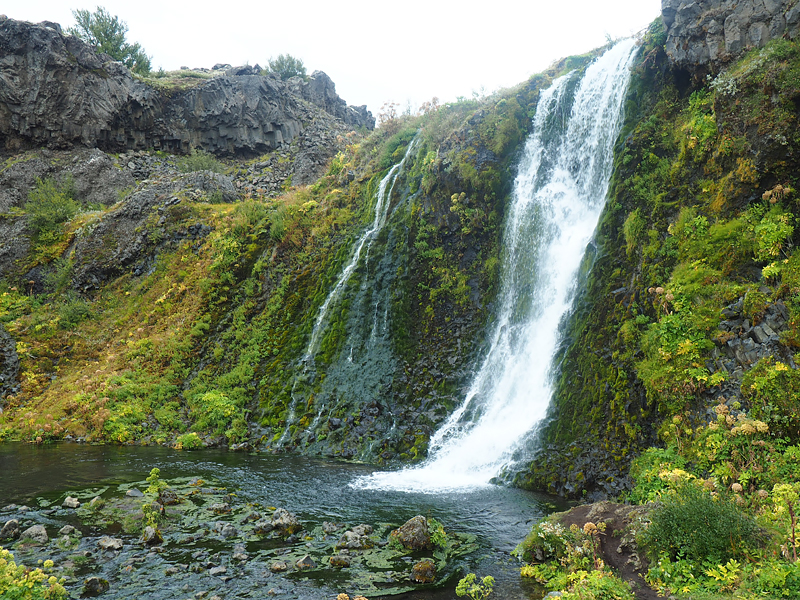 During our explorations, we would randomly run into each other or see each other across the way, making for a fun little game of hide and seek.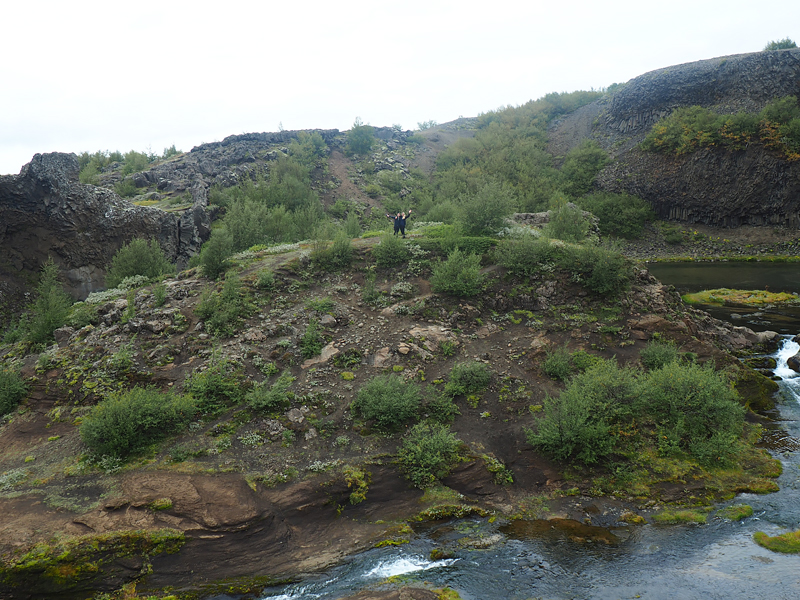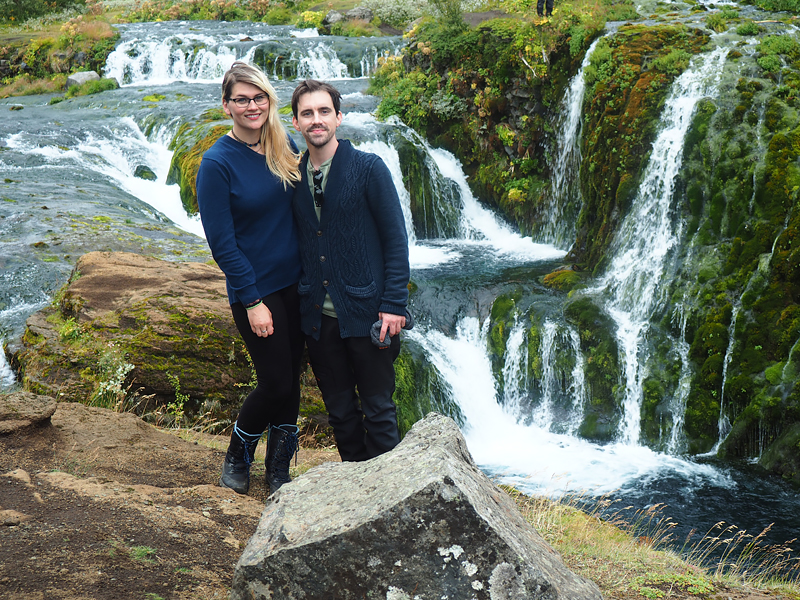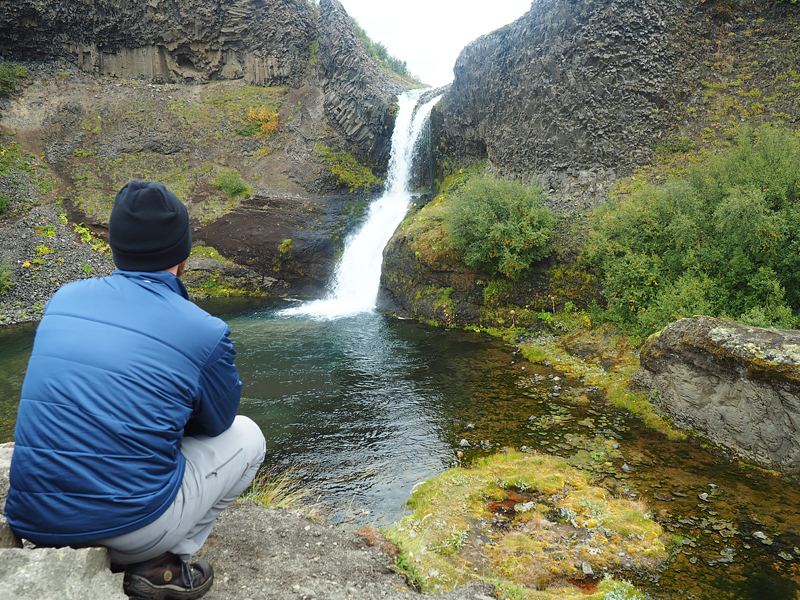 We eventually saw some darker clouds moving our way, and since we weren't wearing our waterproof gear, we decided it was probably time to stop playing around and find our way back to our car.
Four river crossings later, we were climbing back up the steep hill to where we parked. We had planned to visit nearby Haifoss, the second tallest waterfall in Iceland, but as we were all tired of those terrible roads and had seen our fair share of waterfalls already, we decided to skip out. Instead, we drove just a couple more minutes and crossed a footbridge to visit the Viking-era longhouse, Stöng, which was an interesting little stop.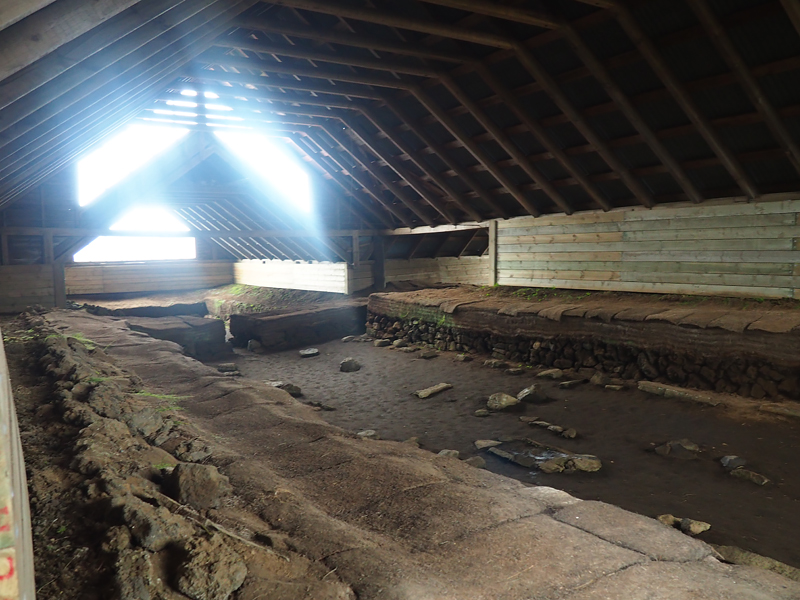 We ended up at the campground in Hveragerði for the the evening and killed some time by walking around the tiny town.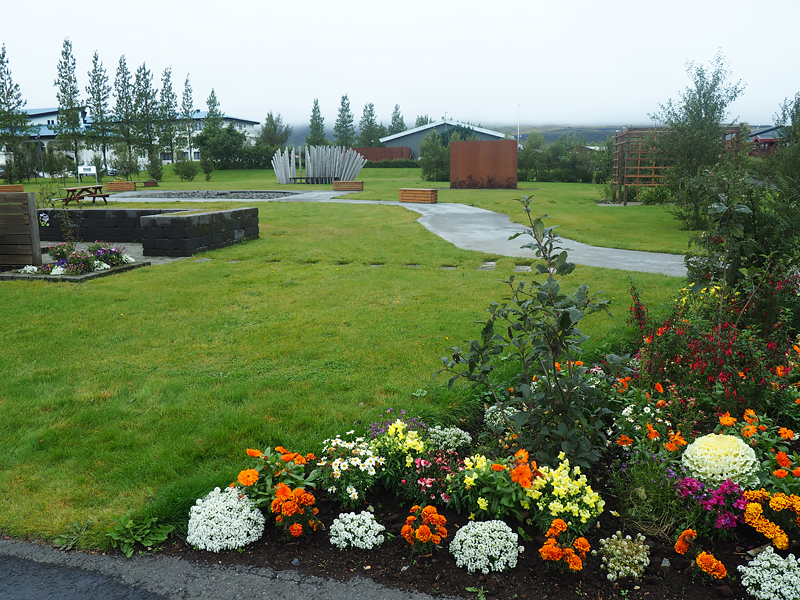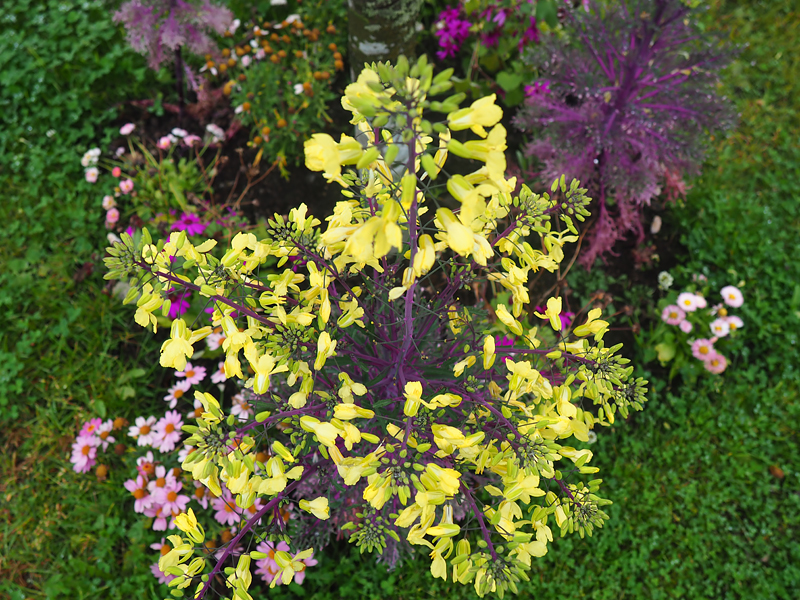 We decided to go to the local pizzeria and brewery for dinner which was really pleasant. Eating out and drinking out are both very expensive in Iceland, but this place was reasonable, and we even splurged on a couple of beers. After "roughing it" for the past over-a-week, it was nice to take it easy and treat ourselves a little bit.
But then we ventured back in the rain and climbed up into our damp top-tent for our final night of camping. After I had shivered all night long a few nights, I had bought some hand-warmers to put in my socks at night, but I was all out of those, so I was afraid I would be back to shivering all night again, but I managed to stay cozy enough.
The following day, we did the hike to the Reykjadalur hot river. The way there was uphill (and pretty steep, I might add), and it was rainy, and overall, not the most pleasant of hikes.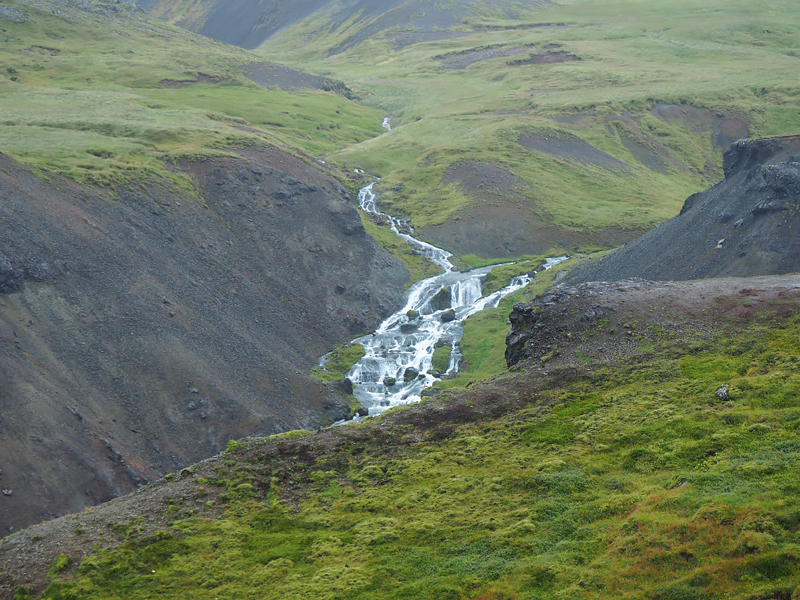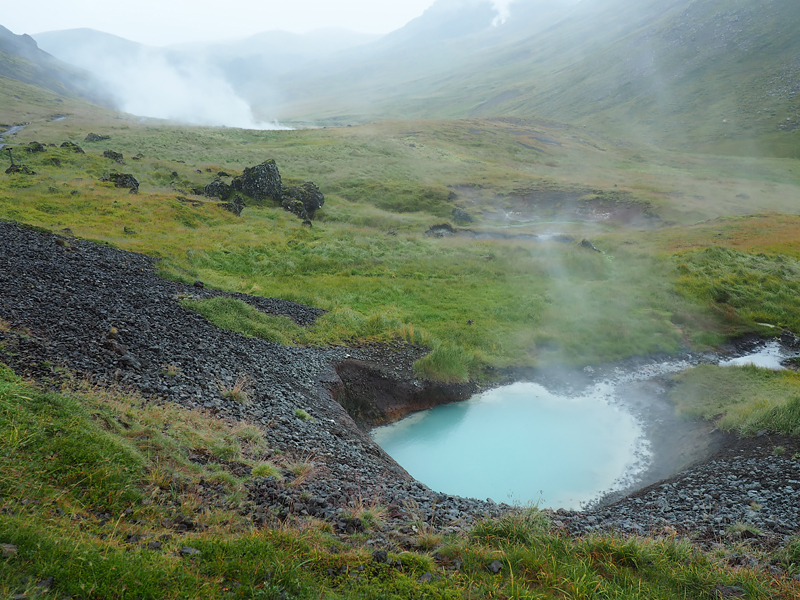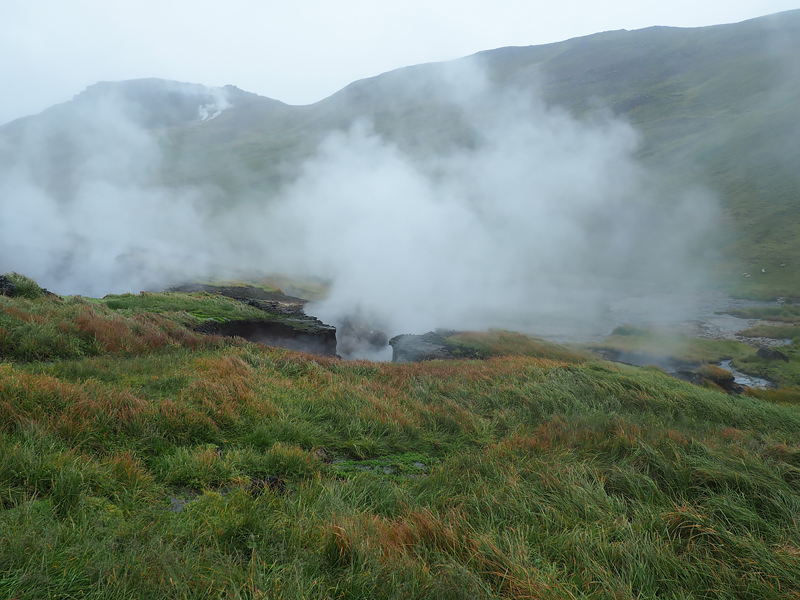 It took around an hour to reach it, but fortunately, we had beat the crowds. We found a spot that seemed the right temperature for us, changed into our swimsuits and climbed in.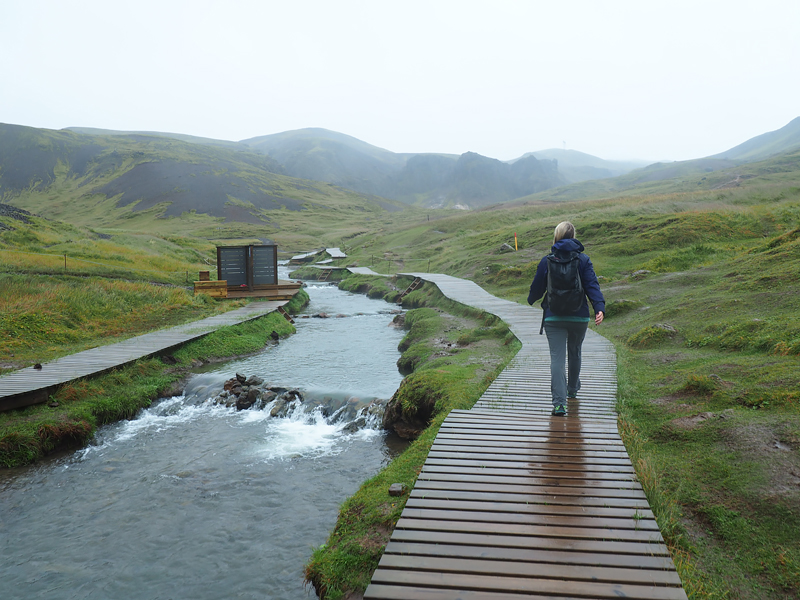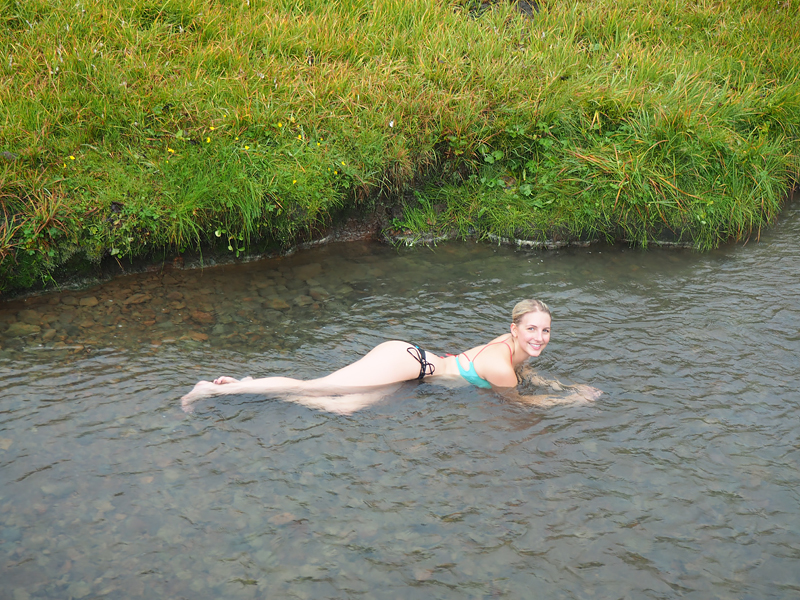 It's definitely a cool place, but after all the other hot springs we had visited, it was a little lack-luster.
Getting back out into the cold rain and changing was pretty miserable, but after a few minutes, we were marching back (downhill this time) to our car. The walk back took about 40 minutes. If you have bad knees, it would be pretty difficult due to the steep decline.
At last, we made our way back to Reykjavik and bought some ice cream to kill a bit of time before checking into our AirBnb.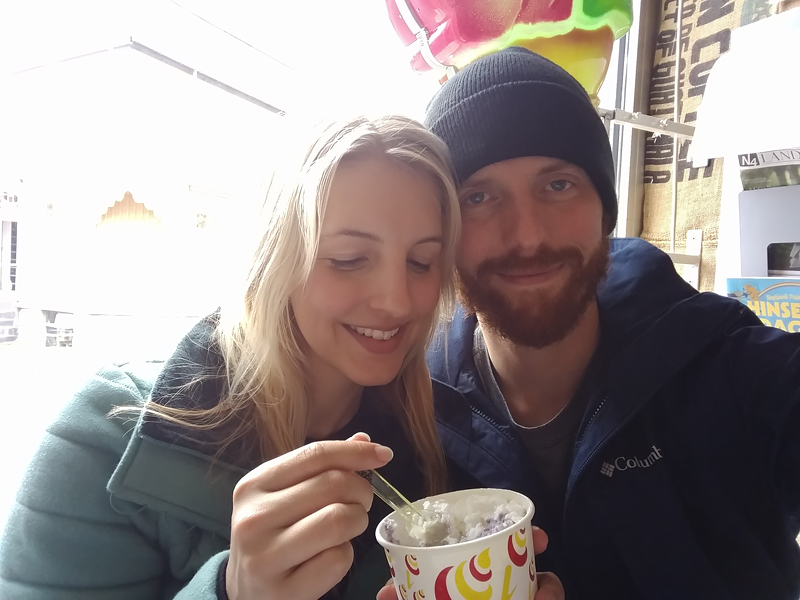 We walked the 15 minutes back to our new little apartment, which was close to the harbor. The AirBnB was lovely, and felt like we were living in luxury after camping 9 nights. We all had a chance to take nice, hot showers and not freeze to death afterward, and then got ready to go out to dinner. There was a nice Indian restaurant not far away, so Ty got to eat Indian food for the first time (he had a lot of firsts on this trip, not all of them as pleasant as Indian food) which I can proudly say he is now a fan of.
Since it was our last night in Iceland, we decided we needed to grab a beer afterward. There was an Irish pub we had seen earlier called The Drunk Rabbit that looked like a good time. So for our last night in Iceland, we ate Indian food and drank beer at an Irish pub because why not. There was a large wheel behind the bar. Theresa asked about it, ended up paying a couple bucks to spin it, and it was looking like it was going to land on one of the many "Bad Luck" slots, but after a second delay, it ticked over one more slot into "6x Heineken," so our decision to have a beer turned into a small party at The Drunk Rabbit.
We giddily walked back to our apartment after, getting lost along the way. We hung out listening to music until bedtime, anticipating an exhausting day of travels ahead.
Cheers to the countless memories that were created in Iceland, on our second trip to this beautiful country. Who knows if we'll be back… There are so many wonderful places to visit on this planet… but we still haven't gotten to see the Westfjords of Iceland ;).