Skaftafell was beautiful in the morning light, but we decided to make it to Fjaðrárgljúfur canyon before making ourselves breakfast.
A relatively short drive later, we bounced down another rough gravel road to the parking lot.
You can walk two minutes down into the canyon from there, so we did that first. We waded out into the river a bit, trying not to get water in our shoes, to get better views down the way.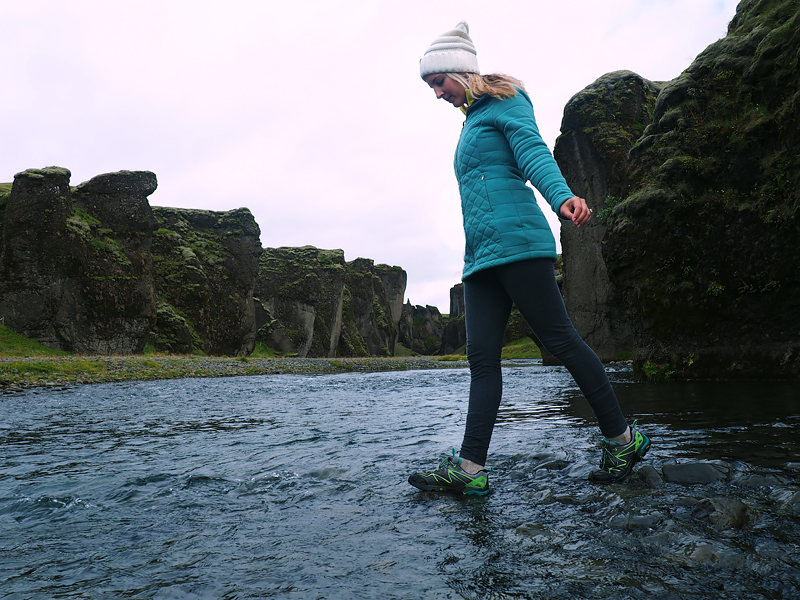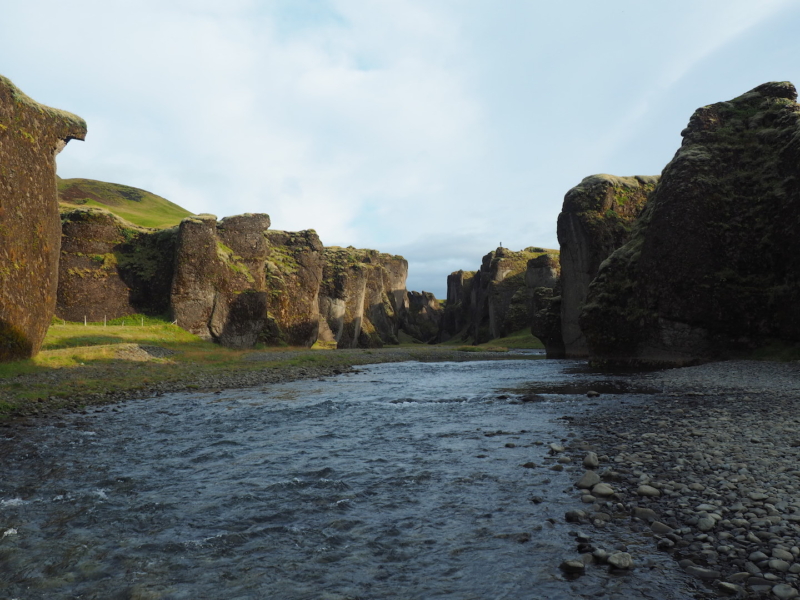 We then walked along the rim for awhile checking out the various angles and rock formations.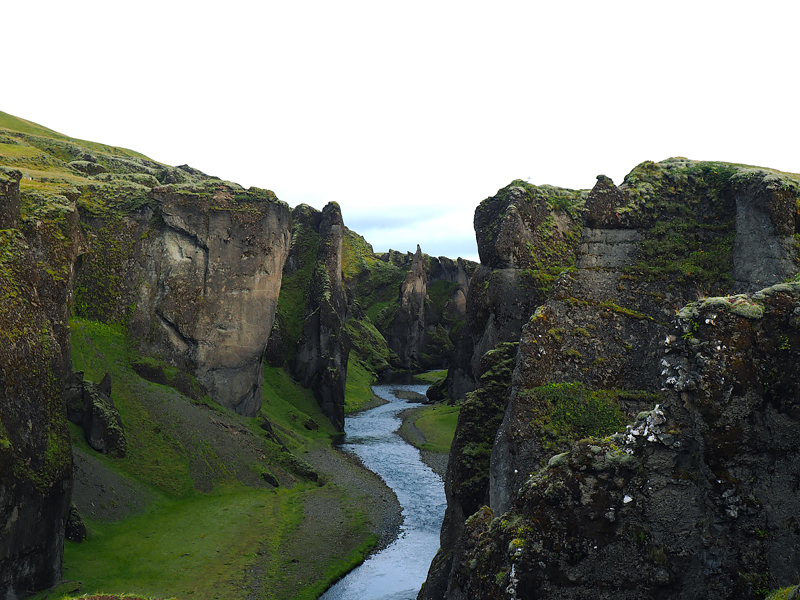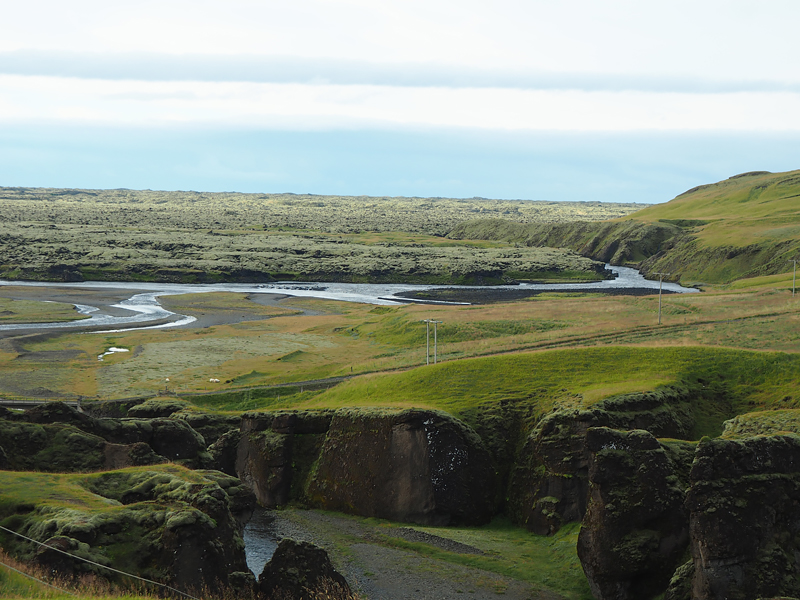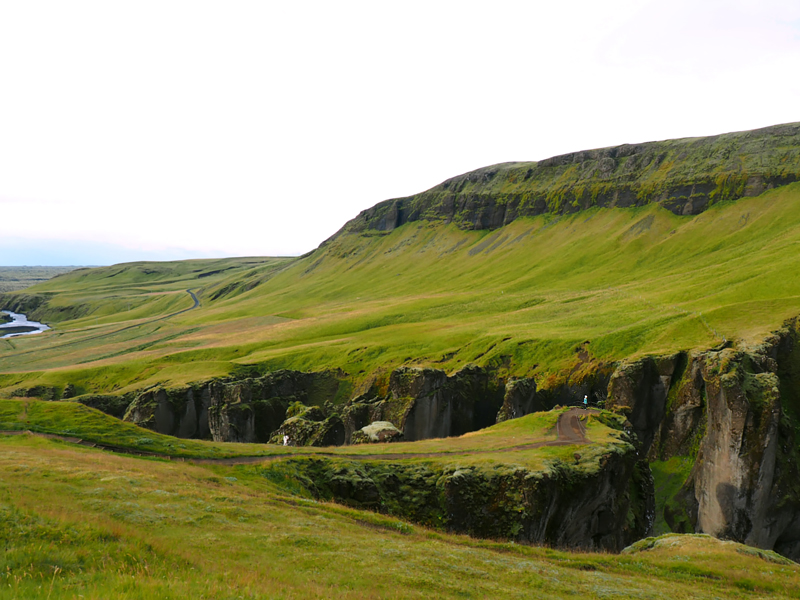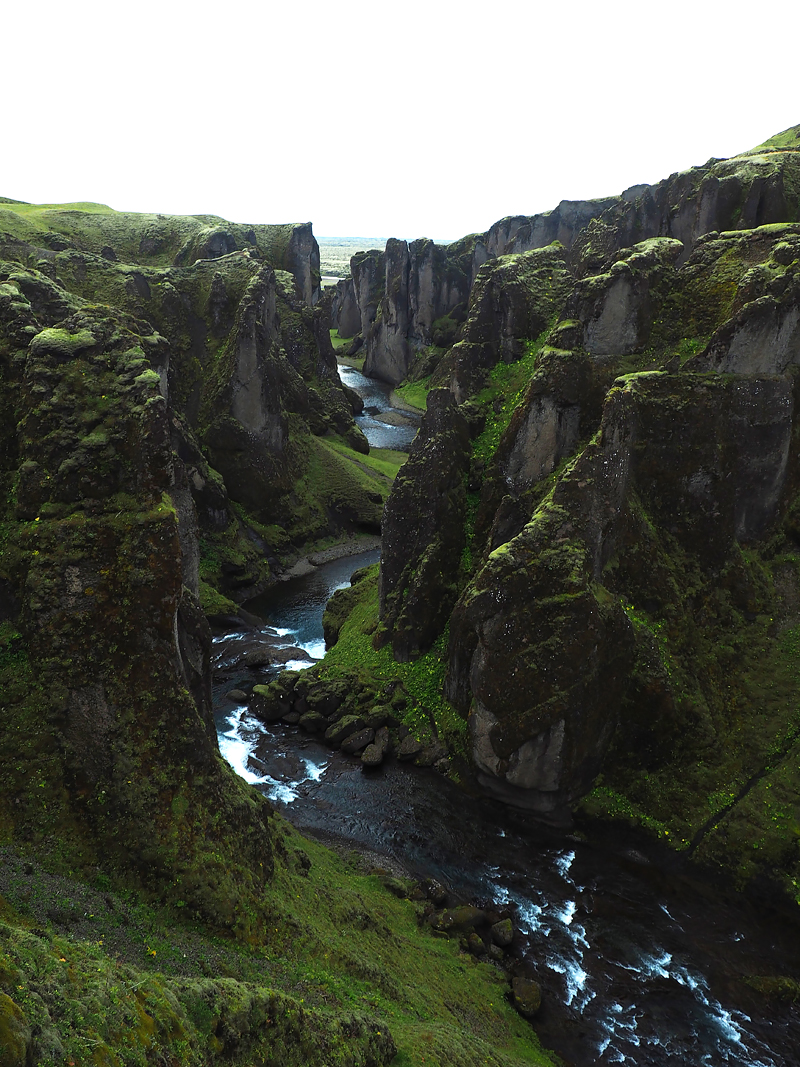 We made it back to the parking lot and grabbed a picnic table looking out into the canyon to heat up some oatmeal and coffee. Soon enough, crowds of people were arriving. We packed up our stuff and moved on.
We drove through the craziest little landscape on the way to Vik. Mossy lava rocks everywhere.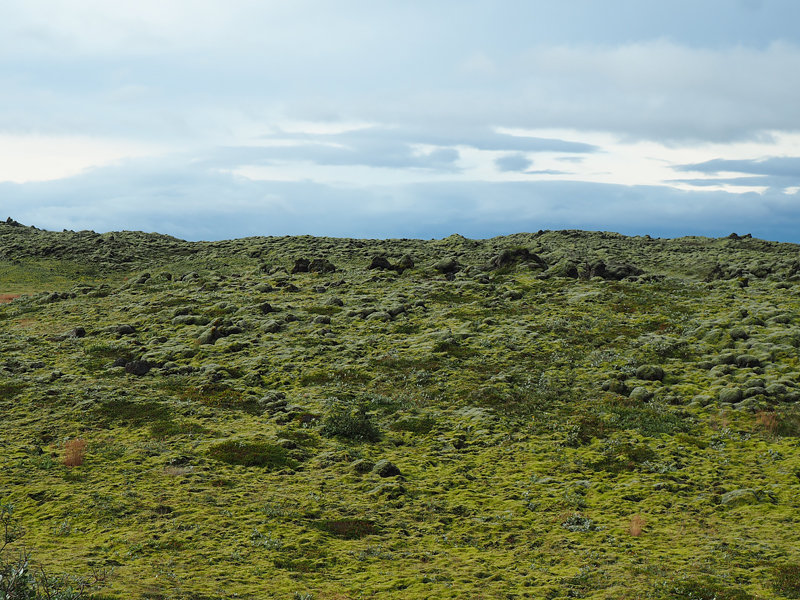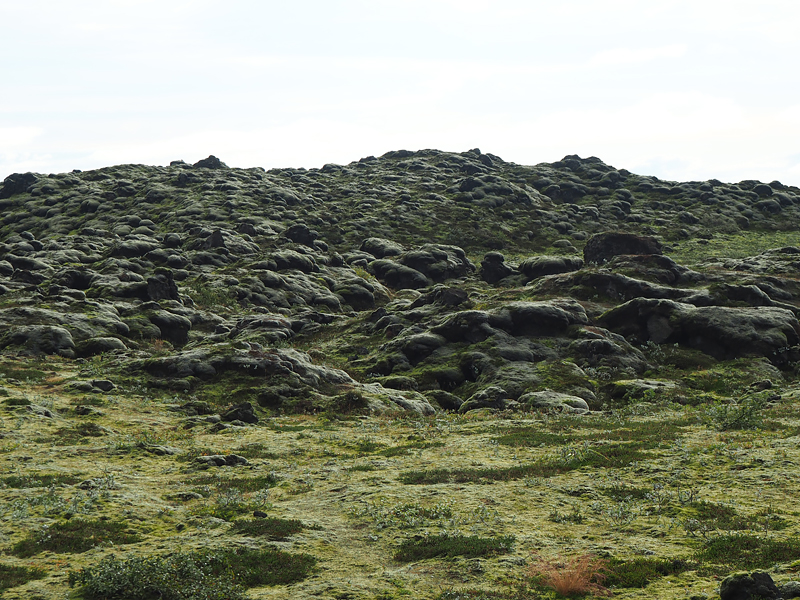 During this drive, we saw a tiny little arctic fox! Cutest damn thing I've ever seen, but as soon as we realized what we were seeing, we were speeding by it, and it was running back away from the road.  Icelandic arctic foxes are typically found in the Westfjords, which we didn't have time for, so I certainly wasn't expecting to see any on this trip. Pleasant little surprise.
We stopped by Hjörleifshöfði, which is basically an island that juts up out of the black sand plains near Vik. It also has a small Viking burial ground on top of it. The plan was to hike to the top to take in all the gorgeous views, but it was very windy, and I was pretty sure it would not be safe to stand on top of a little mountain with nothing to block the wind. Or to leave our car parked on black sand in an area that's known for sandblasting cars.
So we drove along the south side and snapped a picture of the cave instead, and then continued on.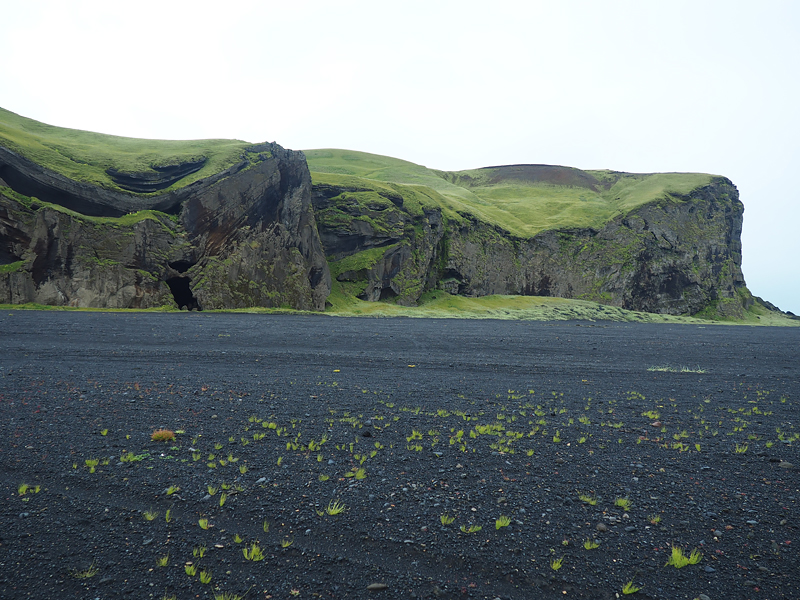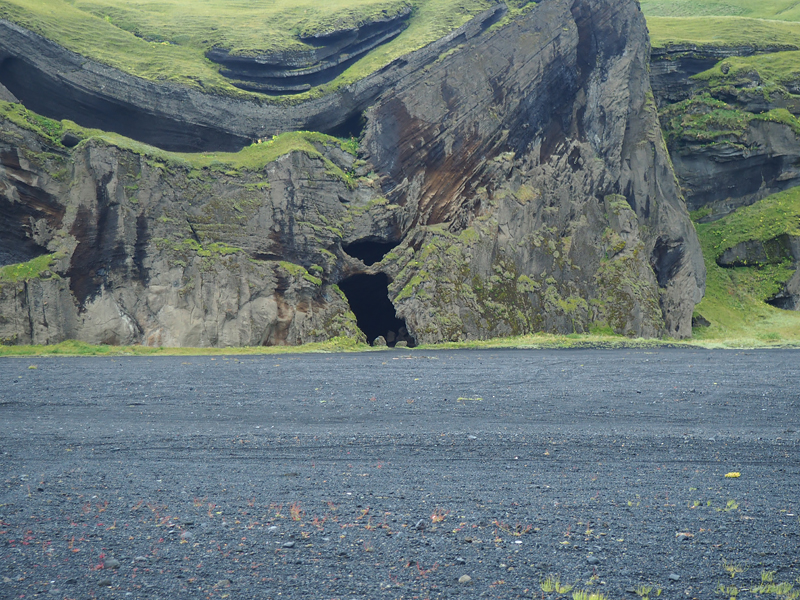 We stopped in tiny little Vik for awhile.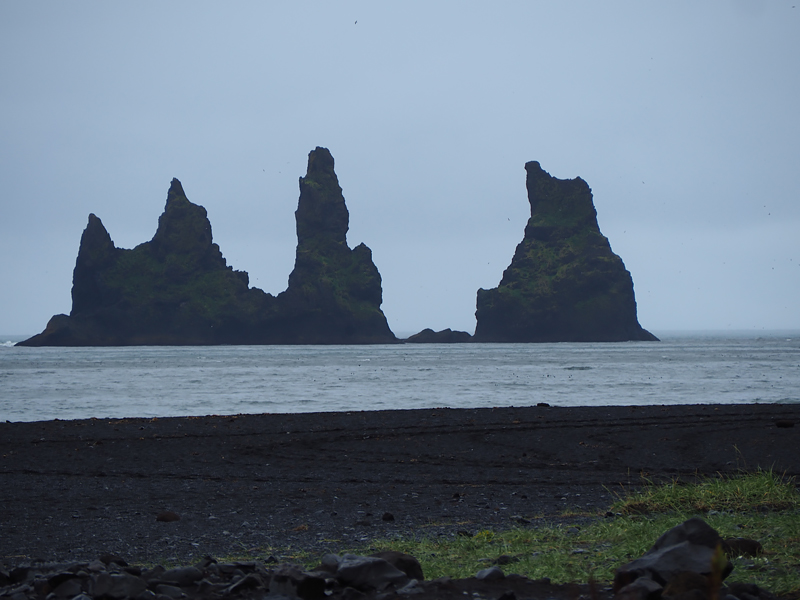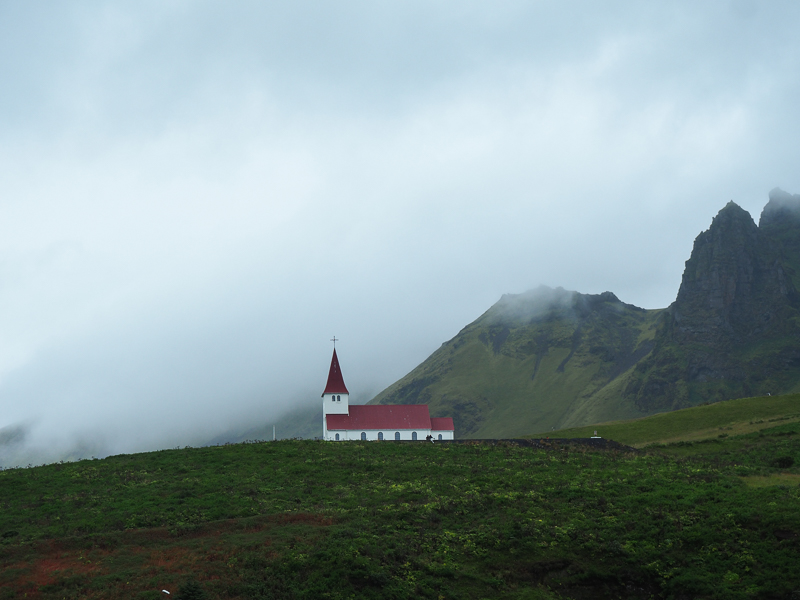 We had some delicious mushroom soup and margherita pizza at a cute little restaurant up on the hill.
Afterward, we drove over to Reynisfjara black sand beach. This was the first real shock of our trip. The last time we had been there, we literally had the entire beach to ourselves. This time, tour buses and cars packed the parking lot to where people had to park along the road. Tourists were everywhere, climbing up the basalt columns for pictures.  On the plus side, there were dozens of puffins flying around up there, diving off toward the ocean.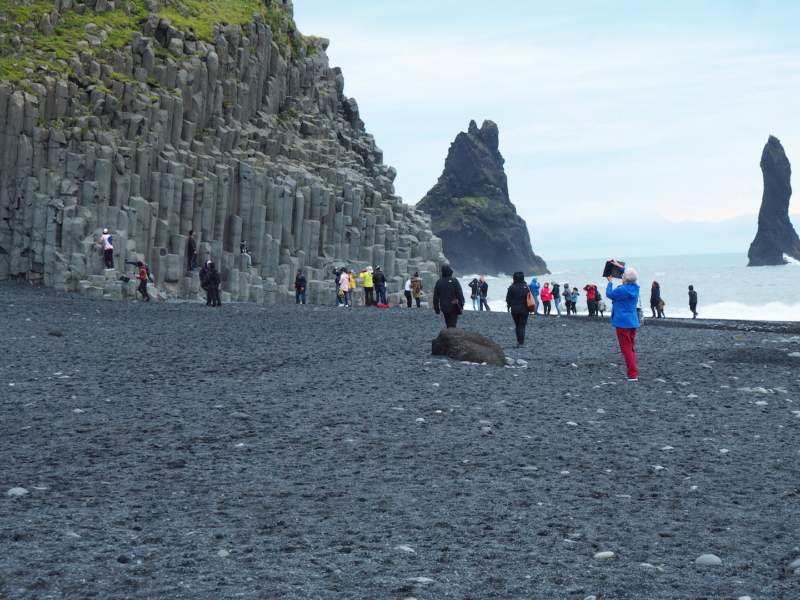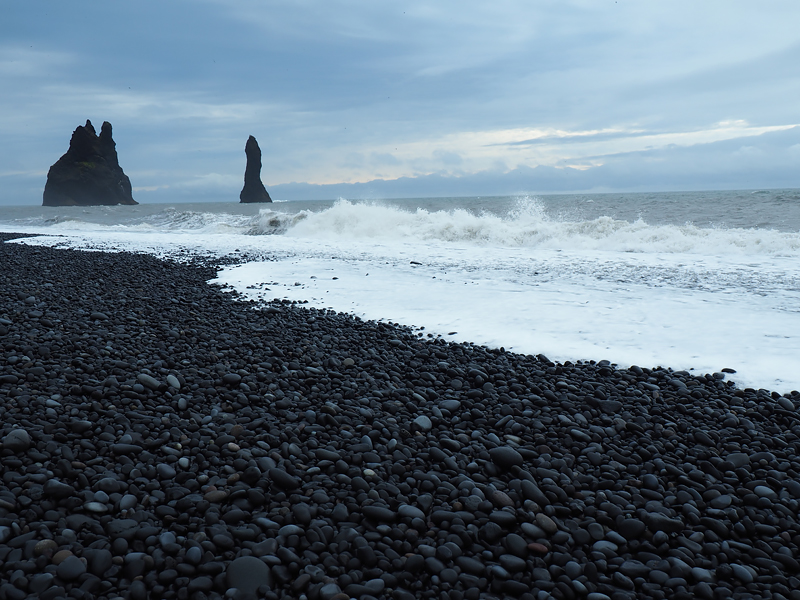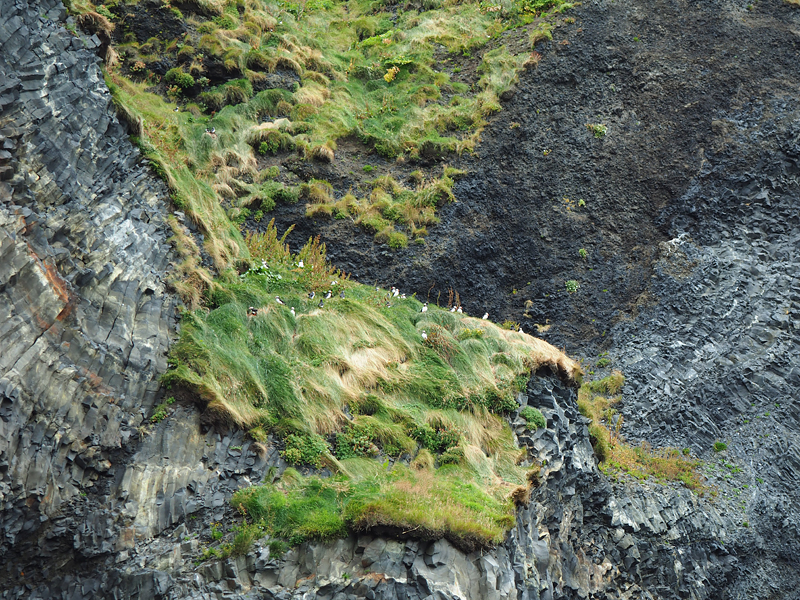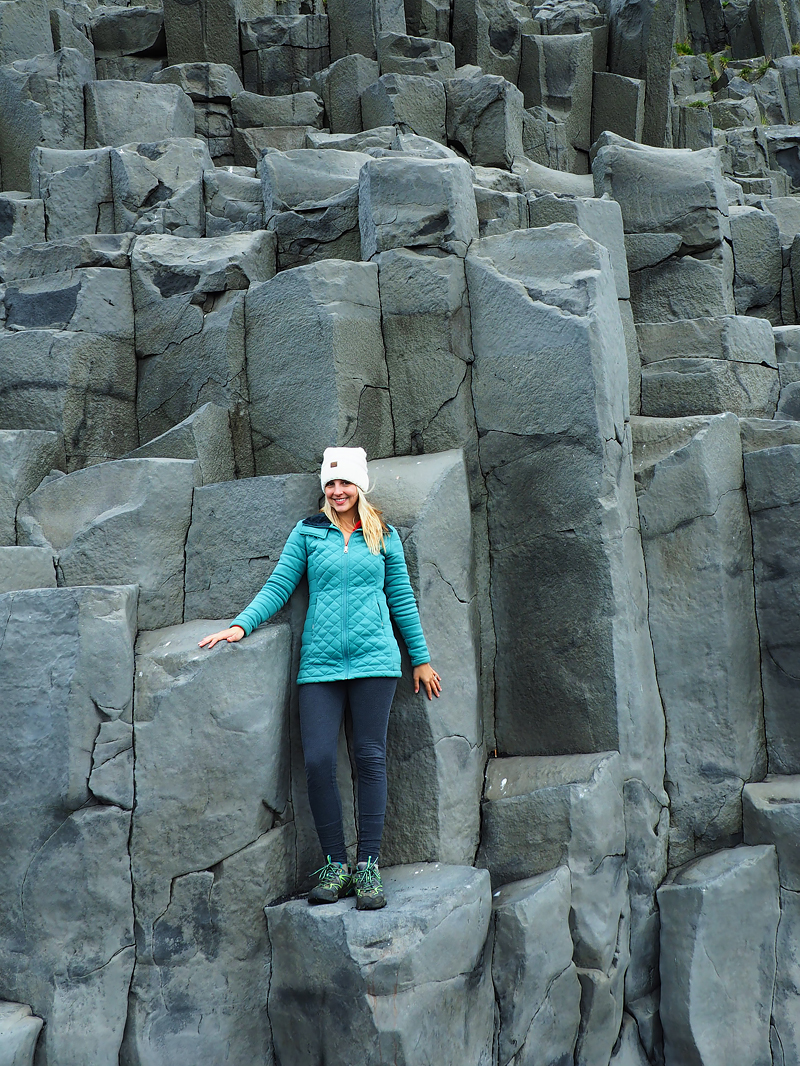 We had some time to kill, so we went on to Dyrholaey, which was Anthony's favorite place last time we were here. We had sat on the black cliffs for awhile, watching and feeling the strong waves crashing against them. This time, there still weren't that many other people there, but the waves were much calmer and it had lost its magic a bit.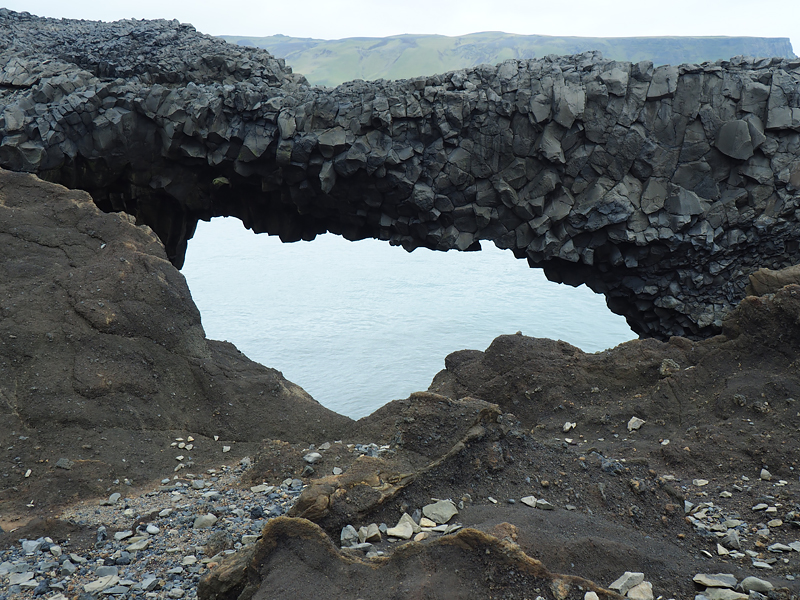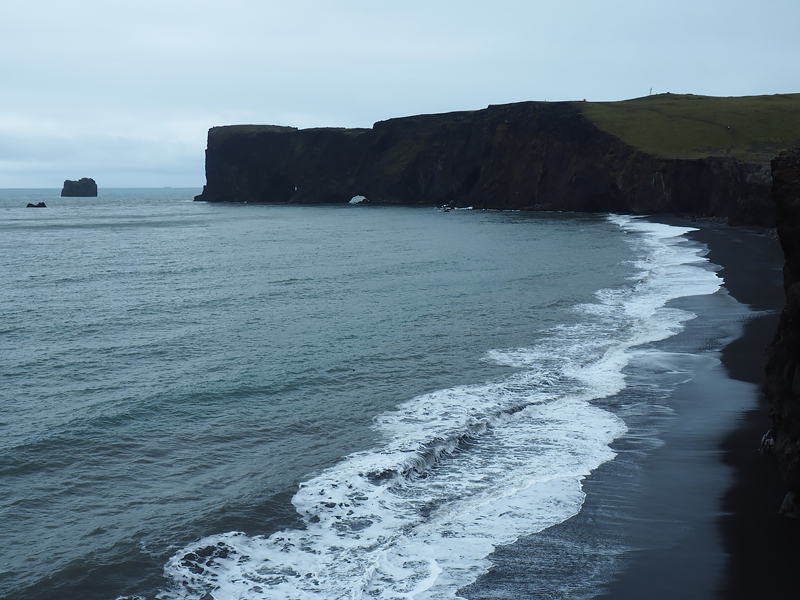 After going back into Vik for a little shopping, we decided to go ahead and go to our campground, Þakgil, which was around a 45 minute-1 hour drive along a rough gravel road over and down a mountain.
The drive was insanely gorgeous. We left cloudy and black Vik for vibrant green mountains with the sun peaking out more and more.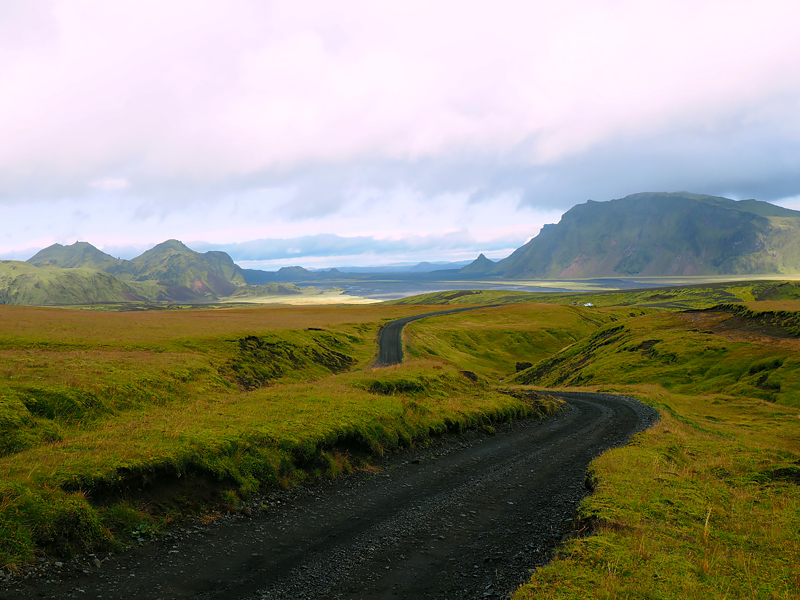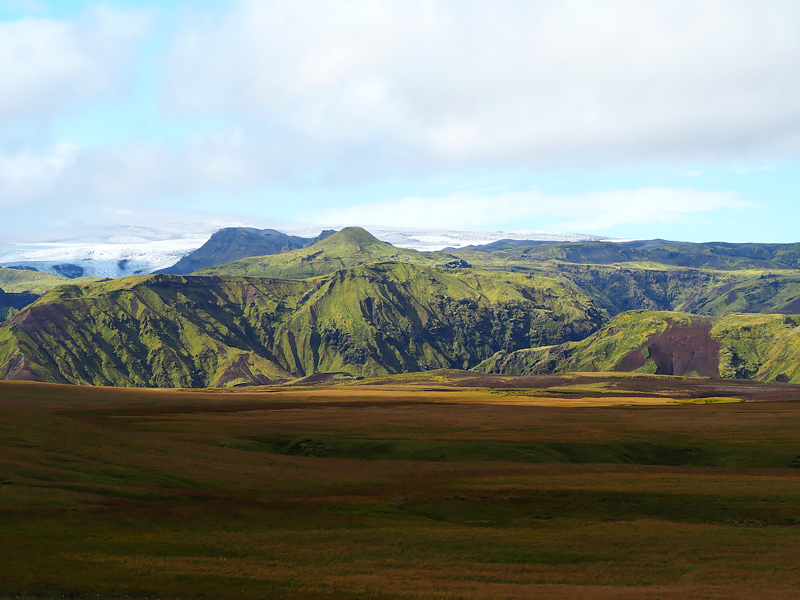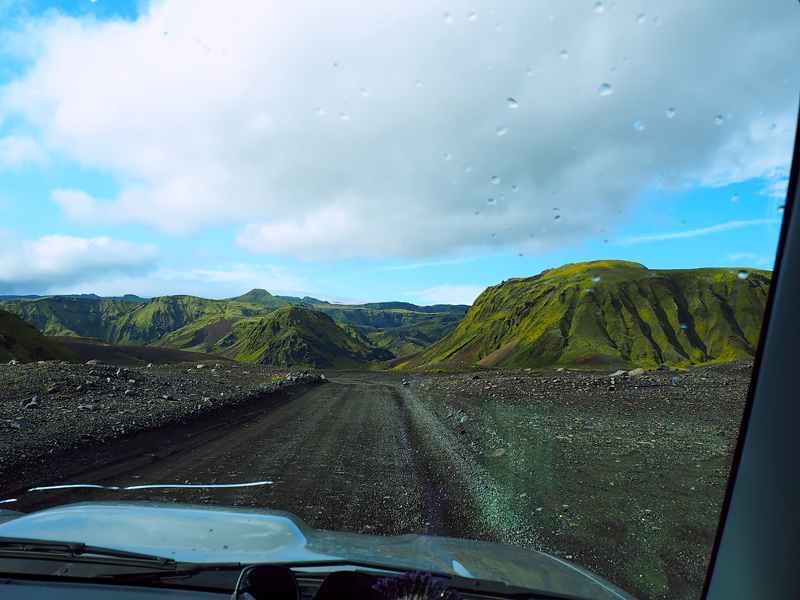 It was also a bit perilous in parts as we were crossing little narrow land bridges with steep drop-offs and lots of wind. 100% worth it though.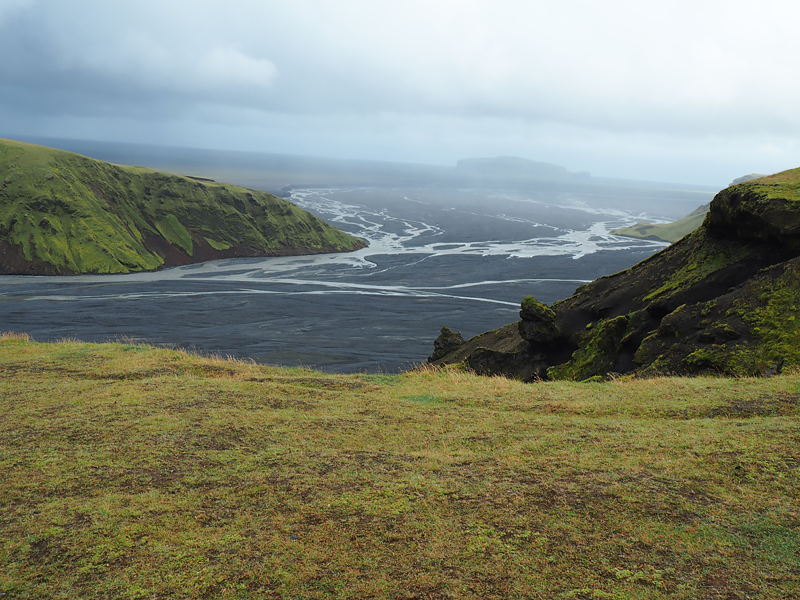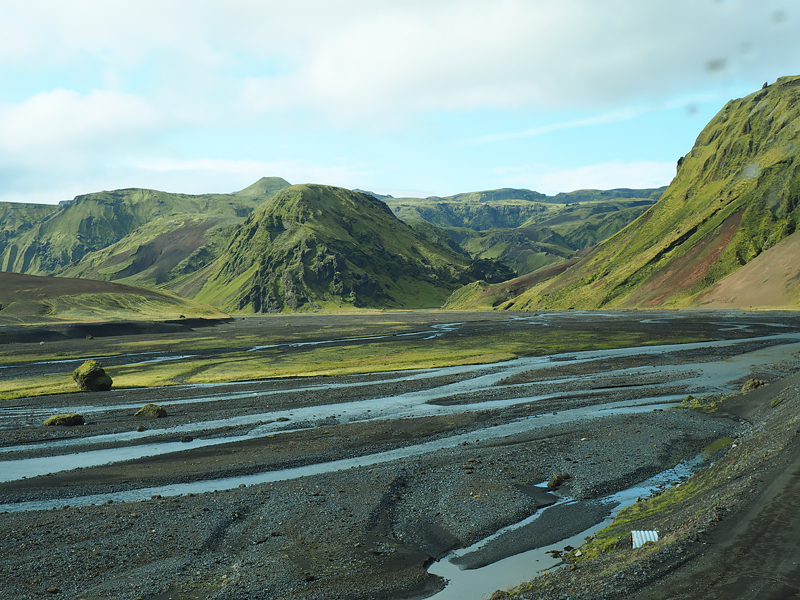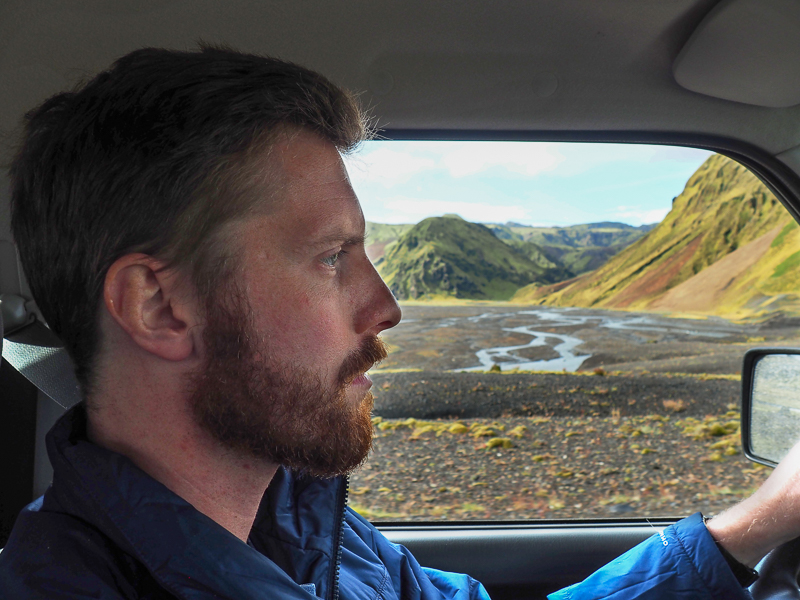 The views got better and better, and then we arrived down in this lovely valley where the campground was located.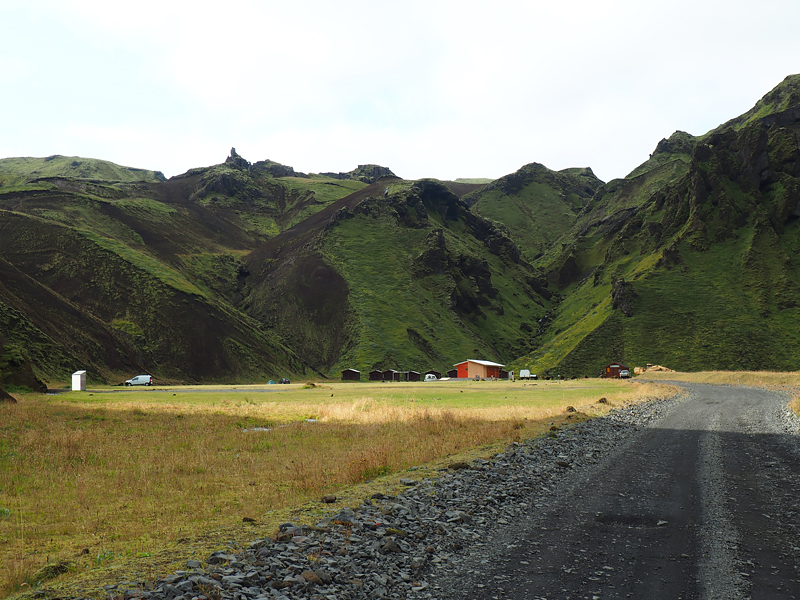 We selected our spot next to the little bubbling brook and then decided to go explore. We had to cross a couple rivers to get over to this little mountain we wanted to climb up, but it didn't take us too much time.
And the base of that little mountain became my happy place. A crystal clear, freezing cold little spring ran down through it. Little flowers and berries and soft moss were everywhere. Just so peaceful.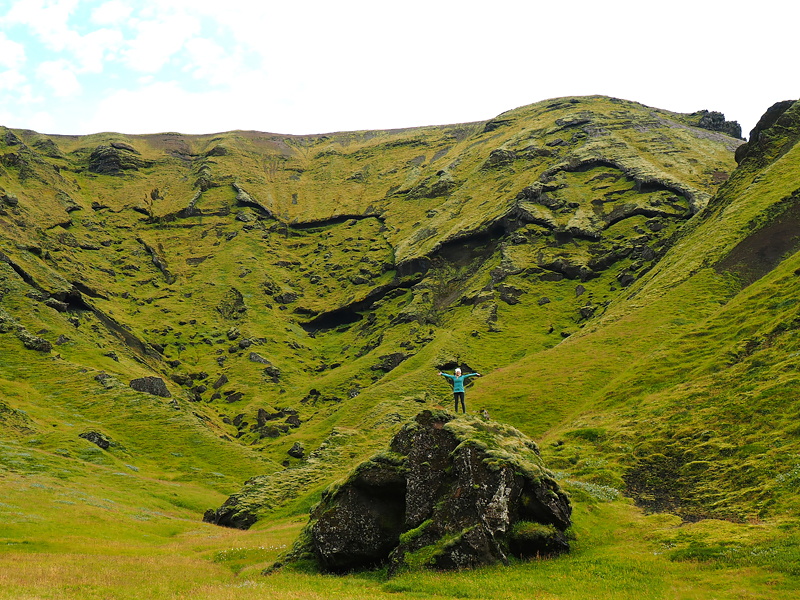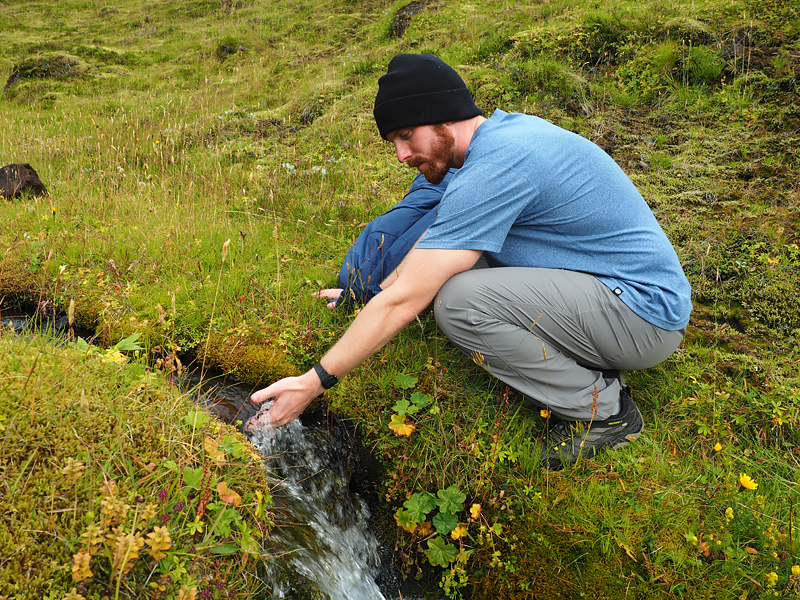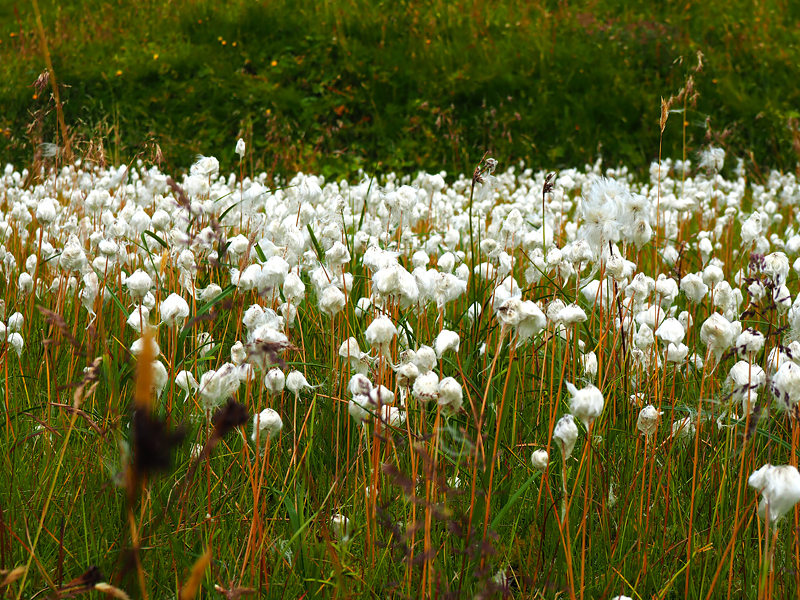 We climbed up a ways to see as much of the valley as we could. (See if you can spy our tiny Jimny in the pictures below.)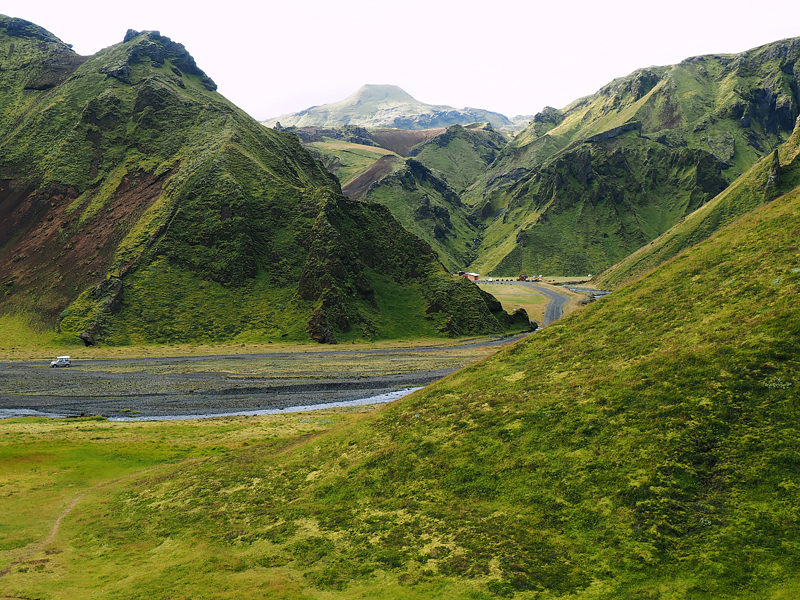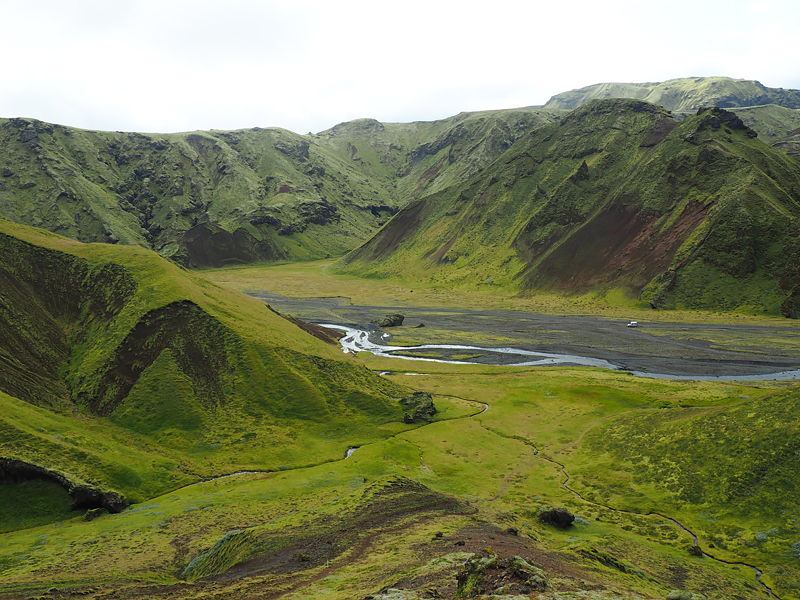 And then after relaxing awhile, we decided to try and find our way back. Instead of crossing where we had the first time, Anthony decided we should follow this path because surely it would bring us to a better crossing point. So we spent a good 30 minutes just following along this path, hoping there would eventually be a shallow point to cross, but nope. So we turned around and went all the way back to where we had crossed before.
The campground had a little kitchen set up in a cave, so we wandered over there to cook our dinner.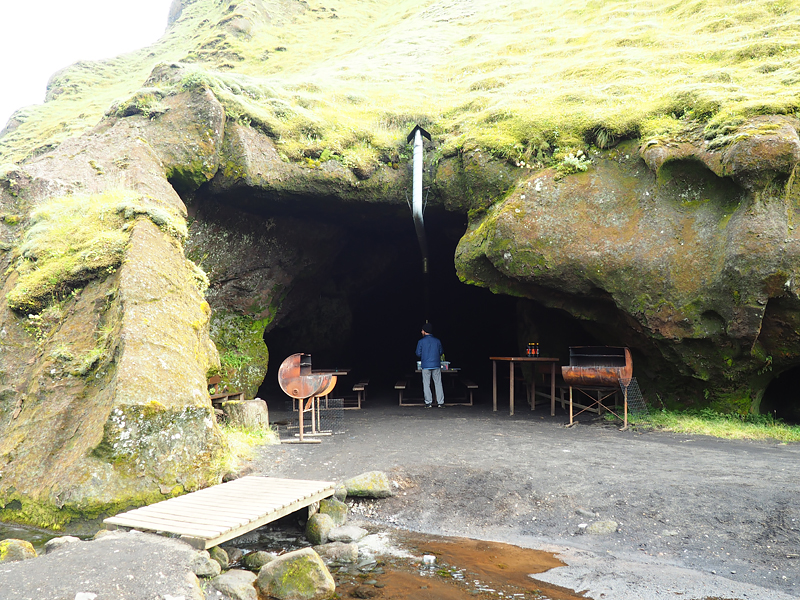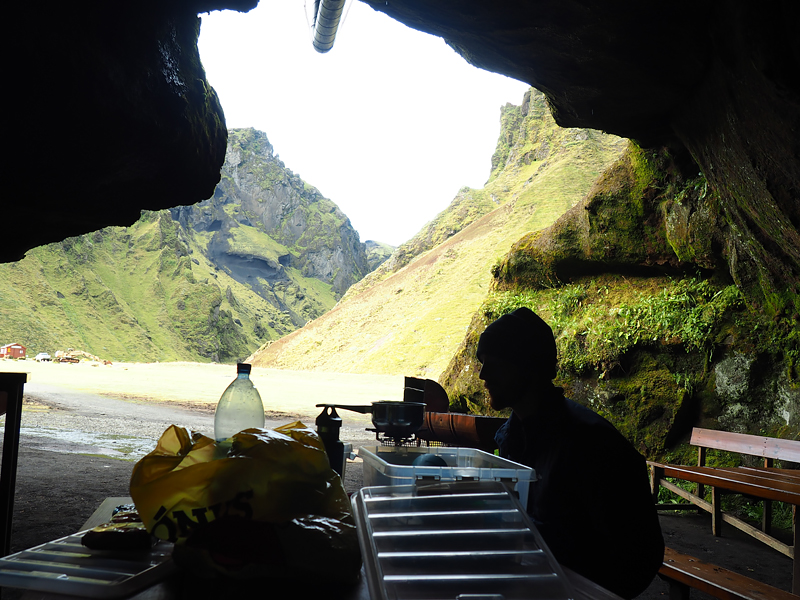 And then the rest of the night was spent just enjoying our stunning campground, sipping some red wine.