Day 3 was a long driving day, and we covered a lot of ground. It started out as rainy as the day before. We woke up at 5:30 after not sleeping terribly well, and we got on the road to our final Snaefellsnes stop: Landbrotalaug. Landbrotalaug is a tiny little hot spring out in the middle of nowhere. You have to cross some water to get to it, and once you're there, it can only fit two people.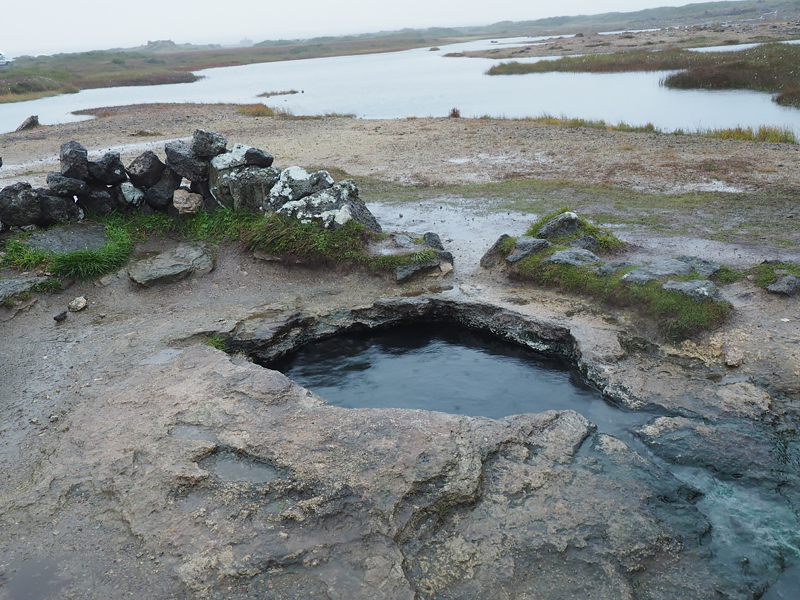 Once we were back on the road, we weren't really able to see Eldborg crater through the rain and fog, so we just cut up across the peninsula and started making our way back to the Ring Road. People in Iceland apparently are not early risers like us, so we were not able to get any coffee until around 10, at which point, we were dying for a nap. But the caffeine perked us up just enough that we were able to push onward.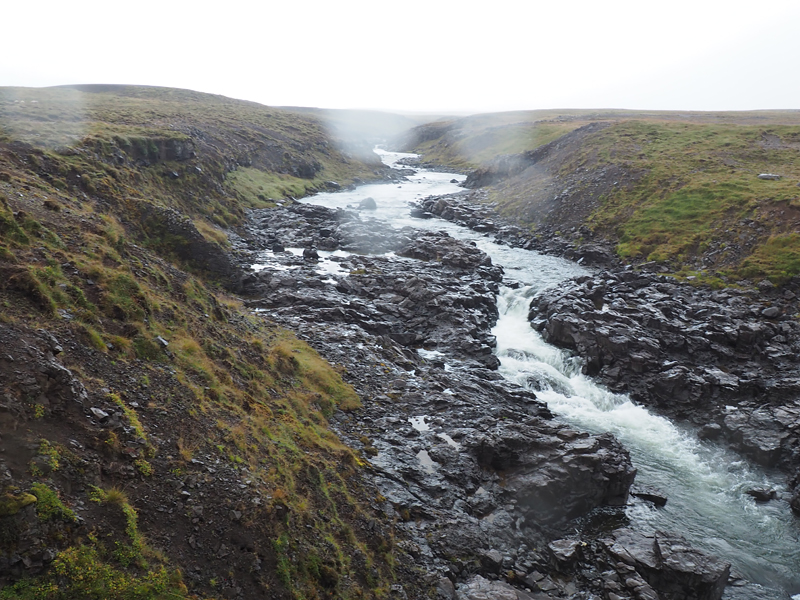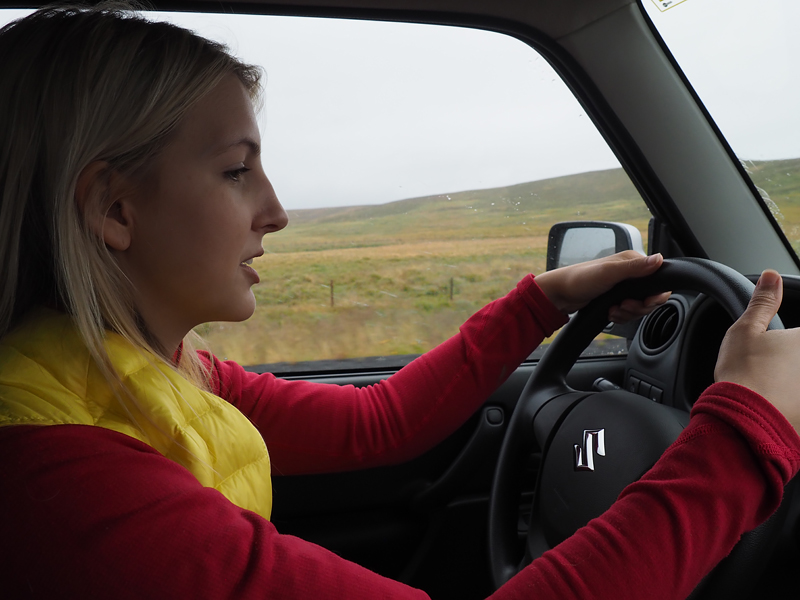 I had one stop planned for before we got to Akureyri, not really knowing much about it, but figured we needed something to break up the drive. Kolugljufur was just about 10 minutes off the Ring Road, and once we got there, I was so happy with myself for finding out about it online. It's a canyon with a few waterfalls, and it was gorgeous.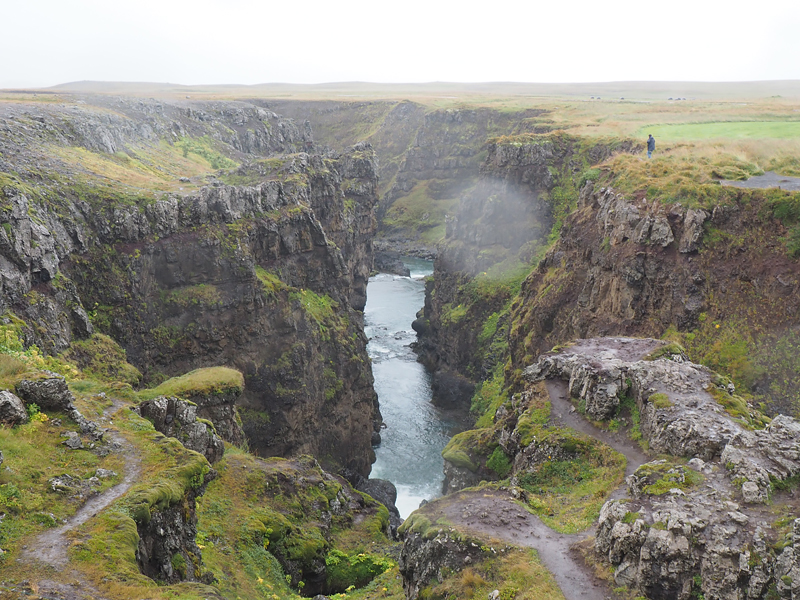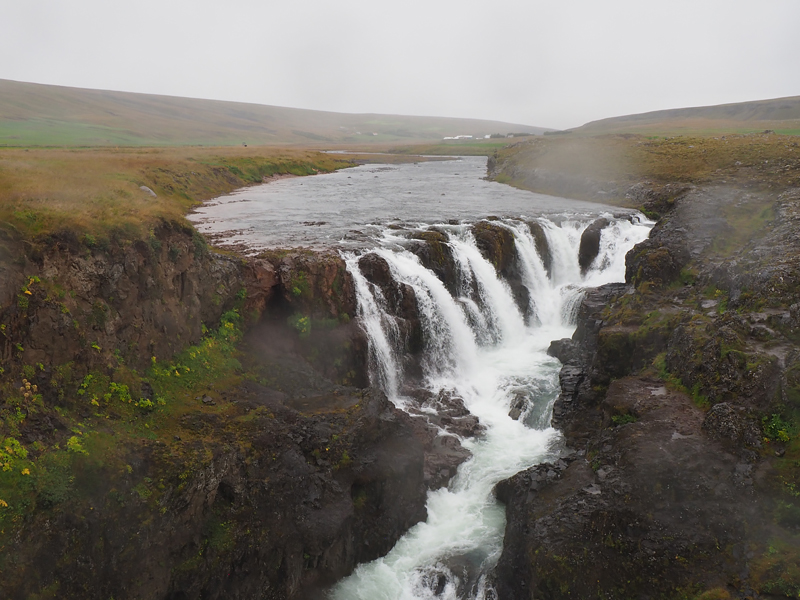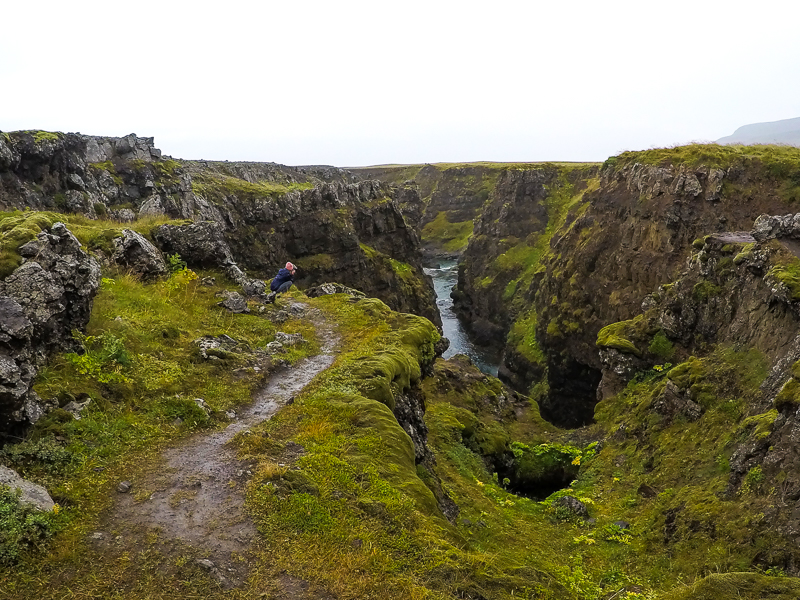 We walked around to the various cliff edges trying to get every view we could for around half an hour until our hands and noses were numb.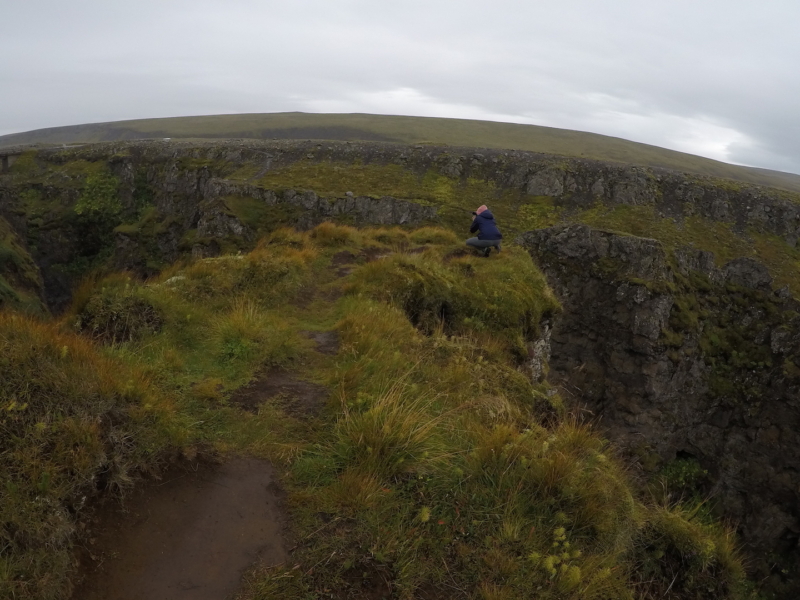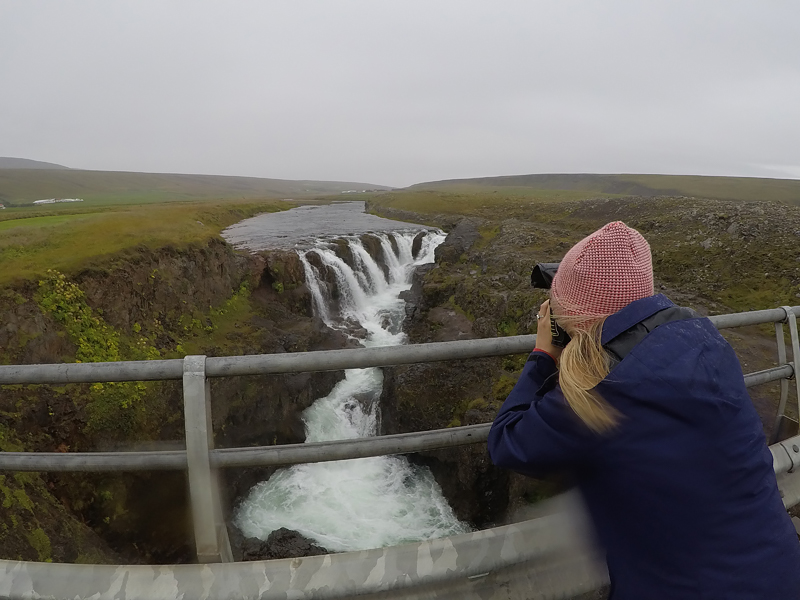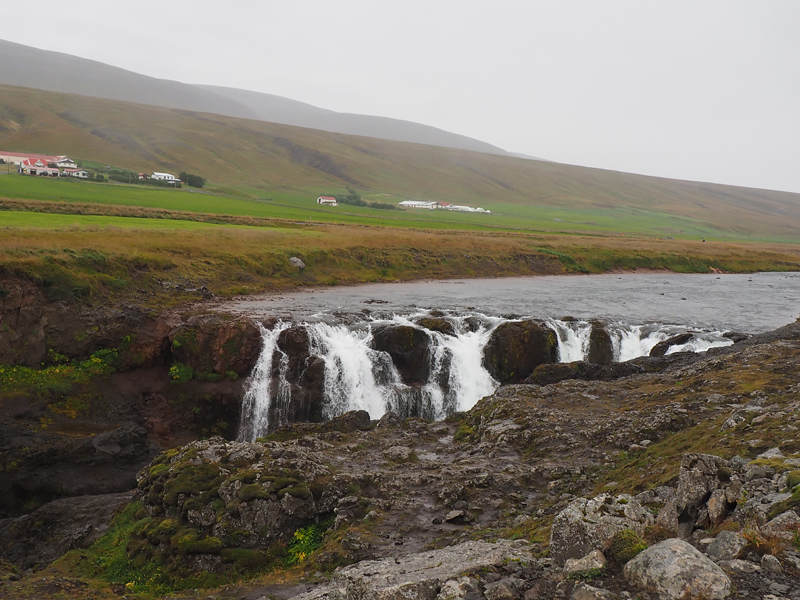 After that, we were refueled by both the caffeine and the adrenaline, so we had no problems continuing our roadtrip. We drove up and down mountains, looking in awe at mountains and valleys and bubbling brooks all around us. At one point, we turned a bend, and saw SUNSHINE. And we were driving right toward it!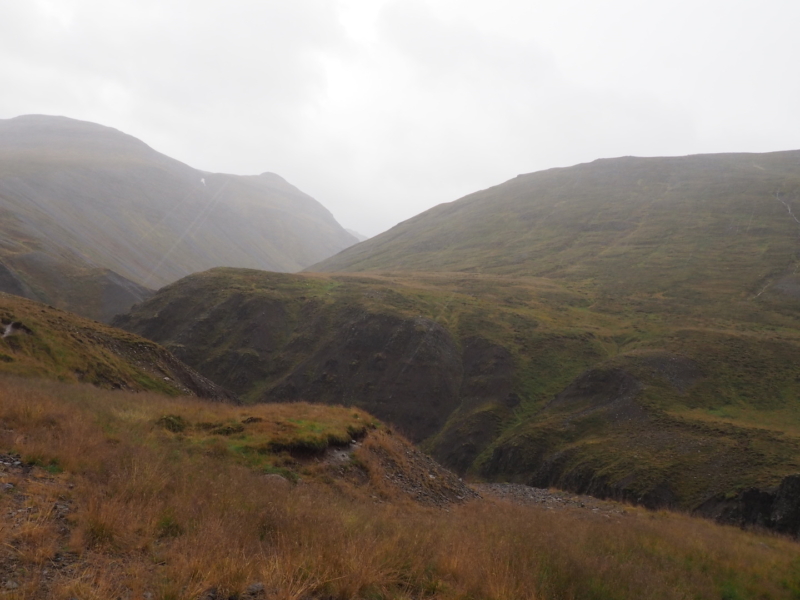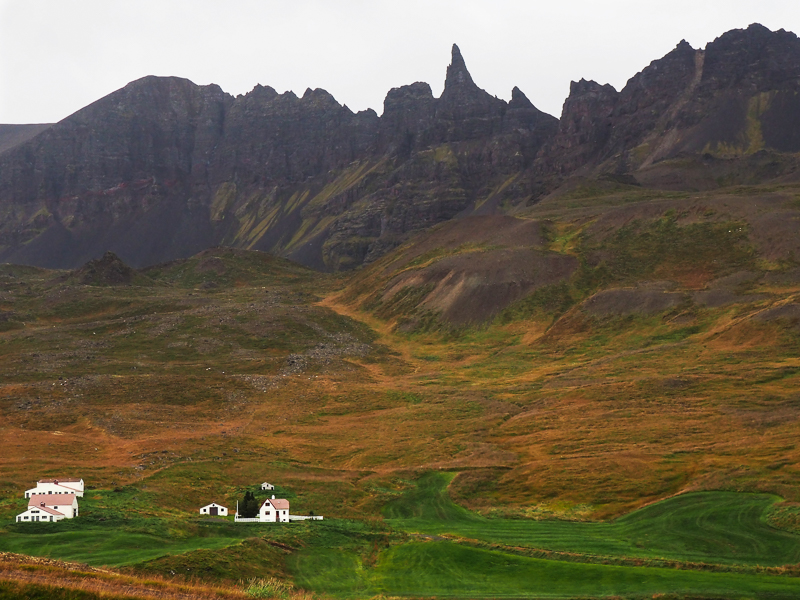 By the time we got to Akureyri, the largest town in the North with a population of around 18,000, the weather was just beautiful. I took my jacket off while we walked around town. We ate some lunch, sat in a little park, checked out the bay, and took the long way back to our car.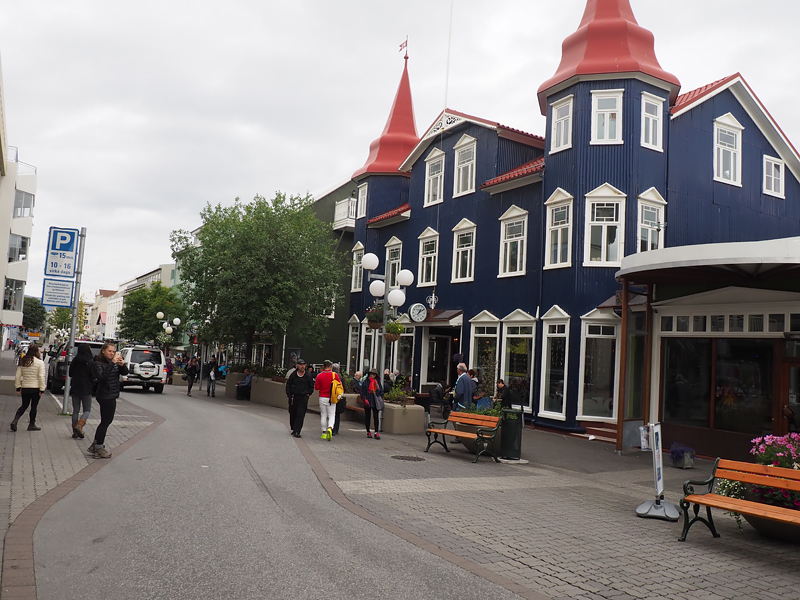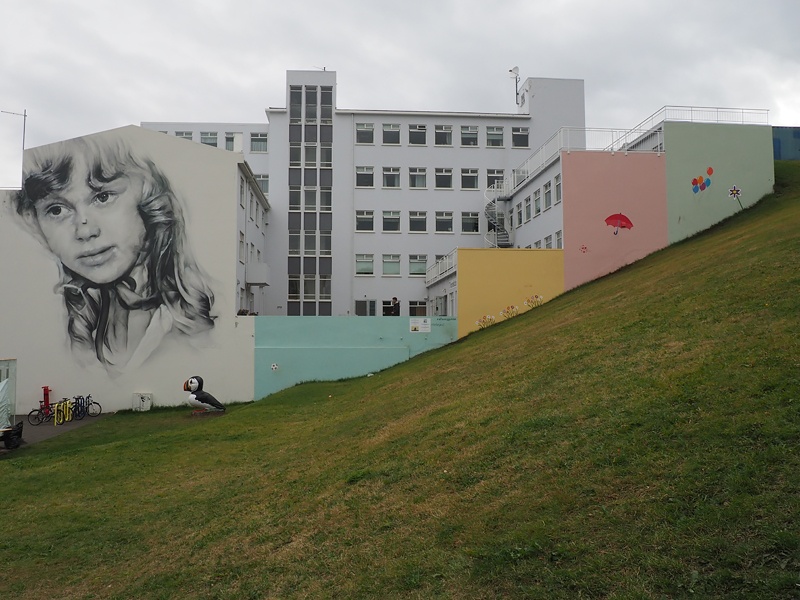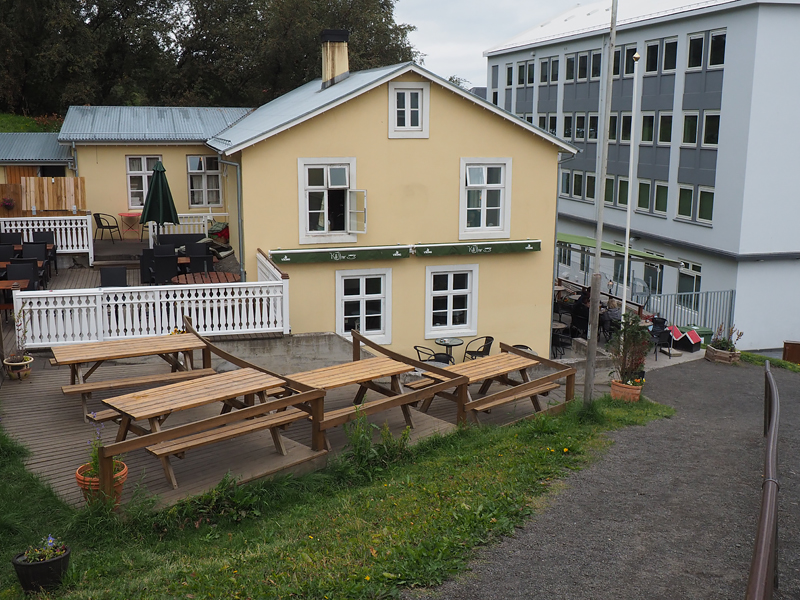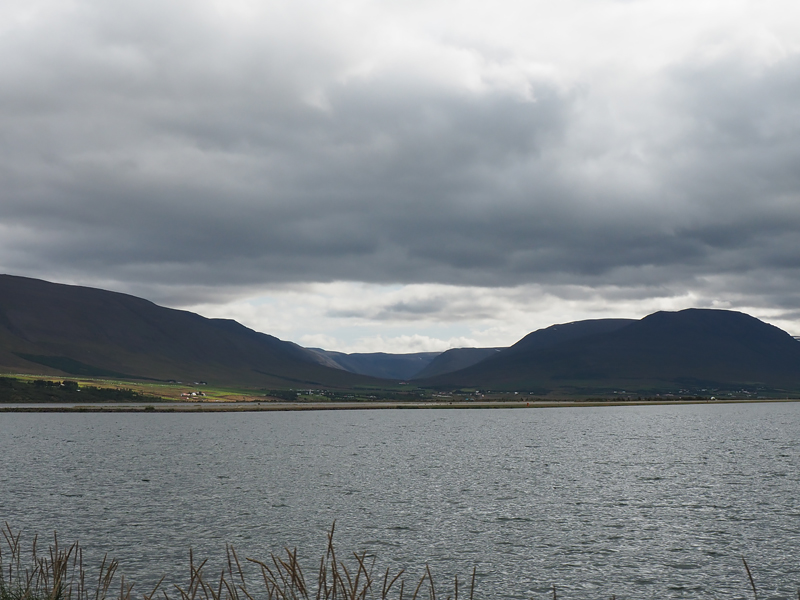 We left and ended up passing Godafoss on our way to our next stop. I had planned on saving Godafoss for the next day, but since we were already there and the sun was shining, we stopped and parked. It is truly beautiful. However, it's right on the Ring Road in addition to being gorgeous, so there were tons of other tourists there, all taking their turns getting the perfect selfie with the waterfall in the background, so it was a lot of waiting around to get the right views of it. Still definitely a worthwhile stop.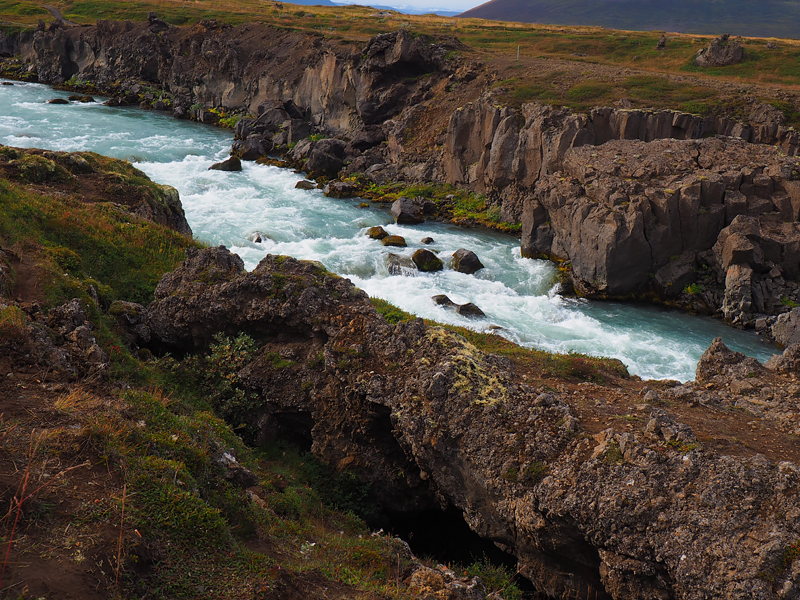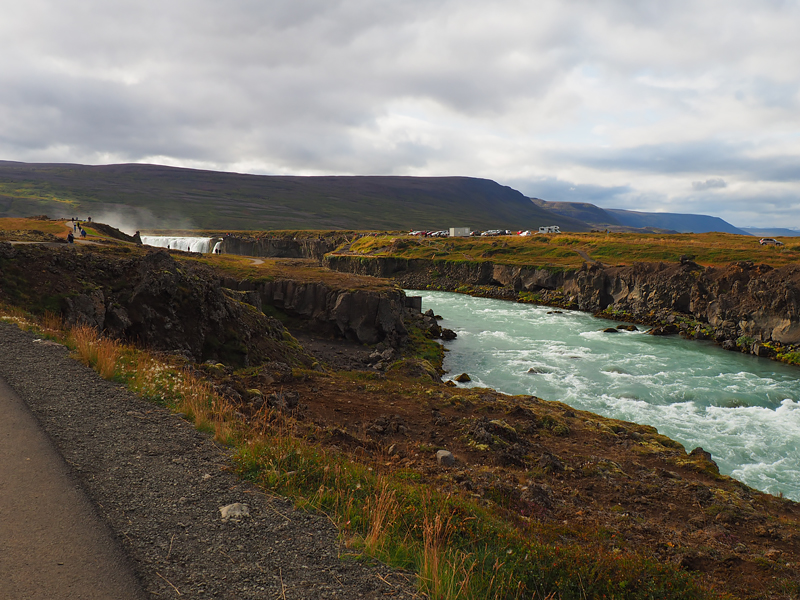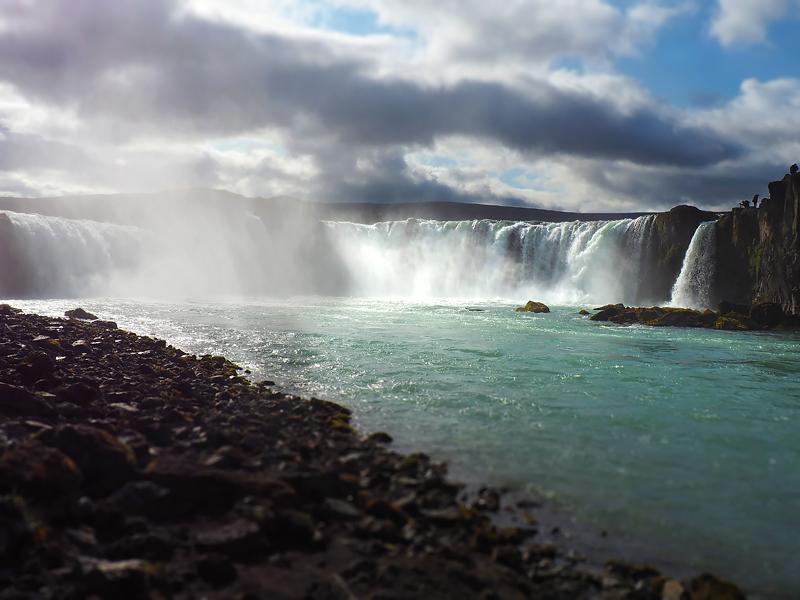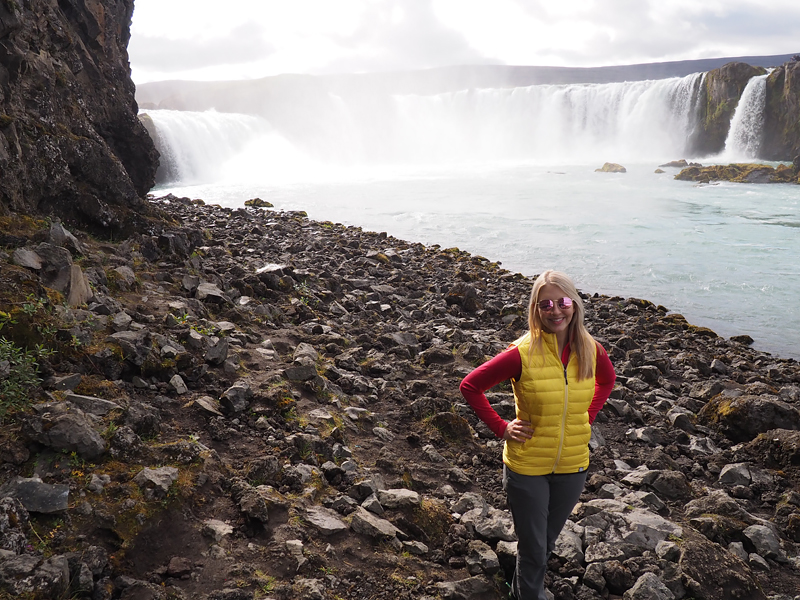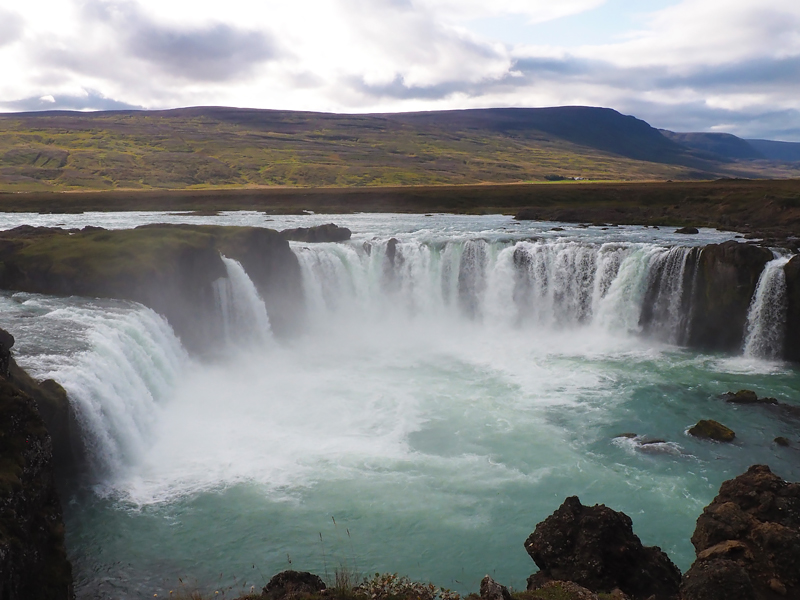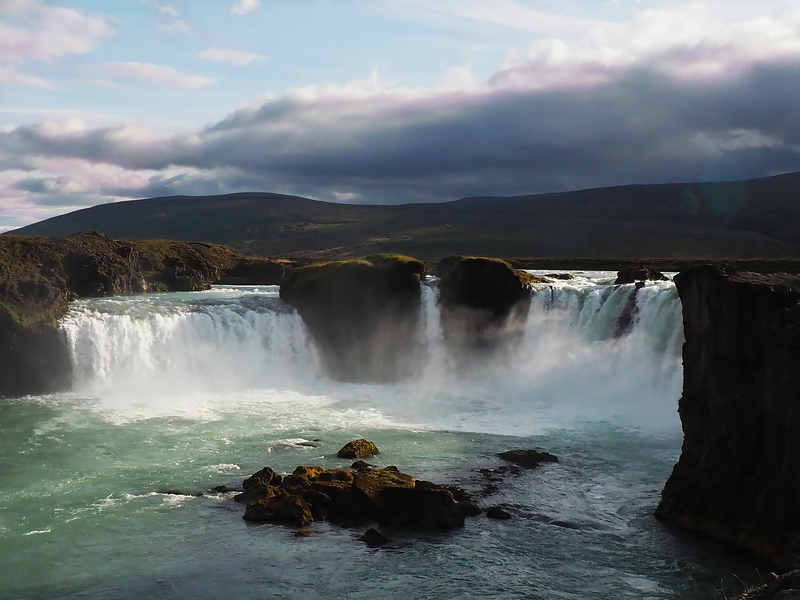 Then, we had a big detour off the Ring Road to get to Aldeyjarfoss. Aldeyjarfoss is very slowly growing in popularity, but it will add close to three hours to your Ring Road journey, driving down very rough gravel roads there and back, including an F road that 2wd cars are not allowed on, and then a 20 minutes roundtrip walk on a fairly steep rocky surface, so most tourists still don't make it there.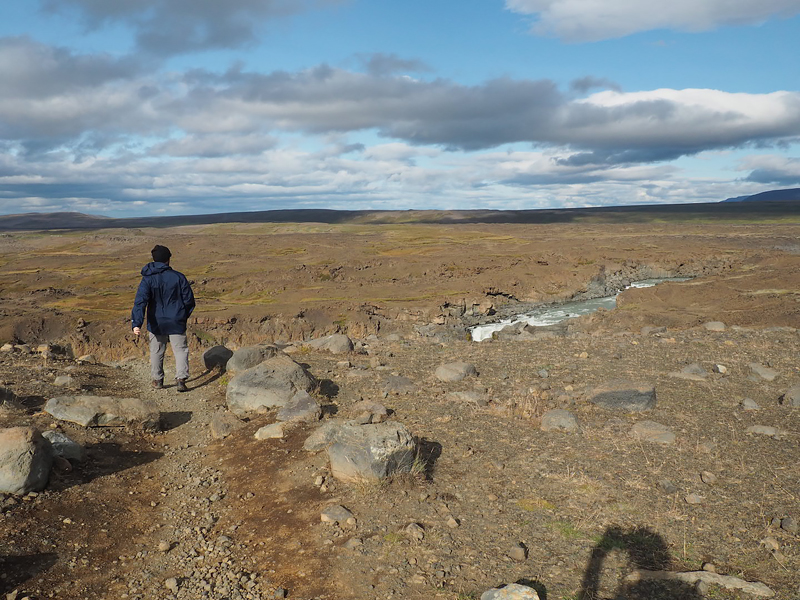 When we arrived, we had it to ourselves. And it was definitely our favorite waterfall so far. We drove along a stunning blue river to get to it, and once we were there, we learned that that large blue river all came from this waterfall with a rather narrow opening. So the water was just gushing out between all these incredible basalt columns. The contrast of the blue water and the basalt columns everywhere you looked was just really cool to see.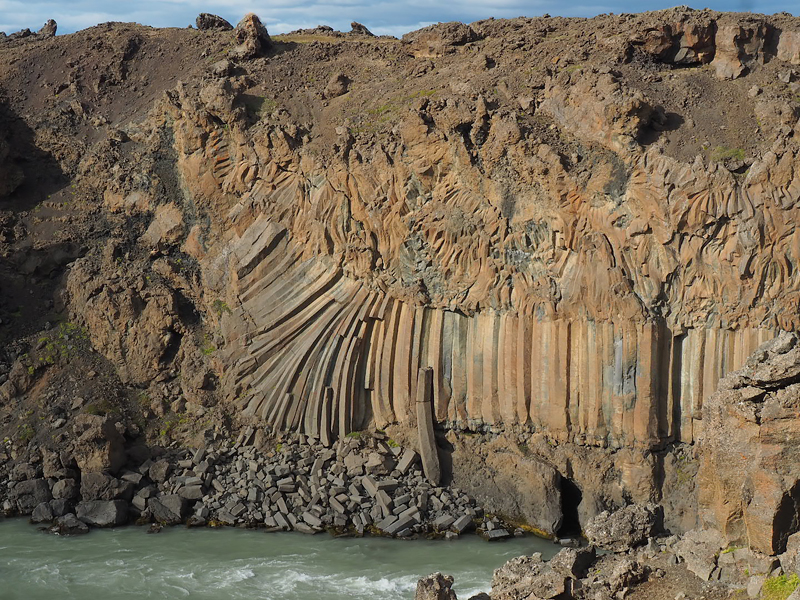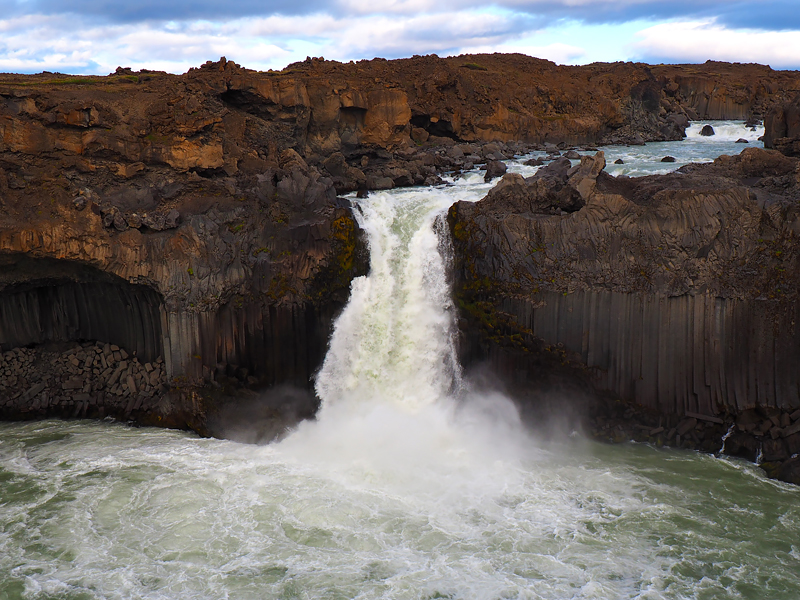 Since we didn't have anyone else to worry about trying to get the best view, we sat down on the cliff right across from it, and just enjoyed it for awhile, sun shining and warming our backs.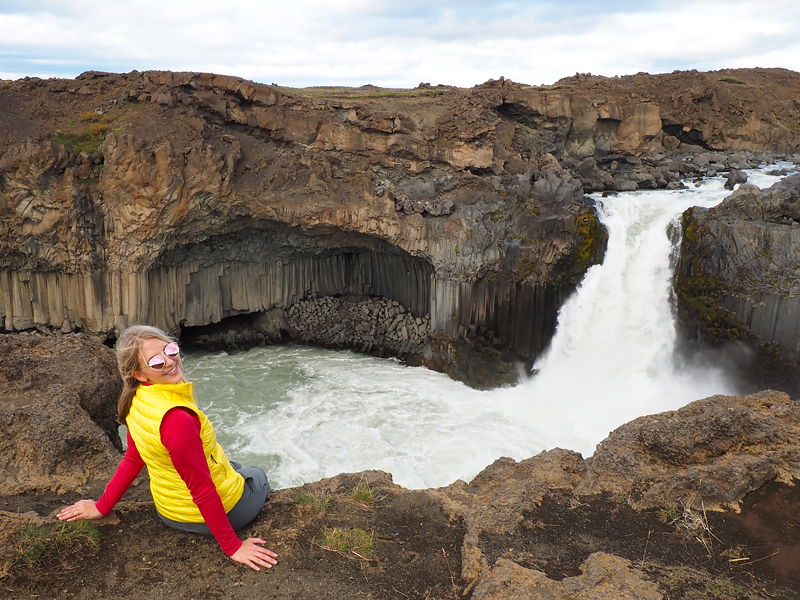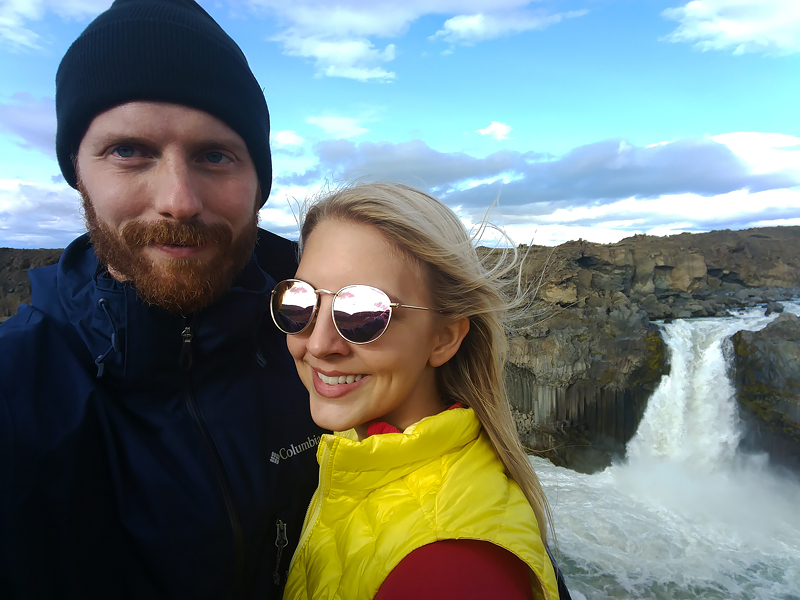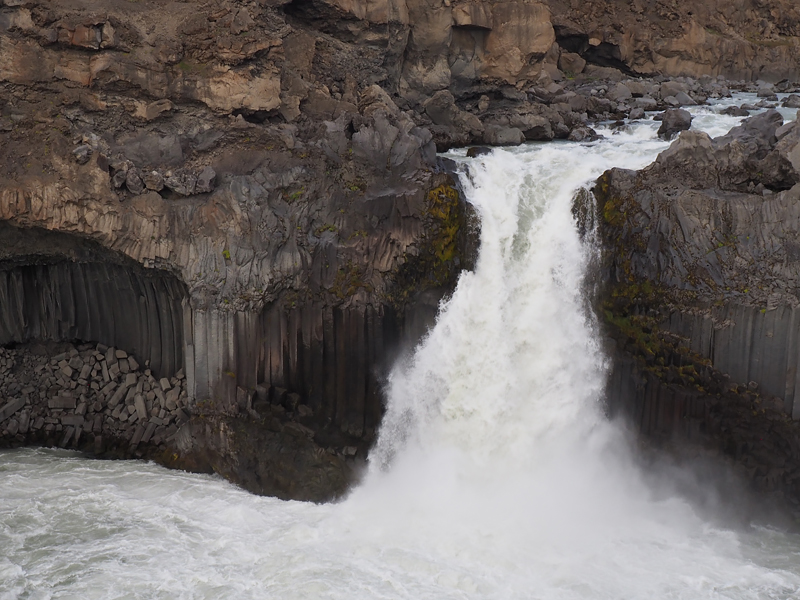 Once we had our fill, we turned back and headed all the way back to the Ring Road. I had planned on staying at a campsite there near the waterfall, but it was still only 5pm, so we decided to keep moving. We drove down south around Lake Myvatn, taking in the views. There were so many stops we should have made, but we were tired, so we kept driving until we got to our campsite, around the northeast corner of the lake.
The campsite was really nice, which explained why there were dozens and dozens of tents already set up. There was an office to buy bottled waters or some beers, there was a cooking facility, hot showers, 2 different areas with bathrooms, and some decent views of the lake. We settled in, took our showers, ate some food, and called it a night at 9:00, calling the day a success.